Beautiful Ideas to Celebrate Your Child's First Communion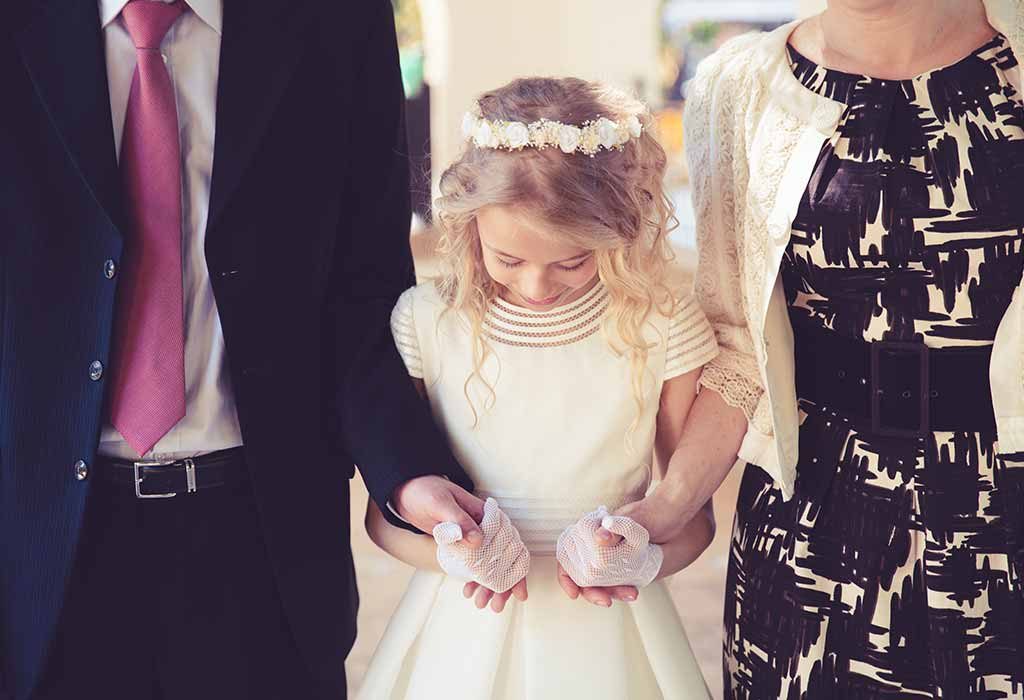 The First Holy Communion is a very important occasion for people who follow the Catholic faith. It is an intensely religious event and is as important as planning parties for other milestones like a baby shower or first birthday. This is a special day for your little one and the day is often celebrated with the closest family and friends.
What is the First Communion and When is It Celebrated?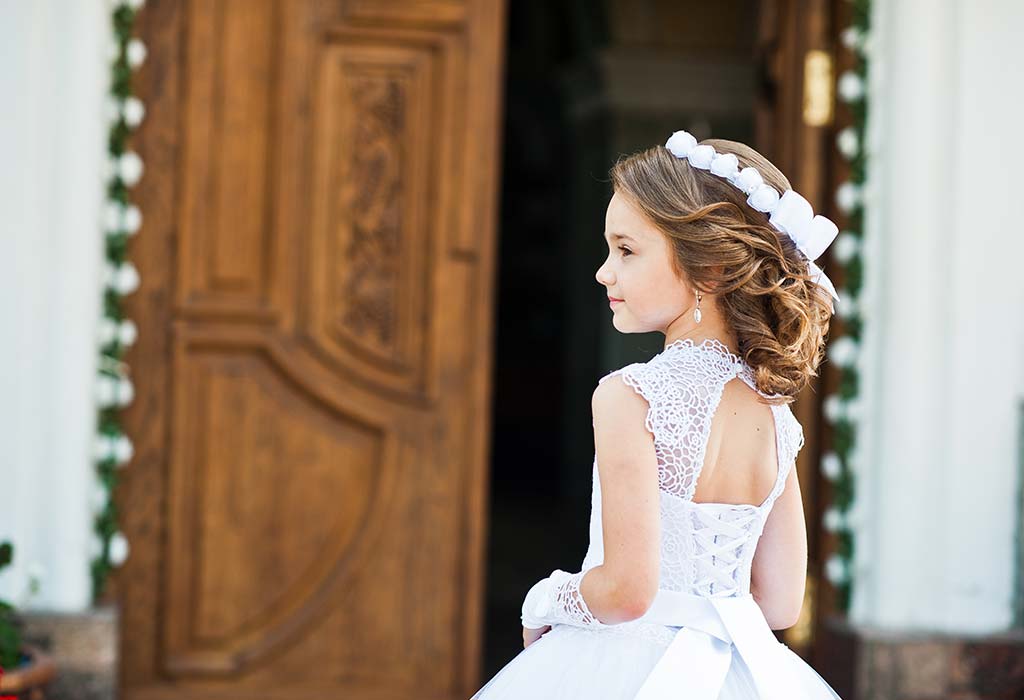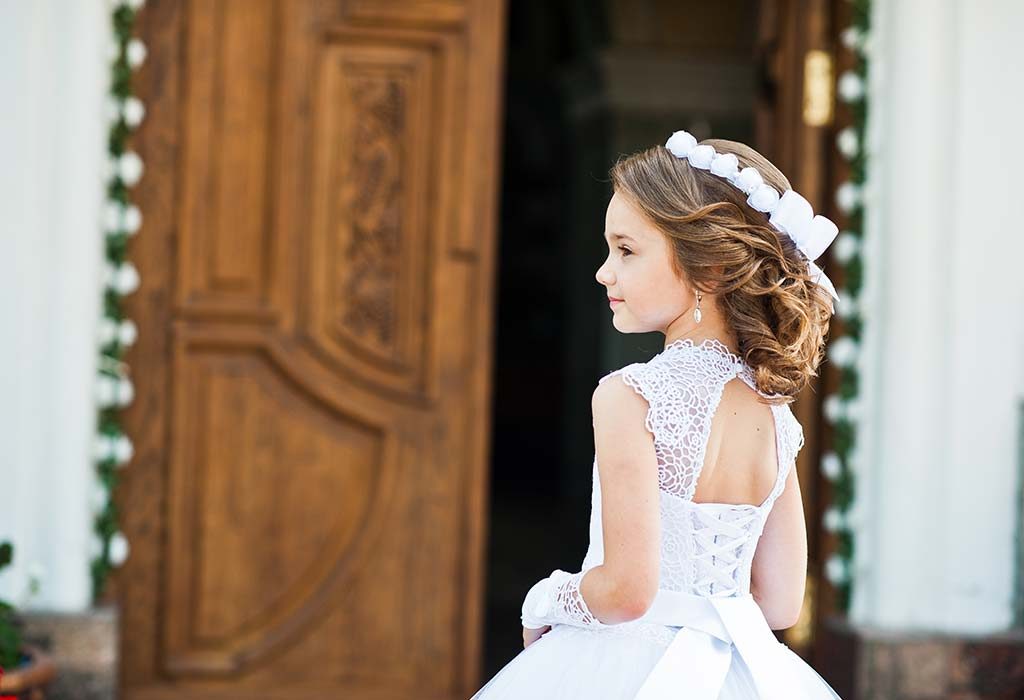 First Communion is considered to be one of the most important and holiest occasions in the life of a Roman Catholic. It means that he or she has received the Sacrament of the Eucharist, the blood and body of Christ. The most common first communion age is around seven or eight.
Tips to Plan the Perfect First Holy Communion Party
Arranging the First Communion party may be stressful, but when you spend enough time planning the details in advance, you will have time to enjoy it peacefully. A First Communion party does not have to be a big one. Here are some tips to plan a perfect First Communion party:
Confirm the time and date of the ceremony with the church.
Organize the guestlist for the celebration.
Pick the perfect location or place for the party. If you are inviting a small group of people, then celebrating it at your home would be fine.
Plan out your budget and First Communion party ideas and themes
Invitation Ideas for the First Communion Party
For serious Catholics, religious motifs could be the central theme of the invitation. Here are a few first communion invitations, boys and girls-themed:
1. Simple Cross Invitation
A Simple Cross design features a gold-foil cross, a gilded frame, and stylised font, making it a very sophisticated and sleek option. There would also be enough space in the invitation to include other ceremony and party details.
2. Beautiful Cross Invitation
While selecting the perfect communion invitations for girl's first Holy Communion, you can go for a cross wrapped in designs of gorgeous ivy, a religious yet feminine idea! You could also enhance the beauty of the invitation by adding fun details, like a glitter invitation liner.
3. Deckled Edge Cross Invitation
For a vintage feel, a deckled edge invitation is perfect! The frame and the foil cross give it a decent touch. The invitation can further be customised in bronze, silver, or rose gold metallic.
4. Arched Branches Invitation
The perfect invitation to let out your inner minimalist, an arched branches invitation is a subtle design with stylised text to announce your kid's first communion.
5. Pastel Peonies Invitation
Gorgeous watercolour peonies descending from the top of the invitation is another wonderful invitation idea! With letterpress text and stylized cursive, the spring floral will look very romantic and contemporary.
6. Laurel Frame Invitation
The hand-drawn and delicate laurel frame with stylised or modern text is another pretty invitation design. The laurel design along with the greenery is perfect for a little girl's or boy's communion as it is not overly feminine.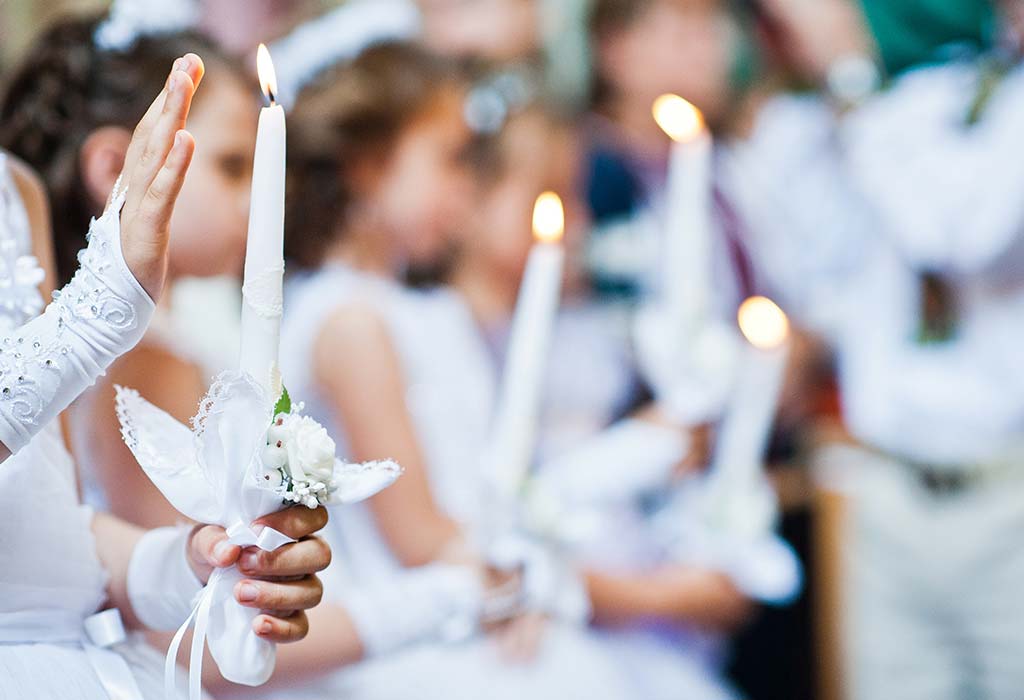 Unique Theme Ideas for the Holy Communion Party
For the First Communion, you could choose on going with religious and unique themes. Some of these Holy Communion party ideas themes include:
1. Stalks of Wheat
Several stalks of wheat and battery-powered candles tied with gold or silver ribbons can be an amazing theme celebrating the body of Christ. For a celebration inspired by the Bread of Life, you could serve bruschetta with tomato or other toppings.
2. Chalice and Bread
The simple symbolism of the cup and the bread with rustic accents, fresh grapes and loaves of bread is a lovely theme for a Communion Party. You could serve fresh grape juice along with jam sandwiches and oatmeal cookies with white icing.
3. Grapes on the Vine
For a purple-loving family, Grapes on the Vine is a fun theme! You could decorate with grapes and vines and even use a centrepiece with faux grapes overflowing from a golden vase. For Grapes on the Vine theme, you could serve a fruit charcuterie tray, purple-topped cupcakes, and grapes on kabob sticks.
4. Words of Meaning
Select your most favourite passage from the scripture or choose a spirit-filled poem to read at the child's First Communion celebration. You could build the after-party theme around this.
5. Seeds of Faith
Include real plant seeds that your guests could plant as a reminder of the seeds of faith that are being planted by people during the child's First Communion. Decorations could include seeds sprouting up out of the mud, weathered watering cans, and festive, painted, potted plants.
6. The Cup of Joy
You could get special glasses of different sizes and shapes and use them to serve and even decorate your themed party!
7. Angel's Wings
To celebrate the First Communion of your little angel, decorate it with a heavenly theme. White and Gold are the perfect colours of the theme. You could also include an angel cake made of lemon cake decorated with a yellow icing halo and wings.
8. Rustic Remembrance
The name of the child can be cut from a rustic piece of wood and placed over boxwood and a wreath of eucalyptus. This can also be an eye-catching centrepiece for many years. For this casual and simple celebration, you could serve a buffet of barbeque or finger sandwiches.
9. Crafting Party
If there are many children at the party, you can have a crafting party! You could search for crafting ideas online and get a few craft supplies as well. This is an amazing way to have a unique take-home reminder of the day and also keep the children busy during the party.
10. Jewellery Making
Create rosaries or wooden cross necklaces with wooden beads at your party! Provide your guests with permanent markers and heavy string. The activity is great for people of most ages and all genders. Decorate the party with rustic items, antique furniture, and wooden crosses.
Decorations and Centrepiece Ideas for the First Communion Party
Once you have decided on a favourite theme, you can plan on decorations accordingly. Here are a few first communion decoration ideas:
1. Focus on the Cross
A single baptism candle or a stamped image of a cross or a christening gown placed on a mini-dress form can make a wonderful centrepiece for the child's First Communion Party.
2. Pre-event Photoshoot
Take portraits before the big day with the communicant in their special suit or dress. Slip these photos into frames and these could act as a personalised table decoration. These pictures can also be used to create Thank You Cards that you could send the guests later after the party.
3. Floral Everywhere
Simple spring flowers make beautiful table décor for your daughter's First Communion Party. These flowers can also be taken home by guests as well. If you have a colour theme for the party, then spray paint the flower pots before the party day and include a small gold cross at the centre. You could also use fancy teacups to make the floral party look more elegant.
4. Timeless Centrepiece
If you wish to have a simple table décor, then collect a few tin cans, remove the labels of the cans, and wrap with thick natural rope to add a rustic touch. Place two hydrangea stems inside the cans. These make beautiful centrepieces and if you can get many flowers, the idea would save on decorating expenses.
5. Colour of Choice
For a truly festive feel on the First Communion, you could use the child's favourite colour scheme. Decorate using lots of polka dots and confetti and you could even create a banner with the name of the child and a cross out of dots.
6. Pop of Colour
Another great decorating idea is using colourful themed luncheon napkins and beverages. With colour-coordinated plates, fan these out on the table and use simple crosses with a few colourful balloons as decorations. If you want it to be a bit more formal, you could use fancy cloth napkins.
7. Sunday School Artwork
If you collect the crafts done in Sunday school over the years, go through them to find one that represents the most important lesson on faith. Use these craft pieces as decorations for the party.
8. Creative Guest Book
Place a blank photo book for guests to sign as a guest book. You could also include a special prayer or blessing and keep the book after the event as a reminder of the special day.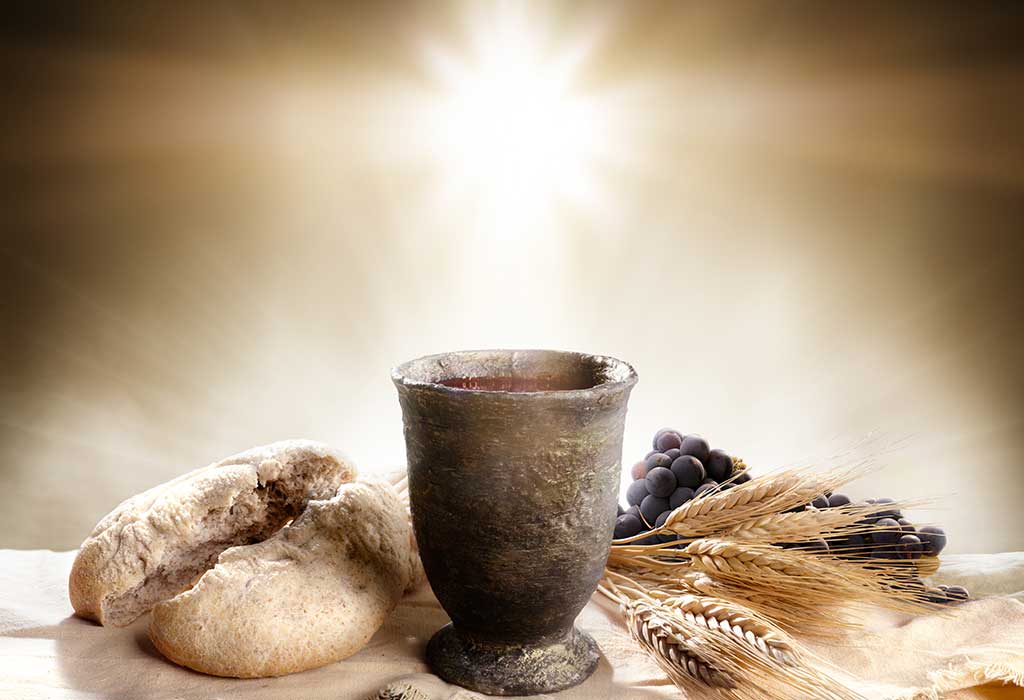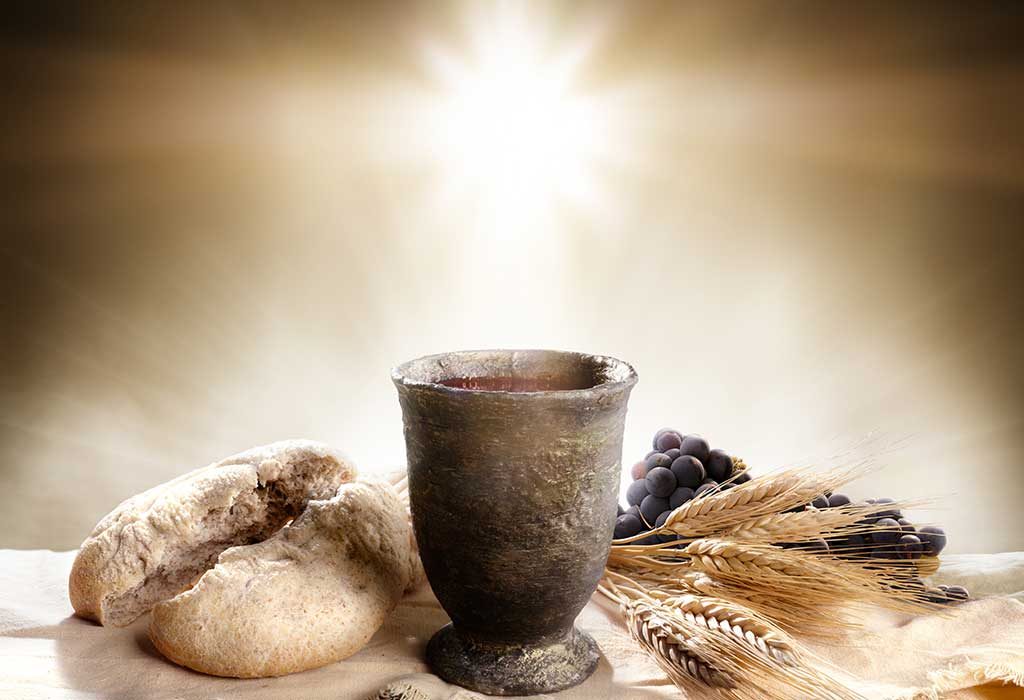 First Communion Food Ideas
After you have selected a theme for the party and the decorations, the next thing is to consider what kind of food you are going to serve the guests at your party. Here are some First Communion Food ideas:
1. Ice Cream Cake
An ice cream cake is an amazing dessert option because you would not need to get ice cream separately. You could serve ice cream cake with other small treats like macaroons, cookies, and pastries.
2. Cupcake Cross
Arrange two rows of white cupcakes perpendicularly to form the shape of a cross. Additionally, you could adorn these white cupcakes with small colourful candies. The extra cupcakes can either be placed on a plate or set across the cross to form the shape of a rosary.
3. White Cake
You could get a white cheesecake or a large plain coloured cake and create a cross at the centre using a gold decorating gel. Decorate the cake with white flowers and serve on a matching white cake stand or a marble tray. You could offer other white desserts like strawberries dipped in white chocolate or yoghurt covered in berries or raisins.
4. Cookie Pops
Oreo cookies dipped in melted vanilla cake pop frosting is also an amazing food idea for the First Communion. You can further decorate the cookies with silver or gold frosting by drawing a simple cross or adding the name of the child.
5. Specialty Donuts
If you are having Morning Mass, you could offer the guests creative treats with toppings like jelly drizzle and peanut butter icing, bacon crumbles and maple icing, or s' mores.
6. Fondue Pots
Fondue pots give a fun twist on finger foods for your First Communion Party. A chocolate fountain is also a popular option and it can be given with a selection of foods like cookies, strawberries, and pretzels.
7. Homemade Chocolates
You could even make your own chocolates or mints and complement it with ice cream sundae bar as these chocolates would make amazing toppings along with granola, sprinkles, and cherries.
8. Meal Times
Most of your food decision will depend on what time of the day it is and your budget. Simple sliced meats and rolls make a great idea for Morning Mass. For afternoon mass, punch and cake would make a delicious pair. Hors d'oeuvres, salad, and entrée would go great for evening parties.
First Communion Cake Decorations
No party is complete without a cake. There are many different designs of cake toppers and you can find both modern and traditional ones at cake shops. If you want a traditional design, pick a topper that shows a young girl or a boy receiving their first communion, with hands folded in prayer or kneeling with a Bible. You could also include designs of religious symbols like a cross, bible, or rosary. It can also reflect the colour or theme of your celebration. If you do not want a traditional cake, then go for little cupcakes instead!
Party Favors Suitable for the First Holy Communion
First Communion party favours should be meaningful and modest. You must also check whether the party favours are adult and kid-friendly, especially if you are unsure of your guest list. However, a few party favour ideas include:
Angel key chains.
Cross key chains.
Cross-shaped candy.
Custom ornaments.
Cross or angel charms.
Faith stones.
Bracelets with crosses.
Mini- rosaries.
Custom keepsake box.
Cross candles.
A party is not complete without fun games! Organise a few activities to keep your guests entertained. No matter what theme you choose for the party, it will be special and you and your family will remember it for years to come.