Baby Blanket Size – How to Pick the Perfect One for Your Child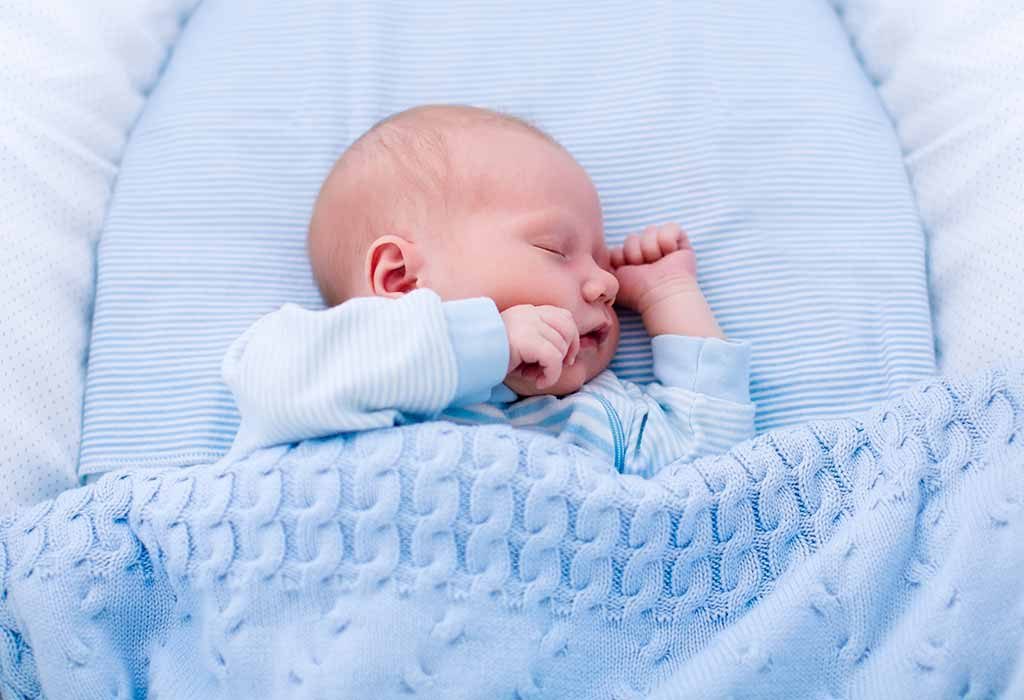 "Hold me a little longer, rock me a little more. Tell me another story, tell me just one more. Let me sleep on your shoulder. Cherish my little smile. For I am only a little baby, for such a little while."
Blankets are like warm hugs, to wrap the little ones and make them feel safe. Handmade or store-bought, sewn or knitted, crocheted or quilted, baby blankets make perfectly adorable gifts for newborn babies and toddlers. They love to hold on to their security blankets to feel comfortable and safe. Mommies, grandmas and aunts would love to knit one or more quilts for the little bundle of joy who is yet to even arrive.
However, did you know a lot of thought goes into buying or making a blanket appropriate for newborn babies? Medical experts don't recommend using blankets for children below 18 months of age as it may lead to suffocation and SIDS (sudden infant death syndrome). But, it may comfort the baby when he is away from his crib, and you need something to keep him warm while you keep a watchful eye on him. So, what it is that you must look at while selecting a blanket for your baby? Read on to know more.
Video :
How To Choose The Right Baby Blanket Size & Why It Is Important?
Why Is It Important to Pick the Right Size Blanket for Your Baby?
Babies grow up pretty fast. They will outgrow their clothes, their toys and mommy's arms quickly. Bedding and blankets are no exception. It is important to pick the right size blanket to ensure it can be used for a few months before it is re-purposed, passed on or preserved as a family heirloom.
It is extremely important that you select the correct type of bedding and blanket for the baby. Size, trims, material, embellishments, everything plays a vital role to ensure the safety of the baby and provide protection from suffocation, strangulation, and SIDS – sudden infant death syndrome. Let's take a look at what the ideal size of the blanket should be.
Ideal Size of Blanket for Babies
One of the major queries while selecting a quilt for babies is what size is ideal? The blanket should be big enough for the baby to be covered well and see at least a few months of usage. However, it shouldn't be too big that it cannot be rolled up and carried around when travelling or difficult to wash frequently. Even when the baby outgrows the blanket in a few months, it should be of ideal size to re-purpose as something else.
Each baby is unique in terms of size. The shape and dimensions of the blankets also depend on the usage. Some blankets can be perfectly square or rectangle. You will surely need about half a dozen blankets, each for a specific purpose and different use. Additionally, blankets will end up in laundry more often than you wish and plan.
Here's a quick guide to select an appropriate blanket for the baby.
| | |
| --- | --- |
| Type of Blanket | Average Size |
| Swaddle Blanket | 40″ x 40″ to 48″ x 48″ |
| Receiving Blanket | 18″ x 18″ to 36″ x 36″ |
| Crib Blanket | 36"x 54" to 45″ x 60″ |
| Multi-Use Blanket | 30″ to 40″ |
| Child / Afghan Blanket | 30″ to 40″ |
| New Born Baby Blanket | 30″ x 30″ |
| Small Preemie Baby Blanket | 15" x 15" to 18″ x 18″ |
| Large Preemie Baby Blanket | 20" x 20" to 24″ x 24″ |
| Lovey Blanket | 10″ x 10″ |
We shall discuss each type of blanket a little in detail here.
Swaddle Blankets
Swaddling gives the same experience as being tightly held in arms or being in the womb. The baby will feel safe and secure wrapped in them. Swaddling can immediately calm the baby and comfort them. The square blankets ranging from 40" x 40" to 48" x 48" are perfect to tuck babies and allow parents to go hands-free while the baby takes a nap or is being held by someone. Cotton muslin is the recommended material to keep the baby comfortably warm.
Receiving Blankets
Receiving blankets can come in handy for many things. Made from thinner material, these blankets are perfect for use in early infancy. Slightly smaller than swaddling blankets, they can be used to bring the baby home from the hospital or cover the car seat, used while nursing or simply spread as a changing mat. The receiving blanket size ranges from 18" x 18" to 36" x 36" and is perfect as a gift to new moms.
Crib Blankets
A standard crib accommodates a mattress of around 27" x 52". This makes ideal crib size blanket dimensions around 36" x 54". You can go as large as 45" x 60" for larger cribs. It is recommended that you check the measurements of the crib correctly to ensure that you get the dimensions right. Add a few inches to these measurements if you are looking to hang the borders from the mattress edge. Crib blankets can be crocheted in bright colours to add to the décor of the baby room.
Multi-Use Blankets
The multi-use blankets are versatile in nature. Use them as travel blankets or spread on the floor and let the baby crawl. Line them in the stroller or roll them to form a cushion. Available in varied sizes, these multi-use blankets are perfect for gifting at the baby shower or when the baby has grown to a toddler. They can be used for many years to come, keep re-purposing them to suit the needs. An average baby blanket size of 30" x 40" is an ideal dimension for a multi-use blanket.
Afghan Blankets
Afghan blankets are adorable and colourful. They have beautiful crochet work in bright colours and can be customised according to the size preference. Some even weave a special message, a wonderful prayer, the baby's name or initials to add a personal touch. Keep them cute and simple or as intricate as you want. Just follow the instructions and you will master the art in a few trials. 30" x 40" is the ideal size for a child Afghan. Although Afghan blankets are too tempting to resist, you must know that they pose a high risk of SIDS. The knitted/crocheted weave can cause accidents, and therefore, the AAP (American Association of Paediatrics) advises against them.
Newborn Baby Blankets
A standard baby blanket size for a newborn baby is around 30" x 30". Pink or blue, yellow or green, or something to match the nursery, you can never have too many baby blankets. And with a growing baby, you will be rotating them more often than you have planned.
Small Preemie Baby
Preemie blankets are ideal for premature babies. The tiny baby quilt size ranging from 15" x 15" to 18" x 18" will cover your little baby perfectly. If you wish to cover the bassinet with it, you can opt for a little larger size.
Large Preemie baby
These blankets are just like swaddle blankets, but for a premature baby. A large preemie baby blanket measurement can be anywhere between 20" x 20" to 24" x 24'.
Lovey Blanket
A cute lovey blanket is usually a circle or a square of about 10" x 10" and has a soft toy, a cute stuffed animal or something interesting for the baby to hold on. Besides providing comfort to the baby, a lovey blanket also helps in developing fine motor skills and improve the grip of the baby.
Once you know which blanket you want to go for, you must also know what material is appropriate for your baby. We shall discuss that below.
Ideal Material for Baby Blankets
The material used for blanket should be soft, breathable, lightweight and easy to wash. Organic cotton, lightweight flannel, hypoallergic wool and similar type of material is recommended. A thin blanket is ideal for summers while a multi-layer and slightly thicker blankets are good to keep warm in winters. Children's blankets are likely to be washed more often; therefore, choose the finest quality of fabric that can withstand multiple washes and remain soft and smooth. Good quality cotton fabric with high thread count and close weave can be passed on to the next baby. There's also an option for eco-friendly organic bamboo and cotton blends. In colder climates, soft wool-like cashmere or angora can be used. Avoid synthetic or rough to touch material for baby blankets.
You can buy beautiful baby blankets online or in a baby store near you. A little research online, and you can stitch one with the help of a tutorial video. Knit them or crochet them if you have patience and skills or simply add baby's initials with cute embroidery at the corner to give it a personalised touch. Once the baby outgrows a beautifully crocheted quilt, it might end up beautifying your sofa as a warm throw to snuggle up in winters. Choose the finest and the softest yarn if you are planning to knit the blanket for the baby.
A good baby blanket will ensure that your baby stays warm and comfortable. However, always keep a watch on your baby when he has a blanket around him as it could lead to suffocation, strangulation and SIDS. The best way to keep these hazards away is to adjust the baby's room temperature and dress him in a onsie instead of tucking him in a blanket.
Also Read:
Baby Sleeping Problems and Ways to Deal with Them
Bad Sleeping Habits that Can Harm Your Little One
How Much Sleep Should a Baby Need
?>