What Is a Receiving Blanket and How to Use It?
As a mother, you'll never forget the moment when you held your baby in your arms for the first time. You must have noticed, every little detail about your baby, his nose, his eyes, his tiny hands and fingers, and even the soft white blanket he was wrapped in. Now you must have folded up that receiving blanket neatly in a drawer and perhaps it will never see the light of the day, but do you know that your little munchkin's first blanket can be used in so many ways? The very first blanket that many families receive their baby snuggled up in is called a receiving blanket. Read on to learn more about receiving blanket and how can you put one to good use once it has served its purpose!
What Is a Receiving Blanket?
A receiving blanket is a blanket that is used to snugly wrap a newborn before giving him to his family members. Normally it's a thin, soft cotton blanket that is sold in packs of two or four and a staple at maternity wards. While they have the sentimental value of being the first-ever cloth wrapped around your baby, they are useful for a wide variety of applications from cleaning spit-ups to keeping a baby dirt-free. While hospitals usually provide one, most new mothers tend to buy standard off-the-shelf receiving blankets for their babies, as one can never have enough of receiving blankets for their babies. If you want to make it extra special, you can always make one yourself.
Various Uses of a Receiving Blanket for Babies
A receiving blanket can prove to be very useful if you know how to use it right. Let's find out how you can use your little one's first blanket over and over. You can also buy new receiving blankets if you would like. Receiving blankets can be used for the following:
1. Swaddling
The size of receiving blankets makes them the perfect first cloth to swaddle your wriggly baby. Once you learn how to swaddle your little one, you will have no trouble in calming him down!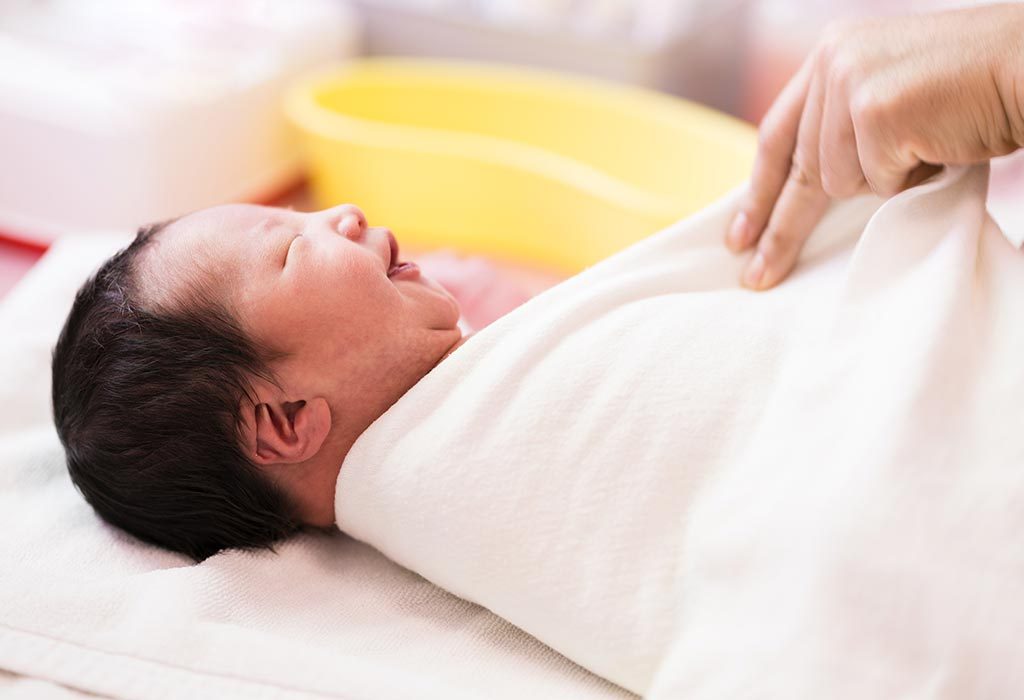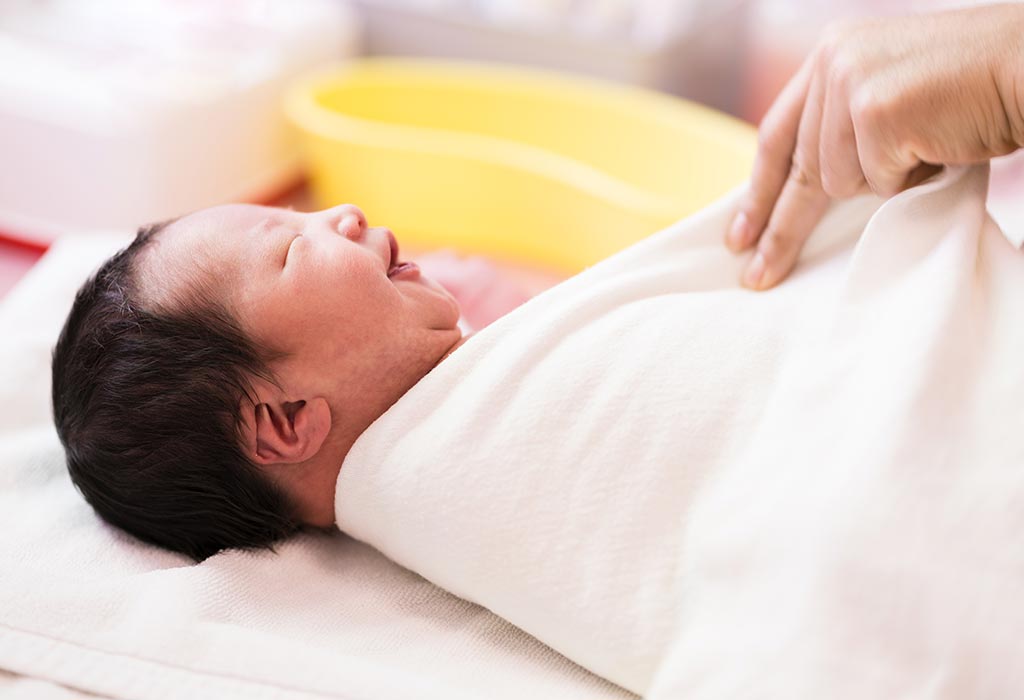 2. Wrapping Up After A Bath
You can use your baby's first blanket to wrap him up after a bath. The soft and familiar fabric of the receiving blanket will keep your little one comfortable.
3. As a Breastfeeding Cover-Up
If you prefer privacy while breastfeeding your baby, you can use a receiving blanket to cover up when you're breastfeeding on the go. Its small size makes it easy to carry around in a diaper bag.
4. As a Stroller Shade
Your baby's first blanket can be put to good use when you go for a stroll to the nearest park with your baby. Keep one in the stroller basket and use it to block the sunrays from hurting your baby's eyes.
5. As a Diaper Changing Mat
A receiving blanket can be used as a diaper changing mat too. If you need to change your baby's diaper in a public restroom, spread the blanket on the designated surface and change his diaper comfortably.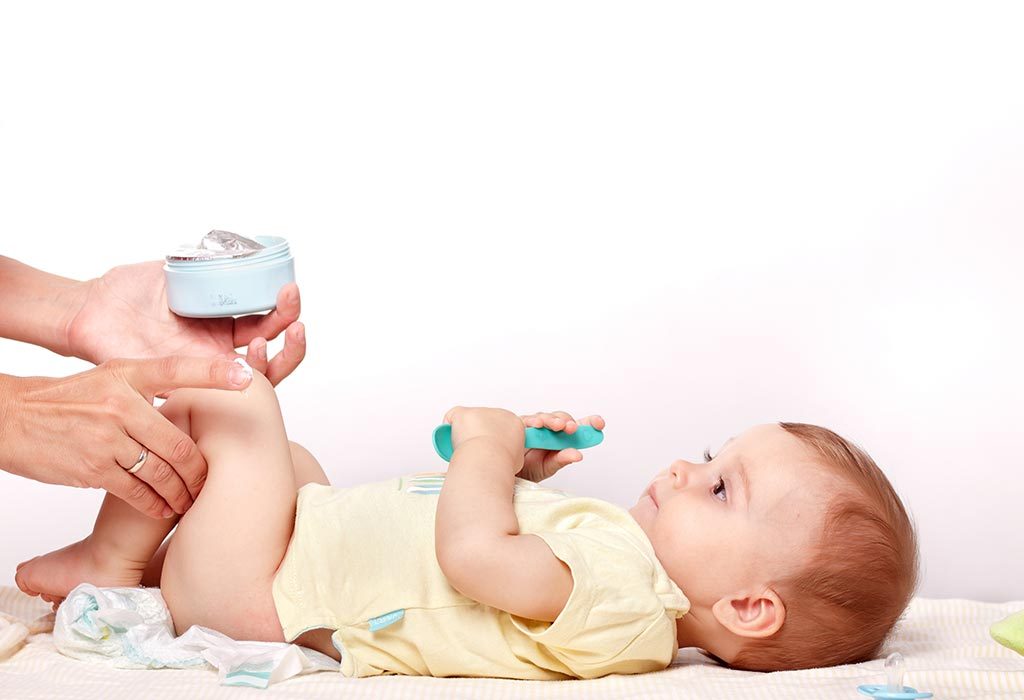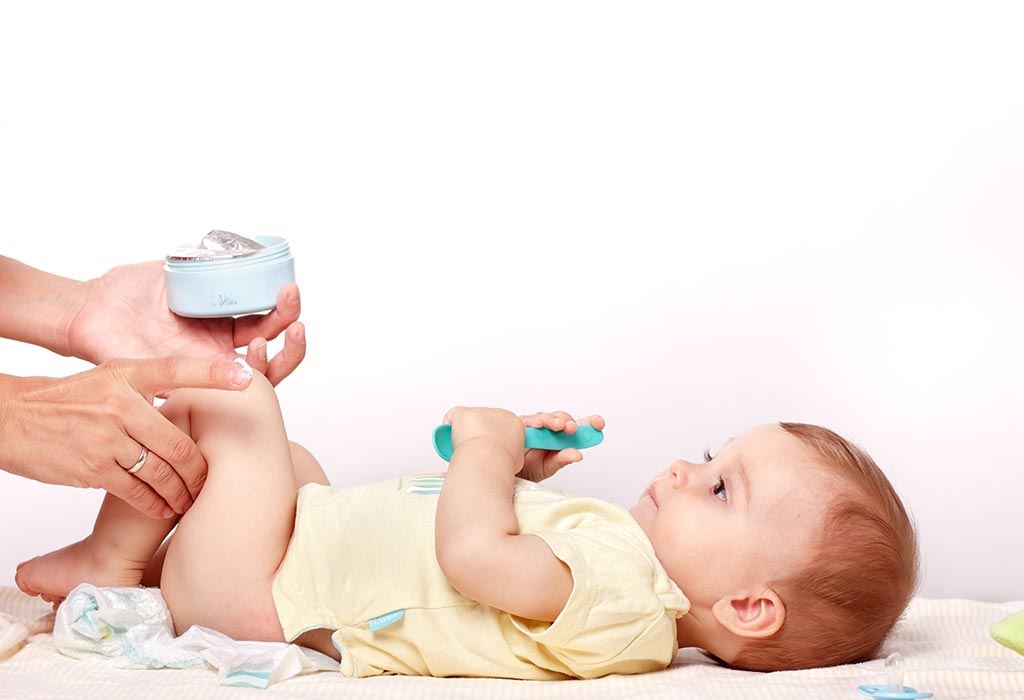 6. As a Play Mat
When visiting a friend's place or the park for the evening, receiving blankets can pass for a perfect play mat if you forget to pack one.
7. As a Sleep Prop
If there's anything that your baby will fall asleep in without throwing tantrums, then it's the receiving blanket. The familiar scent and warmth will provide comfort to your baby and he will fall asleep in it in a matter of minutes.
8. As a Burp Cloth
If your little one is a messy eater, this amazing length of cloth can save you a lot of cleaning time!
What Else Can a Receiving Blanket Be Used For?
If you want to hold on to your baby's first blanket, then you will always find a reason for it. And you've every right to keep it, after all, it will bring back the memories of your baby's first day. If you tend to be on a creative side and don't want to stuff the blanket at the back of your closet, you can always put it to good use. Find out how you can use your little one's receiving blanket.
1. For Sentimental Value
You can make quilts, stuffed toys or pillows out of your baby's first blanket and keep them in your baby's room or living room for the years to come.
2. For Room Decoration
Once your baby turns 1 year of age and you feel he is too old for his first blanket, you can cut the blanket into different shapes to make banners or garlands. Being soft and thin, they are easy to cut through, so no hassle there!
3. To Make Aprons for Different Activities
Being easily washable, the blankets make excellent apron material for your child when they turn into little artists.
4. As Furniture Covers
You can use them as a quick furniture cover during your little one's mealtimes or when your little one explores his creative side on a couch. Your little one's first blanket will quickly absorb any spills and save your precious furniture.
5. For Cleaning Purpose
While most moms don't prefer using their babies' first blanket for cleaning purpose because of sentimental value attached to them, but if you don't mind, you can use your little one's first blanket for cleaning his spit-ups or to wipe liquid spills on the surface.
Receiving Blanket Safety Tips for Babies
You may be surprised on reading safety tips regarding the usage of receiving blanket for your baby, but you can never be too careful with babies. Follow these tips when using a blanket for your baby.
Never leave loose blankets in your baby's crib.
Never cover your baby completely with a blanket in his first year.
Do not wrap the blanket around your baby's head or neck.
Do not swaddle your baby when he starts rolling over.
How to Select the Right Receiving Blanket for Your Child
Typically a receiving blanket is made out of soft cotton and measures 30 inches by 30 inches. They come in a range of materials and designs. Ultimately it's up to you and your preferences with colour and texture to buy the best one for your baby. Blankets made out of pure cotton are ideal as they are breathable and soak up moisture readily without making it uncomfortable for your baby. It also has excellent thermal properties, making it a great first choice.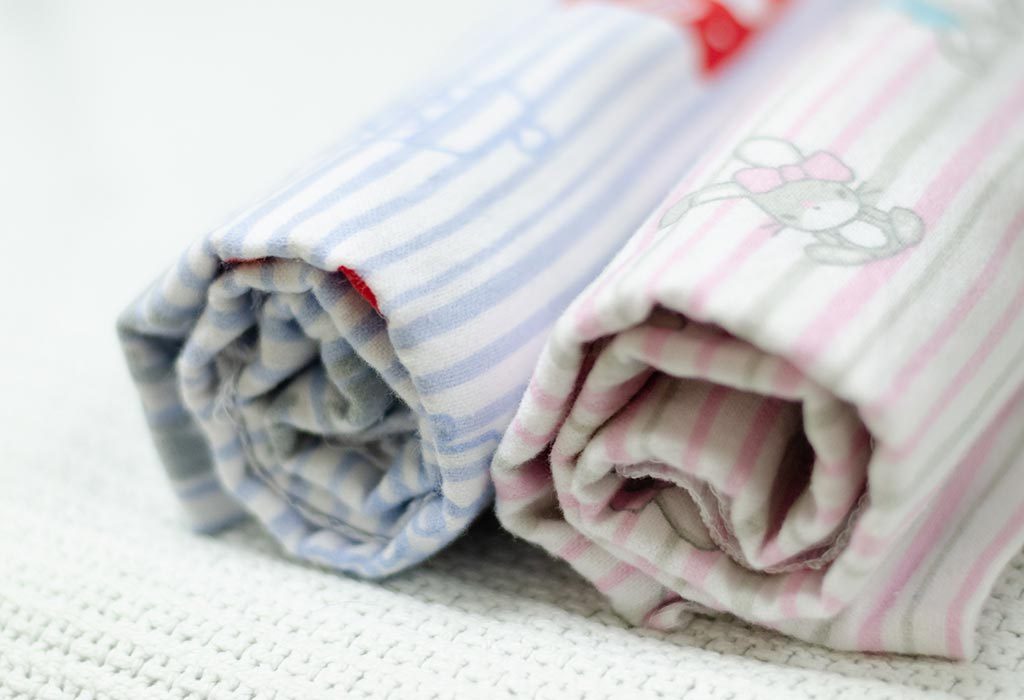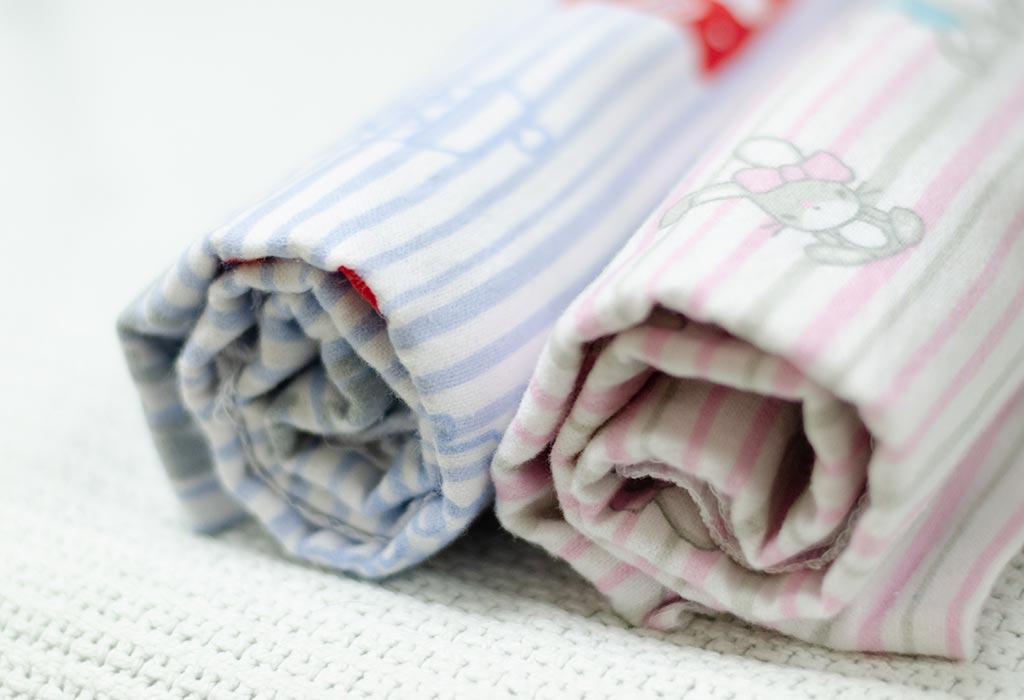 What Is the Difference Between Receiving Blanket and Swaddling Blanket?
Many people tend to use receiving blankets and swaddle blankets interchangeably, but these two are different. While receiving blankets can be used to swaddle a baby, they can't be used for long enough as babies quickly outgrow them as they grow up. The major difference between the two is their size. A receiving blanket is usually 30 inches by 30 inches while a swaddling blanket is usually 47 inches by 47 inches. Swaddling blankets are made out of a more elastic material to make it easier to wrap your baby. They also feature attachments such as Velcro or button clips to keep it in place while your baby is wrapped.
DIY Receiving Blanket
If you want to make a customised receiving blanket for your baby, here's how you can make one. Follow the instructions given below to learn how to make a receiving blanket at home:
Supplies
Soft, washable fabric or flannel – 1 yard
A thread of matching colour
A pair of scissors and straight pins
A sewing machine or serger
Instructions
Start with preshrinking the fabric.
Trim off the selvedges from the fabric and cut it into a squared rectangle.
Using a sewing machine, make a rolled hemstitch along the perimeter covering all edges.
If you don't have a sewing machine make a baby hem by turning the fabric to the wrong side along the edges about ¼ inch wide. Turn the 1/4th inch edge under a second time and enclose all the raw edges. Pin it in place and miter the corners.
Make a topstitch or hand-sew the hem to keep it in place.
Ensure the edges are secured and there are no raw edges as the blanket will be washed often.
If you're using a decorative blanket, use a decorative topstitch for the hem.
Swaddling blankets not only carry with them the memory of your child's birth but they are also a great source of comfort for the baby in his first year. Although their primary purpose is to wrap the baby, they can be used throughout your baby's first year. So bring out that receiving blanket of your little one and put it to good use.
Also Read: When and How to Stop Swaddling Your Baby