Are Spa Treatments Safe During Pregnancy?
There's nothing like a pampering spa treatment to ease your aching back, swollen feet, or dry, itchy skin during your pregnancy. But are visits to the spa safe during this time? This is a question pregnant women may have owing to the number of spa treatments available – some of which you can indulge in, and some of which you must avoid.
When Can You Go to a Spa During Pregnancy?
An ideal time to enjoy a bit of indulgence in the form of spa treatments is the second trimester. The risks are lower, and you have a bit more energy as your morning sickness and tiredness is behind you. Some spas have a policy of not suggesting any treatments to women who are within 12 weeks of their pregnancy, and some restrict treatments to women who are over 32 weeks.
You should look for a spa with staff that is trained to care for pregnant women. Let them know how far you are into your pregnancy while booking an appointment. This will help them tailor a comfortable and pampering session that is suited to all your needs.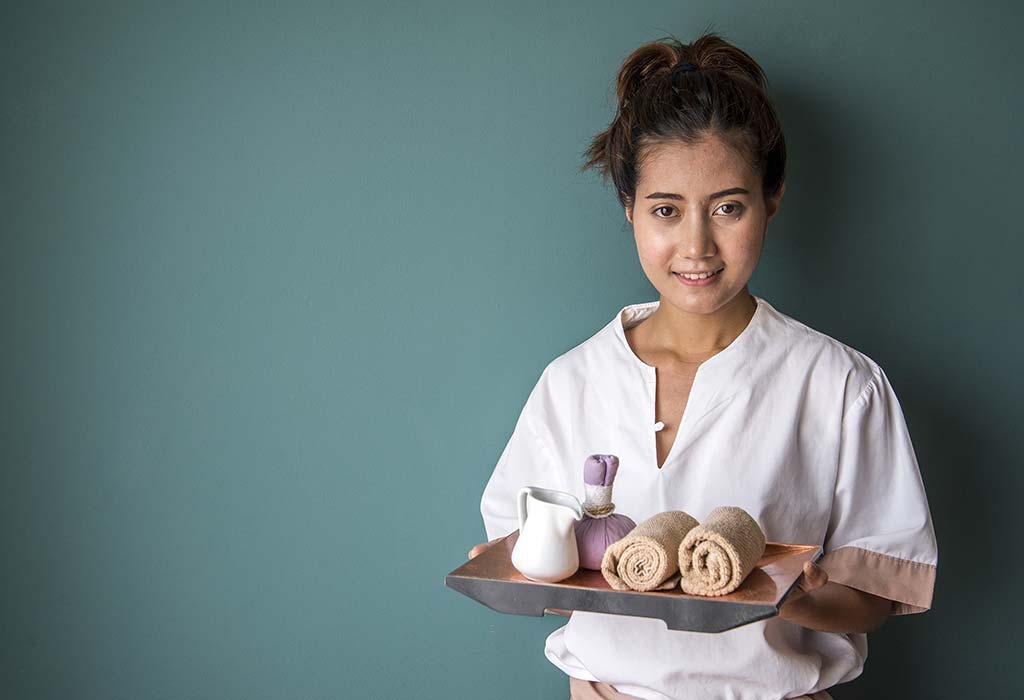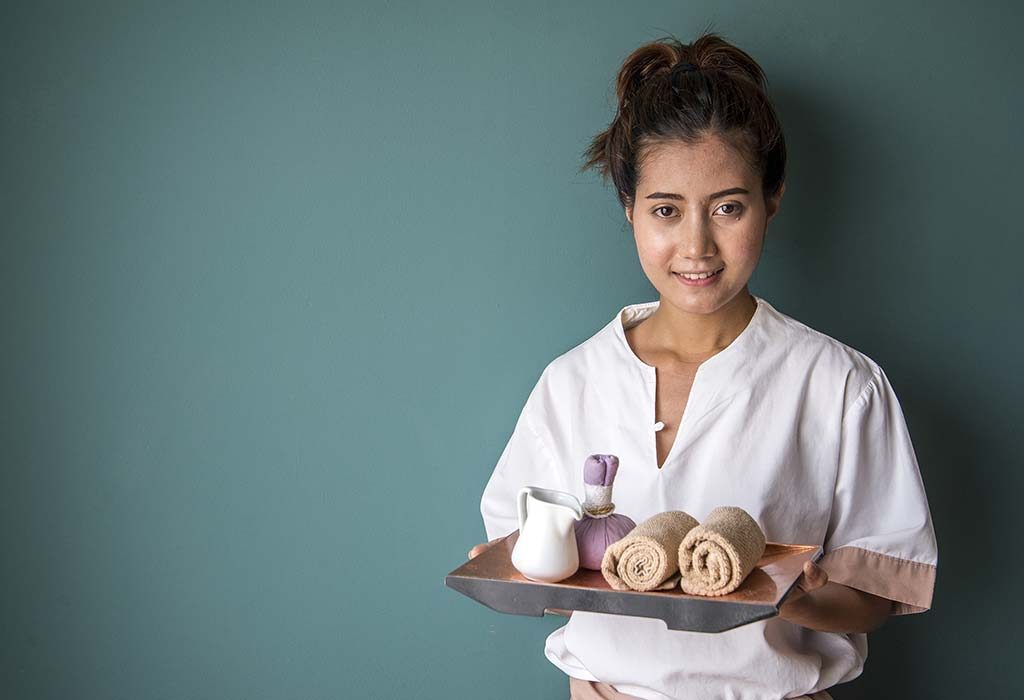 Things to Consider Before Booking a Spa While Pregnant
Here are some things to bear in mind before you book a spa treatment:
Choose a certified spa with experts. A spa centre that is under the supervision of an expert who is trained in prenatal spa treatments is as safe as it can get. Always inform the staff about how far you are into your pregnancy.
A spa treatment is good only when your pregnancy is progressing normally. If you're experiencing complications or classify as a high-risk pregnancy, it is not advisable to go to a spa.
Always discuss with your doctor. Even if both the conditions mentioned above check out, you must first consult your gynaecologist before deciding to get a spa treatment.
Hot tubs are strictly off-limits. Any treatment involving hot tubs such as sauna, steam rooms or a Jacuzzi must be avoided as there is significant risk involved for the foetus.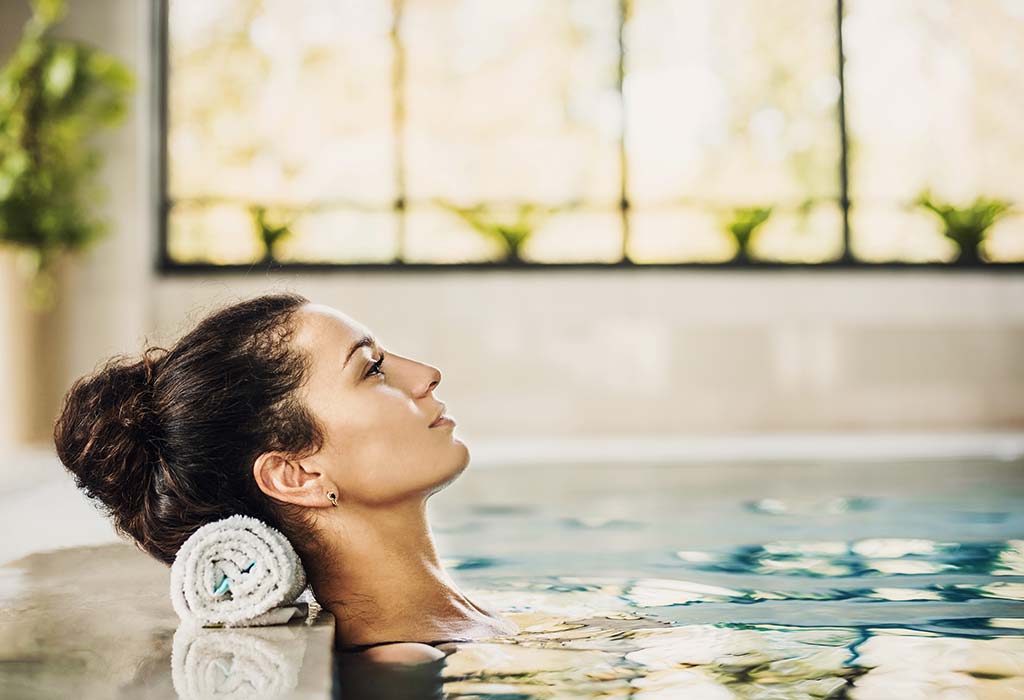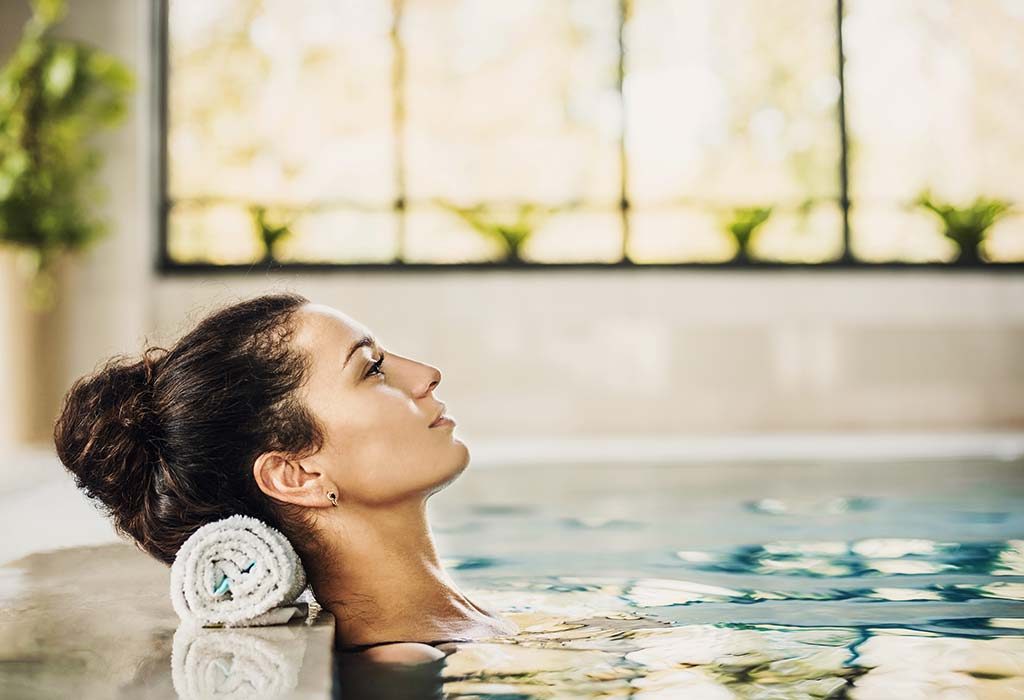 Spa Treatments You Can and Can't Enjoy When Pregnant
Many of the existing spa treatments need only minor modifications to make them friendly for moms-to-be. For example, if you've been sensitive to smells in the last few months, you can ask for scent-free lotions. Here are some of the spa treatments you must steer clear from.
1. Sauna
A sauna is an enclosed heated room where dry heat is circulated around you to increase circulation in the extremities of your body, such as skin and muscles. It works by increasing the body temperature which in turn increases circulation in the extremities to expel the excess heat.
Safe and Unsafe During Pregnancy
Sauna or any type of thermal treatment is unsafe during pregnancy. The treatment can lead to the overheating of the body, and studies show links between overheating and birth defects in the foetus.
Precautions You Should Take
Avoid a sauna or any hot spa treatments.
2. Body Scrubs
Body scrubs are an excellent way to stimulate the overall circulation in your body. The scrubs or massage help more blood flow throughout the body as it carries all the vital nutrients and oxygen that are much needed during your pregnancy. This helps in supporting both your and the baby's health.
Safe and Unsafe During Pregnancy
Body scrubs are safe provided they do not use any oils that are known to be unsafe during pregnancy. It also has the added perks of sparking the production of collagen and elastin in your skin which can warn off stretch marks and make your skin glow.
Precautions You Should Take
Your skin becomes sensitive when you're pregnant. So choose hydrating ingredients that are gentler for scrubs, like sugar-based ingredients rather than aggressive salt-based ones. Choose scent-free oils for the treatment to avoid as many extra chemicals as you can. Some essential oils such as tarragon, rosemary, sage, wintergreen, and mugwort can have a detox effect that can contribute to miscarriages.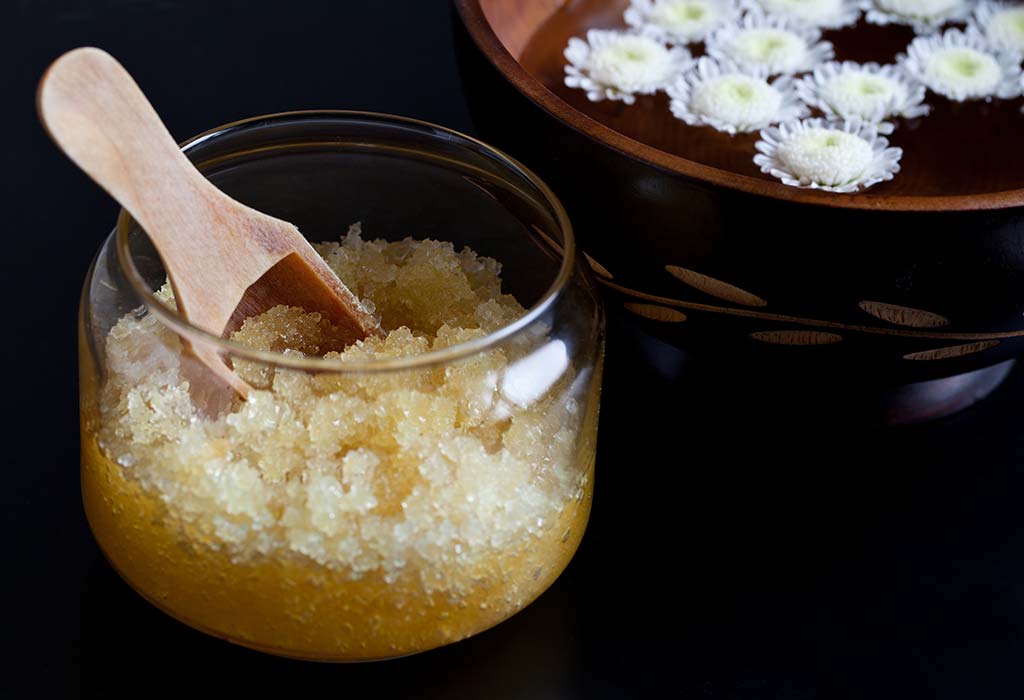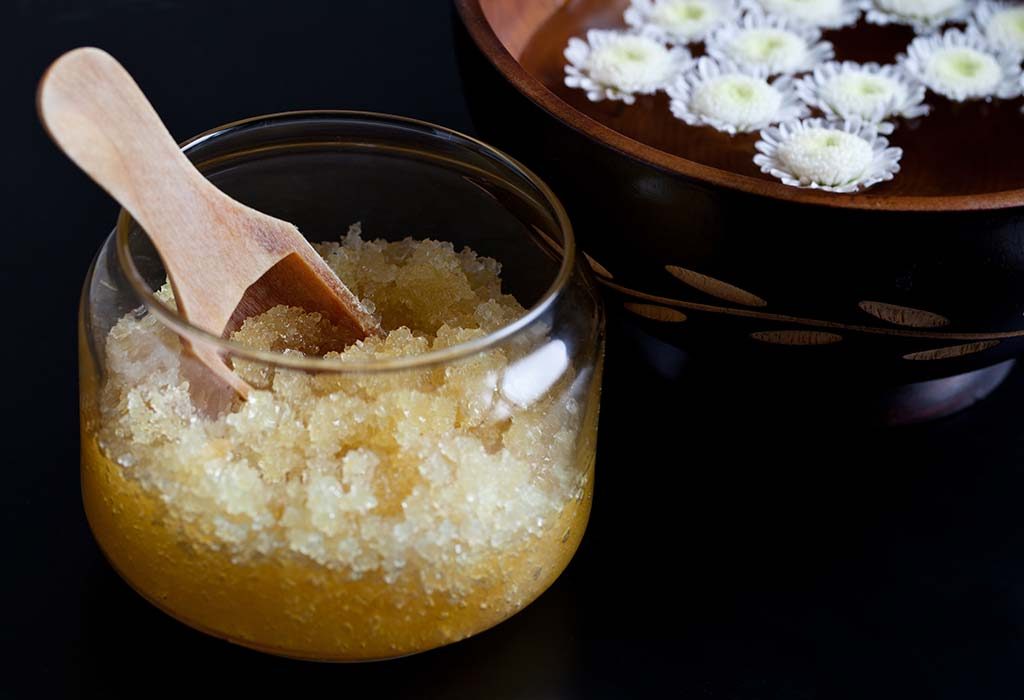 3. Massage
Massages are great for relieving body aches, improve blood circulation and relieve stress. Spas that cater to pregnant women offer bean bags or specially modified chairs so you won't have to lie down on your belly.
Safe and Unsafe During Pregnancy
Not all massages are safe for pregnant women. Emphasis should also be placed on the massage therapist, as the wrong hands that are untrained for prenatal care can harm the baby. Generally, it's best to avoid a massage in early pregnancy as many of the oils used in the treatments can cause discomfort. Some spas even recommend against it unless you're over 12 weeks.
Precautions You Should Take
The safest way is to choose a massage treatment specifically designed for pregnant women. You can ask for a massage therapist who is trained and has experience with pregnant clients. Consult your doctor if your pregnancy is high risk or you have conditions such as preeclampsia or hypertension.
4. Facial
Simple facials are fine during pregnancy as long as they consist of massaging, cleansing and moisturising the skin. Many women experience a natural glow during their pregnancy. For those who face some common problems such as dryness, acne and redness, a gentle facial can make all the difference.
Safe and Unsafe During Pregnancy
Facials with simple treatments are generally safe. Harsh treatments such as certain types of chemical peels and microdermabrasion can do more harm than good. Since your skin is extra sensitive during pregnancy, a harsh procedure can cause breakouts, uneven results and irritation. Gentle exfoliating scrubs involving natural ingredients are safe and soothing.
Precautions You Should Take
Double-check the ingredients in your facial treatments for toxins and compounds that may be harmful during pregnancy. A common ingredient in facial scrubs is salicylic acid which is a Beta Hydroxy Acid (BHA). BHA in oral forms is known to be harmful to the baby. Therefore it is best avoided. Treatments that use Alpha Hydroxy Acids (AHA) such as lactic acid and glycolic acid derived from fruits are safe.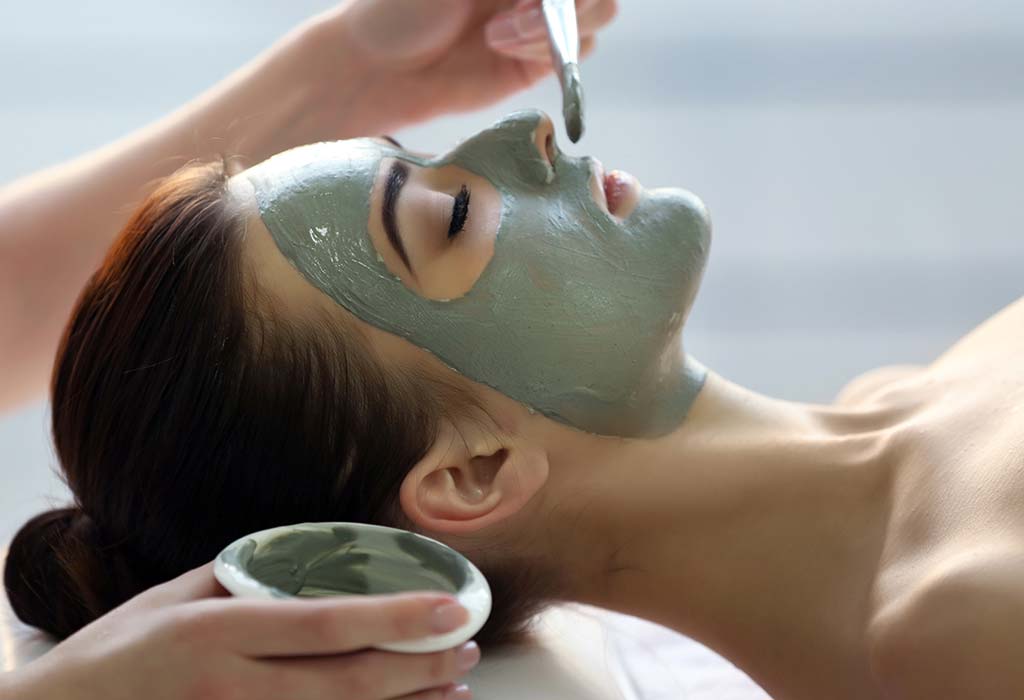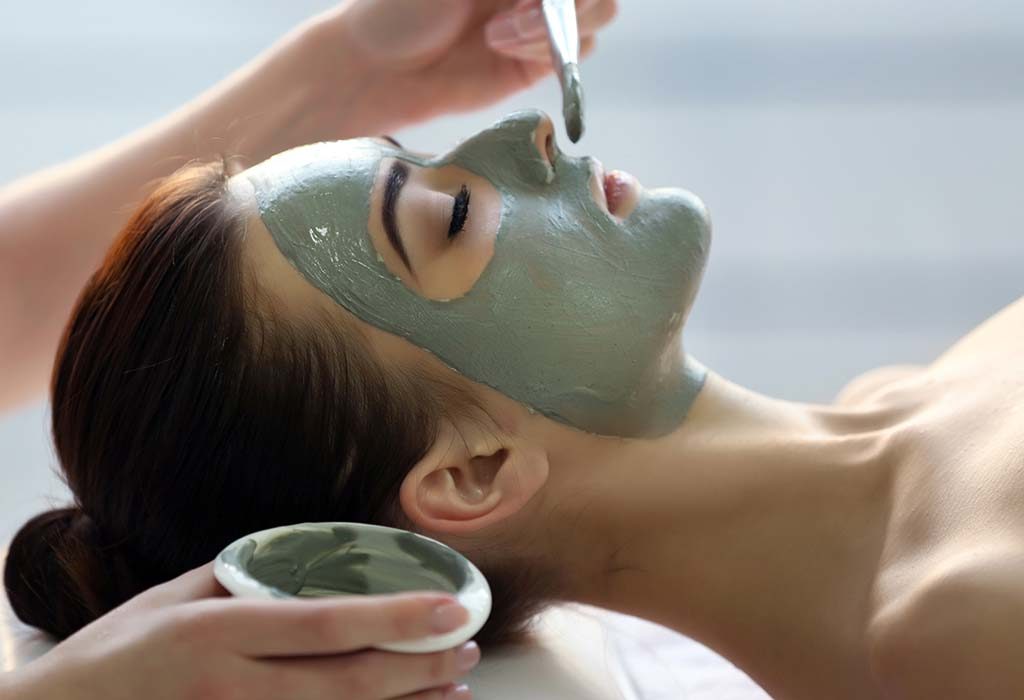 5. Manicures and Pedicures
Neatly made hands and feet will always make you feel good. Some women love the idea of having great looking nails in their first picture with their babies. And, yes manicures and pedicures occasionally are a safe way to pamper yourself.
Safe and Unsafe During Pregnancy
They are mostly safe unless they are using chemical substances known to harm the baby. Avoid cuticle cutting, acrylics and polishes that contain dibutyl phthalate (DBP). DBP is known to cause congenital disabilities in mammals.
Precautions You Should Take
If you can, bring your own instruments to the spa or request the aesthetician to use fresh equipment. Although the chances of contracting an infection through equipment are rare, it's best to avoid the risk. Choose nail polish brands that are free from toluene DBP and formaldehyde. A foot spa during pregnancy is fine as long as it doesn't involve reflexology during the massage. Reflexology is unsafe for pregnant women.
6. Hair Removal/ Waxing
Hormonal changes during pregnancy can cause your hair to grow faster than usual. You might also notice hair growth in unexpected places. Thankfully, many of the waxing and threading procedures are safe temporary solutions.
Safe and Unsafe During Pregnancy
It is relatively safe to wax or shave your legs during pregnancy. You may find that it is more painful than usual because of your heightened skin sensitivity and pumped-up blood vessels.
Precautions You Should Take
Inform the spa that you have a baby bump so they can offer you the right kind of seating to help ease the process. One day before waxing, prepare your skin by using a gentle exfoliant and moisturiser to help the wax peel off more easily. Have your post-wax soothers ready. Use simple soothers such as aloe vera gel, a simple cold press or unrefined coconut oil.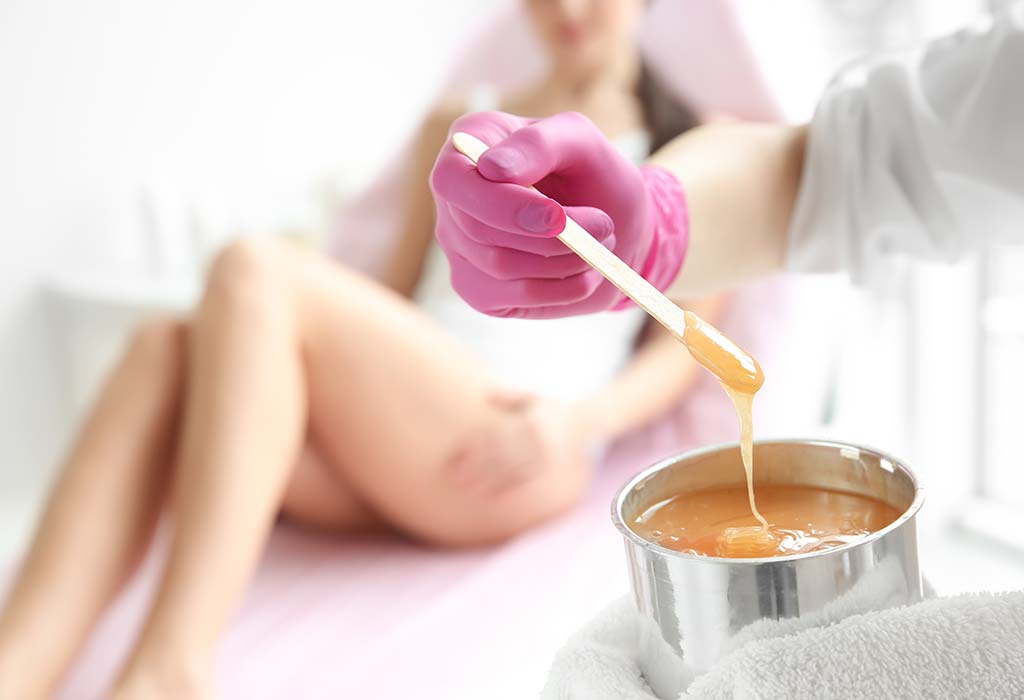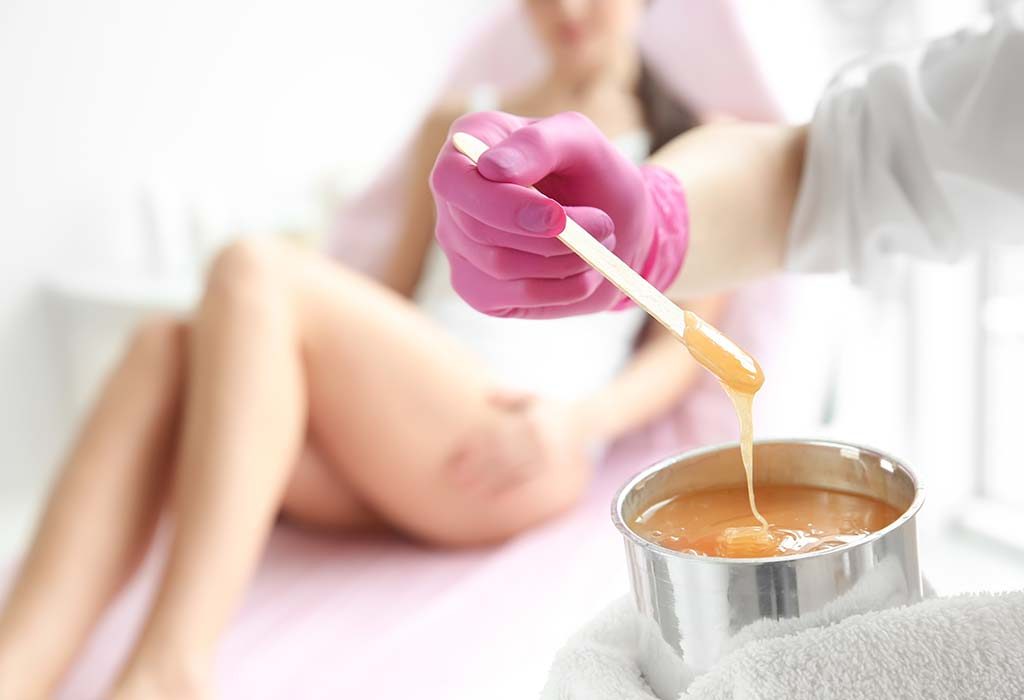 7. Hot Tubs and Tanning Beds
Hot tubs cause the body to heat up during the treatment; similar to a sauna, they should be avoided. Tanning beds use Ultraviolet light to induce a tan in the skin. Prolonged exposure of skin to UV-rays is shown to increase the risk of cancer and causes the skin to age faster.
Safe and Unsafe During Pregnancy
Both hot tubs and tanning beds are unsafe during pregnancy. Hot tubs can cause your body's core temperature to rise above which is known to cause birth defects in babies such as neural tube defects (NTD) and hernia. The exact effect UV rays have on the foetus isn't clear. However, some studies link prolonged UV exposure to lack of folic acid in the body. UV rays break down folic acid which can result in congenital abnormalities.
Precautions You Should Take
It is advisable to avoid these during pregnancy.
8. Body Wrap
A body wrap is a procedure in which a herbal mix or mineral preparation is applied on your skin. It is followed by wrapping the body in strips of cloth or a sheet to hold it in place. The supposed benefits of the process include skin softening, tightening, detoxification and temporary weight loss.
Safe and Unsafe During Pregnancy
The body wrap is unsafe during pregnancy. One of the objectives of the procedure is to increase body temperature to advance sweating. Since this can increase the core body temperature, it can be harmful to the baby.
Precautions You Should Take
It is best to avoid this treatment during pregnancy.

9. Hair Treatment
You'll have enough on your mind during the second and third trimester to remember to take care of less important things. Your hair is one of those things. Eventually, it leads to dandruff or lacklustre hair. A hair spa during pregnancy might then be just what you need to lift your spirits.
Safe and Unsafe During Pregnancy
Hair treatments are safe as long as they do not involve any oils that are heavily scented or known to cause harm to the baby. Hair colours, dyes and relaxants should be avoided as they contain unsafe chemicals.
Precautions You Should Take
Avail your services from a reputed spa with experts trained in prenatal spa treatments. If you're highlighting your hair, choose ammonia-free, natural or vegetable dyes. Not all aromatic oils are good for you during this period – select chamomile, jasmine or spearmint for stress relief hair treatment.
Pregnancy is a great time for pampering yourself at a spa. However, always consult your doctor when you are in doubt.