Appam Recipe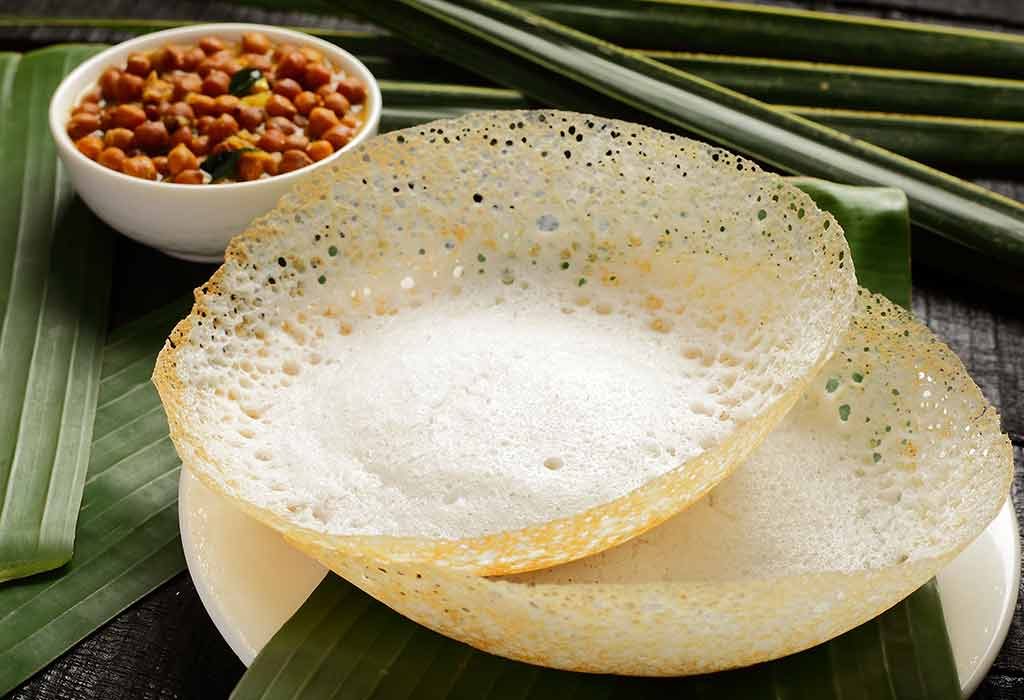 In this Article
Making a delicious breakfast that your toddler will relish is not an easy task, but worry not as we bring to you a simple appam recipe. Appam is a south-Indian delicacy mostly popular in Tamil Nadu and Kerala. This is a delicacy with lacy border and spongy inside, isn't that interesting? It is also a healthy recipe as it requires very little oil. Let your little one feast on this delicious appam as it is or just generously pour coconut milk on the appam and let them enjoy it.
Cooking time
| | |
| --- | --- |
| Type | Time(hh:mm:ss) |
| Preparation time | 00:15:00 |
| Cooking time | 00:07:00 |
| Total Time | 00:22:00 |
Cooking Method
Gas Stove
Type of Meal
Vegetarian
Suitable For
Toddlers above 20 months
Meal Schedule
Breakfast or dinner
Recipe Type
Main Dish
Ingredients
| | |
| --- | --- |
| Idli rice | ½ cup |
| Raw white rice | ½ cup |
| Urad dal | 1 tbsp |
| Fenugreek (Methi ) seeds | 1 tsp |
| Sugar | 1 tsp |
| Coconut Milk | ½ cup |
| Salt | As per taste |
| Cooked white rice (optional) | 1 tbsp |
| Oil | To drizzle on Appam |
| Water | As required |
Instructions
The following instructions explain How to make appam in a simple way:
In a large bowl filled with water soak idli rice, raw rice, urad dal and methi seeds for at least 5 hrs.
Grind the soaked rice and dal mixture in a mixer along with cooked white rice into a fine batter and let it ferment for 7-8 hrs.
After the batter is fermented well add salt, sugar, and coconut milk and give it a good mix.
Adjust the consistency of the appam batter a little thinner than that of a dosa batter.
In an appam pan which is similar to a small kadai, pour a ladle of batter in the centre and swirl the batter around the pan to coat the sides of the pan.
Add 1 tsp oil on the sides of the appam and close the lid and cook for 2-3 minutes.
Once you see the appam turning light brown in the corners you can remove it from the heat and serve with coconut milk or any chutney of your choice.
Recipe tips
As you are now aware of the step by step instructions for a traditional appam recipe, note down the following pointers to get the perfect texture and taste.
Usually, appam batter should have a thin consistency to get the appams crispier towards the sides and soft and fluffy in the centre.
If the batter is not fermented enough you add a pinch of baking soda to it.
Homemade coconut milk enhances the flavour of appam than canned coconut milk.
Leftover appIam batter can be stored in the refrigerator for up to 3 days.
You can use coconut oil or groundnut oil for preparing this recipe instead of refined sunflower oil for added health benefits.
Nutrition value (Per 100 Grams)
| | |
| --- | --- |
| Nutrient | Value |
| Energy | 100 cal |
| Carbohydrates | 18 g |
| Fat | 1.5 g |
| Protein | 1.5 g |
| Vitamin A | 1 mcg |
| Calcium | 2.1 mg |
| Cholesterol | 0 g |
| Fibre | 0.8 g |
| Folic Acid | 1.5 mcg |
| Magnesium | 20 mg |
| Phosphorus | 36 mg |
| Sodium | 1.5 |
| Zinc | 0.3 mg |
Health benefits
Appam is wholesome breakfast with the following health benefits for babies:
Rice is abundant with complex carbohydrates which essentially provides energy to the little ones to keep them active all day long.
Since appam is low in calories it helps in keeping obesity at bay for your munchkin.
Urad dal has immense dietary fibre which is very much essential for improved digestion in babies.
Rice also has vital proteins that are needed for proper muscle development in children.
Coconut milk has mostly essential fats that are required by toddlers for better brain development and glowing skin.
Coconut milk also has antimicrobial lipids that protect babies' body from germs and bacteria.
Buying guide
Making delicious home-made appam baby food recipe also dependants on the quality of ingredients used in it, so check out the buying guidelines below:
Always make appam using fresh and white raw rice as it will yield whiter appams.
Check the expiry date of the rice and dal you buy.
Choose the coconut which is browner and free from cracks as it will have more white than water.
Buy organic rice to keep your baby away from crops that are grown using chemicals and pesticides.
Your baby is sure to enjoy a plate of appams which is crispy outside and fluffy inside. Our babies are a priceless possession, therefore opt for home-made breakfast ideas like this appam recipe than depending on store-bought cereals. Get started to make these delicious appams right away!