A Healthy Eating Guide for Toddlers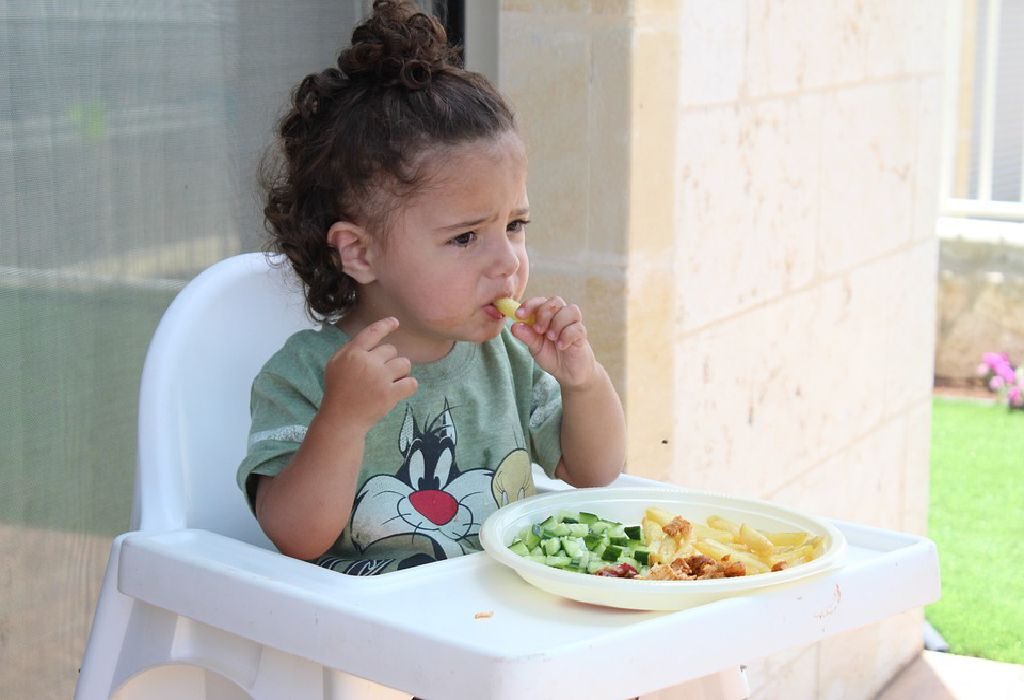 Make your toddler eat healthy food by involving him in the grocery shopping, working together on the presentation of the food, cutting interesting shapes and sizes, and adding colourful vegetables to his meals.
When it comes to eating with your toddler, it is all about catering to his whims rather than healthy eating. Eating well is important for your growing baby as it helps him gain energy, maintain a healthy weight, and inculcate good eating habits. If your toddler has been fussy about eating food properly, then you should find new and innovative ways to feed him healthy meals.
Make Your Toddler's Food More Appealing
Make your toddler's nutritious food visually appealing by garnishing it well. You can bundle long sticks of veggies, such as carrots, red and yellow peppers, wrap them together and tie them with a strip of green onion. Your toddler would not be able to ignore such a vibrant and unique presentation.
Play with colour components of the food. Make use of peppers, beetroot, beans and tomatoes to draw the attention of your toddler.
Consider adding varying shapes to food by using different grains, beans and seeds to make it look more inviting.
Don't just put the food on the plate, arrange the plate attractively and give a final touch of your presentation.
Involve Your Toddler
Develop your toddler's interest in eating healthy foods by taking him to the grocery store with you.
Tell him the advantages of every vegetable you pick up from the shop to make him aware of its nutritional value.
Ask him to read out the grocery list for you as you shop, and do ask for his opinion about fruits or vegetables he would prefer to eat.
Consider buying a new fruit or vegetable every week to teach your toddler to add new components in his regular menu.
Fun and Health Combo for Toddlers
Ask your toddler to help you put toppings on a pizza. Make your mealtime more fun by arranging veggies like carrot sticks, tomatoes, and bell peppers such that they look like a face on the plate. You can also make pancakes in the shape of your toddler's initials or you can cut the cakes, sandwiches, etc. in heart shape.
Select Juices Wisely
If your toddler is picky about eating fruits, then fresh juices are the best way to balance your toddler's daily fruit intake. Be sure about the quantity and the kind of fruit juice you offer him. If he does not drink milk, try a juice fortified with calcium and vitamin D. Avoid buying juices that offer only 10 per cent of fruit concentrate and fill the rest of the carton with flavourings and sweeteners.
Play Positive
Be a role model for your toddler and make positive comments about the food you are eating. When you say things such as 'these are so tasty!' to your toddler, he may be more willing to try them. So get your little one to eat new food items rich in essential vitamins and minerals, for ideal development, with these handy tips.
Meal Planner Table

| Month 13 – week 1 | MONDAY | TUESDAY | WEDNESDAY | THURSDAY | FRIDAY | SATURDAY | SUNDAY |
| --- | --- | --- | --- | --- | --- | --- | --- |
| Breakfast 9:00 am | 1 cup oats porridge with dates and walnut puree and 1 boiled egg OR oats cooked in milk with dates and walnut puree with strawberries | 1 cup fruity rice kheer | 1 veg and dal cutlet or 1 fish cutlet | 1 carrot paratha with ghee | 1 Soft, thick Mix pulse Dosa with 1/2 katori veg (Onion, Red Pumpkin) Sambar OR 1 egg omelette | 1 cup Oat – Millet porridge with leafy vegetable | 1 cup rice porridge cooked in milk with cut mango pieces |
| Mid-morning snack 11:00 am | 1 cup pineapple yoghurt / shrikhand | 1 orange | 1/2 glass Berry Smoothie (raspbery, blueberry) | 1/2 glass banana milkshake | 1 cup fig flavoured yoghurt | 1 cup orange juice | 1 glass banana and chickoo smoothie |
| Lunch 1:00 pm | 1 cup beetroot risotto with parmesan cheese | 1 chapati dipped in methi dal or 1 chapati with mild fish curry | 1 cup rice and masoor dal vegetable curry with ghee OR 1 cup rice with boneless chicken with onion-tomato curry (mildly spicy) | 1 cup rice with peas curry OR 1 cup rice with pomfret curry | 1 cup Curd-Coriander rice | 1 beet root paratha | 1 phulka with well cooked (and coarsely mashed) rajma in tomato-onion gravy or butter chicken |
| Evening Snack 6:00 pm | 1 bowl spinach potato soup | 1 bowl beetroot soup | 1 bowl Corn soup | 1 bowl Tomato-Onion soup | 1 cup Veggie mash (bottlegourd, Corn, Carrot) | 1 cup sweet corn soup | 1 bowl peas and ajwain soup |
| Dinner 8:00 pm | 1 roti blended with milk and mango and honey or jaggery | 1 Cup Red risotto with tomato and basil | 1 peas parantha with red masoor dal (non-spicy) | 1 cup Puffed Rice-pulse gruel | 1 blended veg idli with tomato chutney | Lemon pasta with peas | 1 cup rice kheer with cut fruits |