9 Month Old Baby Feeding Schedule, Recipes, and Tips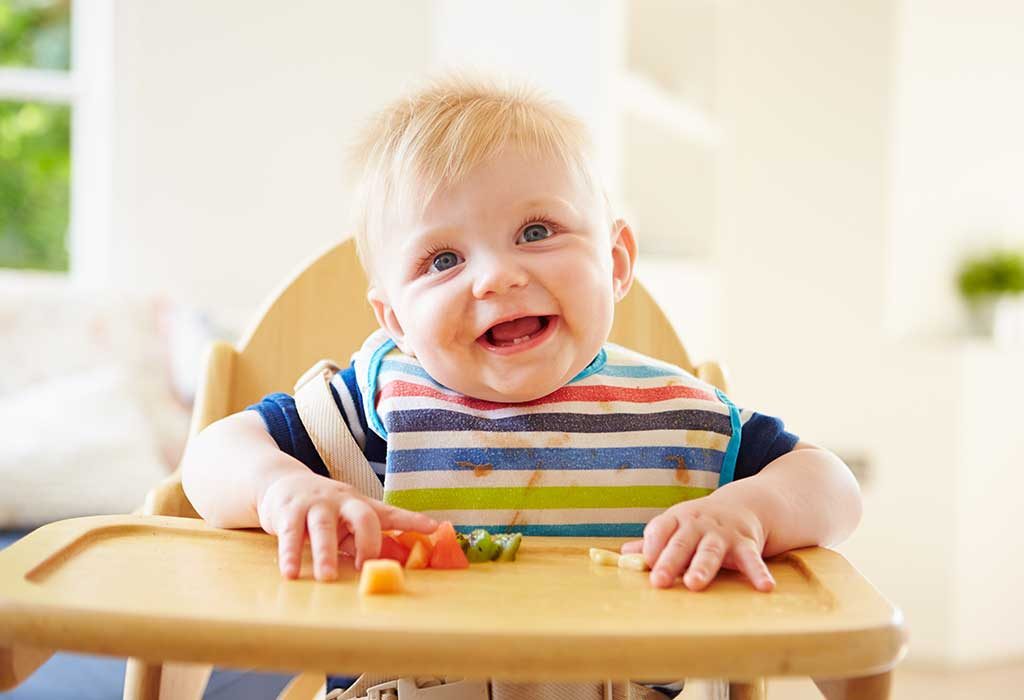 Babies grow really fast in their first year after birth, and their nutritional needs change rapidly along with their growing age. As your little munchkin reaches the threshold of nine months, you will be required to make changes in his diet. This means you will be required to transition from breast or formula milk to solid foods. If you wish to know about the feeding schedule of a nine month baby, what kind of food items you can feed, tips on feeding, and various other associated topics, read on!
What to Feed a 9-Month-Old
Babies experiment with food as they reach this age. While some babies may show more interest in fruits, others may prefer veggies. Some babies may like to eat pureed or mashed food, whereas others may enjoy chewy foods, or more texture in their food. Here are some 9 month old food ideas that you can try for your little bundle of joy:
1. Fruits and Vegetables
Following are some fruits and vegetables that you can add in your little one's diet:
Apple
Prunes
Green beans
Bottle gourd
2. Non-Vegetarian Options
Following are some non-vegetarian foods to give a 9 month old baby:
3. Other Food Items
Here is a list of other food items that can be fed to a nine-month-old baby:
How Much Milk Is Enough for a 9-Month-Old?
By the time your little one is 9 months of age, he may be consuming three main meals and one or two snacks in between, which would include fruits, veggies, cereals, and various other kinds of foods. However, breast milk or formula milk is still important for your baby, and should be an important part of his meal plan. This is because your baby still needs ample protein in his diet, and milk is of the most essential sources of protein for him.
The quantity of milk at around nine months of age can be anywhere from 16 to 24 oz, depending upon how much solid food your baby is consuming throughout the day. Alternate between breast/formula milk and solid meals.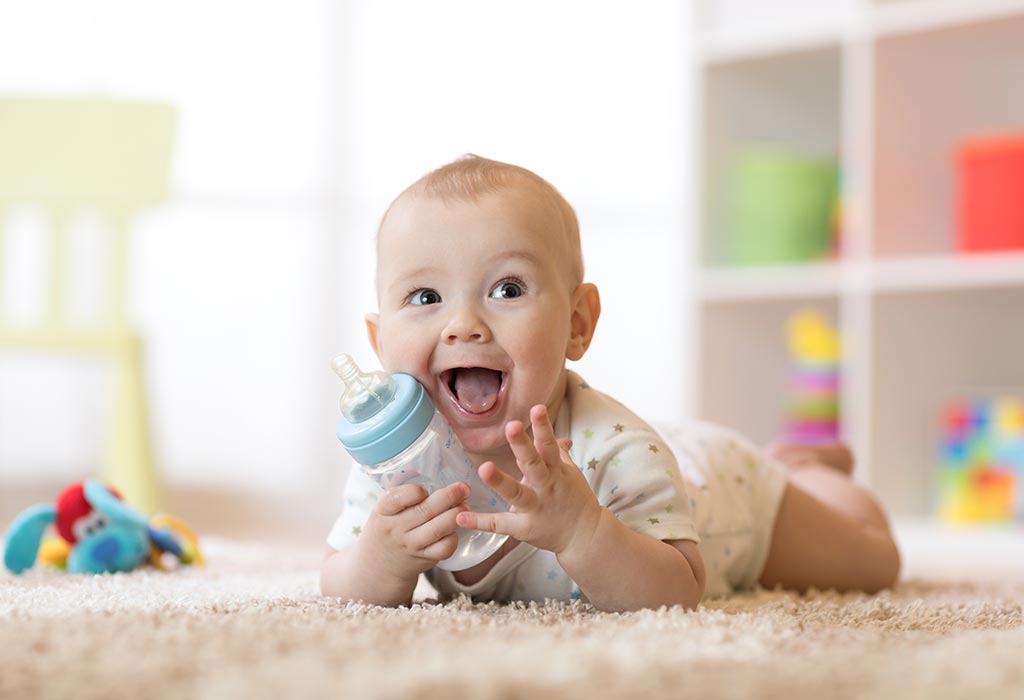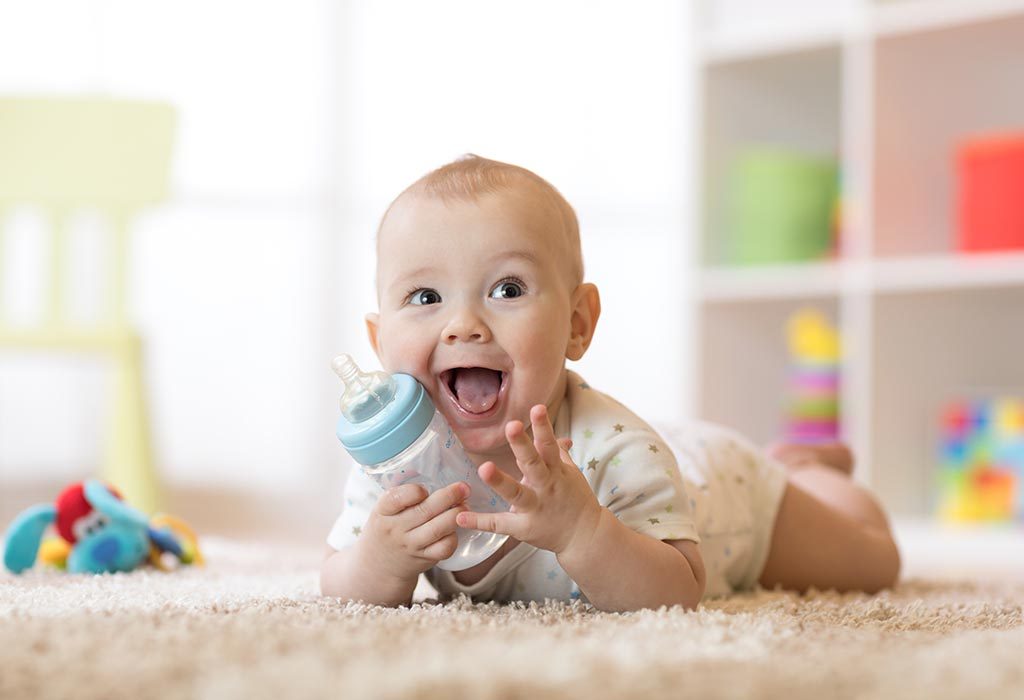 9-Month-Old Feeding Schedule
Your baby's 9 month old meal plan will include breast or formula milk. Where some mothers may choose to wean off completely at this age, others may continue to breastfeed up to 2 years of age. However, it is important to introduce solid food in your baby's diet planner after 6 months of age, to provide for the additional nutritional requirements of your growing baby. From 9 to 12 months of age, your baby may require approximately 750 to 900 calories in a day. Where your baby may get approximately 400 to 500 calories from breast or formula milk, the rest have to come from solid food. Here is a sample eating schedule that you can try for your baby:
Meal
Food Options
Breakfast

½ cup pureed fruit
½ cup cereal
4 to 6 oz breast or formula milk

Mid-morning snack

4 to 6 oz breast or formula milk

Lunch

Cheese or yogurt/khichdi /rice + dal
4 to 5 oz breast or formula milk

Evening snack

¼ cup of boiled vegetables

Dinner

½ cup of cooked vegetables
¼ cup of boiled rice, or boiled lentils with ghee
You can try various combinations of foods to make your own 9 month baby food chart as per the taste and preference of your baby.
Foods to Avoid for a 9-Month-Old Infant
As you slowly and gradually introduce your little one to the benefits of various kinds of solid foods, you need to be extra careful when feeding certain varieties of food, as they may cause complications in young babies. Here are some foods that you should avoid feeding your munchkin:
Honey should be avoided in any form, as it may cause infant botulism, an infection that can harm your baby's guts. Also, honey at such a young age may affect your baby's teeth development.
Undercooked or raw eggs may lead to salmonella contamination. Therefore, make sure you feed well-cooked egg whites and yolks to your baby.
Sugary foods such as candies, ice creams, custards, or cookies should be avoided. Also, make sure you keep a tab on the amount of sugar that you add in your baby's food.
Do not give fish that contain high amounts of mercury in them, as they may harm your growing baby's central nervous system. Some of the fish with high mercury include shark, marlin, swordfish, etc.
Whole nuts are not good for your baby as they are difficult to chew, and may cause choking in babies.
Too much salt may harm your baby's kidneys. Therefore, make sure you add very little salt in your baby's food.
Baby Food Recipes for a 9-Month-Old Baby
Thinking of whipping yummy and nutritious recipes for your little one? Here we have some easy to make recipes that you can try!
1. Sweet Potato and Peach Delight
A perfect dinner recipe for your baby that comes loaded with the health benefits of peach and sweet potato.
Ingredients
2 ripe peaches
1 medium-sized sweet potato
A pinch of cinnamon
Water, as required
How to Prepare
Wash sweet potato and peaches nicely. Soak up excess water with a kitchen towel.
Peel and chop the sweet potato. Deseed and chop the peaches. Keep aside.
Heat microwave oven at 375 degrees.
Place the chopped peaches and sweet potato in a flat baking dish.
Sprinkle cinnamon, and add enough water to cover the pieces.
Cover the baking dish with aluminum foil, and cook for 15 to 20 minutes or until the food becomes tender.
Remove the content from the baking dish, and mash or puree as your baby likes.
2. Simple Apples and Pumpkin
This simple recipe can be whipped in no time, and can be served as a main meal option!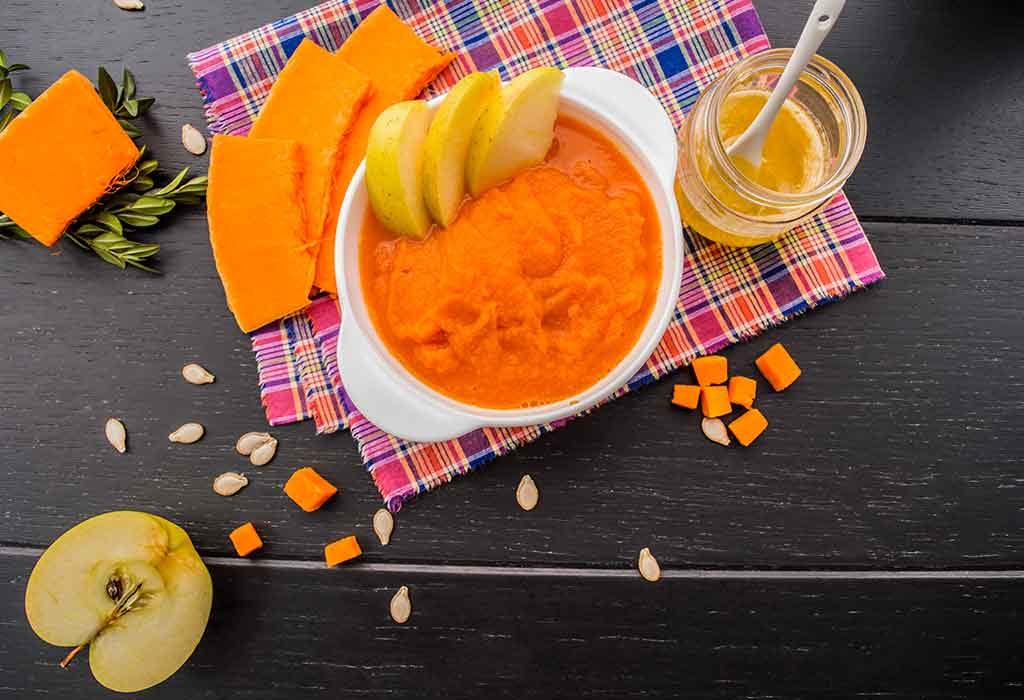 Ingredients
2 cups apples, deseeded, peeled, and chopped
1 cup pumpkin, peeled and chopped
¼ teaspoon cinnamon powder
1 cup water
How to Prepare
Put the chopped apple and pumpkin pieces in a bowl. Sprinkle cinnamon powder, and give a thorough mix.
Heat water in a heavy-bottomed pan.
Throw in the pumpkin and apple pieces in the water.
Cook on medium flame until they turn tender and mushy.
Turn off the heat, and let the mixture cool down.
Mash or puree well, and serve it to your munchkin!
3. Fruity Yogurt
One of the simplest baby food recipes for your nine-month-old baby, this yogurt recipe can be made in no time.
Ingredients
1 cup plain yogurt
½ cup mixed fruit puree (blueberries, strawberries, peaches, and other such fruits)
How to Prepare
Mix fruit puree and yogurt in a bowl.
Serve this yummy and sweet delight as a snack to your baby!
You can use a mixed vegetable puree in place of fruit puree for variation.
Feeding Tips for Parents
There is no doubt that as a parent you mean well for your baby. However, it is always good to be careful and mindful when it comes to feeding your little one. Here is a feeding guide, or some tips for feeding finger food or any kind of food to your baby:
Do not overwhelm your baby with large portions of food. Always start with small amounts or portions, and increase the amount of food as your baby gets comfortable.
It is perfectly alright to let your baby eat with his hands. Make sure that your baby's hands are clean. Babies usually master holding a spoon or fork at around 15 months or later.
Never try to force your baby to eat. As a parent, you can only choose what to feed. Let your baby choose how much solid food he wishes to eat.
If your baby resists eating a certain food, do not force it on him. Try offering the same food again after a few days to see if your baby likes it or not.
Watch your baby closely whenever he is eating, as babies may choke sometimes. Never feed chunky or big morsels of food to your baby.
Make your baby sit in an upright position while feeding, preferably on a high chair.
Refrain from putting your baby to sleep with a bottle of milk or juice. This may lead to tooth decay and other dental problems in babies.
Taking note of these suggestions when making your baby's feeding schedule can definitely help you. However, if you find yourself stuck in some place, do not hesitate to take your paediatrician's help!