9 Fashion Tips for the Everyday Mom from India's Jetsetting Trendsetter, Priyanka Chopra!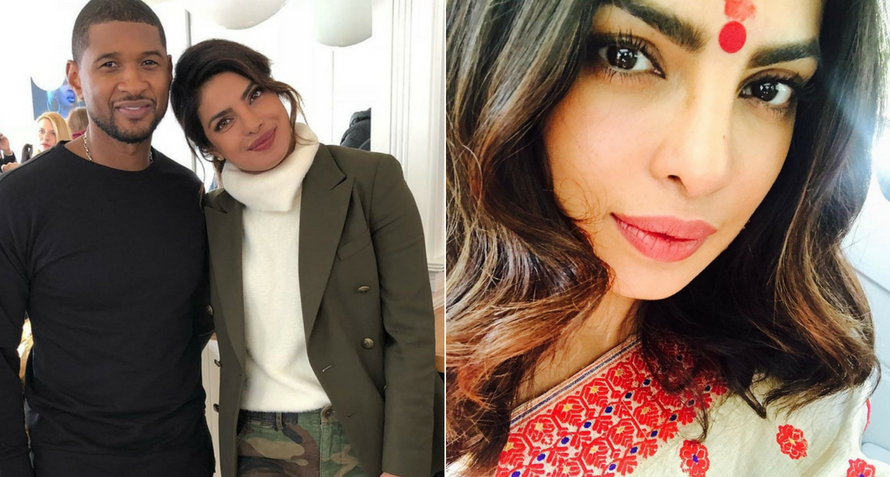 In this Article
Looking for tips on how to dress like Priyanka Chopra? She has won the hearts of millions of fans with her acting and sense of fashion. To make a similar fashion statement that never goes wrong, find out the right ways to go about it all.
Priyanka Chopra is, undoubtedly, one of the most popular fashionistas of recent times. She has successfully established herself as a versatile actor as well as one of the most sought-after stars of both the Indian and international cinema. Want to follow her standard fashion? Go through her style diktats that will not only make you look stunning but feel confident too!
Priyanka Chopra Fashion Style Tips for You!
Here are some lessons you can take from PC's 'Book of Style'!
1. For a Casual Day Wear
https://www.instagram.com/p/BU43k8egcNX/?utm_source=ig_embed
https://www.instagram.com/p/BjiMyc5jzzZ/?utm_source=ig_embed
Priyanka's fashion tips for day wear is pretty simple. Just go for a tee-shirt teamed with a pair of skinny jeans and a pair of sneakers or funky flip-flops. If you are going out for a lunch date with someone special, instead of jeans and a t-shirt, opt for cotton dresses. Add a finishing touch to your ensemble with a sleek belt, strappy footwear, and some subtle bracelets. You'll also see her experiment with prints and patterns, but mostly solid colours when it comes to her outfits.
2. Night-out Fashion
https://www.instagram.com/p/BYyg-33AT41/?utm_source=ig_embed
https://www.instagram.com/p/BPB1gW_jRxH/?utm_source=ig_embed
If you really want to adopt Priyanka Chopra's dressing style, then for an evening or night out, opt for a short dress that fits you perfectly. If you notice carefully, you will mostly find her looking ravishing in a short and fitted dress for interviews and parties. Occasionally, she wears gowns too. Her recent appearances at public events have made jaws drop; whether it's this year's Met Gala outfit, where she stayed true to the theme, or the ethereal white gown at the Oscars in 2016, her outfits are memorable, to say the least! Pick up a stellar piece that's classic with a modern twist, and watch those heads turn in your direction!
3. Six Yards of Fashion
Priyanka Chopra wears sarees and anarkalis quite often. Mostly, you will see her in sheer sarees paired with metallic blouses. For Priyanka's style saree draping, settle in for a subtle and revealing drape. See to it that your blouse has a plunging neckline and is everything sexy. It'll definitely add to your sensuality and "oomph" factor. But if that's not your style, fret not; you can pick great conventional blouses, which are full or quarter-sleeved, and work with those too! To look as graceful as her in a saree, remember to put on large earrings and multiple bangles, they will give you that complete saree look you deserve.
4. Risk-taker
You'll occasionally see her flaunting a totally unconventional design or pattern or a style of outfit, that's just so bold – but then see her kill it with her confidence! Case in point – her Met Gala outfit from 2017 that served as fodder for plenty of memes as well! But the jetsetter took it in her stride and her look definitely shot her up to the top of the 'Best-Dressed' lists. It just goes to show, that a little risk could take you quite a long way! Take a step outside your comfort zone once in a while – start with tiny steps, such as a change from regular jeans to distressed ones, or a risque collar; who knows, you may have just found yourself a new trademark look!
5. Accessorise, Accessorise, Accessorise
For making that impressionable Priyanka Chopra style statement, pay adequate attention to your accessories. You'll seldom notice her without her sunnies and a statement ring or necklace. To sport the celebrity look, try the Ray-Ban aviators with your casual day wear. For example, a designer watch, a huge ring, or some silver bangles, will add that final touch to your look too.
6. Invest in a Statement Piece…
PC's Instagram feed will show you that some wardrobe staples can bring various looks together. The weather conditions in NYC cannot really be compared to that of India's, but who doesn't love a smart jacket that can tie your look together! You'll see her sporting an array of styles – denim, trenchcoats, structured, printed, solid! While Indian weather doesn't really call for a warm and fuzzy jacket all year around, a sturdy jacket adds a touch of class and oomph to your casual outfit; and if the air-conditioning in your office is a bit too cruel, here's the stylish (yet useful) piece you need!
7. …and the Right Shoes!
https://www.instagram.com/p/BBLdzjNJs0g/?utm_source=ig_embed
Have you seen the shoes that Priyanka rocks even with her most casual outfits – they instantly boost the aesthetic appeal of her looks! 'Give a girl the right shoes and she can conquer the world' – Marilyn Monroe has spoken the truth! It's no coincidence that we feel a surge of confidence when we have on our favourite pair of heels. The right shoes can make or break your outfit – so make sure you have a bunch of amazing options to hold on to. A pair of flats or sandals that go with anything, and any pair of dressy options for more formal outfits, and you're good to go!
8. Keep Up With the Trends
If you need a one-stop guide to catch up on the latest trends, PC's Instagram account is #Goals! From co-ord outfits to grungy street styles to following themes to the T, Priyanka sure knows what works and what doesn't.
https://www.instagram.com/p/BijboP_AuyM/?utm_source=ig_embed
https://www.instagram.com/p/BgHOgKRg8xt/?utm_source=ig_embed
9. Play Up Your Assets
https://www.instagram.com/p/BjjEVulDbCV/?utm_source=ig_embed
https://www.instagram.com/p/BjAEun7gj-U/?utm_source=ig_embed
Priyanka wears outfits that accentuate her gorgeous curves, and draws attention to her best features. Make sure you draw focus to your strengths too, by picking outfits that suit your body type and make your assets the focal point of your look!
The mantra behind this national heartthrob's stunning looks is her strict diet, fitness routine and her dynamic personality. With her grace and poise, she can carry off a saree or a bodycon dress with equal ease. So, follow these spiffy Priyanka Chopra style statement tips and be one step closer to looking like your favourite actress!