8 Easy Tips For Teaching Self-Feeding To Your 7-9 Months Old Baby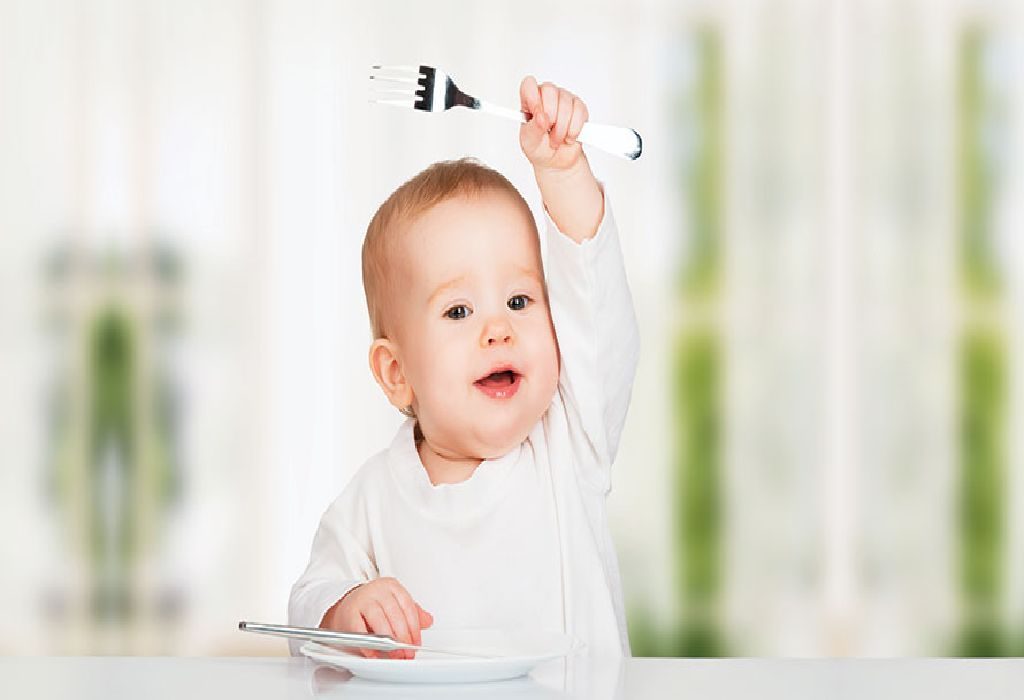 Is your 7-9-month old baby showing interesting in feeding herself? Do you see her grabbing a spoon and taking it near the mouth all by herself? If you nodded along gladly, then you can encourage your little one's self-feeding efforts with some simple tricks.
Video: Tips to Teach Self Feeding to a 7-9 Month Old Baby
Lots of seven to nine months old babies show interest in eating their food by themselves; however, most of their attempts fail. That's because your baby is too young to grasp and hold food pieces or a spoon in her hand. Some habits of your baby that tell she is trying to feed herself include:
Grasping food or objects with her hand's palm
Bringing hand to mouth repeatedly
Grasping food using thumb and forefinger
Holding and playing with a spoon
Swallowing foods, besides liquids
Rubbing food between her fingers or in her hair
If you find your little one trying these activities, then you can be sure your baby is trying to succeed in her self-feeding efforts. So, it's the right time to teach your dear little angel self-feeding with some engaging, simple tricks.
Here are eight helpful tips that can help improve your baby's self-feeding efforts.
1. Introduce Finger Foods to Your Baby
Choose finger foods to encourage your baby's self-feeding efforts. These foods are easy to consume, dissolve in your infant's mouth easily, and don't break to cause choking. Some of the nutritious finger foods that you can offer your 7 to 9 month old baby include:
Slices of fresh fruits, such as mango
Peeled apple and orange slices
Soft potato wedges
Cooked or steamed leafy greens and vegetables
Soft cooked pasta
Scrambled egg yolk
Petite toast points with soft, thin creamy cheese
Tofu cubs (soft)
Make sure you avoid raw vegetables as they are difficult for an infant to digest. Also, avoid sugary snacks, such as cakes and biscuits. Most importantly, since your baby's chewing skills are not fully developed yet, never leave your baby unsupervised while she attempts to self-feed. This will prevent the risk of choking.
2. Hone Your Baby's Pincer Skills
Your baby's pincer skills are not well-developed when she is 7 to 9 months old, so you might find your little one grabbing food using her fist or her entire palms. A little encouragement can help her. Hone your baby's pincer skills during playtime. Spread out some easy-to-grab toys or plastic rings around your little one and show her how to pick them up with your thumb and fingers one at a time. Hold your baby's thumb and index finger with your hand and teach her to pick the rings. This will hone her pincer grasp and help her grab the food easily.
3. Provide Baby a Suitable Spoon
Even though you can find different shapes and sizes of baby spoons in the market, angled spoons with bulky rubber grips are the most suitable for a 7-9-months-old baby. These spoons support self-feeding efforts. Your little one can grab them tightly and aim the food in the angled spoon to her mouth easily.
4. Encourage Hand-Eye Co-ordination
Teach your 7-9-months-old baby to scoop cereal in her spoon. Train your baby to hold a fork and stab a green bean. Guide your little one to move a semi-liquid filled cup or bowl near her mouth. Practicing these techniques will help improve your baby's hand-eye co-ordination skills and promote successful self-feeding attempts.
5. Serve In Bowls With Suction Cups At Bottom
Choose to serve food in a baby bowl that has a suction cup at its bottom to help it stick firmly to your baby's table or high chair while your baby eats from the bowl. Serving your baby in such a cup will improve her concentration in scooping the food out of the steady bowl.
6. Involve Baby In Family Meals
Even if it may not suit in your baby's scheduled feeding, try to involve your baby in your family mealtimes at least once daily i.e. either during your lunch or dinner. Babies are good observers. So, your baby can observe you and other family members' eating style during mealtimes and follow the same.
7. Support Independent Feeding
Allow your baby to be an active participant during her mealtime. Even if she may mess around a bit, encouraging independent efforts to take food or a cup near the mouth by herself will promote her self-feeding efforts. You can provide your baby lidded beakers or mugs to let them drink water or milk on their own. Initially, support the lidded beaker with your hands and train your baby to take it near her mouth to drink. Similarly, spread small, easy-to-grasp soft cookies in front of your little one and guide her to grab and take them near her mouth on her own. Practice independent feeding or drinking a few times daily, and you will find your baby succeeding in her self-feeding efforts soon.
8. Be Patient
Last, but not the least, be patient. You may find your baby banging the food tray, spilling the food, and creating a mess as she learns to eat on her own. But don't lose your cool. Be patient. Give your baby plenty of time; let her continue self-feeding efforts till she succeeds. You may need to do a big cleaning task at end of her meal, but be calm.
Did you teach your 7-9 month-old to eat on her own? Which tricks did you try to encourage your baby's self-feeding efforts? Share your experience with other new moms by leaving a comment below.