20 Super Cute Baby Shower Cake Design Ideas to Make Your Day Even More Special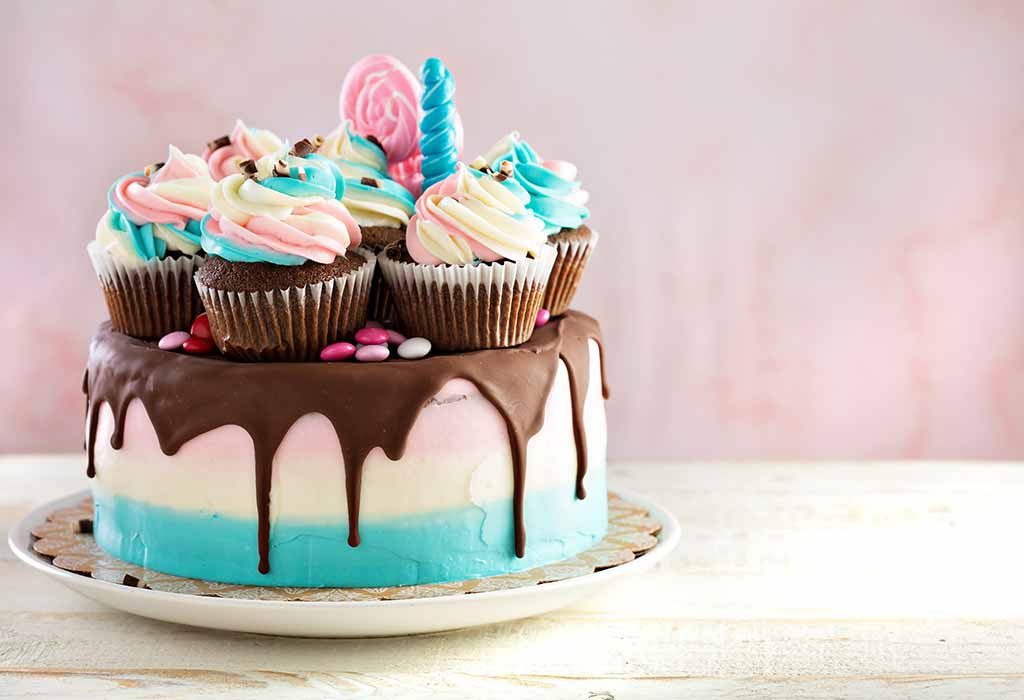 In this Article
If you are hosting a baby shower for your friend or for your wife, a cake is a must. But if you don't know which cake would be perfect for a baby shower, then worry not. We bring some cute baby shower cake design ideas for you. Your wife and the guests will love eating these cakes, and so will you. These cakes are from the world of divine taste – are you ready to explore?
20 Adorable Ideas for Baby Shower Cake
Here are some lovely baby shower cake ideas that are gender neutral to capture the moment.
1. An Animal Cake
This cake can be made in many neutral colours like grey, white, and yellow. Even though these colours sound dull, they are not bland or boring at all! You could make this one in the form of a step cake or a single layered cake. At the bottom of the cake, add a bunch of flowers and branches. Around the next tier, you could wrap a bow. You could also include some polka dots and some cute little animals like a giraffe or elephants on the top of the cake. If you are planning on having an animal-themed shower, then this vibrant cake is the way to go. When you add many layers to the cake, make sure that each layer has a different theme.
2. Pastel Paradise
When it comes to baby shower celebration, pastels can add elegance to it. When making a cake for a baby shower, it doesn't have to be sky blue or soft pink. You can mix both blue and pink and make a gender-neutral cake. You can get it in any shape you like. The beautiful pastel base will impart a royal touch to it. The cake could either be of one colour or incorporate several different light colours.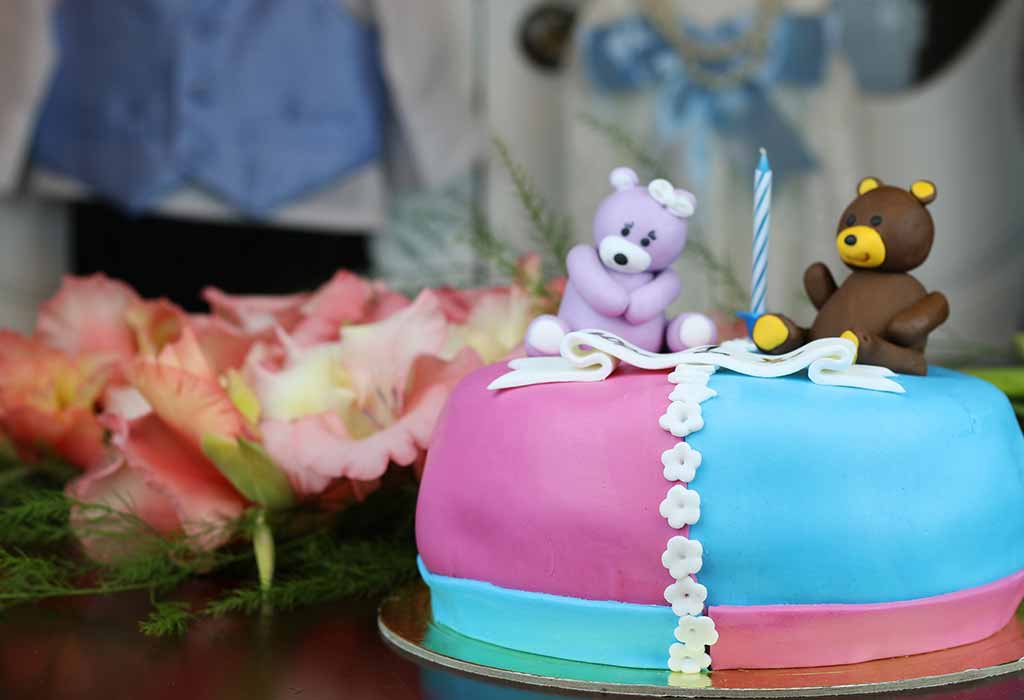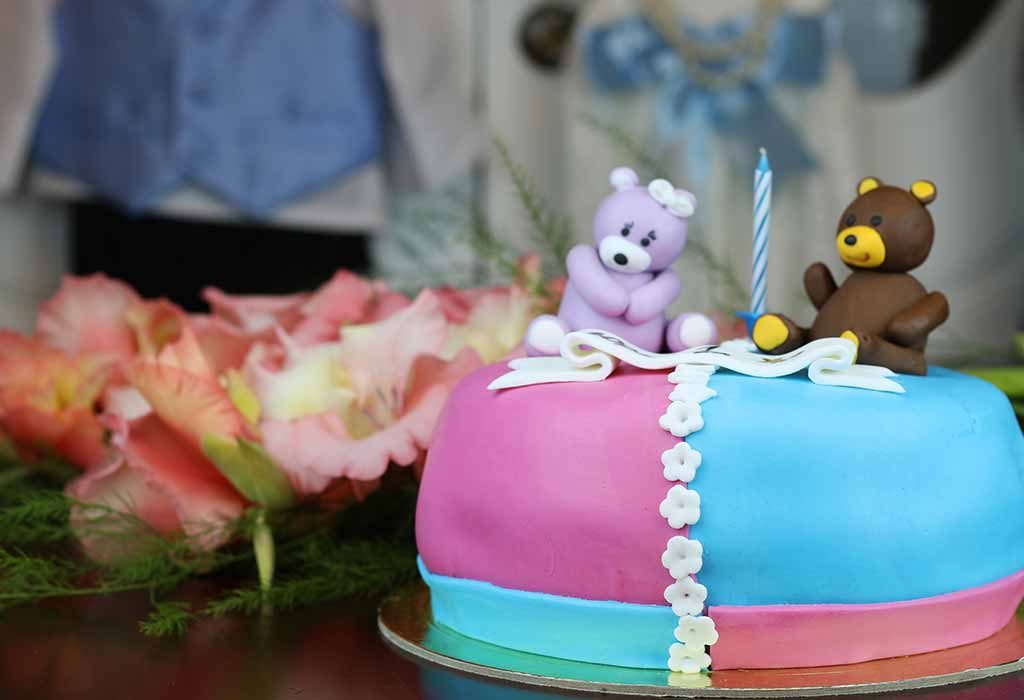 3. A Cake with a Song
There are definitely parents out there already singing sweet kid rhyme like "Twinkle, twinkle little star". You might have started planning on decorating the baby's nursery with stars and moons. This cake is perfect for you. "Twinkle, twinkle little star" is a classic rhyme people sing to their children. You can get a cake made with cute fluffy clouds, beautiful moon, and shining stars on it. This cake is also perfect for parents who are into music and, perhaps, want to teach music to their own children. All of these amazing little details on this edible cake would definitely take your baby shower to a whole new level.
4. All About Baby
This idea might seem a little obvious but if you have not found a theme you like then why not make it all about the baby. If you are going for a classic "baby" theme, then the decorations could be necessary products like rattles and diapers which the mommy could take home afterwards. Regardless of the gender, the theme could have any colour. Fitting with the theme, the cake could be all about the baby too. The cake could be a sheet cake having a baby-themed image drawn on it. It could also have a nice 3D version that shows off objects the future child might need or want.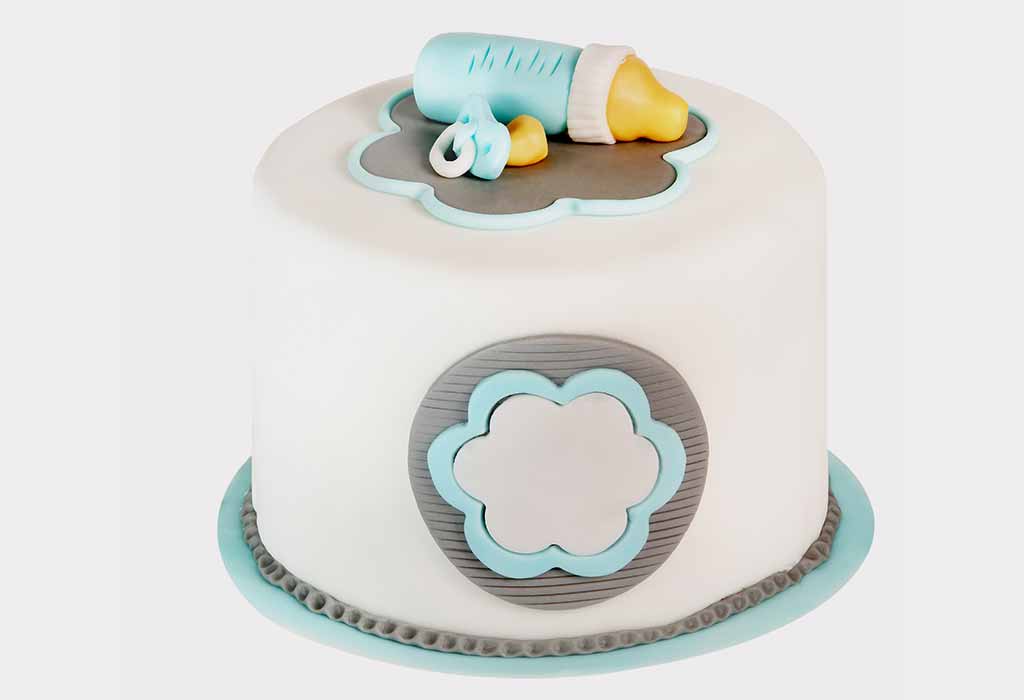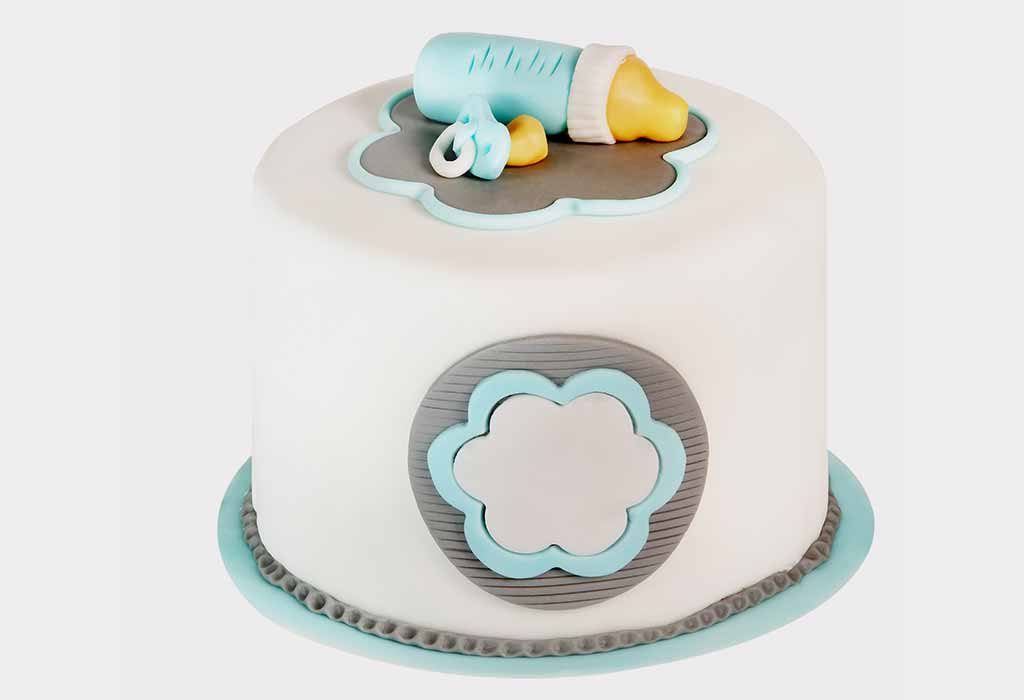 5. A Classy Cake
There are many types of fabulous and bright cakes, but there are many parents out there who might not want their baby shower to be too bright or very colourful. If you are one of those parents who want the shower to be a bit more dramatic or want to keep it classy or simple, then this cake is perfect for you. The classy colours like white, black, and gold can be used for a cake. The cake could have double layers – different colours for each layer. You could make one layer black, the next, white, and have a golden crown on top of the cake. You could also have a few golden dots and have "welcome baby" written in golden letters on the last step of the cake.
6. A Fun Cake
If the theme of the baby shower is all about fun then it should reflect in your cake too. This cake could be of a nice blue base with amazing lime-green and orange polka dots. You could also have a few little block letters at the bottom of the cake which says "welcome baby". The best part of the cake is that you can add an adorable little elephant on top of the cake. This cake is really cheerful and modern and has the right amount of child-like quirkiness. It could work around themes that are centred on a circus.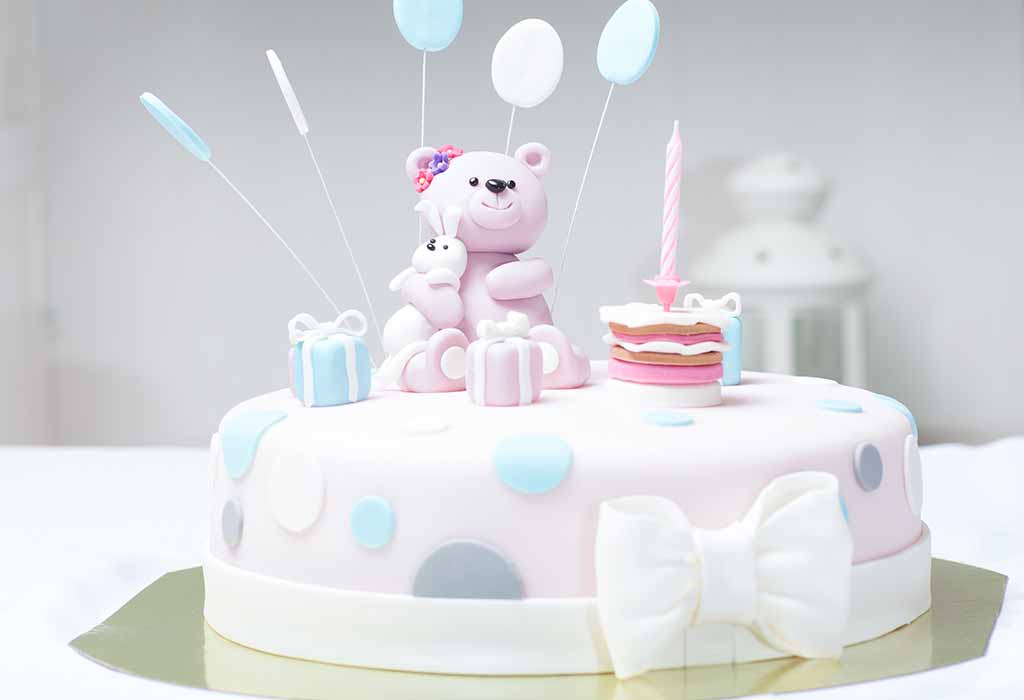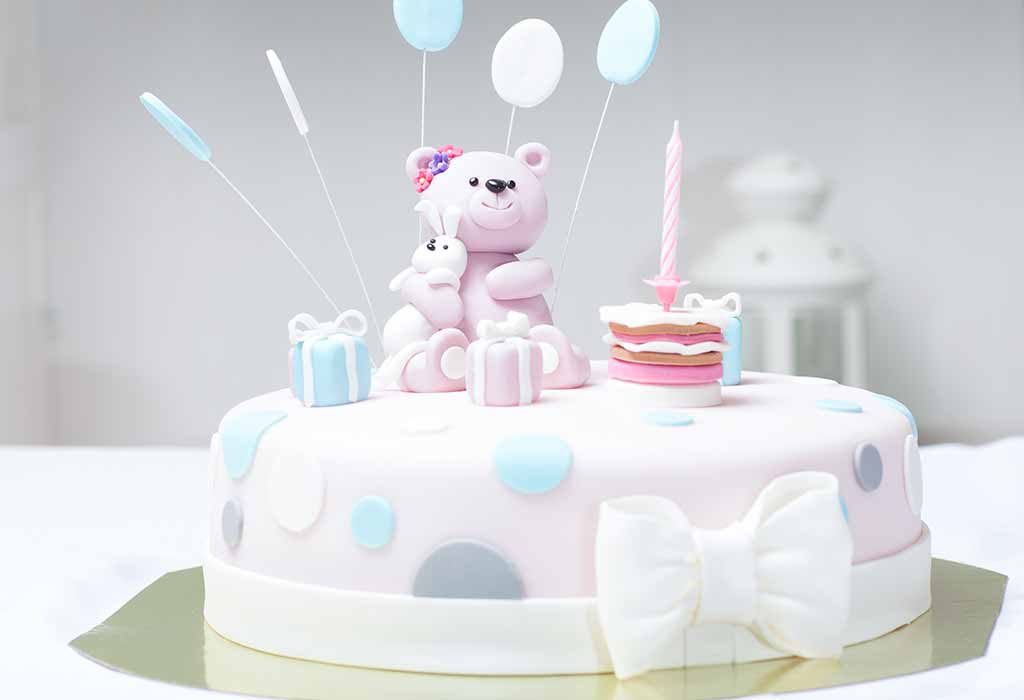 7. A Fairytale Cake
Besides listening to rhymes, children also love listening to happy fairy tales. This cake could feature some of the best fairy tales out there following the bedtime tradition of fairy tale readings. You could have the characters of 'goodnight moon', 'the very hungry caterpillar', 'the frog prince', 'the little mermaid' on this cake. You could also write the titles of these cakes written out on the icing with many different colours. You could also have little figures based on the book to match with the cake. It does not matter if you are a child or an adult, everybody would want to have a bite of this book. This cake would work for any themed shower especially if you are into reading a lot of books.
8. Covered in Sprinkles
If your baby shower is going to be a big party, then this cake screams party! This special cake can be covered in rainbow sprinkles which are very festive. The inside of the cake can be filled with colourful candies. The vibrant colours and the bright image would fill the room with energy. Your decorations could be geometric art, confetti, colourful tablecloths, balloons, cupcakes, and sprinkle themed cake. Your guests are going to have an unforgettable time.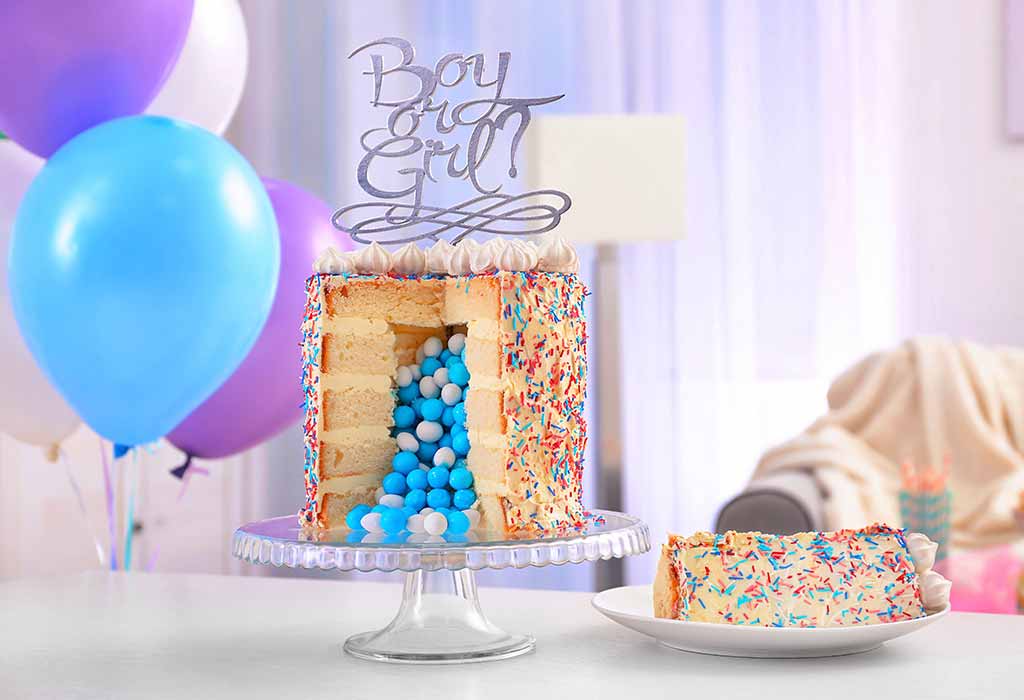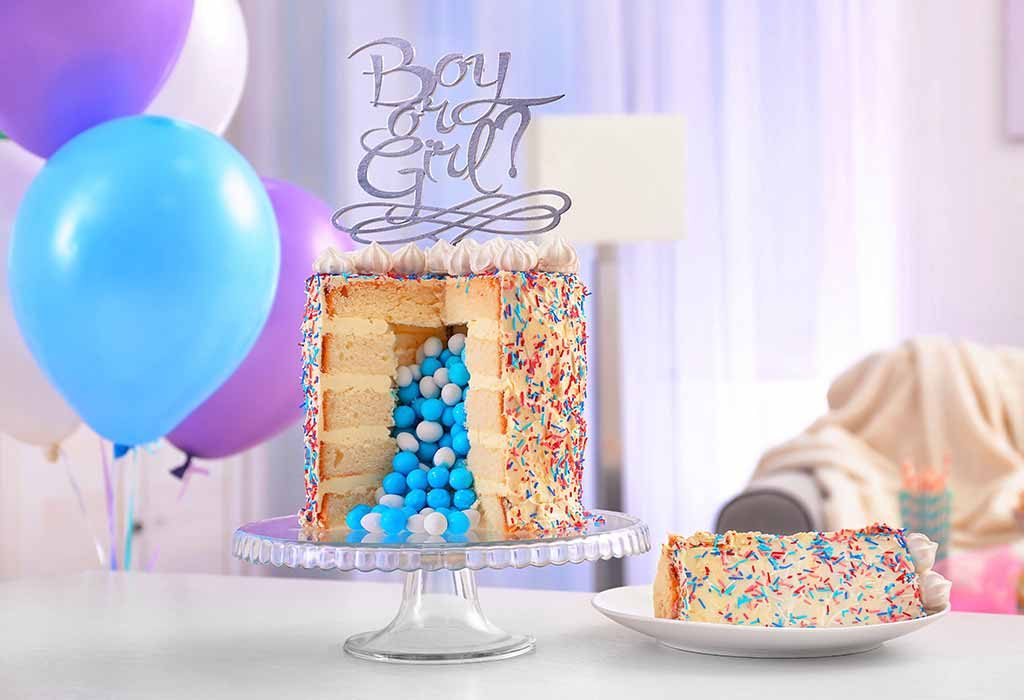 9. A Rustic Cake
If you want to follow the latest trends, then rustic cakes are perfect. While most of the parents are thinking about icing, it is better if you thought different and went for this cake with little to no icing. You can leave some of the cake still exposed and spread a thin layer of icing on the cake. This will create a fantastic artistic effect which tastes great. You could also add some greenery around this cake as well as a cake topper. The cake topper could be a banner that spells out the name of the mommy. This cake would work well for a baby shower that is being organised in a garden.
10. A Triple Lemon Cake
A fresh and pure lemon cake has a classic natural feel to it. It creates pleasure for the senses and provides a scene of innocence. You could keep a lavender sprig on top of the cake which will bring a feeling of walking in the forest. This would be the perfect cake for you and your guests to enjoy. The cake also shows its strength by standing beautifully upright. Moreover, the cake is creamy and smooth, and it has a divine lemon taste to it.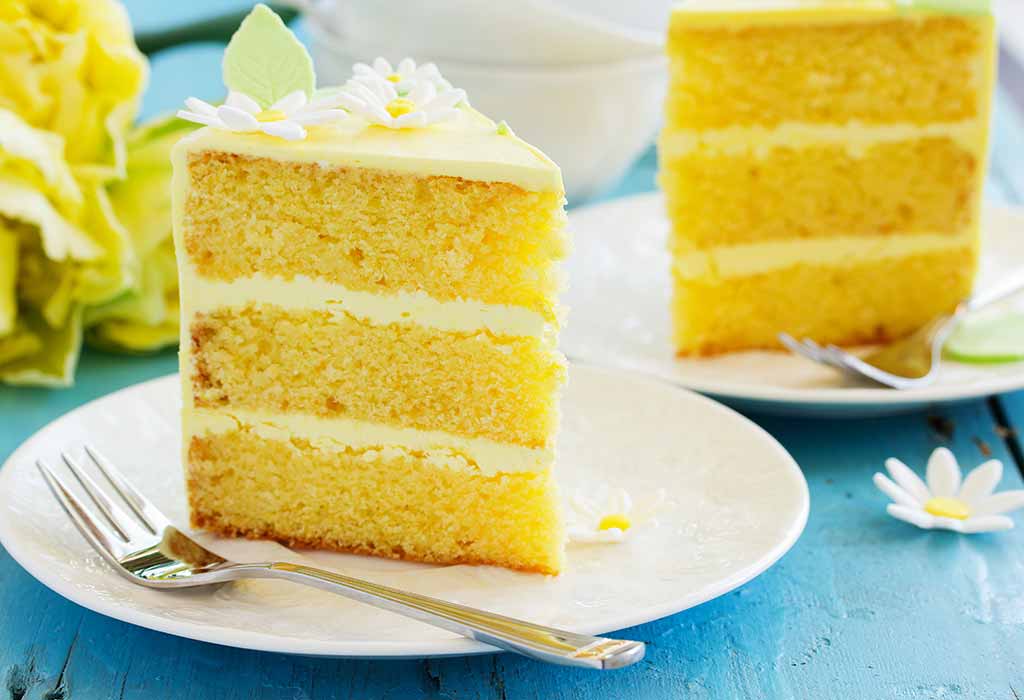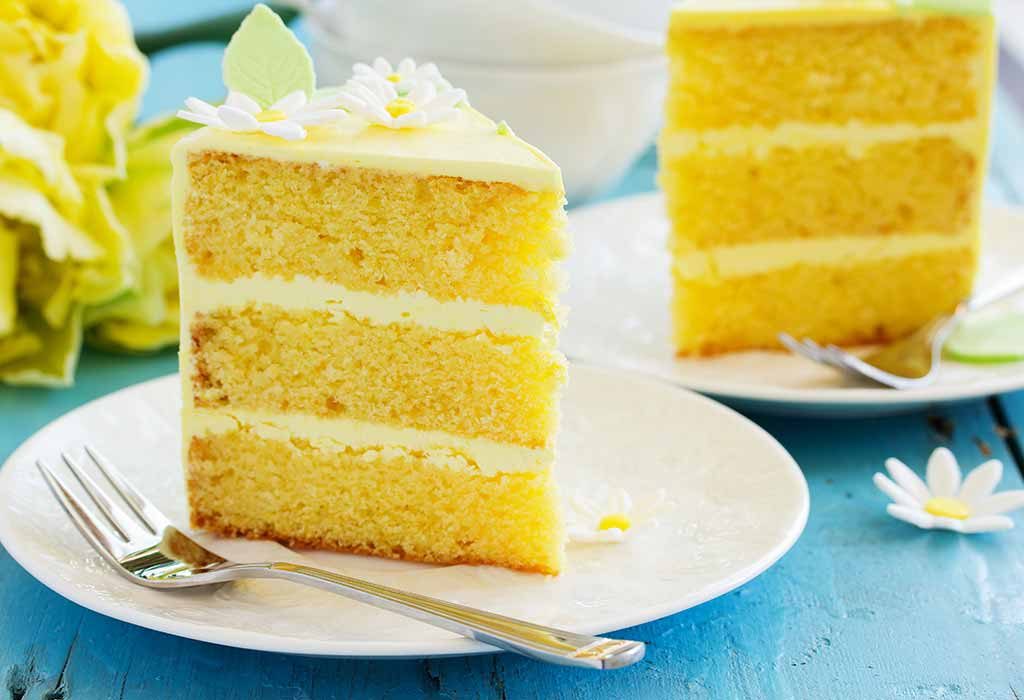 11. Watercolour Buttercream
Everybody loves an artistic idea. This cake brings out a new trend as it is a lovely watercolour cake made with buttercream and not a common fondant icing surface. This cake is made from whipped vanilla, dark chocolate with buttercream and little rainbow sprinkles. The dark chocolate and the vanilla frosting have a stunning contrast to it when paired together. You could also add a few edible gold leaves if you want to create a dramatic effect. The cake could be of any colour – it doesn't have to be pink or blue.
12. A Vanilla Cake With Ombre Macaroons
The gradual blending of one shade to another is called ombre, and this could make an amazing baby shower layer cake. For an impressive layer cake, you could choose a pink-berry colour to make a show-stopping cake. Then again, you can choose any colour combo you desire from bright rainbow stripes to pretty pastels. Each layer of the cake could have different colours to have a multilayered effect. Now you can make this cake more fun by adding some macaroons. This makes it sound too good to be true which means it is an amazing idea for your baby shower. You could also decorate the cake with some rainbow sprinkles.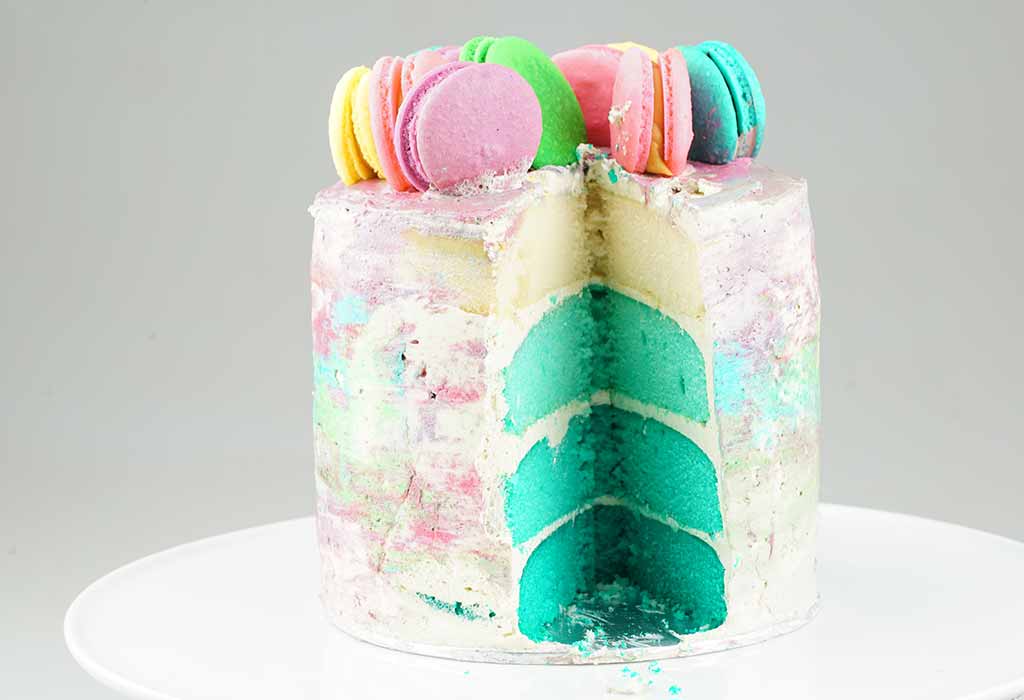 13. A Gift Box Cake
The gift box cake is an amazing design for a baby shower. This cake will give the illusion of a gift. It is a great idea. You could either have the gift box in pink colour or in blue. In this cake too you can have a mix and match of colours. You can use gender neutral colours like yellow or grey. The gift box could also have a large white edible ribbon on top to give it a real effect.
14. A Spring Pastel Confetti Cake
If you are hosting a baby shower in the spring, then you can make a spring pastel confetti cake. Spring is a season of colours. This cake will have six colourful layers with a whole lot of confetti sprinkles. This would be a stunning centrepiece at your baby shower. Your guests will not forget the colour explosion the cake offers. The inside of the cake is even brighter with the rainbow surprise.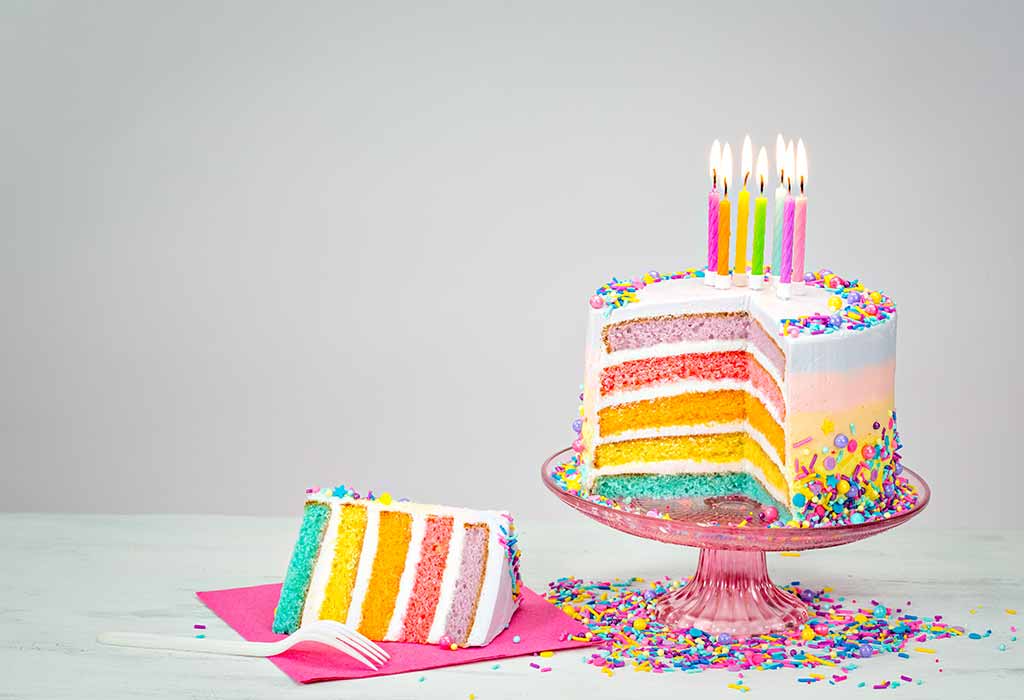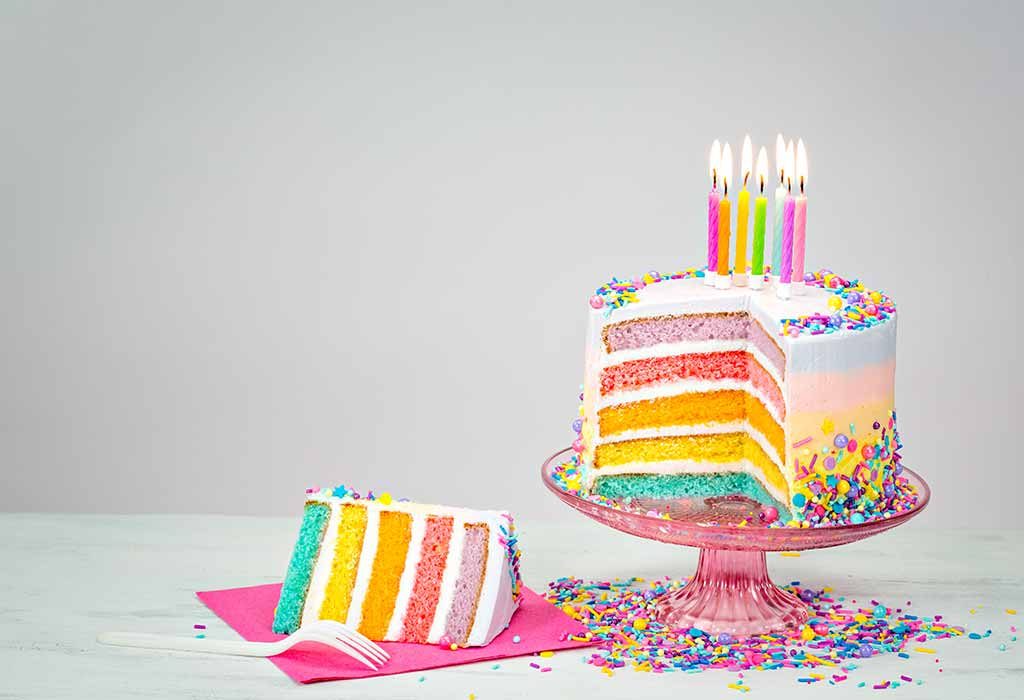 15. A Hello World Cake
The hello world baby shower cake screams simplicity. This cake will look beautiful no matter what. This cake will have several layers. Each of these layers will have fresh cream. You could also keep edible roses made from cream on top of the cake to give a touch of class. If you and your family are not into a lot of icing, then this cake is the way to go. This is such a pleasant baby shower cake.
16. A Traditional Baby Shower Cake
You can check out this cake if you are going for a little more of a traditional theme. You can go for a simple cake with a cute bear sitting on it. You could have many traditional designs like the clothes drying on the line. You could have writings on small edible baby blocks. You could have pink and blue icings to make the cake gender neutral. This would make a delightful and adorable baby shower cake.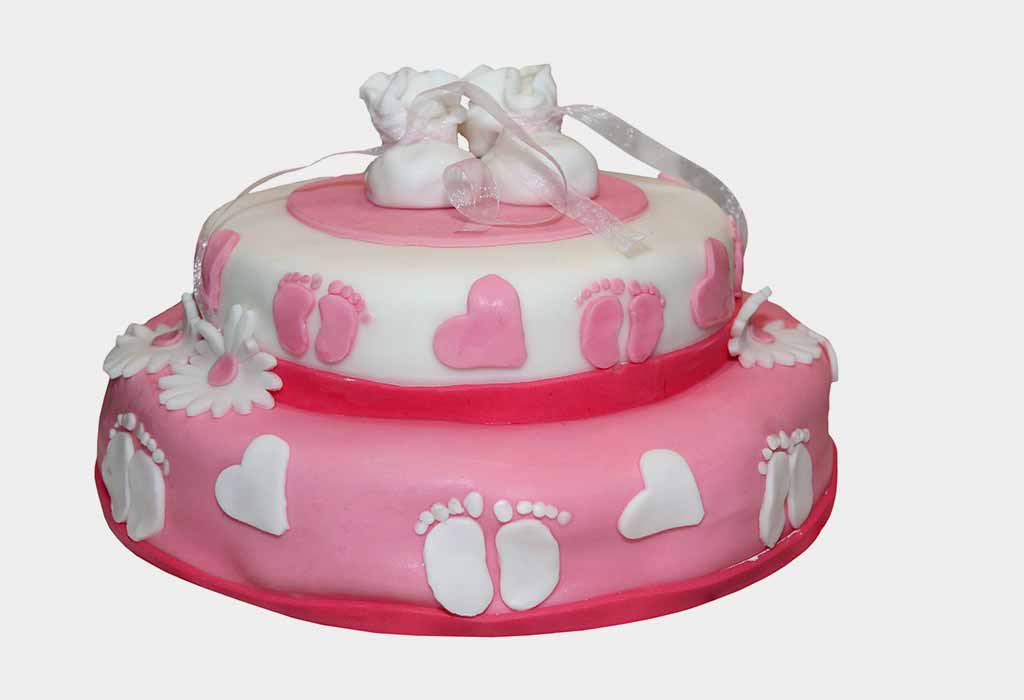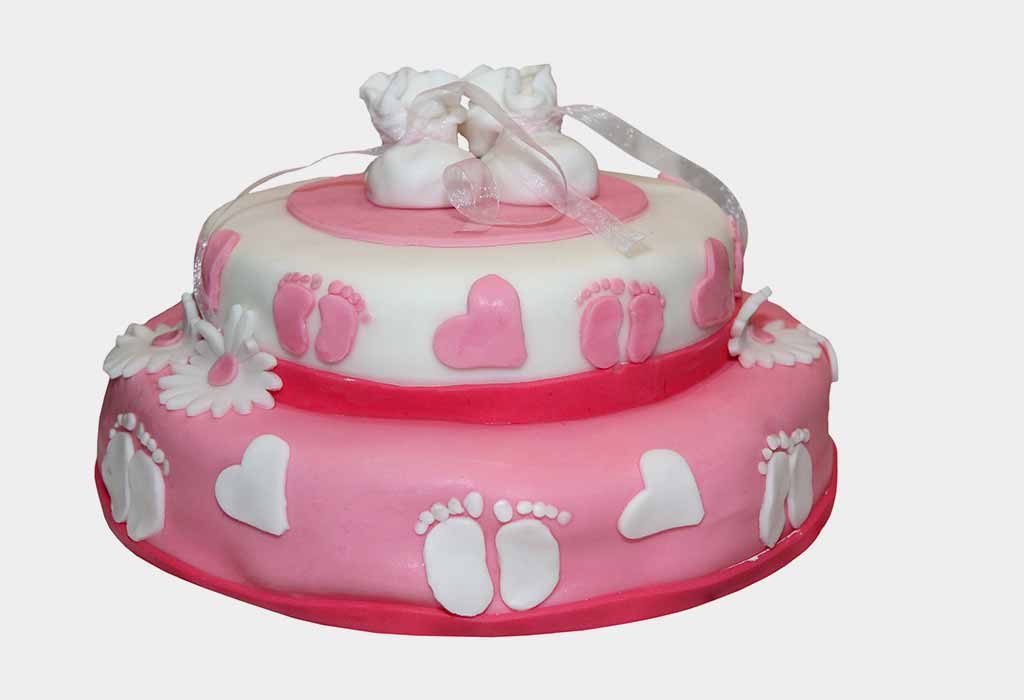 17. A Baby Buggy Cake
This cake idea is one of the best unique baby shower cake ideas. It is a baby shower cake in the shape of a baby buggy! The baby buggy can be of any colour, either blue or pink. If you want to keep the gender of the baby a secret, then you can go for a gender neutral colour. Therefore this cake can suit all types of baby showers. If your baby shower is completely baby themed, then this cake is the perfect symbol. Everybody would like this idea since everyone in your shower must have pushed a baby buggy at some point in their lives meaning that everybody will have something common to talk about.
17. Baby Shoes Cake
Small things are really adorable and sweet. This cake will be the centre of attention at your party. You could either have a single-layered or a multi-layered cake. The tiny shoes present on top of the cake will just look adorable. Make each side straight and have breathtaking decorations. This cake is an awesome idea for the lovely occasion.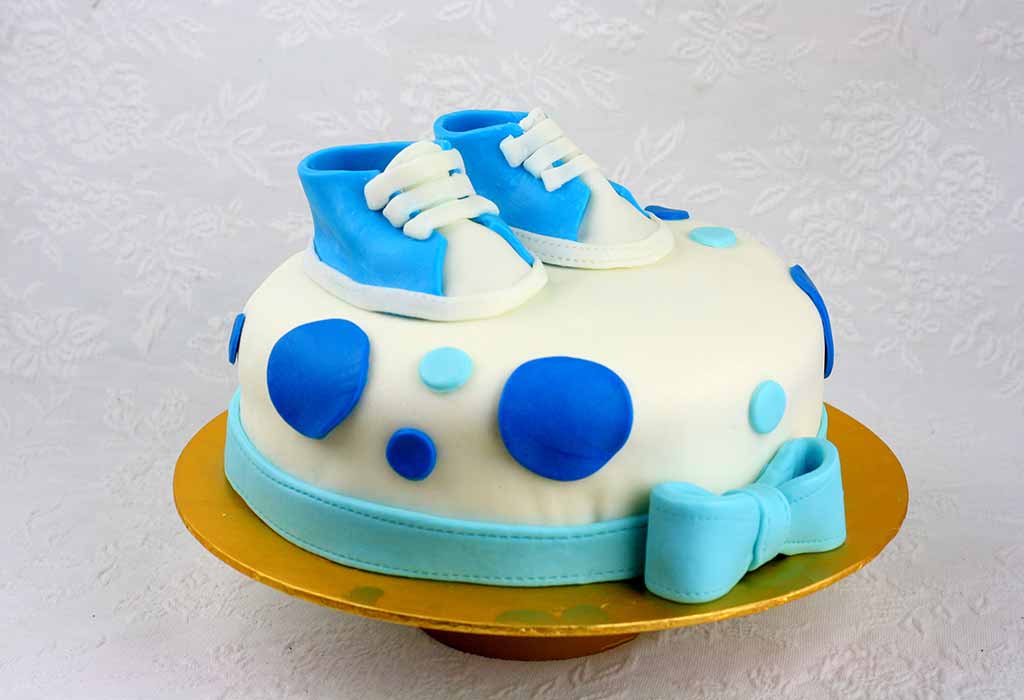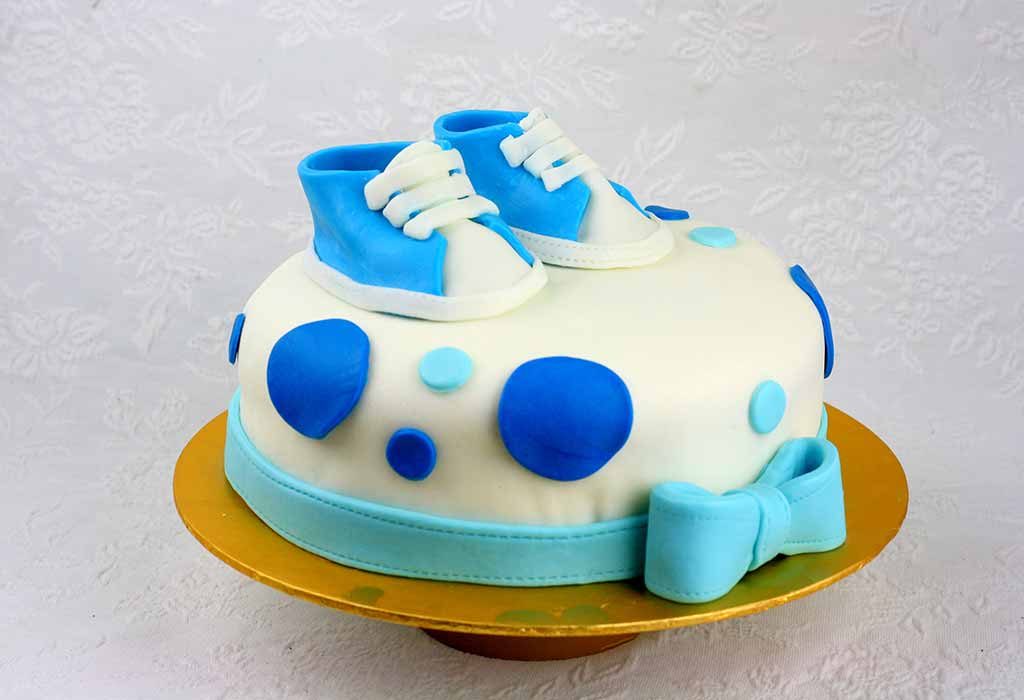 19. An Amazing Star Wars Cake
Are you planning on having a Star Wars-themed baby shower? If yes, then a star-war cake is a must. The cake could have two or three layers with a cute sleeping baby in a cloak and a Yoda hat on top of the cake. The cake could also have light sabres here and there as decorations. Other decorations include small characters like Han Solo and Yoda. All of these cute little details would make this cake stand out and would look like a cake from a galaxy far, far away.
20. Somewhere Over The Rainbow
Rainbows are beautiful to look at. But what makes them unique is that they are a mark of new beginnings. This is why having a rainbow cake is perfect for a baby shower to mark the baby's birth – a new beginning. The cake is a single layered cake with white frosting. You could have a multi-coloured edible rainbow over the cake and some rainbow sprinkles at the bottom of the cake. This cake would also fit any theme.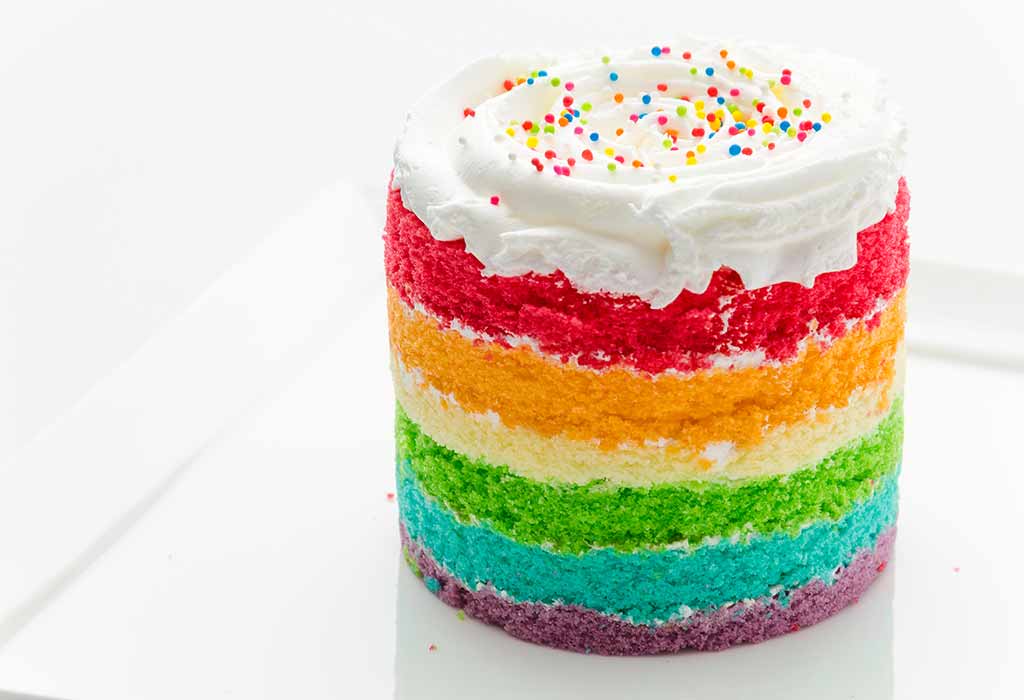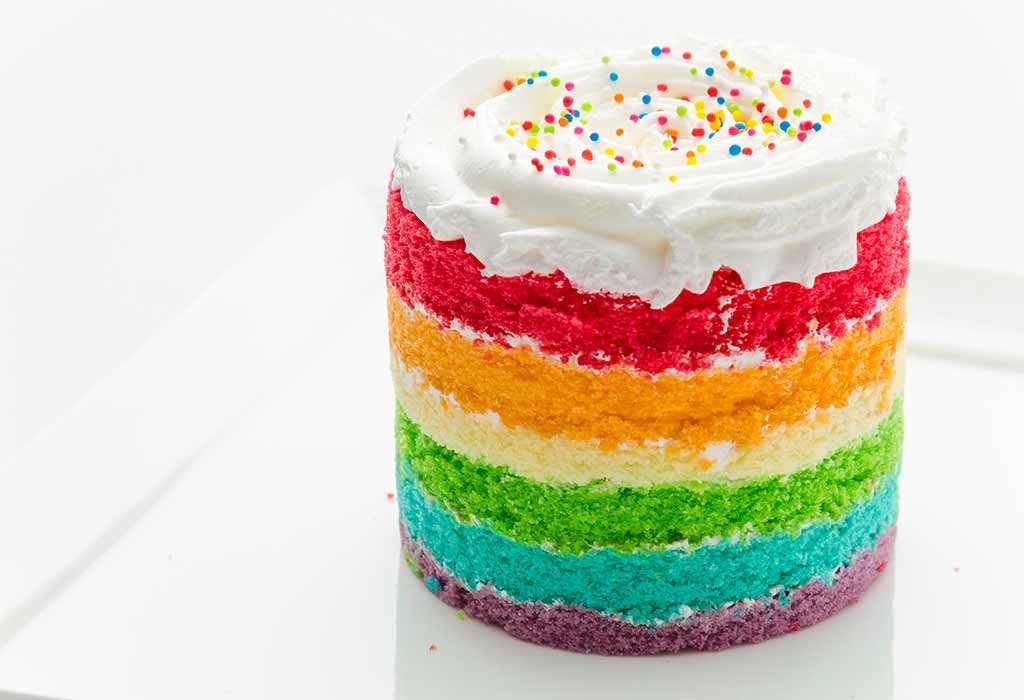 We hope you liked these cake ideas for your baby shower. Get one made, the guests will surely enjoy eating them.
Also Read:
Phenomenal Baby Shower Theme Ideas
Tips for Planning a Perfect Baby Shower
Interesting Baby Shower Gift Ideas to Consider