Birthday Cake Ideas for Your 1-year-old Baby
Everything is set, right from the guest list to the birthday outfit, but the one thing you can't decide for your little one's first birthday is the 'Cake' – the most important part of a birthday party. Well, many parents find themselves in this dilemma but we have your back. Here are a few cake ideas for your 1-year-old's birthday party.
Video: 10 Amazing Ideas for Your Baby's 1st Birthday Cake
20 Creative Ideas for Your Baby's First Birthday Cake
Kids can be choosy and since it's your baby's first birthday, it's alright to spoil your little one. Although he won't really pick a cake for his first birthday, you will want it to be a special one for him. To get that perfect cake, you need to first figure out what fascinates your baby. Is it the brand new toy car you bought last week? Or maybe the new princess Elsa doll that your child simply refuses to part with. Identify what piques your baby's interest, and opt for a cake that will excite them.
The choice and interests of girls and boys differ right from the beginning, so make sure you get a cake that appeals to them.
1. A Super Hero Cake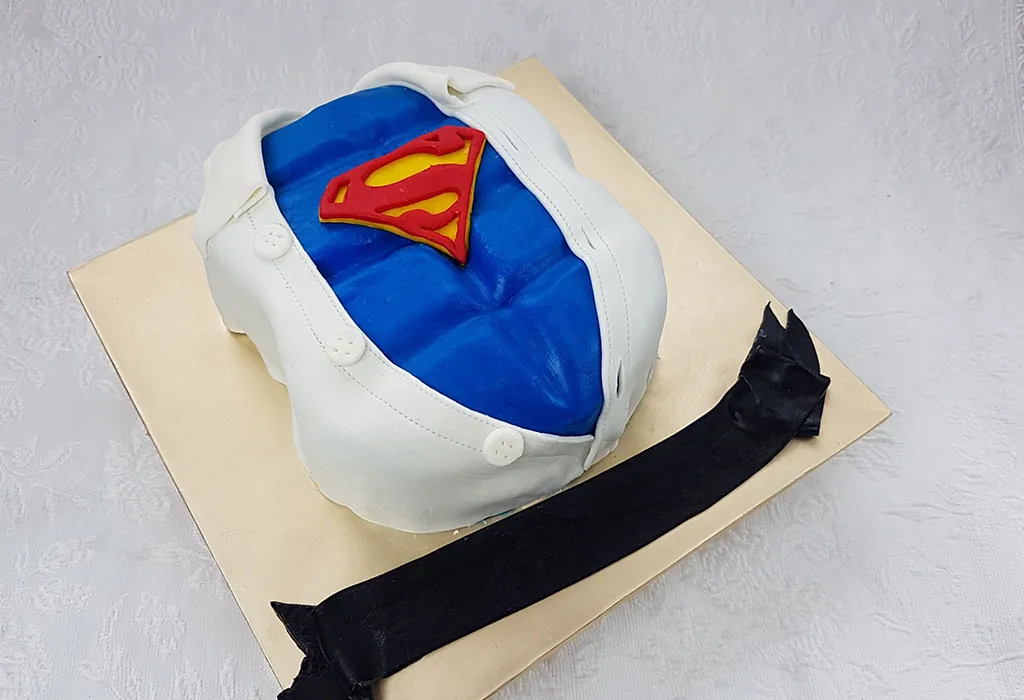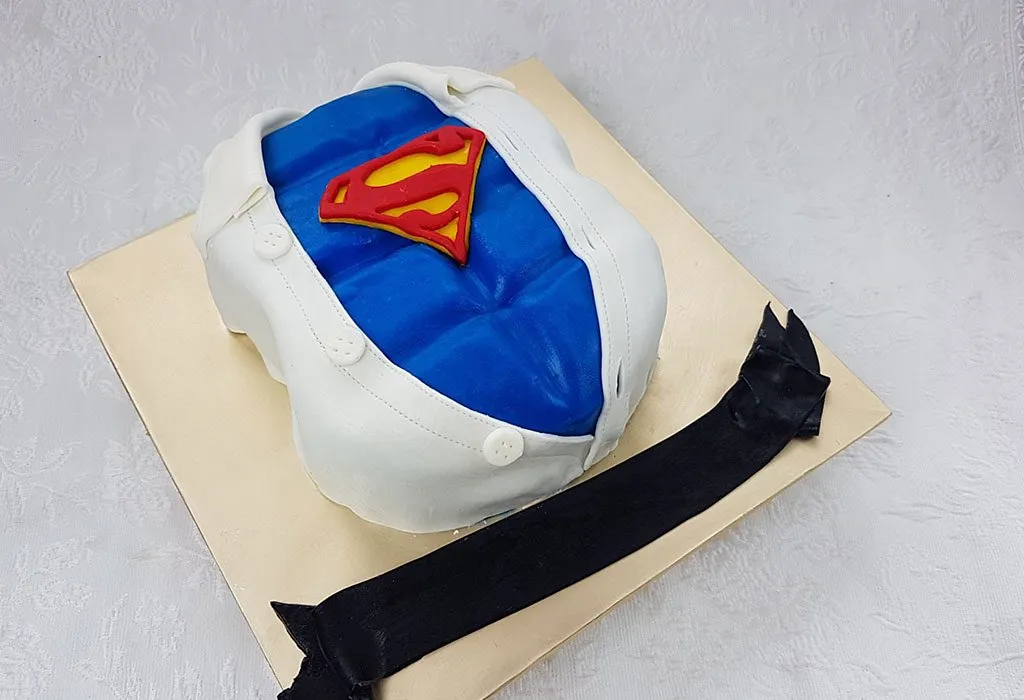 Your little one is a superhero and getting him a superhero-themed cake will surely get him excited on his first birthday. You can choose from several options, like Spider-Man, Wonder Woman, Batman, Superman, Super Woman, Captain America, Iron Man, Thor, Hulk. Get your baby a cute little outfit of his favourite superhero to make the experience even better. Nowadays, cakes can also be customised. You can get your baby's photograph printed along with his favourite superhero on the cake. Or, even better, get it customised to show your little one saved the superhero.
2. A Car Cake

This idea is especially for children who love cars. If toy cars are a major part of your baby's toy collection, you can get a customised cake that replicated his favourite car. If just a car cake doesn't sound impressive, you can add a racing track and some more colourful cars. maybe even replicate a hot wheels collection.
3. A Mickey Mouse Cake
If you have seen your baby drop whatever he's doing, every time the "Mickey Mouse Club House" theme song starts rolling, you don't have to think any further. Get him a Mickey Mouse Cake – he'll love it. Mickey is one cartoon character that almost everyone loves, thanks to his adorableness. Get this cake and your baby will be overjoyed. If your son loves the other characters in this show, you can incorporate their figurines as well and have a Micky Mouse theme party to compliment to cake.
4. A Bike Cake

Just like cars, if your one-year-old has a toy bicycle or a bike that he completely adores, you can get a stunning tiered cake with a chocolate bicycle or bike on it. You could also get a cake that has a print of your baby boy's favourite bike. If you want to go a step further, you may get a dirt bike, mountain bike or a quad bike-themed cake.
5. A Favourite Fruit Cake

If your baby likes a certain fruit, then go ahead and incorporate his favourite fruit in a cake. If you are still confused, you may go for flavours that kids generally love, like mango, blueberry, pineapple, and grapes. You can ask the bakers to drop chunks of fruit in it so that it adds to the nutrition value.
6. A Blue Cake

This is for the babies who love the colour blue. You could make this an ombre-frosted cake, that starts at the bottom with blue and gradually fades to a white cream frosting on top. The base cake could be flavoured with your child's favourite fruit, but if he loves blueberry, the cake will be the star attraction of the party!
7. An Ocean Cake
If you want to take the blue-theme a step ahead, you can go for an ocean-themed cake with waves and some fishes that your baby can identify. These cakes can also be made on themes like 'Little Mermaid', 'Sponge Bob and Square Pants', and 'Finding Nemo' to make it even more interesting for your little one.
8. A Lion Cake

Lions are majestic creatures, and they are synonymous with strength and power. Also, if your son loves Madagascar movie, then a cake that has 'Alex' on it will make your son smile, because who doesn't love Alex! This can be a tiered cake with Alex sitting majestically or in his usual quirky manner on the top.
9. A Mobile Phone Cake
Kids these days are tech-savvy, their age doesn't matter. They love gadgets right from a young age. If your mobile phone has already got your little one's attention, you may want to use it for cake ideas. You can order a customized cake in his favourite flavour that replicates your smartphone. This will grab the interest of your baby, just like your phone does, and he'll love it!
10. A Suit and Tie Cake

This cake idea might not go with everybody, but if you desire to have a 'black-tie event' sort of a celebration on your little one's first birthday, this could be a great cake to have. You could even dress your baby to suit the theme.
11. A Barbie Doll Cake

If your baby's Barbie doll has a special place in his heart, you must go for a Barbie doll theme cake. A three-tiered cake works best, with the layers resembling her gown. This one comes with two options, one with a plastic doll bust and the other with a completely edible doll. You can choose the one that you like the most and go for as many colours as your kid likes.
12. A Princess Cake

The specialty about princess-themed cakes is that it can accommodate all the important accessories that a princess would usually wear. It cake can have a tiara on top, and several layers decorated with frosting, sugar candies that replicate diamonds and jewellery too. Make sure you use all the regal colour we associate with royalty.
13. A Minnie Mouse Cake

Minnie Mouse is another popular animated character kids love. If your baby has taken a liking towards her, you must get a Mini Mouse birthday cake for him. The colours of the character – red, pink, and black can also be used to decorate the house on your little one's 1st birthday. It could also be the theme and you could give Mini Mouse headgear to all your guests. Make sure the boombox rolls the "Mickey Mouse Club House" track as well!
14. Favourite Animal Cake

Does your baby have a favourite animal by now? If yes, go for a cake with her favourite animal sitting on the top and a complete cake made in the shape of the animal. The most common animal-centred cakes are kittens, dogs, ponies, bears, unicorns, and bunny rabbits. You can also go for bird-themed cakes. Just make it colourful and your baby will love it!
15. A Flower-Themed Cake

Now, who doesn't love colourful flowers? Choose your baby's favourite fruit-flavoured cake and have it decorated with loads of his favourite flowers in your preferred sizes. It will not just be delicious, but a feast to the eyes as well. You can opt for daisies like the one in the picture, roses, or sunflowers also to make it colourful and cheerful.
16. A Unicorn Rainbow Cake
This one is for the kids who are smitten by unicorns and rainbows. If your baby is one of them, you must get him a three-tiered rainbow cake with a pretty unicorn on top of it. Go for pastel colours and match your baby's birthday apparel also to suit the theme.
17. A Cinderella Cake
This is for all those children who enjoy listening to the story of Cinderella without understanding a word of what their parents say. If your little one has a picture book with the story, you can take his favourite scene and get it printed on a cake. You can also add a slipper made from sugar and a pumpkin carriage on top to complete the theme.
18. A Pink Cake

Just like the blue cake, if your little one loves the colour pink, you can go for a stunning cake in your preferred shades of pink. The base cake can also be pink in colour and have a frosting with an ombre effect, pink roses or pink macarons all over it.
19. A Strawberry Cake

This one can be teamed up with a pink cake if your baby also loves strawberries. You could ask the bakers to leave a few chunks of the fruit in the cake as well. This will increase the richness of the cake and add to the nutrition value of the cake.
20. A Teddy Bear Cake
This one is for all the teddy bear lovers. You can for an entire cake in the shape of the teddy bear or a two-tiered cake with a teddy bear sitting on top. Choose the flavours and the colours that your little one is most like to get attracted to. Animated characters like Yogi Bear, Baloo and Boo Boo can also be added to this theme.
Choose from these ideas, and make your baby's first birthday a real blast! Your child will thank you later when he grows old. Click loads of pictures and cherish the memories forever.
?>