16 Third Trimester Pregnancy Must-Haves That Every Expectant Woman Needs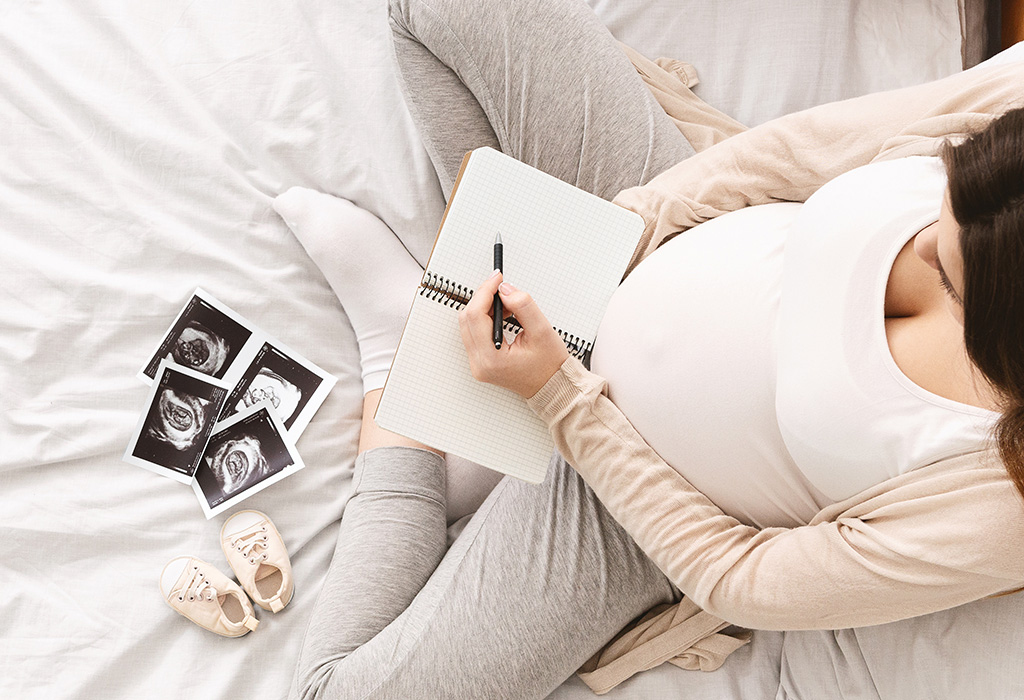 In this Article
Congratulations mama-to-be! You have made it to the last leg of your pregnancy, i.e., your third trimester. This is when things get big, you are unable to see your feet, the pressure is on, emotions are all over the place, and you are super excited to meet the little one!
The third trimester is also the time when you have to be extra careful of the things you consume and practise. A calm mind, happy thoughts and plenty of relaxation are what you need in this trimester. To make this period easier, you might require some things that will help you breeze through your pregnancy.
16 Third Trimester Essentials for Moms-To-Be
You may think that you are nearing the end of the pregnancy phase; then. why go overboard and spend on things that you may not use later? But dear mama, since the third trimester is often the crucial trimester of all, you may want to spend some time, energy, and money on your wellbeing to help you enjoy the term, and save you from some pregnancy-related discomforts. Let's take a look at these third-trimester essentials you need to get to ensure a comfortable pregnancy.
1. Heating Pad and Hot Water Bag

When joint and back pains knock on the door this trimester, the best solution is to use heating pads or hot water bags. They can also keep you warm when the air gets too chilly. Heating pads and hot water bags can thus go a long way during this trimester. You may avoid using it directly on your belly if it causes discomfort, and you are good to go.
2. Maternity Underwear and Bras

If you are using pre-pregnancy lingerie even in your third trimester, it's time you change the course. Your belly and breasts have already changed to accommodate your baby's needs, and chances are your pre-owned undergarments have started to stretch and make you uncomfortable. Spending on some quality maternity underwear and bras will relieve you from discomfort as they are very supportive and comfortable.
Maternity underwear are designed to stretch as your belly grows and provide support without digging into your skin. Maternity bras are absolutely essential as they provide support to the breasts and rib cage as the baby grows. You can find a range of maternity cum nursing bras from Bella Mama that are super comfortable.
3. Pregnancy Support Belt

A pregnancy support belt is another essential item in our list of third-trimester must-haves. If you are planning to do some work standing for a while, you can use a pregnancy support belt as it can relieve you from the painful pressure on your belly, hips, and pelvis. However, it is not recommended to wear it for more than 2-3 hours a day. If it is correctly used, you will notice how useful it is during the trimester.
4. Maternity Clothing

Investing in maternity wear is a smart move. Your body starts to stretch in the second trimester and continues to do so in the third trimester. As the body changes during pregnancy, the same old clothes, even if they fit might not feel comfortable. In that case, purchasing quality maternity clothing, like maternity leggings, maternity nighties or night suits for night-time relaxation, and maternity cum nursing loungewear, is a must. You can also look for maternity sleepwear that comes with nursing panels, so you can breastfeed your baby without any hassle. Bella Mama offers a range of maternity clothing in beautiful patterns that you will be sure to love during the trimester. Have you checked them out yet?
5. Comfortable Shoes

A little bit of walking and a few pregnancy exercises can work wonders for you during the third trimester. But you can't do that without comfortable shoes, right? As the baby bump gets bigger in the third trimester, bending down to tie the laces can also seem impossible. Thus, comfortable slip-on shoes can be a good addition to your third-trimester shopping list! You can look for fancy flat shoes to accentuate your outdoor look.
6. Pregnancy Pillow

Sleep seems like a dream as the third-trimester approaches and your belly grows. Sleeping on your back becomes a no-no as it can restrict blood circulation and harm your baby. If you don't want to walk around the house all irritated because of the lack of sleep, then investing in a sleeping pillow will do you good.
7.
Compression Socks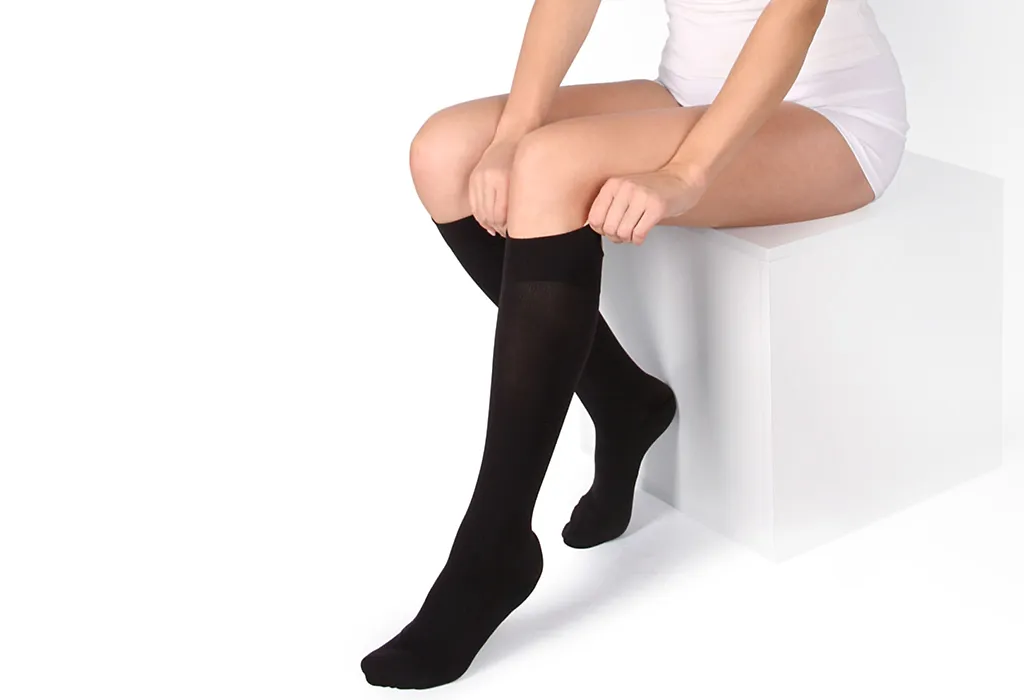 Your feet will thank you for this! Swelling in the legs and feet can be very irritating in the third trimester. Compression socks are one mighty item that compresses the ankles and calves, subsequently reducing the swelling in them. These socks also improve the blood circulation in the sore areas and provide some much-needed comfort.
8. Insulated Water Bottle

Staying hydrated is very important for you and your baby. Water not only hydrates you but also supports your baby's blood circulation during pregnancy. Get one or two water bottles solely for you and keep one near your bedside and one in the common area where you frequently relax.
9. Hospital Bag

The third trimester is the time when expectant mamas anxiously wait to hold their babies in their arms. As soon as your body is ready to bring your baby into the world, you will rush to the hospital. But, you don't want to enter your labour unprepared! Plan the essentials and pack them in a hospital bag well before your delivery to avoid the last-minute hassle.
10. Prenatal and Breastfeeding Classes

Sessions on prenatal care and breastfeeding can be advantageous to you. Soon you will be holding your baby in your arms, so these sessions on labour, prenatal care, postnatal care, types of delivery, what to expect, etc., can help you glide through the phase.
11. Books and Resources

Books and DVDs on childbirth and parenting can be a life-saviour! You can spare some time during your third trimester to read these books that will prepare you for labour and postnatal care. You can also purchase storybooks and read them aloud to the baby in your womb. It is believed that babies can hear your voice and recognise it, too. No harm in trying, right?
12. Exercise Ball

Exercise balls are quite useful for workout freaks, but did you know it can work wonders for pregnant women, too? Used as a stability ball for exercising, it can help relieve the discomfort of the growing baby bump, improve your posture, and also help stretch the hips for labour. Remember to invest in a good quality exercise ball and enrol with a trustable pregnancy fitness coach who can train you to exercise right without causing injuries.
13. Heartburn Relief
As the baby grows, it pressurises the organs, including the oesophagus that is pushed upwards, often leading to heartburn. This is very common in the third trimester. So, keeping antacid tablets recommended by your doctor can help get some relief from this discomfort.
14. Panty Liners

Hormonal changes during pregnancy and a frequently filling bladder can be the cause of unpreventable discharge down there. For such cases, you can use super-absorbent, soft, and unscented panty liners to protect your clothing and save your skin from any infection.
15. Humidifier

Many expectant mothers suffer from stuffy noses and nose bleeds during pregnancy because of pregnancy hormones. A humidifier can help you save the day by adding moisture to the air and letting you breathe easily.
16. Prescribed Prenatal Vitamins

Vitamins are essential for you and your baby's development. Make a schedule to take your prenatal vitamins recommended by your doctor and keep them within your reach so you can take them without forgetting.
Pregnancy is the time to take care of yourself, enjoy along the way, make memories, and plan for the future. Staying positive and happy will ensure your and your baby's wellbeing, and will pave the way for your baby's development. Remember, a calm and happy mind is what your baby needs from you during the third trimester. So, put on your mama shades and rock your pregnancy!
Also Read:
Must Have Maternity Outfits
What Are the Right Clothes to Wear When Pregnant?