14 Iron Rich Foods for Babies and Toddlers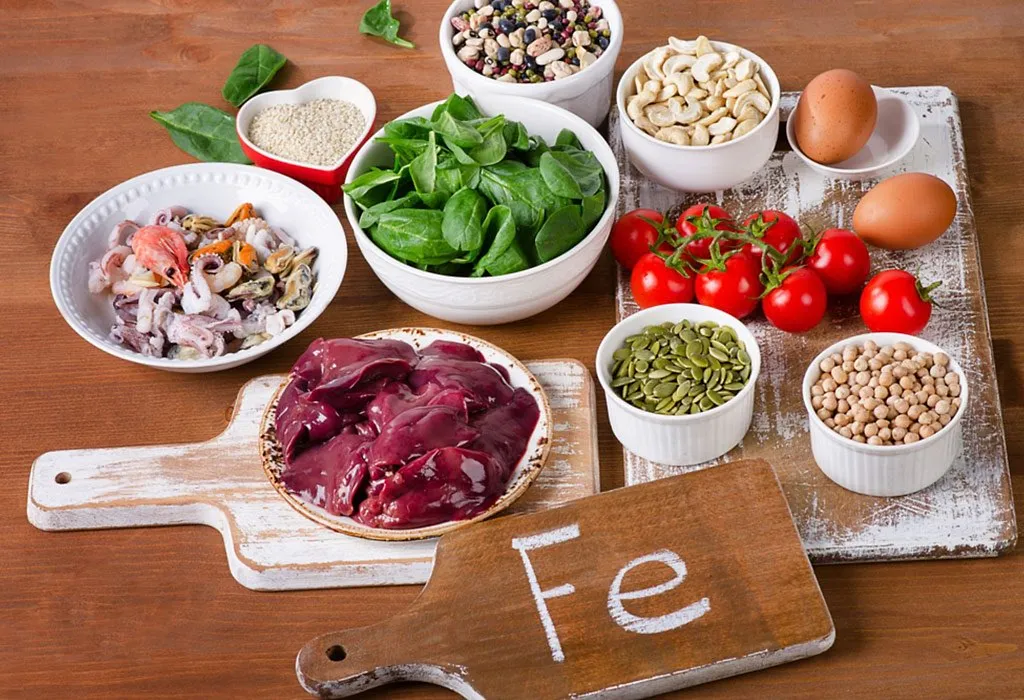 The beneficial properties of iron for babies are many. From promoting adequate growth and development to keeping anaemia at bay, iron is an essential nutrient that ensures proper health and well-being. Most babies do not need any kind of iron supplements until they are at least four months of age. This is because all babies get plenty of iron from their mothers during the final trimester of pregnancy. If your baby is born prematurely, then there is a possibility that he may suffer from an iron deficiency. This can also happen if you were diabetic or had poor nutrition during pregnancy.
Importance of Iron for the Body
Iron is an essential nutrient needed for proper growth and development. It aids proper functioning of the body by helping the blood transport oxygen from the lungs to the rest of the body and the muscles to store and use oxygen. Essentially, iron is the main component of healthy blood, and a deficiency in iron can cause anaemia, which affects core functions in the child's body.
Symptoms of an Iron Deficiency
You may notice the following symptoms if your child has an iron deficiency.
Pale skin
Poor appetite
Constant fatigue
Abnormal breathing
Delayed growth and development
Frequent illnesses
How Much Iron Do a Baby and Toddler Need?
You will be surprised to know that babies are born with a reserve of iron, which they get from their mother's blood while they are in the womb. For the first six months after delivery, the breastfed babies get everything they need from their mother's milk. If breastfeeding is not an option for your baby, you can also use store-bought iron-fortified infant formula for the first 9 to 12 months. This formula should be cow's milk-based. Once your little one starts eating solid foods, the amount of iron they need depends on their age, which is:
| | |
| --- | --- |
| Age | Amount of Iron per say (Recommended Daily Allowance) |
| 7 to 12 months | 11 mg |
| 1 to 3 years | 7 mg |
Iron-Rich Foods You Can Include in Your Baby and Toddler's Diet
There are two categories of iron-rich foods – heme and non-heme. Heme originates from haemoglobin and is usually found in animal products, especially poultry and meat. Heme-iron is absorbed by the body quicker than non-heme iron. There are plenty of non-vegetarian and vegetarian iron-rich foods for babies to try out. Here is a compilation of iron-rich food for babies and toddlers.
1. Meat and Poultry
These are great sources of heme iron, especially red meats and liver. Try to remove all the fatty parts of the meat before cooking, as they do not contain any iron. You should cook the meat well before feeding it to your baby. Else, it can be difficult for them to chew and digest easily. Furthermore, meat and poultry should be included in a baby's diet only after he turns 8 months of age.
2. Egg Yolks
Yet another of the good sources of iron for toddlers and infants alike, eggs are easily available and easy to cook and eat. Try to incorporate egg yolks into various recipes. This guarantees that your child gets a healthy dose of iron regularly without having to eat the same thing every day. Caramel custard or custard flan are some delicious options for desserts that include egg yolks. If you do want to include egg yolk in your child's diet, do it after he turns 10 months of age.
3. Red Rice
Excellent sources of non-heme iron-rich foods for infants, these varieties of rice might not appeal to your child if simply cooked. Try to add some flavour to it by stirring in vegetables, eggs, or meat depending on your food habits.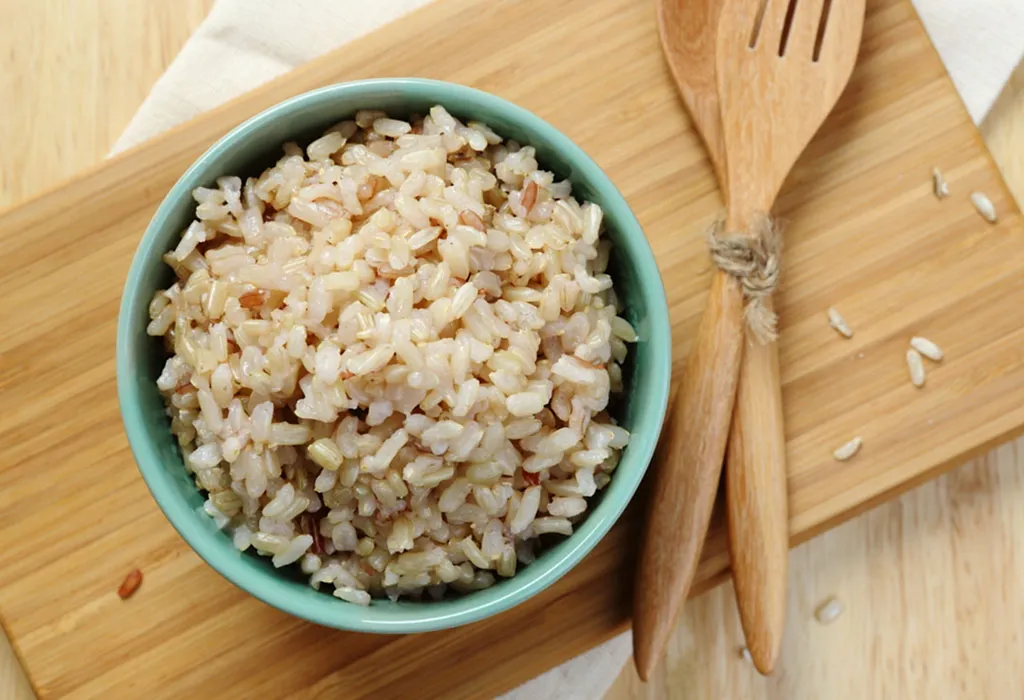 4. Beans
Almost all varieties of beans are rich in iron. Lentils, kidney beans, chickpeas, and soybeans are just some examples. You can steam the beans and flavour them with some salt and mild spices before offering them to your child. You can also mix them with meat or rice.
5. Sweet Potatoes and Potatoes
In order to retain most of the iron in potatoes, be sure to cook them with the skin on. Baked and steamed potatoes or sweet potatoes are a favourite with most children. You can also slice them to resemble french fries, as this will also help your child grip them easily when self-feeding. Mashed potatoes are another favourite.
6. Seafood
There is no denying that seafood is a source of various nutrients essential to your child including iron. Tuna, clams, and shrimp are the best sources of iron. You can cook these in a variety of ways and feed them to your child on a regular basis. However, be aware that some children can be allergic to specific seafood, so introduce these to your child with care.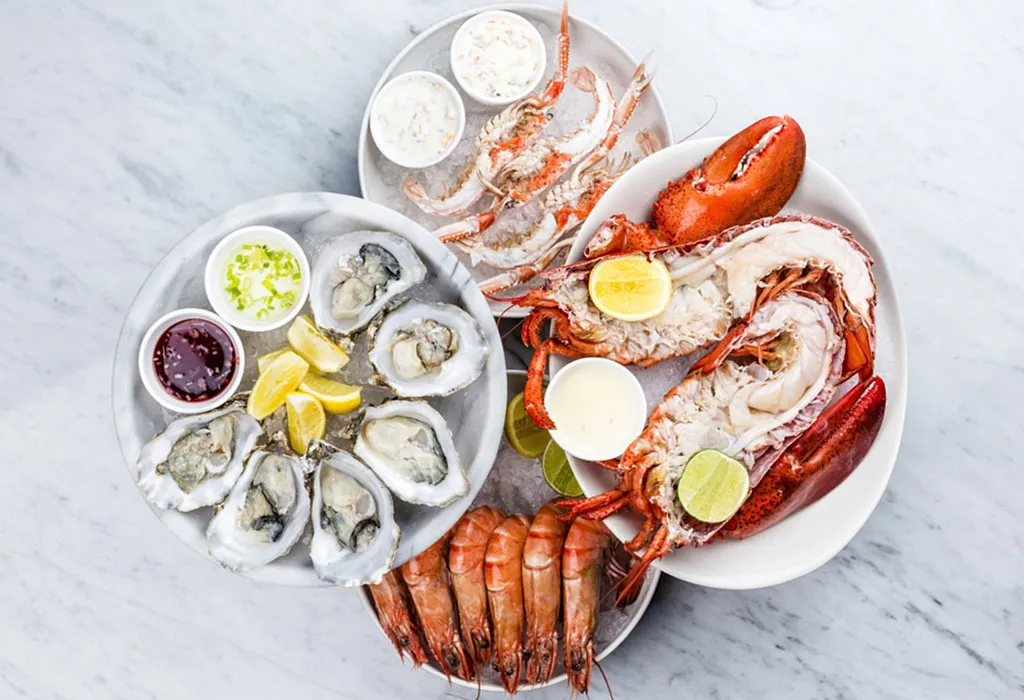 7. Peanut Butter
A favourite with a large number of kids, peanut butter, is packed with iron. Using it with whole bread will make it a healthy snack at all times. You can also try out peanut butter cookies for a special treat. Using enriched flour or oatmeal helps you increase the healthy-eating quotient.
8. Tofu
A great meat substitute for vegetarians, tofu contains a significant amount of iron. You can cut tofu into strips and sauté them before offering it to your child, alongside a dip. It can also be consumed by children who are lactose-intolerant.
9. Prune and Cranberry Juice
These are some of the few fruit juices with rich iron content. Their sweet taste is bound to appeal to children, but be sure not to give them more than one glass per day. These juices are also good for urinary tract health and prevent constipation. They contain no fat or cholesterol.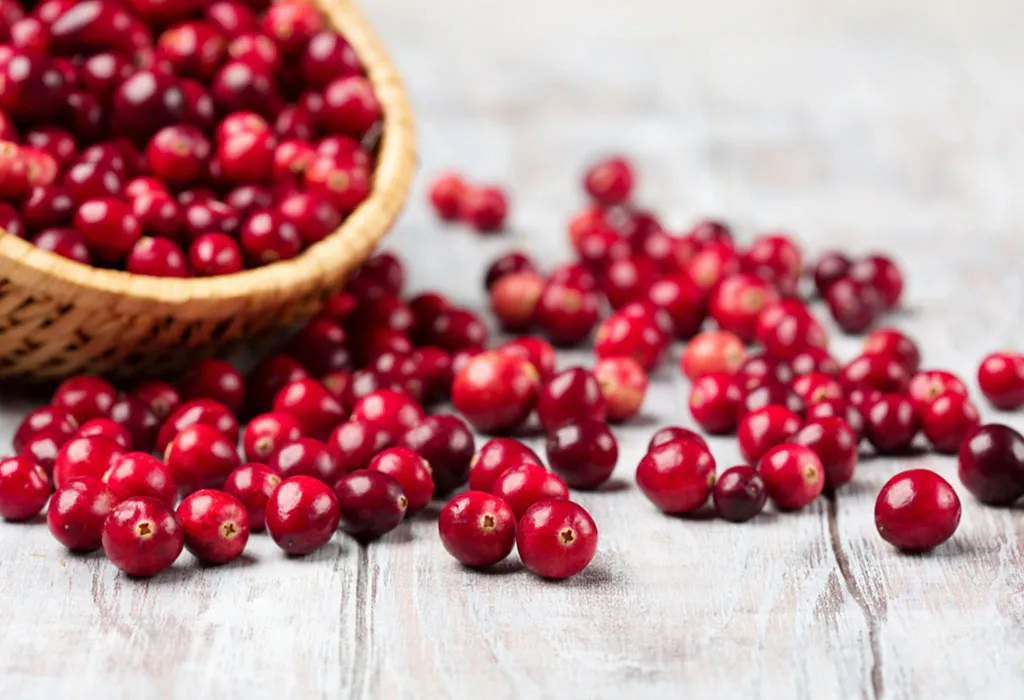 10. Dried Seeds
A great snack during travel or after playtime, dried seeds are fun to munch on. Sunflower, pumpkin, and sesame are just some of the seeds that contain iron in significant amounts. You can also try to make a granola bar out of these or use them as garnishing in puddings and other sweet treats to make it interesting.
11. Dried Fruits
Dried dates, apricots, prunes, and raisins all contain a large amount of iron. They make for extremely healthy snacks to chew when your child is hungry or simply wants something to munch on. Encouraging your child to reach for dried fruits whenever they want a snack is one good habit you might want to continue into adulthood.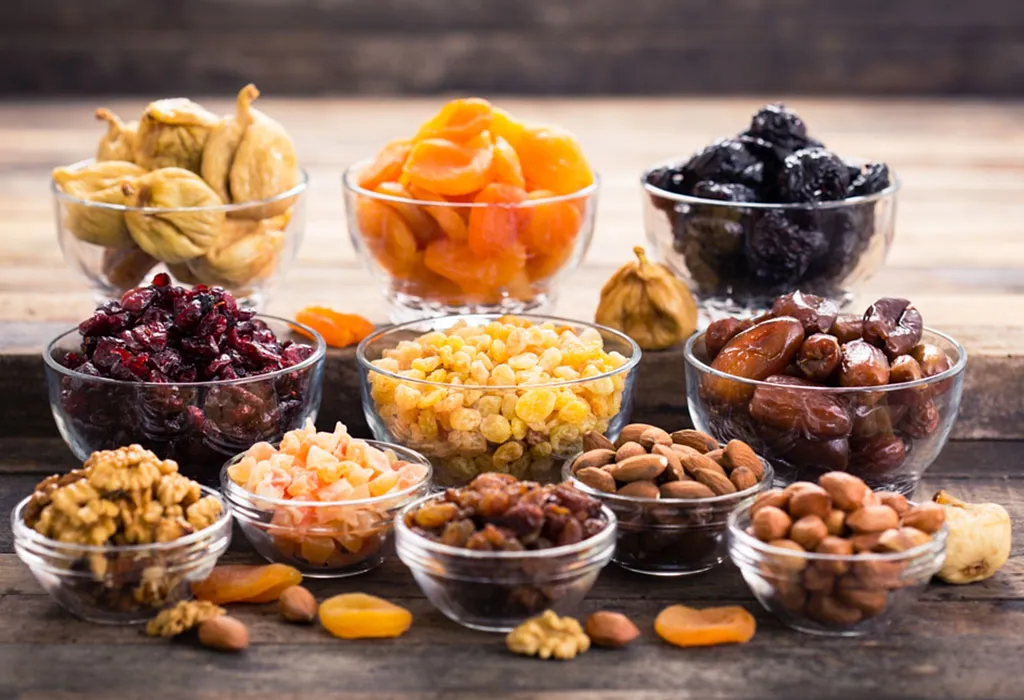 12. Green Leafy Veggies
You might find it difficult to get your children to finish up green veggies when served raw or steamed. Spinach, broccoli, collards and kale are rich in iron and many other essential nutrients. You could blend these into a paste and use them in gravies, soups or dips. Add some flavour with spices if required.
13. Tomatoes
If your child refuses to eat fresh tomatoes cut into nice little cubes, try drying it under the sun or inside an oven. Then you can make sauces and soups out of it. Spaghetti with tomato sauce and mildly-flavoured tomato soup are sure to be a hit with your child.
14. Green Peas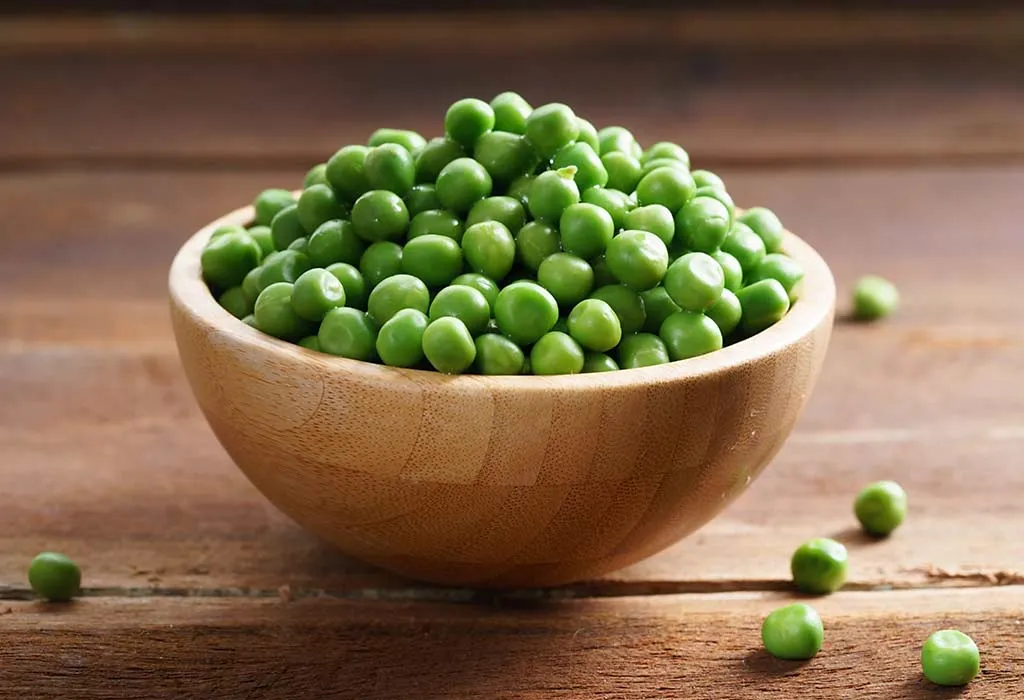 Peas are one of the kids' favourite foods as they love to pick them up using their little fingers and put them in their mouths. This green vegetable is an excellent source of protein, fibre, iron, and other nutrients. You can prepare several dishes using green peas for your child.
Best Iron-Rich Food Recipe Ideas for Babies and Toddlers
Once your child is about six months old, you can start giving them solid foods. Make sure to choose foods that contain iron. Here are some iron-rich food recipes for your little one.
Breakfast or Snack Ideas
Simple and easy to prepare iron-rich breakfast or snack ideas for kids.
1. Apple and Oats Pancake
Ingredients:
Apple puree
Rolled oats
Milk
Baking powder
Maple syrup
Vanilla
Baking soda
Instructions:
Blend oats until fine.
Add the remaining ingredients and again blend until smooth. Make sure the mixture is thick.
Drop some batter onto a medium-heat greased pan.
Look for bubbles to burst on the surface, and then flip the pancakes.
Once done, remove the pancake from the heat and add maple syrup on the top and serve.
2. Chickpea and Oat Crackers
Ingredients:
400g chickpeas
1 cup rolled oats
2 cloves garlic
1 tablespoon lemon juice
Salt
¼ cup olive oil
Instructions:
Rinse and drain the chickpeas and add to a food processor. Blend until smooth.
Add the rolled oats and continue to blend properly.
Add garlic, lemon juice and salt to it for seasoning.
Gradually add olive oil and continue to blend until everything comes together as a ball.
Place the dough on a baking tray and press it with your hands to start flattening it.
Place a second piece of baking paper on top of it, using a rolling pin, and roll until it is evenly spread.
Score the dough into cracker-shaped pieces and prick the centre of each cracker using a fork.
Bake it at 180 degrees Celsius for 40-50 minutes until golden brown.
Leave it to cool and serve.
3. Zucchini Slice
Ingredients:
Eggs
Zucchini
Bacon
Flour
Baking powder
Onion
Cheese
Instructions:
Preheat the oven to 180 degrees Celsius and add baking paper to the container.
Whisk the eggs in a bowl and add the flour and baking powder to it, and whisk.
Add finely dice the onion to the mixture.
Grate the zucchini and remove the excess liquid from it. Add it to the mixture.
Add diced bacon and grated cheese to the mixture.
Pour the mixture into the lined container and bake for 40-45 minutes.
Cut it into slices and serve.
Lunch or Dinner Ideas (Non-Vegetarian)
Simple and easy to prepare iron-rich non-vegetarian lunch or dinner ideas for kids.
1. Spinach Crepes
Ingredients:
3 eggs
¾ cup arrowroot powder
¼ brown rice flour
1 cup plant-based milk
1 tbsp coconut flour
30g baby spinach
1 tbsp olive oil
1 tsp sea salt
Olive oil
Instructions:
Crack the eggs into a blender and process.
Add the other ingredients and process on high until completely smooth.
Pour this batter into a jug and leave it in the fridge for 20 minutes.
Heat a frying pan over medium-high heat and add a few drops of olive oil.
Whisk the batter and add around ¼ cup of the mixture into the pan.
Flip it over once cooked from one side and let the other side turn golden brown.
Serve.
2. Korma Egg Curry With Spinach and Chickpeas
Ingredients:
2 tbs canola oil
1 brown onion, peeled and diced
1/3 cup korma curry paste
1/3 cup tomato paste
1 1/4 cups water
1/3 cup light coconut cream
400g can chickpeas, rinsed and drained
120g baby spinach leaves
8 hard-boiled eggs
Instructions:
Place a saucepan over the heat and add oil and onion. Cook it for about 5 minutes or until softened.
Add curry and tomato paste to it and cook gently for 1-2 minutes.
Add water, coconut cream, and chickpeas and cook for 5 minutes.
Stir in the spinach and cook until it's wilted.
Add the eggs to the curry and stir gently to coat them.
Garnish with coriander and serve with roti.
3. Lamb Lollipop
Ingredients:
16 lamb riblets
3 tbs parmesan
1/2 cup cornflour
3 eggs
1 cup panko-dried breadcrumbs
1/4 cup parsley and mint
Olive oil
Instructions:
Cut between the rib bones on your riblet rack and scrape away some of the fat nearest to the bottom of the bone on each rib bone.
Peel the lamb up the bone to form a little ball at the end of the rib.
Combine the parmesan, cornflour, panko crumbs and parsley in a bowl.
Lightly whisk eggs in a separate bowl.
Dip each lollipop into the whisked egg and then cover in the crumb.
Fry the lamb lollipop until golden brown and serve.
Lunch or Dinner Ideas (Vegetarian)
Simple and easy to prepare iron-rich vegetarian lunch or dinner ideas for kids.
1. Pumpkin Dhal
Ingredients:
1 tbs olive oil
1 onion, diced
2 cloves garlic, crushed
2cm cube ginger, grated
1/2 long thin red chilli, finely sliced
1/2 tsp cumin seeds
1/2 tsp ground turmeric
1/2 tsp ground coriander
1/2 tsp garam masala
1/2 small butternut pumpkin, cubed
1 x 400g can no-added-salt chopped tomatoes
1 cup red split lentils, drained and rinsed
3 cups water
Instruction:
Heat oil in a pan and add onion, garlic and ginger to it. Cook for 2-3 minutes.
Add in chilli and spices.
Add pumpkin, tinned tomatoes, lentils and two cups of water. Let it cook for 18 minutes.
Use the back of a spoon to break apart pumpkin cubes.
Add one cup of water and stir through to warm up.
Serve immediately, dolloped with yoghurt.
2. Sweet Potato, Broccoli, Zucchini Mash
Ingredients:
2 tsp olive oil
350 g sweet potato
1 potato
1 small parsnip
1 large zucchini
100 g small broccoli florets
Instructions:
Heat the oil and add in sweet potato, potato and parsnip.
Add 1/2 cup of water and bring to the boil. Simmer it for 10 minutes.
Add zucchini and broccoli to it and stir well. Let it cook until the vegetables are tender.
Remove it from heat and mash to desired consistency, and serve.
3. Spinach Muffins
Ingredients:
Flour
Spinach
Applesauce
Oil or butter
Milk
Maple syrup
Spices
Baking soda and powder
Salt
Instructions:
In a bowl, add the dry ingredients.
Whisk the flour, baking soda and powder, salt, and cinnamon until well incorporated.
In a blender, add the spinach, milk, applesauce, oil, and maple syrup.
Blend everything until completely smooth.
Pour the above spinach mixture into the dry ingredients and stir until combined. Do not over mix.
Scoop the batter into muffin tins and bake for 12-14 minutes.
Serve hot.
FAQs
1. Does Your Baby Need to Take Iron Supplement?
A breastfeeding baby, for the first four months, does not need any additional iron. The iron in a baby's body at birth is enough for its initial growth.
At four months of age, babies who are partially or completely breastfeeding should be supplemented with 1 mg per day of oral iron until appropriate iron-containing complementary foods are introduced into their diet.
2. Can Babies Get Enough Iron From Vegetarian Food/Diet?
Yes. There are many vegetarian sources of iron that are great for babes. Potato, broccoli & peas are some of the super vegetarian sources of iron.
3. Should You Worry If Your Baby or Toddler Getting Too Much Iron?
Excessive iron intake can be toxic to babies or toddlers and can cause serious health problems. These problems include decreased growth, increased illness, altered gut microbiota to more pathogenic bacteria, increased inflammatory markers, and impaired cognitive and motor development. Therefore, only the recommended daily intake of iron should be given to a baby or a toddler.
Babies who are being breastfed or given infant formula fortified with iron do not require any iron supplements. Toddlers who eat a well-balanced diet, with enough iron sources included, also do not need any supplementation either. Poor iron content in children can lead to distracted focus and causes them to feel tired and weak. So, try to incorporate at least a couple of iron-rich food into your baby's daily diet.
Resources/References:
1. Iron needs of babies and children; National Library of Medicine; https://www.ncbi.nlm.nih.gov/pmc/articles/PMC2528681/; April 2007
2. Iron; cdc.gov; https://www.cdc.gov/nutrition/infantandtoddlernutrition/vitamins-minerals/iron.html
3. Where We Stand: Vitamin D & Iron Supplements for Babies; healthychildren.org; https://www.healthychildren.org/English/ages-stages/baby/feeding-nutrition/Pages/Vitamin-Iron-Supplements.aspx
4. Vegetarian and vegan feeding guide for babies; pregnancybirthbaby.org.au; https://www.pregnancybirthbaby.org.au/vegetarian-and-vegan-feeding-guide-for-babies
5. Excess iron intake as a factor in growth, infections, and development of infants and young children; Bo Lönnerdal; National Library of Medicine; https://www.ncbi.nlm.nih.gov/pmc/articles/PMC5701711/; October 2017
Also Read: Finger Foods for Babies
?>