12 Useful Tips for Camping with Baby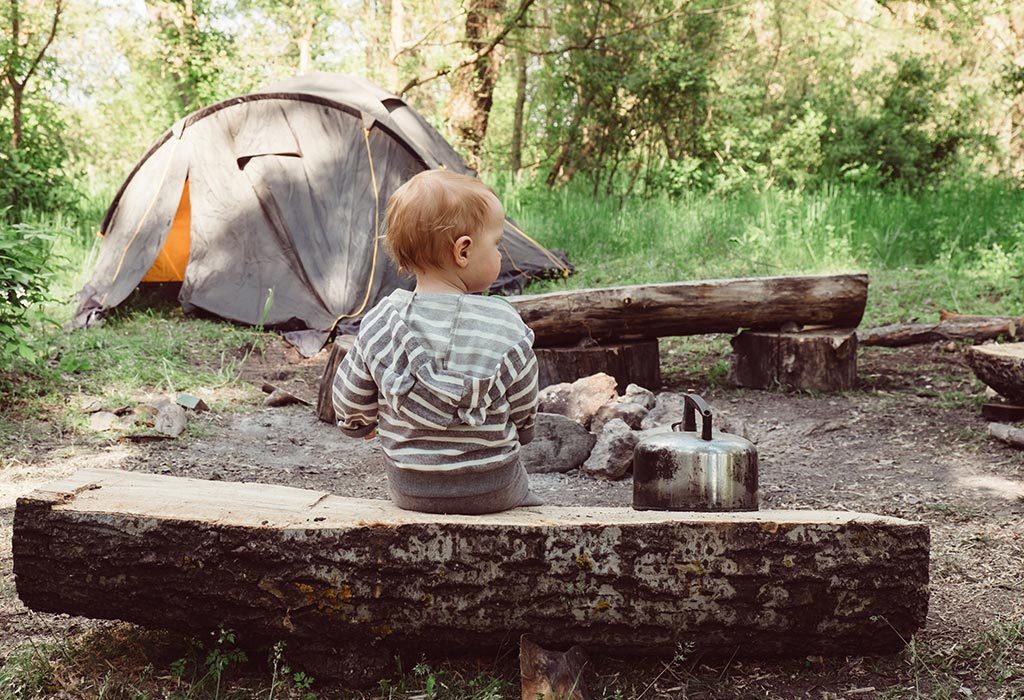 In this Article
Some of you may be big camping fans and may be doing it on regular basis. However, parenthood brings in a lot of changes in the lives of newbie parents however that surely doesn't mean that you cannot take your little bub on your little camping adventures! If you are passionate about camping and may want to figure out ways in which you can plan these trips with a baby, here's all you need to know!
There is no doubt that camping with a baby can be a bit intriguing, especially for the first time parents but with proper planning and by following some of our useful tips, you can make your camping experience more comfortable and enjoyable with your little one.
How to Camp with a Baby
Although there is no particular age or time that's deemed appropriate to take your baby out camping, however, it is always a good idea to give yourself enough time to recover from childbirth and also allow your baby some time to adjust to the new surroundings before you take a camping plunge with your little one. Here are some tips on camping with a baby:
1. It is Okay to Worry
It is nothing but natural to be concerned and worried when travelling and staying with a baby in the wilderness. You may wonder whether he is too cold or too hot. You may also be worried about the comfort of your baby and other such things. These are very normal feelings and do not force yourself to feel otherwise. Once you have experienced everything with your baby, you will be better prepared and less worried about your next camping experience.
2. Check the Weather Forecast

It is very important that you check on the weather forecast before you plan on a camping trip with your little munchkin. Also, sometimes there may be times when there may be a vast difference between the day and the night temperatures so it is imperative you keep that in mind too. It will be a good idea to choose a time of the year which is neither too hot nor too cold and is comfortable for your baby. Also, camping in a rainy reason is a complete no-no with a young baby.
3. Clothing for the Baby
Clothing is an essential part that you need to pay extra heed to when you are planning a camping trip with your little one. Carry enough clothes as per the weather. Sometimes parents tend to overdress their baby thinking they might be cold but this may make babies extremely uncomfortable and irritable. Similarly, underdressing isn't advisable either.
If you are planning on camping in a warmer area, you should carry comfortable cotton clothes. Your camping and travelling with a newborn baby checklist should include extra baby blankets, washcloths, burp clothes and other necessary clothing items.
4. Managing Your Sleep-Schedule
Going on a camping trip and expecting on getting a peaceful sleep too? Well, that may be too much to ask for! Though the aim is not to scare you, however, there is no denying that expecting a peaceful and uninterrupted sleep on a camping trip with a small baby may get a bit tricky. You may find yourself waking up several times at night, just to check on the baby. You can make your baby sleep in a bassinet, infant travel bed or you may make your baby sleep next to you all snuggled up too.
5. Picking the Camping Site or Location
Whenever you are planning on camping with an infant, you may have to put a deliberate thought in choosing an appropriate camping site. It will be a good idea to choose a location that is not too far away from home, in case you need to fall back. Also, it is recommended that you chose a camping site which is closer to a rest station or a convenient source of drinking water. To keep the creepy-crawlies at bay it will be a good idea to stay away from denser and grassier lands.
6. Feeding the Baby

If your baby is less than six months old and you are exclusively breastfeeding your baby, half of your camping worries are taken care of. However, if your baby needs breast milk, formula and solid food, then you may need to pack smartly. Make sure you pack enough feeding bottles, formula milk and some ready to eat baby foods. Your baby may act all fussy and grumpy due to the change in place, be patient and keep feeding at regular intervals. Also, the mother may have to make extra efforts in finding the comfortable feeding position. You may try breastfeeding your baby in a lying position, carry extra pillows for support.
7. Camping Company
More the merrier and this holds true and more relevant in a case where camping with a baby is involved. This means that it will be a good idea to be in the company of some friends or other camping families. Camping with friends is not only more fun but you have more people to provide you help, in case of any need. If not friends, you may choose a common camping site where other families come for camping too. However, it is very important that your camping neighbours are comfortable with your baby and his feeding and sleeping schedules and they should also maintain the quiet surroundings for the baby to feel comfortable and relaxed.
8. Don't Forget the Diapers

Carry enough diapers with you as in case of shortage; you may not be left with any other alternative but to either run to the nearest store or fall back home. If you have established that your baby may need 6-8 diapers in a day, you should at least pack 10. Babies poop and pee schedule keeps on changing and there is a good chance this change in schedule happens during the trip.
9. Talk to Friends Who Have Camped with Babies
You may have done all your research on camping with a baby and may be all set to go on camping, but if you have some friends or family members who have done camping with a baby before, it will be a good idea to get in touch and take some tips. Learning first hand is good but gaining information from other's experiences and mistakes may prove to be fruitful too, especially when it concerns your baby. You may call up people and take cues on what you should do or not do to have a comfortable camping experience with your baby.
10. Pack Optimally
When you go camping alone or with your partner, you may go on for days with a small rucksack and a few clothes. However, when you are planning on camping with a baby, you may require packing everything that is important to keep your baby comfortable and cosy. The problem is sometimes where a baby is involved, parents tend to pack too much stuff. Therefore, it important to pack optimally and for that, it is important that you think and make a check-list and adhere to it. It will be a good idea to carry some detergent, in case you may need to wash and reuse something.
11. You May Go for a Test Drive First
If you are having bundles of questions and worries such as how to keep baby warm while camping, what clothes to carry, how many diapers to carry etc, it is because now the prime focus is nothing else but the comfort of your baby. If you are all jittery, then it will be a good idea to go for a little test run before you actually go camping. You may plan for an overnight car camping trip, carry all the necessities and see if you and your baby are comfortable. If the trail run is a success then you know that you just need to make some amends for the actual camping experience.
12. Be Mentally and Physically Prepared
Camping should not be buggery for you or your baby, therefore, it is very important that you are physically and mentally prepared to undertake the camping challenges with a baby. If you have made up your mind and you are keeping a positive approach, things will fall in place. Keep all your necessities and camping gear ready and embark upon a memorable camping experience with your bundle of joy.
It is very normal for you as a parent to be concerned about the well-being of your baby but it is also important to know that babies are incredibly resilient and adaptable. You may be surprised to see that how well your baby may adapt to the whole camping experience. If you any plans of camping, you may like to talk to your baby's doctor about it and take a little heads up from the doctor too.
Also Read: