11 Month Old Baby Feeding Schedule, Recipes And Tips
Young parents wonder what to feed the baby as their little one turns eleven months old. Now the child eats other foods and is not dependent on only milk for nutrition. The parents sometimes are confused about what to feed and how much to feed their eleven-month-old kid. The young baby is almost a year old but still not old enough to eat everything. Feeding the baby everything might not suit her. So young parents need to be careful in choosing what to feed the little one to make sure she gets all the required nutrients.
What To Feed A 11-Month-Old?
As the little one turns eleven months old, she is already taking lots of food apart from milk for daily nutrition. She already has some favorite foods and a dislike for some foods, but for good growth, they need a wholesome and balanced diet that has all the nutrients. Young parents should take care of feeding them foods from all food groups, not just their favorite ones. To feed them the adequate quantity of minerals, proteins, vitamins, and carbohydrates, parents introducing foods at 11 months should include all the food groups.
So the menu of food ideas for 11 month baby should have the following foods:
1. Fruits /Vegetables
All fruits and vegetables
Daily intake of fruits and vegetables is essential for the wholesomeness of the diet.
Introduce one fruit at a time, especially with citrus fruits, to check for allergic reaction.
Introduce the new fruit in small quantities and wait for 3 to 5 days in between for introduction of new foods.
2. Non-Vegetarian
The eleven-month-old baby can eat all types of meat, chicken, fish, and poultry as they are a good source of protein.
Fish, meat or chicken can be made into soup or small boiled pieces for easy feeding.
3. Other Food Items
The baby can be fed all types of grains and cereals.
The baby can have all types of dairy products including yogurt, cheeses, etc.
Don't feed cow milk to the eleven-month-old baby. Wait for the kid to be a year old to feed cow milk.
How Much Milk Does An 11-Month Old Baby Need?
Your eleven-month-old has now started having the same food as the whole family, so her milk intake will decrease. You still need to encourage the young one to drink milk. The little one should consume 400 to 500 ml (13 to 17 oz) of milk daily. Parents should encourage the kid to drink milk from a cup and not from a bottle. If the baby is not interested in drinking milk, add other dairy products to her diet.
Feeding Schedule For An 11 Month Old Baby
The growing eleven-month-old baby needs a feeding schedule made according to her eating habits. So the young parents need a diet plan according to her likes and dislikes. The parents have a schedule for most activities of the child such as sleeping and playing. So an eating or feeding schedule is also needed to ensure the child takes in a wholesome diet.
A sample meal planner for an eleven-month-old will be as follows:
Meal Time
Food Item
Breakfast

Baby Cereal – ¼ to ½ cup
Seasonal fruit – ¼ to ½ cup, pureed or cut in small cubes
Mother's milk or formula milk – 4 to 6 oz (118 to 117 ml)

Morning Snacks

Mother's milk or formula milk– 4 to 6 oz (118 to 177 ml)
Cooked fresh vegetable cut in small cubes – ¼ cup

Lunch

Mother's milk or formula milk– 4 to 6 oz (118 to 177 ml)
Yoghurt, cottage cheese or meat – ¼ to ½ cup
Yellow or orange vegetables – cooked- ¼ to ½ cup

Evening Snacks

Seasonal fruit diced or boiled vegetable or cheese– ¼ cup
Teething biscuit or whole-grain cracker -1

Dinner
Before Bed

Mother's milk or formula milk– 6 to 8 oz (117 to 236 ml)
Follow the milk with 1 cup of water
Foods To Avoid For An 11-Months-Infant
There are some foods that the parents should avoid for their eleven-month-old:
Unpasteurized cheese or dairy products – they are harmful as they can contain listeria, bacteria.
Cow's milk
Saturated fat – baby should not be given fried foods, butter, cream, baked desserts, processed meats and mayonnaise.
Sugar – don't add sugar to the milk or other food of your baby. Avoid sugary snack and drinks too.
Salt – added salt to food is not good for the baby's kidney. So avoid adding salt to food. Also avoid salty crackers, chips and salty snacks.
Honey– honey can cause botulism because of bacteria. So avoid honey.
Highly processed foods – baby shouldn't consume ice-cream, chips, candy, breakfast cereal, microwave meals or any food with additives, flavourings or artificial colours.
Whole nuts– whole nuts or seeds can cause choking in the young child, so should be avoided.
Uncooked eggs – avoid uncooked or raw eggs to avoid salmonella infections.
Raw seafood or fish
Nutritious Baby Food Recipes For An 11 Month Baby
The parents are always wondering what to make for their eleven-month-old child to provide highly nutritious food. So here are some food recipes for eleven months old baby which are easy to make and have all the essential nutrients.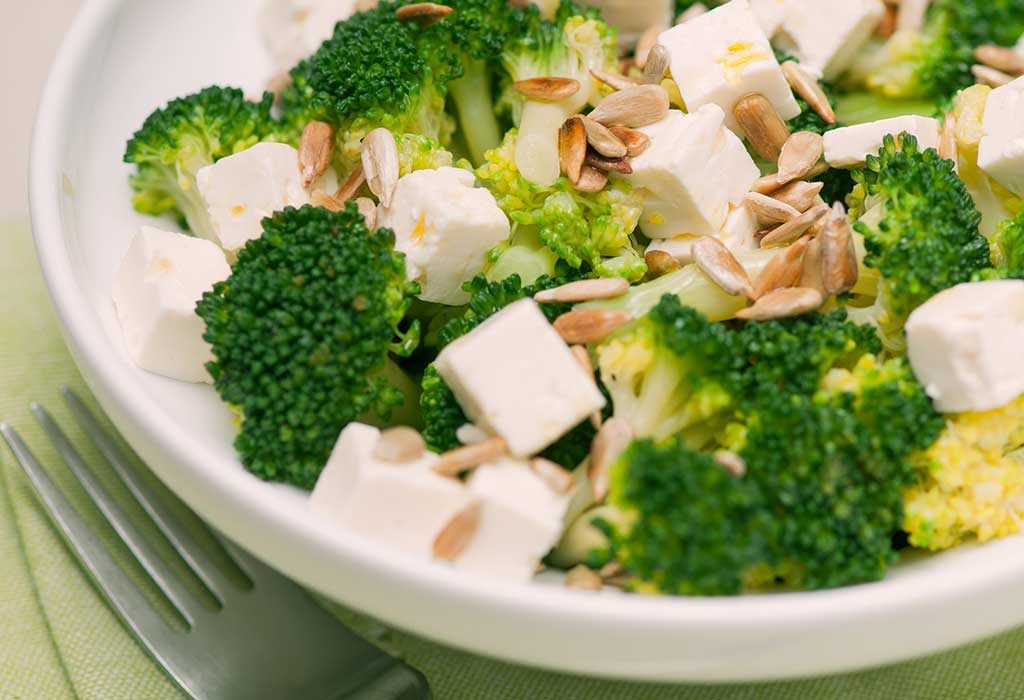 1. Broccoli With Cottage Cheese
Ingredients
Broccoli florets (large) – 1 cup
Cottage cheese chunks (large) – 1 cup
Water – 2 1/1 cup
100 % Rice bran oil – ½ teaspoon
How to Prepare
Boil the broccoli florets for approximately 8 to 10 minutes till they are tender. Remember they should be as tender as your baby is used to eating.
Take a pan and heat the oil in it. Add cottage cheese chunks to the pan to shallow fry till they are light brown in color.
Add the broccoli and shallow fry it for few minutes.
Cool and feed the baby.
2. Sweet Potato With Butternut Squash
Ingredients
How to Prepare
Boil the sweet potato and squash together in a pan for 20 minutes on high flame till its tender.
You can also pressure cook both in a pressure cooker. Cook on high flame till one whistle comes, then cook on a medium flame for 9 minutes.
You can also shallow fry both sweet potato and butternut squash with 100% rice bran oil in a pan.
Cool and feed the baby.
3. Blueberry Yogurt
Ingredients
How to Prepare
Add yoghurt and blueberries to a blender.
Blend till both mix well.
Feed the yoghurt to the baby.
4. Avocado And Green Bean Mash
Ingredients
Avocado – 1
Green beans- chopped – 1 cup
Water – 2 to 3 cups
How to Prepare
Take a vessel and add green beans and water and boil for 8 to 10 minutes.
Add the tender green beans to a blender.
Scoop the pulp of avocado and add it to the green beans.
Blend well and fee the baby.
Feeding Tips For 11-Months-Old
Most parents always ask what can a 11 month old eat. So when feeding the eleven-month-old kid, parents need to remember these feeding tips:
Feed an assortment of recipes – parents should alternate the recipes so that the baby gets all types of essential nutrients for healthy growth.
No salt – remember not to add salt to the recipes. An eleven-month-old baby needs only 0.4 g of sodium. So they can easily get that from the mother's milk or formula milk. So no extra salt needed.
No fruit juices – The fruit juices have more calories and less nutrition. So avoid giving them to the baby.
Know what to feed and when to feed your eleven-month-old. These tips and feeding ideas will help you make an appropriate feeding schedule and understand what your little baby can eat. It will help you know how to feed your little one with a wholesome diet for healthy growth.
?>