10 Adorable Acorn Crafts for Kids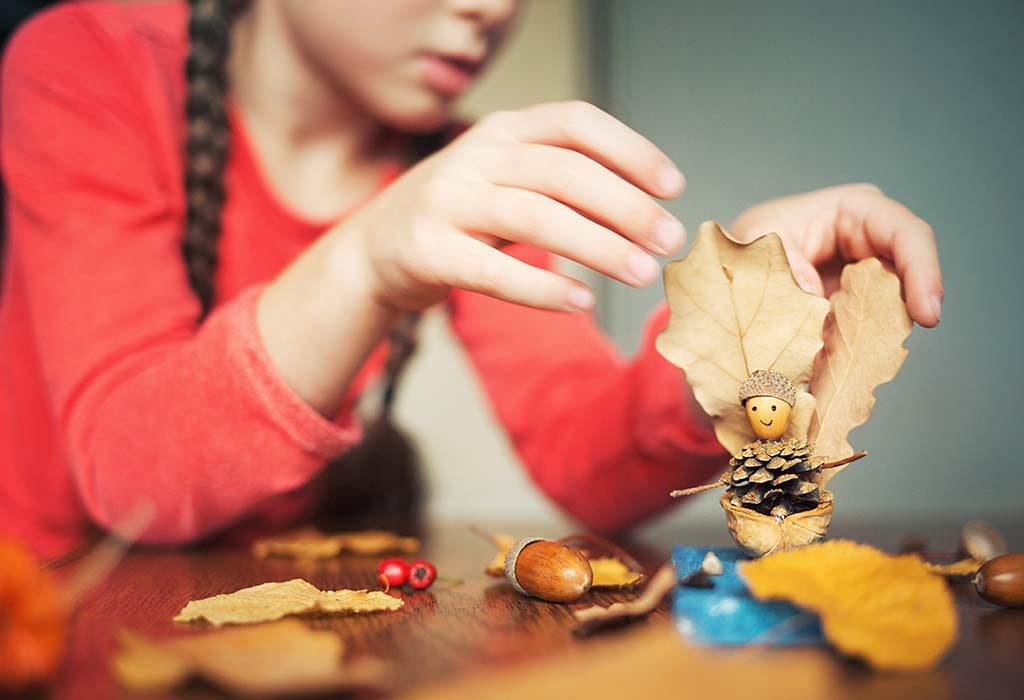 In this Article
Fall is approaching, which means it will be a wonderful time to have fun with acorns soon. If you've wanted to get creative with your kids, you can work together on DIY acorn crafts projects. You are sure to get lots of attention from their friends and peers once you work through our list.
10 Easy Acorn Crafts Ideas for Kids
To make it easy for you, we've compiled a list of 10 simple but creative acorn craft projects for kids. These activities are best for exercising fine motor skills and improving your child's creativity. They don't need a lot of material, too. Try them out and tell us how it went!
1. Paper Plate Acorn Craft
This is a simple arts and crafts project for the kids. Here's what you need to do.
Material Needed
Paper plates – 1 unit
Brown craft paint spray (preferably, dark brown)
Foam paintbrush
Brown cardstock paper – 1 A4 size
Black Sharpie markers
Kids' scissors
Stapler
Glue
Wiggle Eyes – 1 pair
Puffy paint (white tulip)
Instructions
Get your paper plates and spray the brown craft paint on it. Use the foam brush to layer it evenly across. Let it dry completely by setting it aside for a while.
Cut the painted paper plate into half using the scissors.
Draw two triangles from the cardstock paper to fit the two flat ends of the cut paper plate.
Paint them brown (two shades lighter than the colour of the paper plate).
Using a stapler, attach one triangle to the flat end of the cut paper plate. Similarly, staple the second triangle to the second half of the paper plate. You should have two acorns now.
Then, on the paper plates (the semicircles), draw black lines in a criss-cross design using the sharpie marker to make the acorn caps.
Glue the wiggly eyes on the painted surface and draw a smile using the puffy paint. Your cute acorn faces are ready to be shown off!
2. Acorn Woodland Fairy
This Acorn Woodland Fairy craft is perfect for springtime or any season of the year. It doesn't need a lot of preparation, but just a walk around nature.
Material Needed
Pinecone – 1
Acorns – 1
Twigs – 2 pieces
Maple key wings – 2 wings
Glue
A stone/ large flat pebble
Instructions
Glue the twigs to the pine cone to make the arms. Cut the twigs to suit the size of the pinecone.
Attach maple key wings in between the ends of the twigs that are glued to the pinecone.
For the head of the body, glue the acorn to the top of the pinecone body.
Once the acorn fairy is ready, glue it on a stone or a large flat pebble which acts as a base.
You can make more acorn fairies if you have some more material and get creative by painting and decorating the head and the body.
3. DIY Acorn Peg Dolls
This is a fantastic DIY creative project for kids. If you've got a bunch of acorns lying around the house, then it's time to put them to good use!
Material Needed
Acorn caps (you can buy them from Amazon or make your own)
Craft glue
Wooden peg dolls
Brown liquid watercolour
Paintbrushes
Paint pens
Instructions
In the brown watercolour, add some water and make a considerably thin paint solution.
Dip the wooden peg dolls into the paint solution. If you want to paint it with a paintbrush, you can do that as well.
Let the paint dry and use craft glue to neatly stick the acorn caps to the tops of the wooden peg dolls.
Draw smiley faces on the acorn wooden peg doll using the paint pens. You can get creative with this step by drawing different expressions on each doll.
And that's it! Your DIY Acorn Peg Dolls are complete.
4. Acorn Man
Are you ready to make your own superhero with your kids? Get set to meet "Acornman" with this fun DIY acorn craft for toddlers!
Material Needed
Craft glue
Coloured pipe cleaners – 2 units
Pom-poms – 2 units
Coloured craft paper – 1 sheet
Paint stirring sticks
Markers
Foam leaf stickers
Foam Acorn bases
Card stock paper – 1 sheet
Pencil
Instructions
One the coloured craft paper, draw a smile and eyes with a marker and cut it out with a pair of scissors.
Glue them cutouts on the foam Acorn base. If you don't have a foam Acorn base, you can make your own or buy online.
Glue the pom-poms on the foam base for the eyes.
Spread glue on a paint stirring stick. Attach the pipe cleaners to that for making the arms and legs.
Stick the foam leaf stickers at the ends to make the hands and the feet.
On the cardstock paper, draw a shirt and a pair of pants for the clothing. Cut these out and attach to the stirring stick using some more glue.
Glue the foam base on the top of the stick and press firmly to set it in place at the top. The head is complete, and your Acorn Man is ready for action!
You can use some more paint stirring sticks and make an army of Acorn Man as well.
5. Acorn Paint Crafts
If you're trying to introduce your kids to the wonderful world of painting, try out this nifty little hand painting Acorn Craft activity. It's one of the best acorn craft preschool activities out there.
Material Needed
Brown and white washable paints
Paintbrush
White chart paper – 1 sheet in your preferred size
Instructions
Mix the brown and white washable paints in a painting palette to make a tan hue (a skin-tan shade).
Ask your kids to dip their palms in this paint and press firmly on the white paper. You should have a complete pair with two little hands.
Use the paintbrush to paint the acorn tops (acorn caps) on top of the acorn palm prints on the white paper.
6. Paper Acorn Mosaics
If your kids are feeling creative and adventurous, then creating these paper Acorn Mosaics will be absolutely fun. It's one of the most popular crafts to make with acorns for children.
Material Needed
White Paper – A4 size, 1 sheet
Printer
Black Construction Paper – 1 unit
Magazine cutouts/Scrapbook paper
Craft glue
Scissors
Markers and paints
Instructions
Visit Google and search for an acorn template or image of your choice. This will be your pattern. Enlarge the photo using an image editing tool like Photoshop or GIMP and print it out on the A4 sheet.
Cut the acorn template through the outline.
Get scrapbook paper or magazine cutouts and ask your kids to paint on it. Once they're done hand-painting, let the paint dry and begin making paper cutouts of different shapes and sizes. Make enough cutouts that will fill up the acorn template and some more to frame the picture.
Now, on the acorn template, put some glue and stick the paper cutouts to form a colourful mosaic. Leave a little white space between the shapes and make the edges overlap. Let it dry.
Now, on the black construction paper, stick the acorn mosaic in the centre (a little tilted).
Then, decorate the edges of the sheet using the remaining handpainted cutouts. Your Acorn mosaic is now ready to be put up for display.
7. Acorns and Buttons
This is one of the most fun acorn activities out there for kids. In fact, it's so easy to make that you will absolutely fall in love with it!
Material Needed
Colour Printer
White cardstock paper – 1 sheet
Any printable Acorn template (large)
Glue dots or school glue
Buttons of different sizes in shades of brown
Instructions
Lookup a free printable acorn design or template online. You can enlarge the photo and print it out on the cardstock paper. Vector illustrations are preferable, and if you're an artist, you can make your own design too.
Print it out large and get a bunch of brown-coloured buttons out. Use glue dots or school glue to stick the different buttons to the top of the scorn. The buttons should ideally fill-up the acorn cap or head.
Once the glue dries, you can hang up your new masterpiece in the living room or anywhere you want where your kids can see.
8. Acorn Bracelet
When it comes to DIY acorn crafts, this one becomes a keepsake. It won't take you a lot of time either to make it, and the coolest part is how the acorns go from green to brown as time goes by.
Material Needed
Needle
Coloured thread
Green acorns (since they're softer)
Instructions
Use a long needle to make holes on the acorns. The needle must be long enough to pass through the acorns.
Pass the thread through the holes you made using the needle's eye and tie a knot to complete the bracelet.
Let your kids wear the acorn bracelets and show it off to their friends!
9. Colour Matching With Acorns
If your kids love a creative challenge, they will enjoy the colour matching activity we are about to let you in on!
Material Needed
Paints in different colours
Fresh acorns
Instructions
Collect a bunch of fresh acorns and start off by removing the caps.
Paint the acorn caps and the body in different colours. Use two coats of paint of the same colour for each acorn to add more dimension. Every acorn and its cap should have a different colour.
Let the paint dry. Mix the coloured acorns and caps in a bowl and ask your kids to match the acorns and caps with the correct colours.
10. Acorn Owls
Acorn owls are the perfect summertime activity when it comes to creative crafts projects. Here's how you can make them.
Material Needed
Acorns (with the tops removed)
Glue
Black marker
White paper – 1, A6 sheet
Coloured construction paper – 1 sheet
Scissors
Pencil
Instructions
Draw two circles big enough for the acorn to make the owl's eyes on the white A6-size paper. Cut them out. Use the black marker to draw black dots on it to complete the eyes.
Cut two triangle shapes from the coloured construction paper for the wings. Again, ensure they aren't too big or too small for the acorn.
Use the glue to stick the wings and eyes on the acorns.
Repeat the steps to make more acorn owls.
Get a twig and use glue to stick the acorn owls on it. Arrange them in a way that they look like they're perched on top of it. Put your Acorn owls on display in your living room or anywhere you want.
Hopefully, these fun acorn art and craft projects will keep your kids stay busy throughout the fall season. These make for great sensory activities and will help improve their motor skills, too. Some of these a somewhat challenge and will push your child's creativity and imagination, which is a good way to encourage them to solve problems. Try them out, be patient, and soon enough, you'll be having hours of fun and good memories with your kids.
Also Read:
Waste Material Craft Ideas for Children
Plastic Bottle Crafts for Children
Newspaper Craft Ideas for Children