Veg Rava Idli Recipe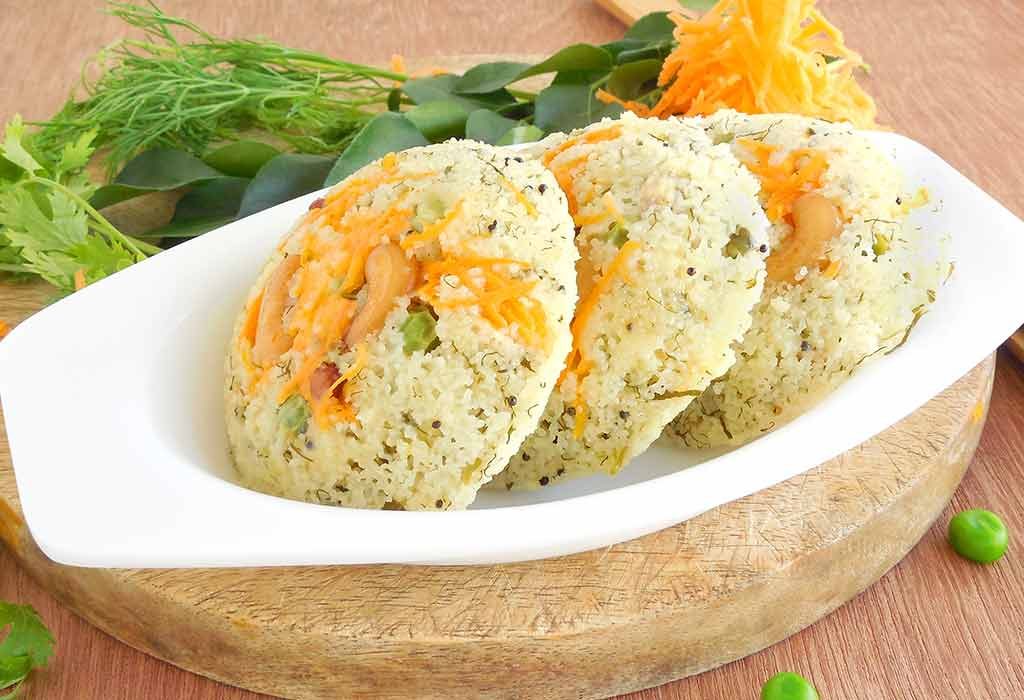 In this Article
Veg rava idlis is an idli variant that is made with an interesting combination of roasted semolina, spices and fresh veggies that follow the same procedure of preparation. This South Indian style recipe can be given in your kid's lunch box, served during breakfast or as an after-school snack item. This steam-cooked traditional dish has a sufficient amount of flavour, soft texture and packed with essential nutrients that make it a complete meal. Usually served with sambar, chutney or even plain dal, delicious veg rava idlis can be made instantly at home and are sure to be a hit among kids. Learn how to make veg rava idli in the easiest way and surprise your child and family with this unique recipe.
Cooking Time
| | |
| --- | --- |
| Type | Time (hh:mm:ss) |
| Preparation Time | 00:10:00 |
| Cook Time | 00:15:00 |
| Total Time | 00:20:00 |
Cooking Method
Gas Stove
Type of Meal
Vegetarian
Suitable For
Toddlers older than 13 months of age
Meal Schedule
Breakfast, Evening, Dinner
Recipe Type
Snack / Side-Dish
Ingredients
| | |
| --- | --- |
| Type | Quantity |
| Mustard Seeds | 1 Tbsp. |
| Cumin Seeds | ½ Tsp |
| Chana Dal | 1 tsp |
| Salt | As Per Taste |
| Asafoetida (Hing) | 1 Pinch |
| Curry Leaves | A few |
| Urad dal | 1 tsp |
| Ginger | 1 Tbsp grated |
| Grated Carrot | ½ Cup |
| Grated Cabbage | ¼ Cup |
| Green Peas | 2 Tbsp |
| Turmeric Powder | ¼ Cup |
| Water | 1 Cup |
| Curd | ¾ Cup |
| Coriander Leaves | 2 Tbsp finely Chopped |
| Sweet Corn | 2 Tbsp |
| Oil | Greasing |
| Eno fruit salt | 1 Tbsp |
| Red Chillies | 2 |
| Beans | ½ Cup Tbsp |
Instructions
The step by step directions given here will assist you to make the perfect veg rava idlis fpr your child.
Heat oil in a pan. Add mustard seeds, chana dal, urad dal, ½ tbsp cumin, one pinch of hing and few curry leaves to it.
Add the grated ginger, 2 red chillies, and sauté for a minute.
Add in the carrot, sweet corns, green peas and beans to it and stir everything while adding ¼ tsp of turmeric powder and 1 tsp of salt.
Take a different pan and roast 1 cup rava for a minute on a low flame.
After 5-7 minutes the rava becomes aromatic. Cool and transfer it to a bowl.
Add ¾ cup curd, ½ cup water and mix well to form a batter.
Rest it for 20 minutes until the semolina absorbs water before adding the vegetable mix.
Grease the idli plates with oil. Add ½ tsp Eno fruit salt to the mixture till it becomes frothy.
Pour a spoonful of the batter into the idli plate and steam the idlis for 15 minutes on low flame.
Check if the idlis are done and scoop them out. Serve hot.
Recipe Tips
This simple veg rava idli recipe can be used to make instant idlis whenever hunger pangs strike your little munchkin.
Roast the rava on medium flame before cooking or else the idlis will turn hard and sticky.
This homemade veg rava idli baby food recipe can be made spongier by adding baking soda into the batter.
Soft food like idlis can be made more attractive by adding colourful vegetables of your choice to it. It will initiate chewing and even the gums get a good exercise.
Establish a feeding routine and develop the loving bond between parent and child.
Restrict the amount of salt for smaller children.
You can try dairy-free yoghurts such as soy or coconut yoghurt for children with lactose intolerance.
Add fried cashews to the recipe for older children to give it a crunchy taste.
Nutrition Information (Per Idli)
| | |
| --- | --- |
| Type | Value |
| Calories | 73 kCal |
| Carbohydrates | 14.4 gram |
| Protein | 1.6 gram |
| Sodium | 3.3 gram |
| Fibre | 0.6 gram |
| Fat | 1 gram |
| Potassium | 61.1 mg |
| Calcium | 10.7 gram |
| Vitamin C | 2.8 gram |
| Calcium | 10.7 gram |
| Iron | 0.3 mg |
| Vitamin A | 72.1 mcg |
| Folic Acid | 5.7 mcg |
| Magnesium | 14.1 mg |
| Phosphorous | 54.3 mg |
| Zinc | 0.3 mg |
Health Benefits
Yummy and colourful as they look vegetable rava idlis make an interesting way of sneaking vegetables into a child's diet:
Carrots have Beta-Carotenoids that are good for the eyes. They relieves constipation due to their high fibre content.
Cabbage is low in calories, enhances immunity, contains anti-inflammatory properties and are good for bone metabolism.
As semolina is high in protein and fibre, it increases the feeling of fullness between meals. It is also high in vitamin B. As semolina contains iron and magnesium, it supports blood formation, heart health and diabetes control.
Easy to digest, Veg semolina idlis are safe for babies and provides them with instant energy.
In case of diarrhoea and dysentery, curd acts as a probiotic for good gut health.
Buying Guide
You need to organize your shopping list as per your requirements of ingredients and make sure your trip to the supermarket is productive.
Buy good quality suji (rawa) of a reputed brand.
Choose colourful vegetable produce from an organic store.
Look for uniformed sized pulses that are bright in colour, smooth, unbroken and not shrivelled. If you're buying them in a pack, see the expiry date.
Purchase small packs of mustard and replenish it often to ensure the strongest flavours.
Choose unsweetened yoghurt or Greek yoghurt that have more protein and fewer carbohydrates. Organic ones have more nutrients.
As parents, we desire to serve fresh and chemical-free food to our babies when they're beginning to develop their taste buds. Homemade veg rava idli for babies is a grain-based dish and can be the primary staple food for your family and an excellent weaning food for your baby.