Top 35+ Activities for 3 Year Old Children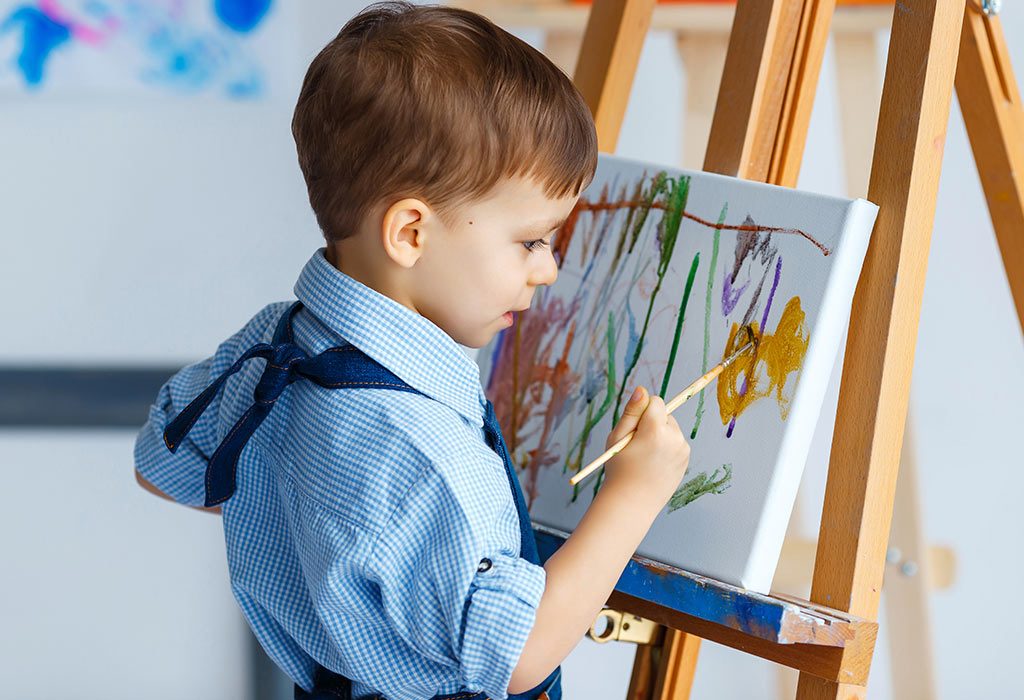 Children at the age of 3 rapidly develop and incorporate activities into their daily life that will help mould and develop their skills. These activities enhance your child's cognitive, learning, creative, and motor areas. Engaging and age-appropriate 3 year old activities are essential for the development and growth of children. At this tender age, toddlers are curious explorers, eager to learn through play and discovery. In this article, we present activities, from sensory play and art projects to simple games and outdoor adventures, that are designed to capture the imaginations of little ones and foster their social and emotional development.
Video: 12 Best Development Boosting Activities for a 3-Year-Old Child
Art and Craft Activities
Here are a few preschool art and crafts for 3 year olds:
1. Painting With Forks
Who said forks were only meant for eating? Here's a fun way to use forks (after a meal) –
How to Do?
This simple yet fun activity only requires a few plastic forks, paint and drawing papers or books. Dip the fork in the paint and create different patterns. Your child can experiment with the colours.
What Does It Teach?
Creativity
Visual Development
2. Art on Foils
Turning a foil into a work of art is now truly possible with this activity –
How to Do?
For this activity, you need silver foil and a toothpick. Make your child draw patterns across the foil. When you turn the foil around, you'll see a work of art.
What Does It Teach?
Improves creativity
3. Painting Pots
Add colour to your pots. Get the paints out and bring out the artist in your child –
How to Do?
You'll need a pot and some paint for this. You can use the base paint as white or black, so the other colours stand out. After the base colour has dried, give your child the brush so he can go crazy with the paints.
What Does It Teach?
Creativity
Cognition and reasoning.
Your child will learn about the different colours in the process as well.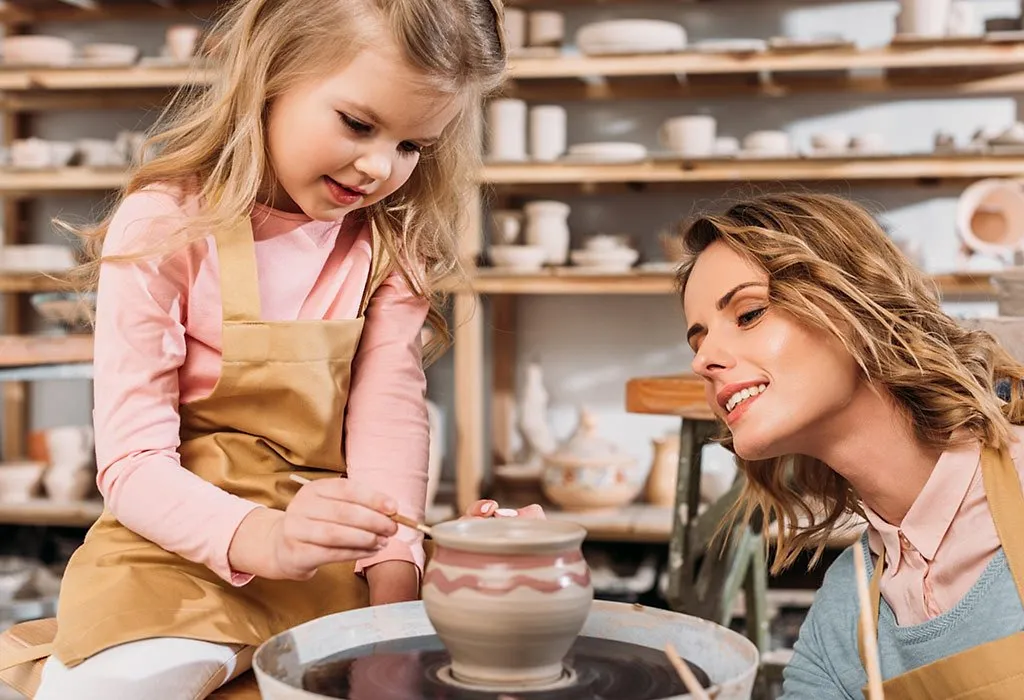 4. Potato Art
Potatoes are delicious. But now, you can make them beautiful too! –
How to Do?
Cut potatoes in half, and start carving shapes on them. You can then paint them and stamp the painted side on a clean white sheet of paper. Use a sketch pen to define the edges of the imprint.
What Does It Teach?
It enhances your child's creativity and allows him to experiment with shapes and colours
5. Cup Animals
Introduce your child to animals with this activity –
How to Do?
Buy a few paper cups from the local store and some sketch pens. Draw animals around the cup so that you can make figurines with them.
What Does It Teach?
This activity introduces your child to the world of animals.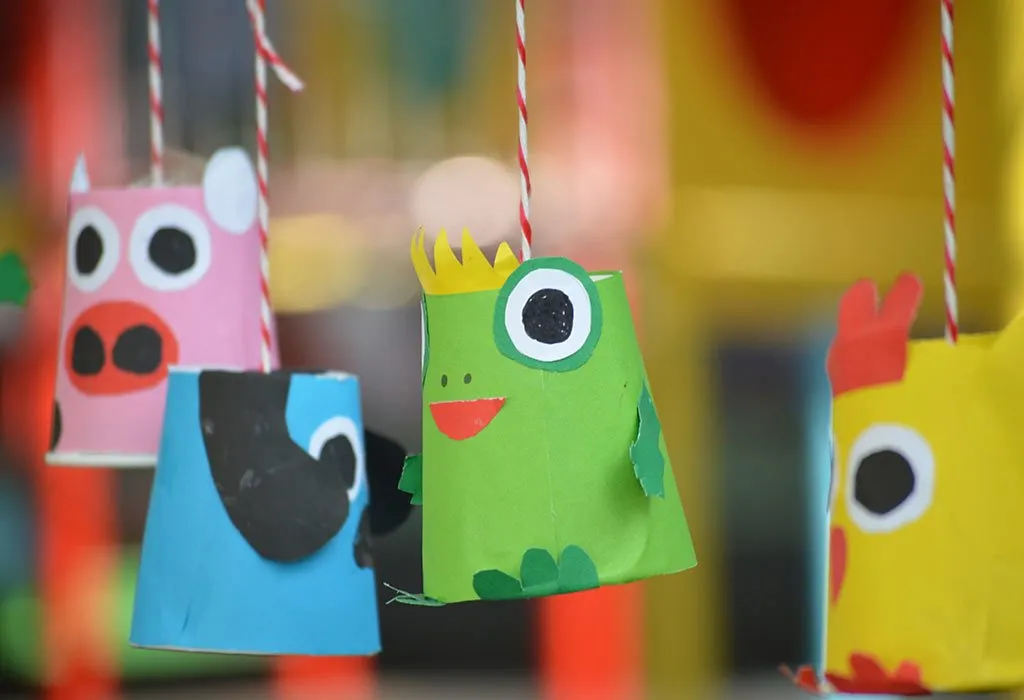 Sensory Developmental Activities
Here are some activities that will help improves their five senses.
1. Play Dough
Playdough takes you down memory lane, as we've all played with these. Carry on the same tradition with your child.
How to Do?
You can buy play dough at the stores, or use clay. Use a fist-size ball for your kids to play. They can make different shapes and experiment with it. You can get the colourful dough to make it more exciting for your kids.
What Does It Teach?
Motor skills
Playdough activities help in developing your child's tactile sense as well.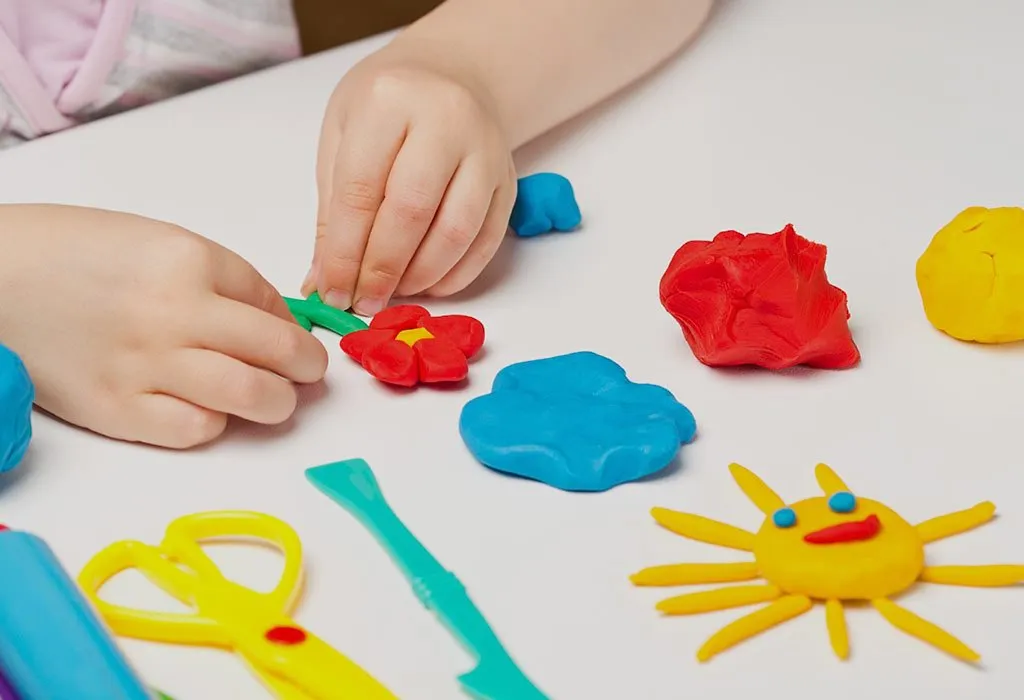 2. Colourful Pasta
This isn't just fun; it is an informative activity that will benefit your child, as he will learn to differentiate and sort out colours.
How to Do?
Take four bowls and fill them with pasta. You can colour the pasta in each bowl a separate colour. Paint the bowl the same colour as the pasta in it. Once it dries, mix the pasta from every bowl together. You can then ask your child to sort these colours into the respective bowls.
What Does It Teach?
3. Sand Foam
We've all played in the sand. Take it up a notch by introducing your child to sand foam!
How to Do?
Sand foam can be bought at stores, but you can make it at home as well. You require sand and shaving cream for this. Mix the two. You can add paint or food colour to this mix.
What Does It Teach?
This activity helps develop your child's tactile sense.
4. Guess the Sounds
This fun activity is something your child will love –
How to Do?
Download different sounds of animals, transport, rain, and thunder. Teach your child what each of this sound is. Then, play the sounds and make your child guess which sound it is.
What Does It Teach?
This develops your child's hearing sense
5. Guess the Smell
Lift your nose high and start sniffing around to win this game!
How to Do?
Pick different kinds of objects like flowers and fruits. Introduce these fragrances to your child and let him guess it,
What Does It Teach?
This one enhances your child's olfactory senses while introducing him to the world of smells.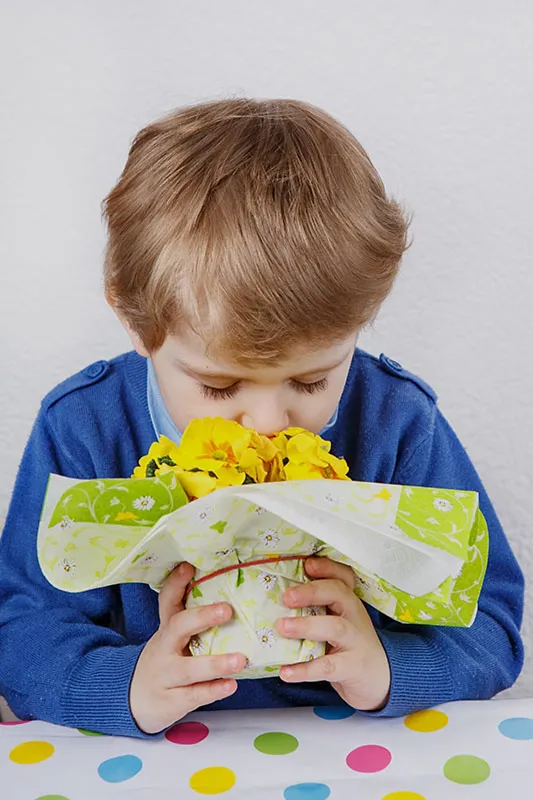 Educational and Learning Activities
Here are learning activities for 3 year olds to help their brains grow!
1. Sorting Colours
This fun learning activity is the best way to teach your child colours –
How to Do?
Introduce your child to both primary as well as secondary colours. Find objects of different colours and make your child sort them.
What Does It Teach?
This activity teaches your child about different colours.
2. The Alphabet Game
Time to teach your child the alphabets!
How to Do?
Teach your child the alphabets and make him identify them from a book or alphabet blocks.
What Does It Teach?
Introduce your child to alphabets.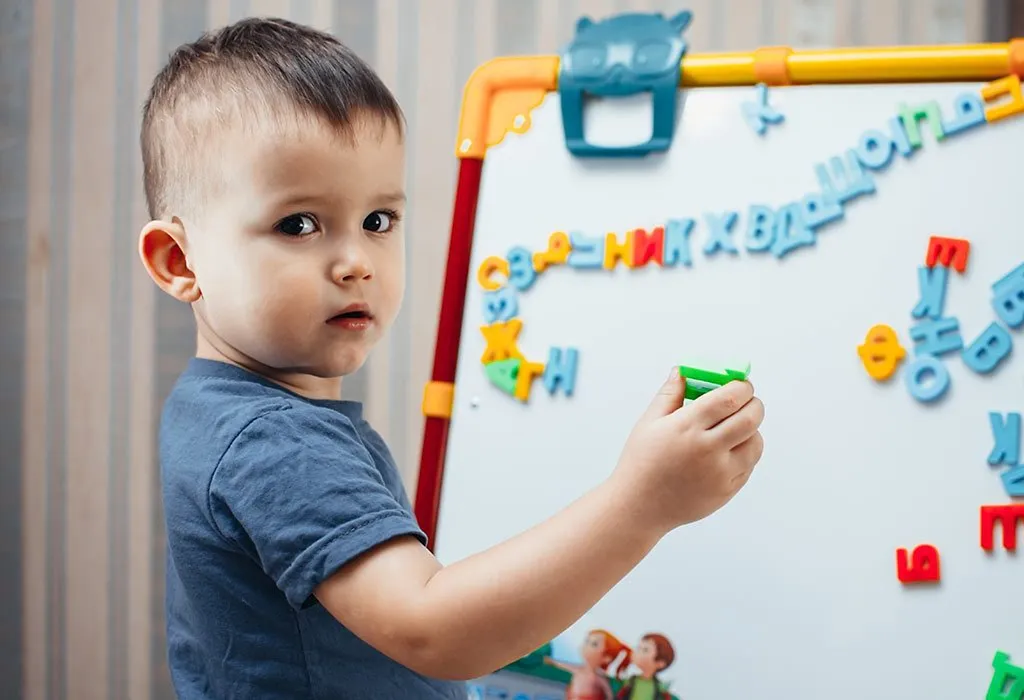 3. The Number Game
Your little one is about to love numbers with this activity!
How to Do?
Just like the alphabet game, you can do the same, except substitute it with numbers this time.
What Does It Teach?
Introduced your child to numbers.
4. Around the World
Take your child on a world tour, from the confines of your room –
How to Do?
Teach your child the history of the world. You will find several books online and at stores, that explain geography for kids to understand.
What Does It Teach?
This activity introduces your child to the world of geography.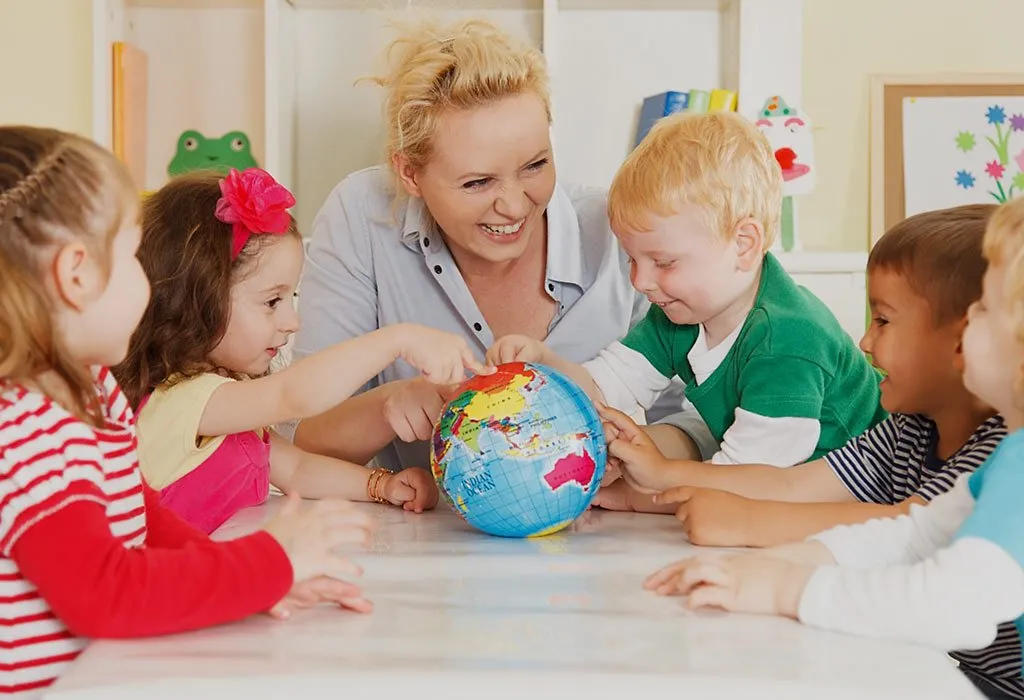 5. Rhymes
We all loved rhymes. Take out the rhyme book and let's get started –
How to Do?
Kids love rhymes, so sing a few rhymes, or play a few rhymes.
What Does It Teach?
This activity helps in enhancing your child's communication and memory skills.
Indoor Activities
Want to keep an eye on your kids? Try these activities for 3-year-olds at home!
1. Puzzles
Is it raining outside? You can still have fun indoors with puzzles –
How to Do?
You can either make a simple puzzle or buy one at the store. Puzzles are fun and great indoor activity.
What Does It Teach?
Puzzles improve your child's spatial skills, motor skills, and helps improve cognitive processes. They also help develop reasoning.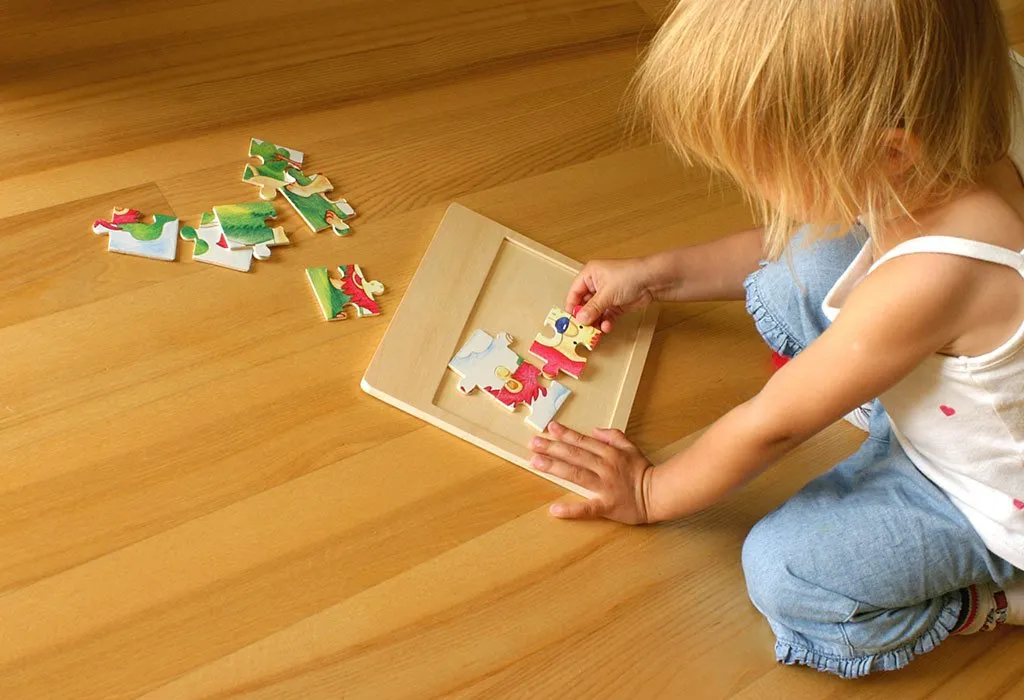 2. Lego
Building blocks are favourite among many kids, and for a good reason. They're fun, fun, and more fun!
How to Do?
We all love lego or building blocks. Buy your child these amazing wonders and watch him build his world.
What Does It Teach?
Building blocks help develop motor skills.
Creativity
3. Painting and Drawing
Get the creativity flowing (as well as some paint) –
How to Do?
Give your child paints, pencils and a drawing book. Either ask your child to draw something around him, or provide a picture that he can copy.
What Does It Teach?
Imagination is one of the first areas that is enhanced by painting. Your child will also benefit from enhanced creativity.
4. Play House
Thought only you could run a house? Wait until your little one takes your role –
How to Do?
Let your child run his own house. Buy a tent and watch your child play house. He can divide his space into different rooms. Instead of a tent, you can provide a small space in the house for this as well.
What Does It Teach?
This activity helps with reasoning.
5. Imitate a Profession
What is your child's ambition in life? Figure it out with this activity-
How to Do?
Buy a kit of your child's favourite profession. If your child wants to be a doctor, then buy a doctor's kit. This way, your child will have fun pretending to be working.
What Does It Teach?
Most of these kits come with tools that are replicas of the actual tools. This gives your child exposure to how these professions work.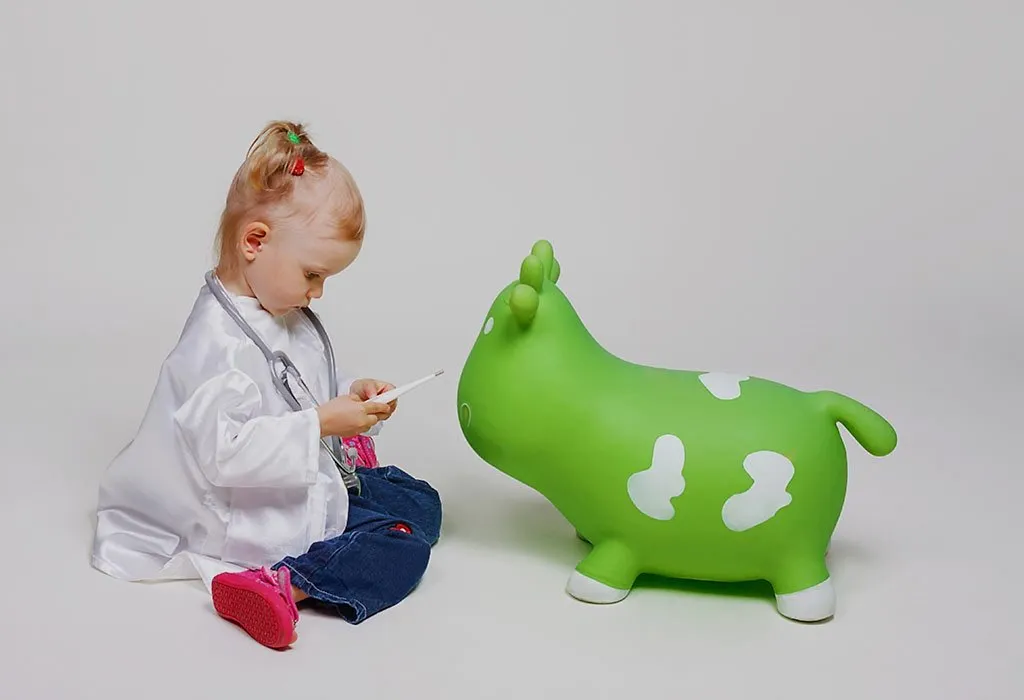 Outdoor Activities
Are your kids not getting enough Vitamin D? Try these physical activities for 3-year-olds.
1. Building Sand Castles
Beautiful day to play outside? Let's build sand castles then!
How to Do?
Build a small sandpit in your backyard or take your child to the beach. You can buy sand castle making tools for your child. He can then start building sand castles.
What Does It Teach?
Sandcastles help in developing your child's motor skills as well as enhances sensory development.
2. Plant a Tree in Your Backyard
This activity works in favour of your kid as well as the environment-
How to Do?
Buy a seed or a sapling. Look for a nice spot in your backyard, and help your child plant it. From there, give your child the responsibility to water the plant every day.
What Does It Teach?
This activity gives your child a sense of responsibility.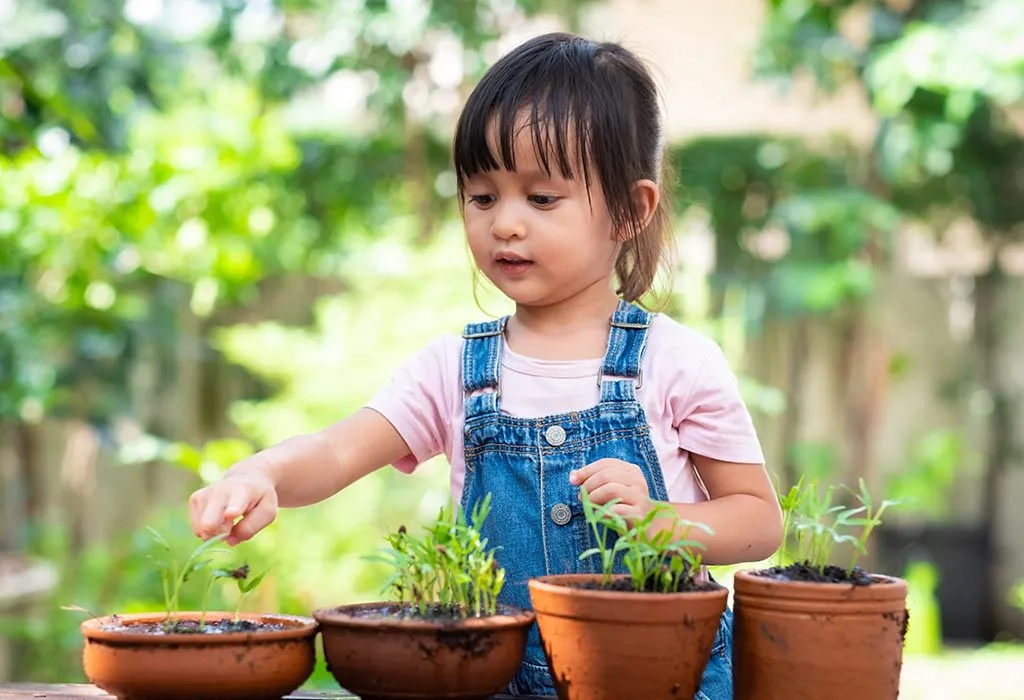 3. Cycling
No childhood is complete without learning how to cycle!
How to Do?
Buy a cycle for your child and teach him or her how to ride.
What Does It Teach?

It helps improve balance
4. Swimming
Is it a hot summer day? Jump into the pool with your kid –
How to Do?
Like cycling, swimming is a fun exercise. He will enjoy playing in the water while developing the health aspect as well.
What Does It Teach?
It helps in your child's motor skills and muscle growth.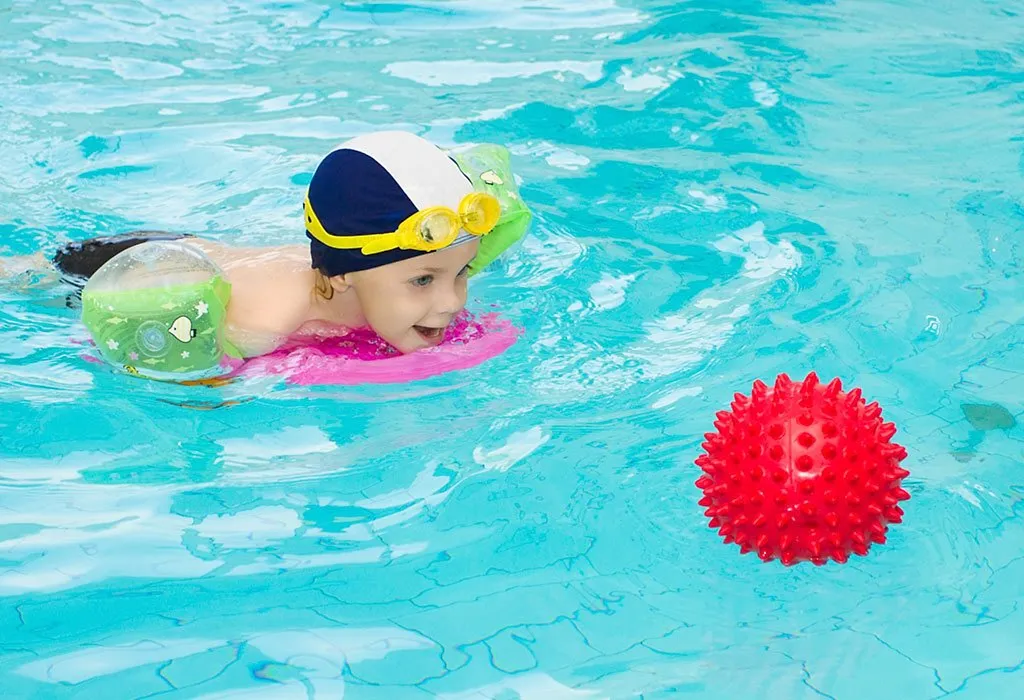 5. Dancing
How about shaking a leg with this one?
How to Do?
Dancing is always fun. You can either dance with your child or enrol him in a dance class.
What Does It Teach?
Hand and eye coordination
Quiet Time Activities
Activities that can be done in places where they need to be silent but engaged.
1. Reading
Teach your child something new with this reading activity-
How to Do?
Reading is not just interesting; it is highly informative. Pick a fun-filled, interesting book about any topic, be it the animal kingdom or fairy tales. Read these stories to your child.
What Does It Teach?
Reading a book to your child is informative. Children learn new things from every book they pick.
Creativity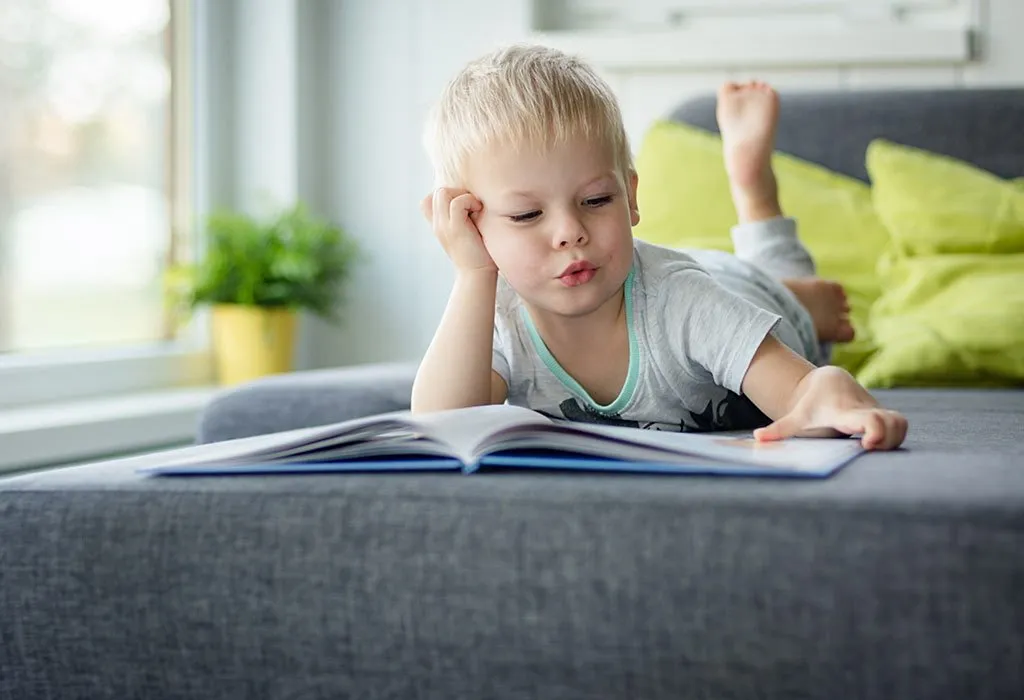 2. Informational, Fun Videos for Kids
Grab some popcorn, and enjoy some fun videos –
How to Do?
Thanks to technology, we've got access to a million fun and informational videos on the internet. Play something interesting like short stories, rhymes, or kids drama.
What Does It Teach?
Videos can give them visual stimulation.
3. Dress-Up
Let your child explore the world that is your wardrobe –
How to Do?
We've all, at some point, played dress-up. Give your child the licence to do the same. Does your child want to be a doctor? Or maybe a teacher. Sometimes, kids dress up like their parents. Either way, this is a fun activity that your child will enjoy.
What Does It Teach?
Your child learns to differentiate between genders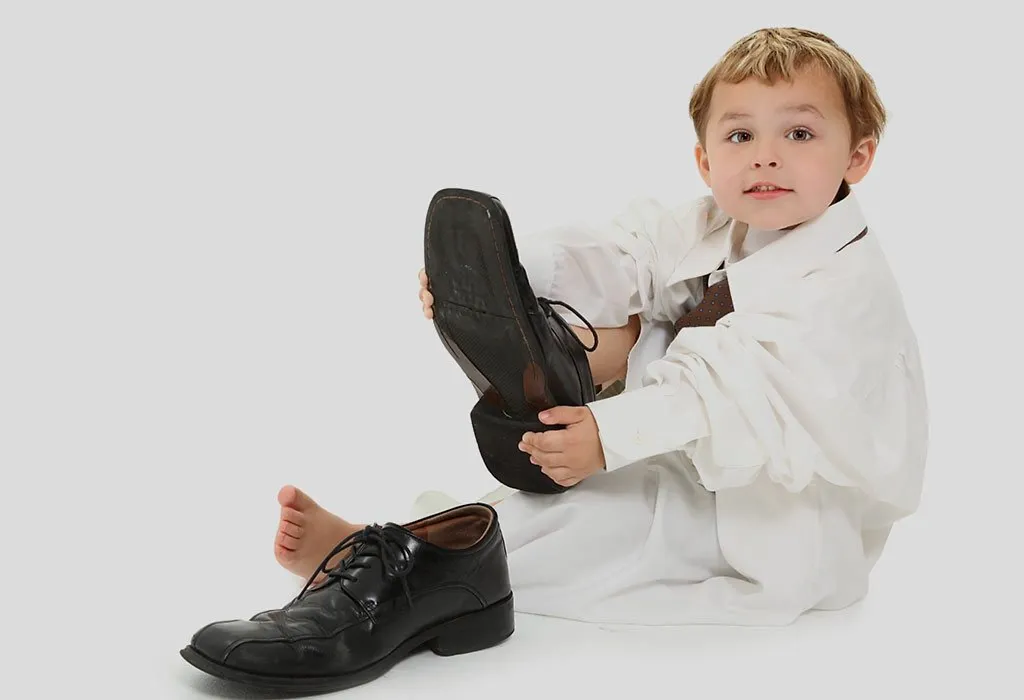 4. Around the World
So which country are y'all heading to today?
How to Do?
Get a globe for your child. You could get a map as well. Teach your child how big this world is, and introduce him to the different places around the world.
What Does It Teach?
This activity gives your child geographical knowledge.
5. Cooking
Let's bring out the Michelin star in your little one with this activity-
How to Do?
Give your child a children's cooking set. You can use a few utensils from your kitchen instead as well. Cooking without fire is a great activity.
What Does It Teach?
They get creative, learn to experiment, and develop their motor skills as well.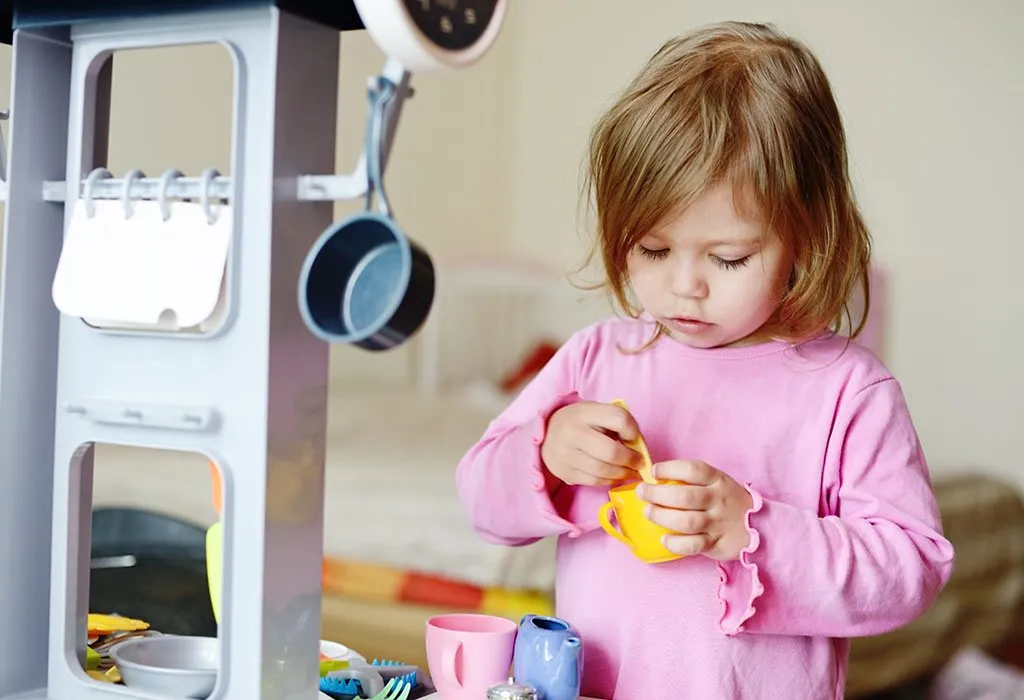 Apart from the above activities, you can also subscribe to a monthly activity box that aids learning through play. Intellikit is an activity box subscription for children that develops all 8 smarts in your child through fun activities that keep him engaged while having fun. With unique themes and activities every month, each Intellikit is designed by experts and curated keeping in mind the age group and requirements of children. Enjoy a month-long calendar of DIY activities, worksheets, storybooks and more. Simply pick your subscription plan and select the age-group of your child to get started.
Montessori Activities
Let's take a look at Montessori for games for 3 year olds.
1. Sponge Squeezing
And the fun begins with this squeezing activity.
How to Do?
Provide a bowl of water and two sponges. Show the child how to grasp and squeeze water from one sponge to another.
What Does It Teach?
Teaches hand strength, coordination and introduces the concept of water absorption.
2. Colour Mixing
A fun, colourful activity for little munchkins!
How to Do?
Offer primary coloured water in separate containers and empty containers. Guide the child to mix the colours (e.g., red + blue = purple) to create secondary colours.
What Does It Teach?
Introduces colour theory, encourages creativity, and develops fine motor skills.
3. Nature Walk and Observation
A walk in nature to enhance your little one's observational skills.
How to Do?
Take the child on a nature walk and encourage them to observe plants, insects, and animals. Discuss findings and engage in drawing or journaling about the experience.
What Does It Teach?
Cultivates observation skills, appreciation for nature, and language development.
4. Threading Buttons
This a great way to make your child practice essential skills, like hand-eye coordination.
How to Do?
Provide large buttons and a shoelace or thick string. Demonstrate threading buttons onto the string and let the child practice independently.
What Does It Teach?
Develops hand-eye coordination, fine motor skills, and patience.
5. Shape Sorting
Any easy activity to make your child learn to sort things.
How to Do?
Offer a collection of objects with different shapes. Ask the child to sort objects into corresponding shape containers.
What Does It Teach?
Enhances shape recognition, classification abilities, and cognitive development.
6. Sandpaper Numerals
Build your child's math skills with the help of this activity.
How to Do?
Present sandpaper numerals and numeral cards. Guide the child to trace the numerals and match them to the corresponding cards.
What Does It Teach?
Teaches numeral recognition, tactile exploration, and early math concepts.
7. Counting With Beads
Teach your child sequencing in a fun way!
How to Do?
Provide counting beads or objects. Help the child count the beads and arrange them in a sequence.
What Does It Teach?
Develops counting skills, number sense, and basic math understanding.
8. Pouring Dry Goods
A great activity to enhance your child's skills.
How to Do?
Offer two small pitchers and rice or lentils. Assist the child in pouring the dry goods from one pitcher to another.
What Does It Teach?
Enhances fine motor skills, hand control, and practical life capabilities.
Benefits of Activities for Your 3 Year Old Child
Here are the benefits of some preschool activities 3 year olds.
It strengthens and improves physical health.
It maintains good metabolism of the body.
It develops cognitive and fine motor skills.
It improves eye-to-hand coordination.
It maintains physical, emotional and social well-being.
It imparts knowledge on various topics.
It improves academic performance.
It builds interpersonal relationships with others.
How to Encourage Your 3 Year Old Child to Participate in Activities?
Want your child to indulge in fun activities for 3 year olds? Here are some ways to encourage them:
1. Keep Things Simple
Parents often feel the need to find elaborate activities for their 3-year-olds, but simple things like colours, shapes, and storybooks captivate them. Engaging learning activities can be created using everyday household items, making it easy and enjoyable for both parents and children.
2. Allow for Creativity
Encouraging children to explore their creativity and make their own rules during activities is essential. Allowing them ownership over their crafts is valuable. However, considering the potential mess is also crucial. Choosing less messy activities can be a practical choice, especially during busy or tiring times, while reserving the messier ones for more relaxed moments. Prioritizing a stress-free experience for both parents and children is important in creating a positive and enjoyable learning environment.
FAQs
1. How Can I Get My 3 Year Old to Sit Still and Focus on An Activity?
Try to find your child activities they are interested in and enjoy doing. Make sure you provide plenty of breaks to them during the activity so that your child doesn't become overwhelmed or frustrated. Also, praise your child when they display good behaviour so that they know you are pleased with their efforts.
2. Which Activities Help to Develop Language Skills in 3 Year Old?
Activities like reading books, storytelling, singing nursery rhymes and songs, asking open-ended questions, playing with blocks and puzzles and exploring nature are all great ways to develop language skills in children, including three-year-olds.
These activities will prepare your child for school while aiding in the overall growth and development as well. All of these are simple activities that your child will love, so go ahead and introduce your child to this world of fun.
Also Read:
Learning Activities for Toddlers
Why 3 Year Olds Find It Difficult to Control Impulses
What Should a 3 Year Old Child Know Academically?
?>