The Joys and Challenges of Raising Triplets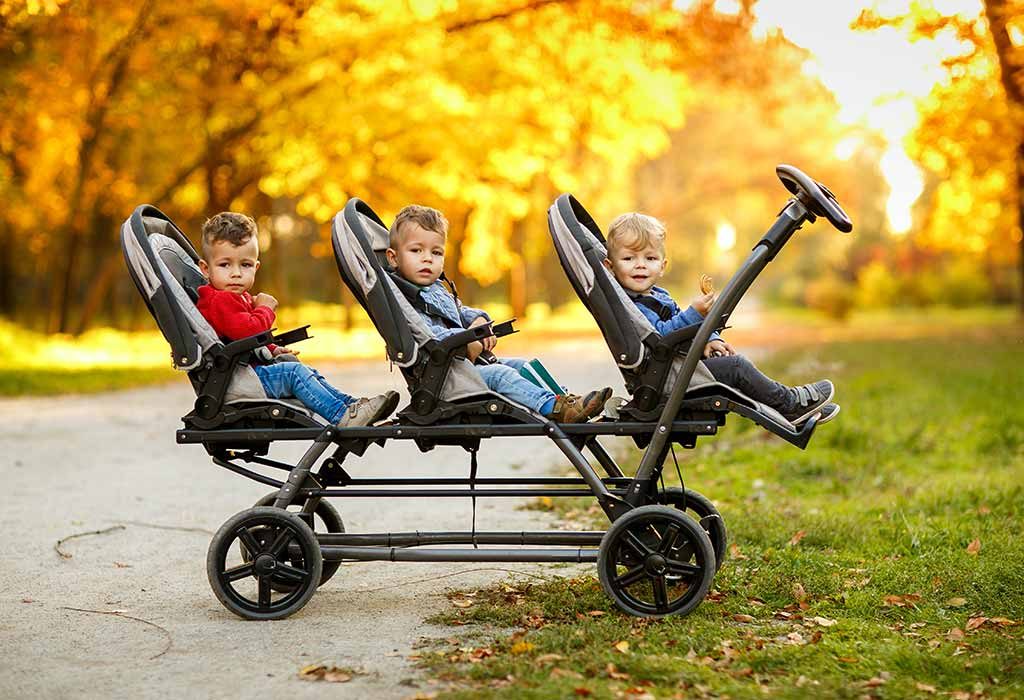 Have you got triplets? You're in for a ride.
When you're up and raring to be a mother, and you're ready to take on life at its best, you realize you've ended up with triplets.
Having a family of triplets will make you feel completely different from the norm. When you're dealing with triplets, you'll be in for a wild ride since there'll be so many unexpected twists and turns you'd never anticipate.
Let's dive more into that, shall we?
Things You Should Know About Raising Triplets
Firstly, congratulations on becoming a mother. Your life is about to change. and if you just had Triplets, it's going to change for the better (and in some ways, worse)
Just like every new beginning has its pros and cons, here's what to expect when it comes to life with Triplets.
1. It's Going To Cost You
Nobody likes to talk about financial matters after childbirth since it's a joyous moment, but we don't want to cut celebrations short.
Having three kids equals three times the expenses, especially when it comes to caring for triplets.
Before you plan on conceiving, we suggest you chalk it out financially with your hubby. Because when you get pregnant, there are no guarantees that you'll be getting a single child, twins, triplets, or even quadruplets!
2. People Will Ask You Questions
We hear this from most moms who are living with triplets. Some people may ask you if they are "natural" or "spontaneous" and could get a little intrusive.
Do restaurants have high chairs and will you be able to fit the stroller through the doorways or elevator?
You'll also be getting your fair share of stares and comments when you take your kids out to public parks and places, so watch out.
3. It Will Take Your Energy
You'll need to put in a lot of work and give commitment as a parent when raising triplets babies. Parent-teacher meeting? Be prepared to decide on the ratio.
Feeding three kids at the same time when they're hungry while traveling? Get ready to figure that out.
4. It Gets Easier
Things get easier when your kids get older, and when you learn how to handle triplets. For starters, they fall asleep at the same time, and since they're three and not one or two, you don't have to worry about providing one-on-one attention. Also, you don't have to worry about helping them make new friends since they can play with each other in the house. And they can be a positive influence to each other. For example, if the first child knows how to play a musical instrument, he can teach it to the other two, and the others can share knowledge and experiences with him too. It makes learning and sharing a lot more fun, getting that positive energy in the house bubbling.
5. You Can Split Up Chores
We're not encouraging you to become a slave-driver, but with three kids in the house, you can split up the chores. Sharing responsibility as a family will instill a sense of camaraderie. With triplets, you can get things done three times as fast when they're old enough to help out.
6. You'll Need Someone To Talk To
When things get really stressful, you'll need an anchor or someone to talk. And we don't mean your hubby; we mean friends who can relate to you or feel what you're going through.
7. You'll Need More Support
Sometimes you'll find yourself wishing for more free time. This is when having additional support, like friends and family helps. Maybe you could hire a reliable babysitter for the evening and see if you could work things out for some free alone time with your hubby. It's life.
8. It's A Lot of Fun
Raising triplets can be a fun experience for parents, and you'll be happy to know that it's not all doom and gloom. Your kids will have unique personalities and will be like best friends. They'll also have similar interests and skills since they're triplets and your house will feel like a mini preschool.
And you'll make memories too.
Three times more fun, three times more memories. See where this is going?
From trips to amusement parks, birthday parties, prom nights, and more – every event as a family (or at least most of them) will turn out to be memorable. And the photoshoots, don't forget those too.
Tips for Parenting Triplets
Having three bundles of joy can prove to be a true challenge. They have so much energy, and you've got so many responsibilities, that sometimes it can be tough to keep up.
Lucky for you, here are some of the best tips on managing those situations.
1. Get A Powerful Laundry Machine and Dryer
Piles of dirty clothes will be cropping up in no time. It's a great idea to invest in a powerful and big laundry machine (plus dryer). It will help you stay sane. Life with triplets is like living in the fast lane, especially where cleaning clothes are concerned. We recommend you remember that.
2. Buy A Trampoline
It may not be possible to take your kids to the park every day. And when they have so much energy to burn off, having a Trampoline in the house makes a big difference. Trust us, it's worth it, and it'll save you a lot of energy and time too.
3. Make Solid Routines
From tucking the kids into bed on time to dining by 4 pm, you have to make sure you set your routines in place. Having consistent routines will help you get your life organised, making your time with dealing with triplets a lot less chaotic.
4. Dress Them Up Differently
Telling identical triplets apart may be tough. It's a great idea to paint their nails in different colours and dress them up uniquely. This will help you get used to their differences, even though they're identical. Sure, you'll get the hang of their personalities when they grow up, but until then, you'll need those visual cues.
5. Put Them In Different Classes
When you're sending your triplets off to school, ask the teacher to put them in different classes. This will make things a lot easier during school as the teacher won't have to distinguish between the three in the same class. And if they're put in different classes and usually chaotic together, that's one less problem you have to worry about.
There are no correct or wrong answers when it comes to raising triplets. Just know that you're one in a million and lucky to have them as part of the family. Raising triplets comes with its own unique set of challenges, but there's also the fact that it's got its perks. As a parent, the ideal thing to do is to be patient, put in the time and effort to know more about them and connect well, and have a support group or people to rely on occasionally when things go out of hand at the beginning (and oh, it will!)
When they grow up, they'll be thankful to have those fond family memories with you, which you'll see on their faces. Parenting is such a wonderful life experience despite its ups and downs, so be sure to cherish it and have fun raising your triplets.
Also Read:

How to Get Pregnant with Triplets Naturally
Getting Pregnant with Twins or Multiples