The Biggest Threat Young Children Face in an Airplane and How to Avoid It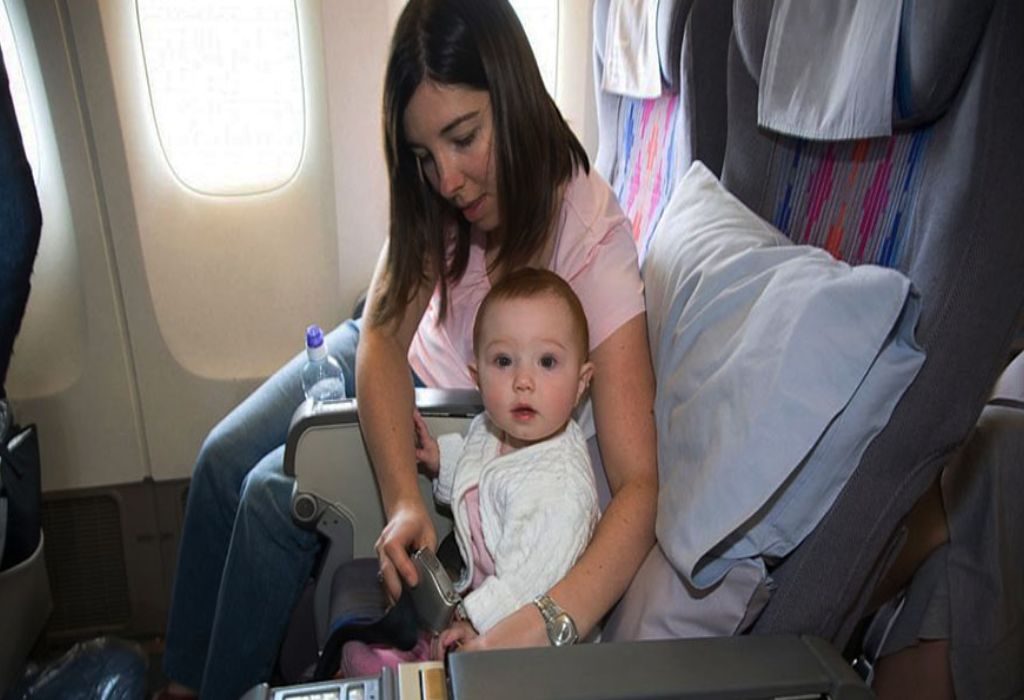 Travelling with kids is very different from travelling alone or as a couple. Lack of proper planning and precaution might ruin more than just your holiday; it may expose your child to danger! If you are planning to take a flight with your child anytime soon, you must keep in mind the biggest threat they face when onboard. And no, we are not even talking about air-sickness or differences in pressure…
Taking a flight with our child can be a harrowing experience. Children can get bad tempered, feel sleep-deprived, throw a tantrum, and generally cause you much anxiety. This is why many parents shirk away from flying with their baby. But sometimes, this cannot be helped. You may have an urgent requirement to travel or want to go on a vacation. This situation cannot always be avoided. This is when you start worrying about all the things that can go wrong. But trust us, the biggest concern that you should be worried about is probably not even on your list! Yes, according to recent data presented at the American Academy of Pediatrics, the biggest threat to your baby in an airplane doesn't come from feeling sick, nauseated or cranky.
When travelling by air, the biggest risk for your little one is getting burned by hot drinks. The danger of scalding is far more real than everything else that seemed so obvious such as illness, turbulence or even plane crashes. The American Academy of Pediatrics has found that burns account for 39% of injuries that babies have experienced on a plane.
The reason is quite obvious: kids have trouble sitting still. So even on a plane, kids fidget and as a result, bump into tray tables and spill hot drinks everywhere, especially on themselves. Also, drinks tend to splash when being passed around from person to person. Naturally, the risk of getting burned is more at mealtime. Another finding to note is this: infants held on laps are the most likely to be hurt! While some scalding injuries happen during turbulence, there have been cases when babies fell off their parents' laps! So what is the solution?
How To Handle The Risk of Scalding in an Airplane
Make sure you seat your little one in a window seat instead of an aisle or middle seat. Since drinks won't be passed to them, there are few to no chances of a hot drink being spilled. Also, they can't run in the aisle and bump into tables or people as they have to get by you first!
Use the glorious view outside as an incentive for them to sit in the window seat. Also kids are more easily entertained in the window seat than anywhere else
Even if your baby is very young, it is advisable to book an extra seat and put them in a bassinet or a car seat. Make sure you select seating options that are approved for carrying infants during travel
You can never predict when your child may start fidgeting. Since little ones have short attention spans, it's best to carry along a favorite toy to keep them engaged
That said and done, air travel is still statistically the safest option as air accidents are far lower in number than those in other modes of transport. Also, avoiding air travel because your baby is young may not be a plan we can always fall back on. You only have to make sure you are very careful and mindful of the real threat.
Important Travelling Tips For all Modes of Transport
Well, now that you know travelling can present risks that go well beyond the obvious, it is a good idea to rev up your checklist and see if you have done all you need to. The following tips will help you stay calm and peaceful when you are travelling with your child.
Make sure that you have confirmed bookings in place. Plan for stopovers if you're on a road journey. Check out the means of transport available at your destination. Do have an itinerary, but keep it flexible.
Keep extra time handy. A child in tow makes you go slow. Make time for that last minute visit to the washroom, spilt food that needs to be wiped off or that special toy that needs to be pulled out from your luggage. A 'No' might mean a tantrum and further delay.
Let your child help you pack but check what goes inside his tiny backpack. You won't even begin to imagine what kids consider 'essentials'.
Remember to pack according to the climate. Check what you will need and pick from items like woollens, swimsuits, flip flops, hats, caps and socks.
Try to use public transport for local travel. It's cheaper and far more exciting. It keeps young children occupied ensuring they do not get cranky.
Keep a bag full of snacks handy. Children get incredibly hungry while out on trips. Your usually reluctant eater might just surprise you. Keep a mix of sweets and savouries. Too many sweets might not be such a good idea because the sugar rush might render the kids unmanageable. Once you're at the hotel or resort, ask for complimentary meals for the children at buffets. They are choosy eaters and won't eat much, especially if they have been snacking.
Dress the children in comfortable clothes in bright colours, so that they can be spotted in a crowd. Also, try to layer their clothing that you can easily remove or add on as you move in and out of air conditioning.
Essentials that You Need to Pack
1. Common Medicines
Paracetamol, medicines for stomach upsets, medicines for motion sickness, inhalers or nebulisers, band aids, thermometer, sunscreen, mosquito repellent.
2. Small Toys
Jigsaw puzzles, play dough, colouring books, word puzzles, etc are good to keep the kids busy.
3. Baby Wipes and Sanitizer
Baby wipes and sanitizers are very useful to keep your baby clean and hygienic. It is recommended to use baby-safe and alcohol-free sanitizers and baby wipes.
4. Swiss Knife
It can be used for opening cans, bottles, unscrewing toys, cutting fruits, etc. Remember to pack it in your check-in baggage.
5. Ziplock Bags
Carry ziplock bags for carrying snacks. They will be useful to keep local fruits, or half eaten food. You could even consider larger plastic bags that can be used as garbage bags or for carrying wet/dirty clothes.
Travelling with kids can be a challenging job and no one is saying it can be mastered overnight. One of the most important things you will have to sacrifice when you are travelling with your child is spontaneity – no more random trips without any plans! But the good part is that it is possible to have safe and fun travel if you keep in mind the necessary precautions. Plan right, pack right, be careful on trip and hey presto, you'll have a wonderful time with your munchkin!