Simple Yet Elegant Mehndi (Henna) Designs for Kids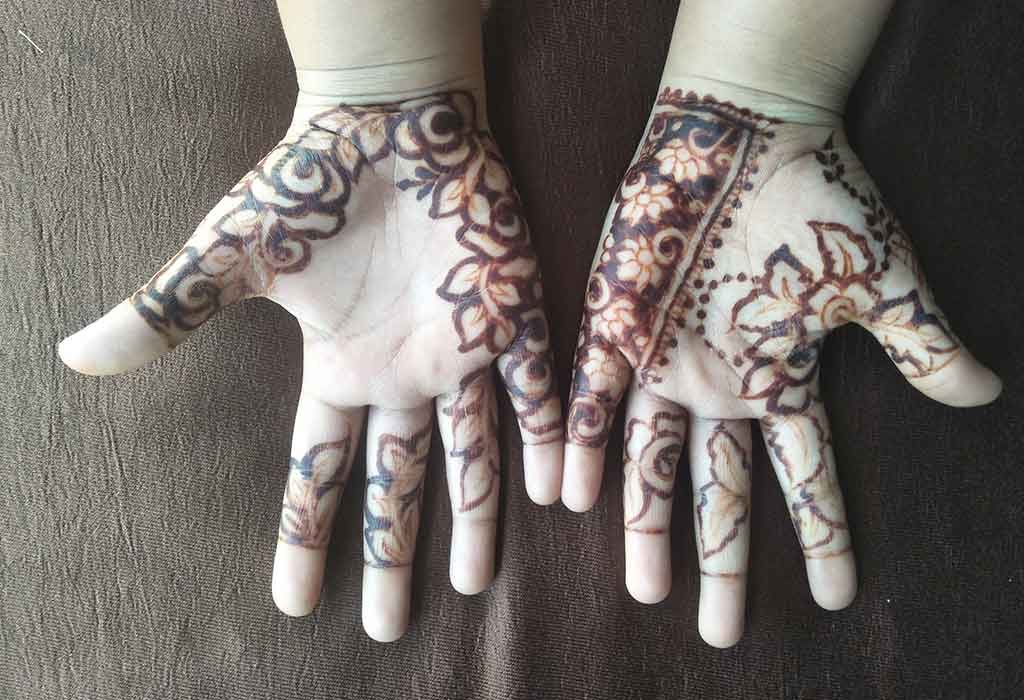 Most Indian functions are incomplete without a dedicated session for applying Mehndi, most grown-ups often make the most of these sessions. While there is a lot you can do on an adult hand but kids do miss out on all the fun. Their tiny little hands are too small for a design to fit in and very often one could find them drawing designs all over them by themselves. Kids love the art of any kind- flowers, cartoons, sun, stars, butterflies, glitter. Just grab a pair of hands and try these amazing designs that we have listed here to make sure every kid present at a mehndi occasion is satisfied and beaming.
Easy Mehndi Design for Kids
Mehndi designs for kids is a great idea that has created a lot of buzz. Cute and beautiful mehndi designs for kids are perfect for those nimble hands which cannot sit still yet want to be decorated. These simple yet elegant designs will not only brighten up your child's hand but their hearts as well. We have shortlisted a few of the best children mehndi design to choose from for the next occasion that is coming up. Take a look.
1. Butterfly Design
Something that kids love, chasing butterflies in the park. This butterfly design is petite and feminine for those dainty hands and symbolises freedom and peace. With a large butterfly at the centre, you could just give wings to their imagination
2. Cartoon Design
Kids and cartoon are like two peas in a pod. A cartoon mehndi is just what you will need to get them to sit still for some time. This design is a sure winner to get them to sit down as kids will definitely not want to see their favourite reel life character fading away even before it takes colour.
3. Traditional Moon Design
Simple yet attractive the traditional design of the full moon at the centre with some dots just adds to the aesthetics of the gorgeous outfit your little one is wearing. Pair this mehndi design with a pretty bangle or bracelet to complete the look.
4. Sparkly and Glittery Design
Sparkles and glitters are a great addition to traditional designs. Add some sparkles and glitters of bright colours to gaps to brighten up the design. Donning this mehndi will add a lot of oomph to the Indo –Western outfit of your kid.
5. Floral Design
Flowers can be made by making spirals with a thin tip from one end of the palm up to the index finger. A stylish twist can be given by lining it with sparkles, glitter or simple dots. A minimalistic look goes well for all occasions.
6. Arabic Style Design
Arabic design is one of the best henna designs for hands for kids as it does not require them to sit for too long. For the fidgety ones, the design which covers one part of the hand often extends diagonally and is ideal when paired with a designer lehenga choli.
7. Minimalistic Design
A few curvy lines and dots, this minimalistic pattern looks clean, elegant and stylish too. It is also a great way to get an older kid to try their artistic skills on the little ones.
8. Beautiful Stars Design
An exciting pattern, make some stars with glitters and sparkles to its rim and add some dots and arches to make it look resplendent. Simple to draw, this design can be done on tiny baby hands too.
9. Creeper/Vines Style Design
The creeper or vines style fills the hand with a delicate look and an outline of flowers and spirals make it more fascinating. Avoid filling in the petals and gaps to make it look light.
10. Mandala Design
A new one in the market, this design looks minimalistic yet intricate and full. The mandala- core centrepiece of art in decorating intricately and connected subtly to the fingers with gentle patterns. An artistic extension to geometry and a bit of detailing makes this design an expressive one.
Tips to Consider while Applying Henna on Kid's Hand
Some additional tips to consider when applying henna on the delicate hands:
Ensure you buy only organic henna or a trusted brand for little kids.
Test the henna on a small patch of their skin before applying it completely to test for allergies.
Start with a small design rather than an elaborate one as kids tend to get bored.
Try and get kids to pick their own design as you can tell them the amount of time it will take.
Stick to their palms and avoid any other part of the body that will cause irritation or restrict their movement.
Mehndi designs for kids must be simple and elegant. It should look visible in their hand whilst not appearing crowded and full. With these innovative ideas listed above, applying mehndi on kids will be a joyful ride.
Also Read:
How to Mix and Apply Henna on Hair
Uses of Henna
How to Remove Mehndi from Hands