Rajgira Jowar Pancakes Recipe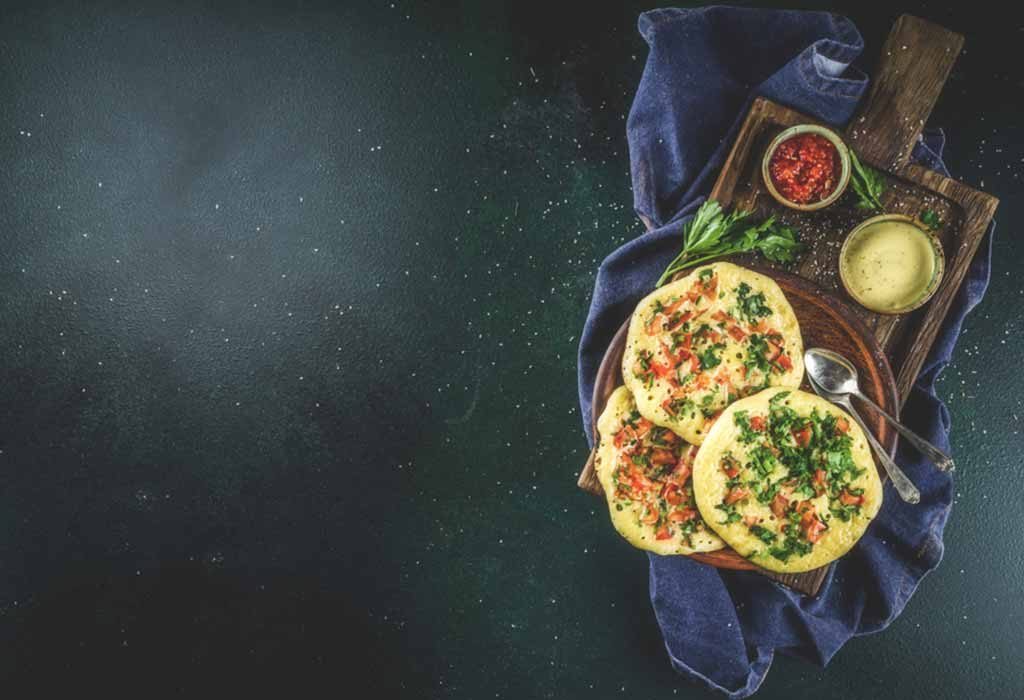 In this Article
Rajgira and jowar are packed with many essential nutrients that can provide ample health benefits for your little one. In this post, we shall be sharing an easy to make pancake recipe that includes rajgira and jowar as its main ingredients. This savory pancake recipe can be given as a main meal option. Read on to learn this simple Rajgira jowar pancakes recipe.
Cooking Time
| | |
| --- | --- |
| Type | Time |
| Preparation Time | 00:10:00 |
| Cook Time | 00:20:00 |
| Total Time | 00:30:00 |
Cooking Method
Gas Stove
Type of Meal
Vegetarian
Suitable For
Toddlers over 16 months of age
Meal Schedule
Breakfast or Lunch
Recipe Type
Main Dish
Ingredients
| | |
| --- | --- |
| Type | Quantity/ volume |
| Jowar flour | ½ cup |
| Rajgira flour | ½ cup |
| Rice flour | ¼ cup |
| Onion (finely chopped) | 1 medium-sized |
| Tomato (finely chopped) | 1 medium-sized |
| Carrot (grated) | 2 tablespoons |
| Green coriander leaves (finely chopped) | 2 tablespoon |
| Cumin powder | 1 teaspoon |
| Ghee | 2 to 3 tablespoon |
| Salt | As required |
| Water | As required |
Instructions
Follow the following step by step procedure to make these nutritious pancakes:
Take a big mixing bowl. Add jowar, rajgira and rice flour in it. Mix thoroughly.
Slowly add water as you keep stirring the mixture to avoid lumps in the batter.
Once you get a pouring batter consistency, add chopped onions, tomatoes, coriander, and grated carrots and mix well.
Add cumin powder and salt and give a thorough mix.
Heat a non-stick pan and grease with ghee.
Pour batter in small quantities to make tiny pancakes.
Cook well from both sides. Smear ghee on the pancakes while cooking to make them crispier.
Serve with homemade chutney or sauce.
Recipe Tips
If you wish to know how to make Rajgira jowar pancakes in a perfect manner, follow some of these recipe tips:
You can add wheat flour in place of rice flour if you wish to make softer pancakes.
You can add more veggies to add a healthier twist to these pancakes.
Add a pinch of asafoetida to enhance the flavor of the pancakes and to make them easily digestible for young kids.
You can replace water with curd to lend a tangier punch to the pancakes.
Mint leaves can be added in place of coriander leaves if your child does not like coriander leaves.
Nutrition Information (Serving Per 100 Grams)
The table below mentions that nutritional information present in homemade Rajgira jowar pancakes baby food recipe:
| | |
| --- | --- |
| Type | Value |
| Energy | 120 Calories |
| Carbohydrates | 18 grams |
| Protein | 3 grams |
| Fiber | 3 grams |
| Fat | 6 grams |
| Sodium | 7.5 milligrams |
| Cholesterol | 1 milligram |
This table indicates values for reference purposes only. The actual nutritional content may vary according to the variations in ingredients that you may make.
Health Benefits
Here are some of the many benefits of Rajgira jowar pancakes for toddlers:
Including calcium-rich foods like rajgira helps in developing and maintaining bone and teeth health in growing kids.
Regular intake of fibre helps in keeping your little one's digestive health in place. Rajgira and jowar are both high in fibre content and can help in relieving the symptoms of constipation in young kids.
If your kid is sensitive to gluten, including food substitutes such as jowar and rajgira can be a saving grace as both are gluten-free.
Rajgira is loaded with iron, which is helpful in keeping iron deficiencies such as anaemia at bay in young children.
Jowar is high in nutrients such as niacin, thiamine, vitamin B, vitamin B6, etc, which are great for boosting energy levels in young kids.
Buying Guide
Keep the following tips in mind when buying the ingredients from the market:
You can either buy ready-made jowar and rajgira flour from any renowned brand or you can make flour at home by grinding whole jowar and rajgira.
When using store-bought flour, make sure you buy organic flour.
Do not forget to check the date of manufacturing as stale or outdated flour is unfit for consumption.
Always buy packed and branded flour when making any recipe with jowar or rajgira flour for your little one. Refrain from buying products that are sold in any unpacked state.
This easy pancake recipe is not only filled with umpteen health benefits for your kid but it is fairly easy to make too. Do try this recipe and see how your little one polishes off these yummy pancakes in no time!