Products of Conception – Signs, Diagnosis, and Treatment
Products of conception, also known as retained products of conception or RPOC, is a medical term that describes foetal or placental tissue that remains inside the uterus after a miscarriage, term or preterm delivery or planned termination of pregnancy. Read on to know more about retained products of conception, its symptoms, diagnosis, and various treatment measures.
What Is Meant By Products of Conception?
RPOC or retained products of conception is a medical term that is used by doctors to describe the fetal tissue and any placental or other kinds of tissue of the fertilised egg that may remain in the uterus post medical or surgical termination of pregnancy, miscarriage, or caesarean or vaginal delivery. Any kind of product of conception post a miscarriage or termination of pregnancy is called an incomplete miscarriage.
Products of Conception During a Pregnancy Loss
If a woman has had an early miscarriage, it may be impossible to establish the foetus from the placenta until or unless the same is identified by a pathologist. However, in the case of a miscarriage that happens further along with the pregnancy, the tissues take a more distinct and definitive shape. However, all the tissues are still termed as 'products of conception'.
If you have undergone any kind of dilation and curettage, also known as D&C, after an incomplete miscarriage, you must be familiar with the term RPOC. The process of D&C is used by doctors to remove or get rid of any tissues or products of conception that remain after an incomplete miscarriage. In most cases, it is hard to establish what is left behind during an ultrasound; therefore, a more comprehensive term such as RPOC or products of conception is used by doctors.
How Common Is RPOC?
According to one of the studies, retained products of conception can be present in approximately 40 per cent cases after the second-trimester delivery. However, the percentage was 17 per cent and 2.7 per cent in the first and third trimesters respectively. RPOC may occur more frequently in case of placenta accrete, MTP or medical termination of pregnancy or second-trimester miscarriage. It is also observed that products of conception can complicate approximately 1 to 5 per cent of vaginal deliveries.
What Are the Symptoms of Retained Products of Conception?
If there is any tissue that is present in your uterus post a planned termination of pregnancy, miscarriage or preterm or term delivery, they are termed as the products of conception. If there are any RPOC or retained products of conception, it would mean that you have had an incomplete miscarriage. Here are some signs or symptoms you may experience in case of RPOC.
1. Delay in the Menstrual Cycle
If your menstrual cycle does not start within six weeks, it could be because of RPOC.
2. Pelvic Pain, Fever, and Tenderness in the Uterine Region
If you notice any of these symptoms, it means that you may have some kind of infection and symptoms of RPOC.
3. Uterine Bleeding
It is normal to experience bleeding after a miscarriage. But if the bleeding is heavy, you notice clots in the bleeding or the bleeding happens for a prolonged duration (more than three weeks), all these may be indicative of infection and are a sign of RPOC.
If you register any of the above-mentioned signs or symptoms, it can be a sign of complication and you must seek medical assistance immediately.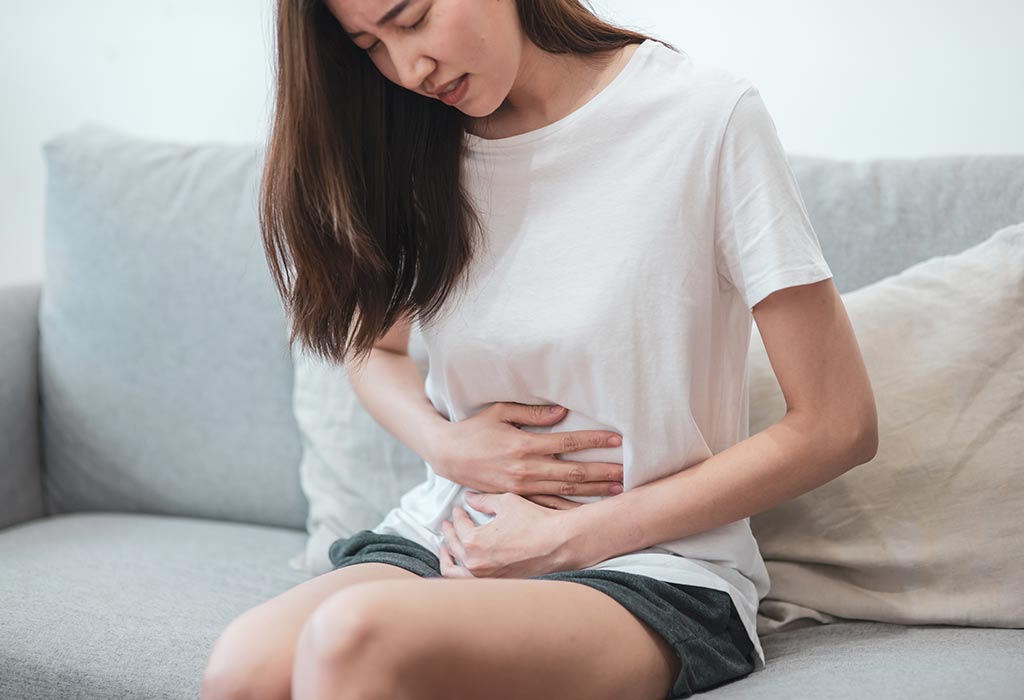 How Is It Diagnosed?
Here are some techniques that your doctor may use to establish RPOC:
Ultrasound: Conducting retained products of conception ultrasound is usually one of the first investigation techniques that your doctor may recommend to establish the following:
Any amount of heterogenous or echogenic material that may be present in the endometrial cavity.
Any presence of vascularity that may be present within the echogenic material. However, in the absence of colour doppler flow, the results can show very low negative predictive value as sometimes the RPOC may be avascular.
In some cases, the products of conception may present like intrauterine or endometrial mass.
This imaging technique can be successful to establish retained products of conception if the endometrial thickness is less than 10 mm after a spontaneous abortion or D&C (dilatation and curettage).
2. MRI: This test provides a more variable appearance because the tissues that may be present in the endometrial cavity may be variably enhancing, which means there may be the presence of variable degrees of obliteration or myometrial thinning of the junctional zone. Some signal characteristics may include:
T1: showing variable heterogeneous signal
T2: showing variable heterogeneous signal
T1 C (Gd): showing variable enhancement
3. Lab tests: Your doctor may conduct lab tests to establish any products of conception in your uterus that may include blood tests.
4. Hysteroscopy: In some cases, your doctor may ask you to undergo hysteroscopy, in which a thin lighted tube is inserted in the vagina to establish any placental or fetal tissues.
Depending on your diagnosis, your doctor may opt for the correct method of treatment of RPOC.
Retained Products of Conception – Treatment and Medication
There are various medical as well as surgical treatments that can help in treating products of conception. Following are some of the treatment options for the removal of retained products of conception:
The natural way: The most natural and best way to get rid of RPOC is to wait for the body to expel them naturally without any problem. This is not only the most inexpensive approach of treatment but also the least invasive one.
D&C or dilatation and curettage: This is the most widely used surgical procedure. You can opt for this method to stop or avoid heavy bleeding. In this process, the cervix is opened up using some medication and medical instruments. The surgeon scrapes the sides of the uterus to collect the retained products of conception. In most cases, this procedure is highly safe and is performed under general anaesthesia. However, in approximately 20 per cent of the cases, this treatment method may lead to severe haemorrhage in the patients. Other side effects may include bleeding, cervical damage, infection, retained products of conception after D&C, etc.
Use of medication: Your doctor can administer medication that can be taken orally or vaginally. One of the widely used medicines includes misoprostol, which was initially used for treating ulcers; however, now it is used for treating various obstetric conditions, too. The medicine has a success rate of 80 to 99 per cent in the pregnancies which had the gestational age of 13 weeks or less. However, in some women, this method may not yield fruitful results and D&C may be required. Taking this medication may sometimes lead to the risk of blood loss, but it also lowers your risk of adhesions post an RPOC, after medical abortion or D&C.
Your doctor may help you in making an informed decision about which treatment method you should opt for.
Miscarriage or medical abortion can be emotionally and physically draining for a woman and if you experience RPOC post the procedure, you are likely to be stressed and anxious. However, by keeping your calm and taking the decision that best suits your medical condition is important for good health.
Discuss your worries and concerns with your doctor to come up with the best management and treatment option. Make sure you take your time and learn about retained products of conceptions and ensure all your queries and worries are taken care of.
Also Read:
Things to Take Care After an Abortion
Dealing With Period After Abortion
Pregnancy After an Abortion