International Day of the Girl Child 2023 – History, Theme, Facts & More
If someone brought up the topic of gender preference today, how do you react? You would most probably say, 'Gender preference? Isn't it a thing of the past?' Your reaction this way is, no doubt, because you know or see around you more girls among top-ranking students in educational institutions, more women having jobs and working at their dream jobs, and girls with access to education and resources. Today, many more women are holding positions of authority and making huge advancements in all fields. But what of those women and girls who still don't get these opportunities? What about those who didn't even get a chance to live?
Although the world in the 21st century is developing rapidly, many people still prefer a male child. Perceived as the protector, alpha, and provider, sons are regarded as assets for political, economic, or traditional reasons, while daughters are considered burdensome liabilities.
In light of this, the International Day of the Girl Child is celebrated every year on 11th October. This day is commemorated to spread awareness on issues like the girl child's health, education, and nutrition.
What Is International Girl Child Day?
International Day of the Girl Child was launched in 2012 to address matters affecting young women worldwide, like inequality, gender-based violence, and child marriage. Every year, on 11th October, the day is celebrated to empower women and amplify their voices. It recognises the power and potential of adolescent girls by encouraging the opening up of more avenues for them.
History of International Girl Child Day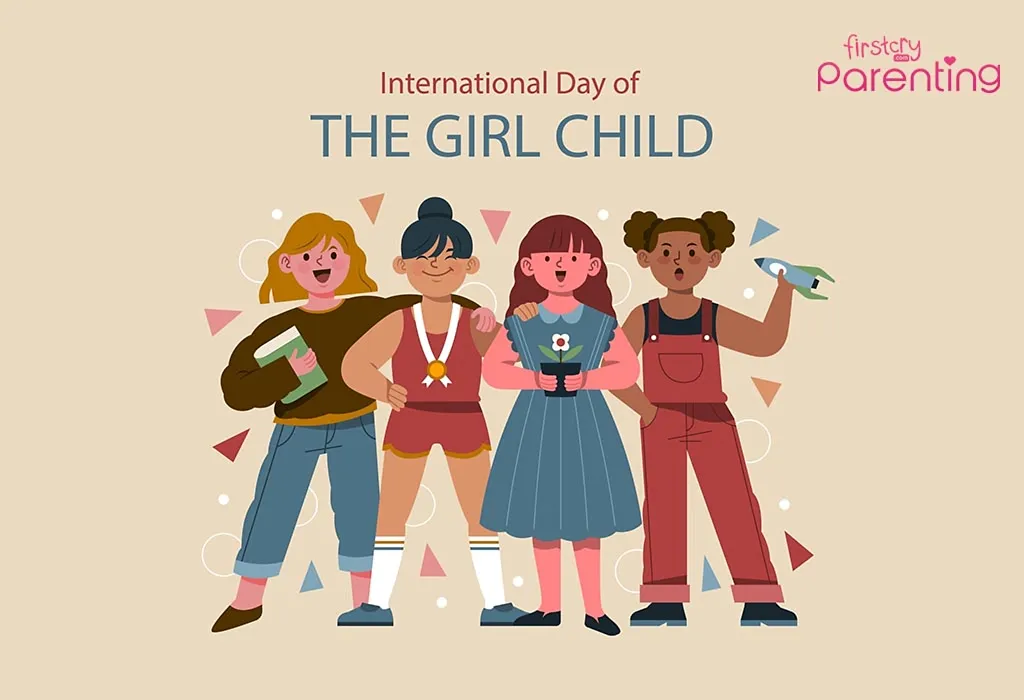 The Beijing Declaration was the first resolution to highlight the necessity of women's and girls' rights in the year 1995 at the World Conference on Women, held in Beijing. In world history, it was the first-ever draft to have recognised the need for addressing the concerns faced by young girls all around the globe.
The International Day of the Girl Child was launched as part of the international NGO Plan International's campaign "Because I Am a Girl". The campaign was designed to support girls, especially in developing countries, bring them out of poverty, and promote their rights.
Canada then formally proposed for this day to be passed as a resolution in the UN General Assembly. Thereafter, on 19th December, 2011, the UN General Assembly successfully accepted the resolution of recognising 11th October, 2012 as the introductory day of International Day of the Girl Child.
International Girl Child Day : Date
International Day of the Girl Child or International Girl Child Day is celebrated every year on 11th October.
Who Initiated International Day of the Girl Child?
The Beijing Declaration, a resolution adopted by the United Nations, was the first to initiate a campaign for girls' rights.
International Girl Child Day Theme for 2023
International Girl Child Day is celebrated on October 11th each year, with different themes. In 2021, it was "Digital Generation: Our Generation," and in 2022, "Empowering Girls for a Brighter Tomorrow."
In 2023, the theme is "Our time is now—our rights, our future," emphasizing the urgency of girls' rights and their role in shaping a better future.
Why International Girl Child Day Is Celebrated?
International Day of the Girl Child is important because:
1. It works towards eliminating deep-seated gender-based issues
Deep-rooted problematic mindsets and issues passed on for generations have made gender-based oppression and discrimination alarmingly common in every household, particularly in developing nations. International Day of the Girl Child attempts to eliminate the tragic plight of young girls around the world.
2. It empowers girls
Amid the celebration of Mother's Day, Daughter's Day, and even Women's Day, highlighting the rights of young girls who are silently persecuted around the world is a formidable step. It is on this day that we get to appreciate the girls who lighten up our world.
3. Empowered girls grow up to be empowered women
Youth is a turning point in every person's life. It determines the course of girls' lives. So nurturing girls in their youth is beneficial to all. If they are empowered at a very young and vulnerable age, they can grow into liberated and enlightened women of the future. It's a win for the entire society.
International Girl Child Day Activities
Celebrate this special day by organising workshops and seminars focused on girls' empowerment and education.Engage in fun and educational games, discussions, and art projects that inspire and encourage young girls to dream big and reach for the stars.
1. Share a real story on social media
You can support the mission of International Day of the Girl Child by posting true stories about any of the issues and challenges faced by girls everywhere, as well as their non-glorified contributions, achievements, and contributions. These stories can be of girls you know or even yourself! Share stories of inspiring young girls or women-led organisations developing innovative products and services or spearheading efforts toward bringing about positive social change.
2. Make the girls around you feel special!
Why make the women in your life feel special only on their special days, like birthdays? Appreciate your sister, adolescent daughter, or any other young woman in your life by empowering them in any way you can think of and gifting them a token of your appreciation.
3. Actively participate in the theme
International Day of the Girl Child has a special theme for each year ever since it was first observed. Find out the theme for any particular year, and actively participate in it by initiating campaigns on social media with the hashtag #BrighterFutureForGirls.
Facts About International Girl Child Day
Here are some important facts about the girl child that you should be aware of:
1. Women make up for two-thirds of the total number of 796 million illiterate people in the world.
2. According to a report by Girls Not Brides, an international NGO that aims to stop child marriages worldwide, around 12 million girls are married off before the age of 18 every year. This amounts to 23 girls every minute, or nearly one girl every two seconds.
3. Each year spent in school subsequently increases a girl's future wages by 10-20%.
4. According to the World Health Organisation, more than 200 million women and girls alive today have undergone female genital mutilation. This number is steadily increasing by about 3 million girls every year.
5. According to UNICEF, around 600 million young girls will begin work in the next decade, and 90 percent of those girls living in developing countries will enter informal roles where exploitation and abuse are rife.
International Girl Child Day : Captions & Messages
Today, as the world acknowledges the significance of gender equality, don't forget to share these International Girl Child Day captions and messages with your friends and family.
Captions
On this day, we join hands to empower and uplift the dreams of girls globally, paving the way for a future filled with equality and limitless possibilities. Lets Honour the spirit of International Day of the Girl Child with captions that inspire change and champion equality for our girls worldwide.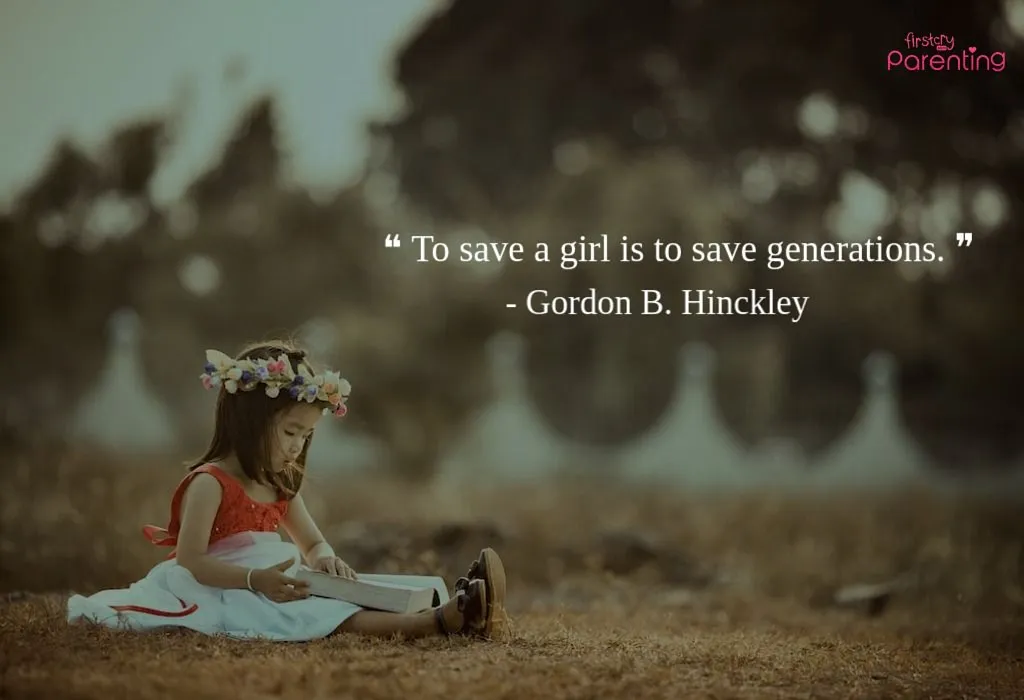 "If you want something said, ask a man; if you want something done, ask a woman." – Margaret Thatcher

"Courage, sacrifice, determination, commitment, toughness, heart, talent, guts. That's what little girls are made of." – Bethany Hamilton

We cannot all succeed when half of us are held back. We call upon our sisters around the world to be brave – to embrace the strength within themselves and realise their full potential." – Malala Yousafzai

"The world needs strong women. Women who will lift and build others, who will love and be loved. Women who live bravely, both tender and fierce. Women of indomitable will." – Amy Tenny

"To save a girl is to save generations!" – Gordon B. Hinckley

"Empowered girls become unstoppable women." – Michelle Obama

"Girls are the future leaders, innovators, and changemakers of the world." – Emma Watson

"Educate a girl, empower a nation." – Oprah Winfrey

"A girl with a dream can change the world." – Malala Yousafzai

"Girls can do anything they set their minds to." – Serena Williams
Messages
Girl Child Day celebrates the potential, dreams, and rights of girls worldwide. Let's stand together and empower them through our heartfelt International Girl Child Day messages, spreading love, encouragement, and support.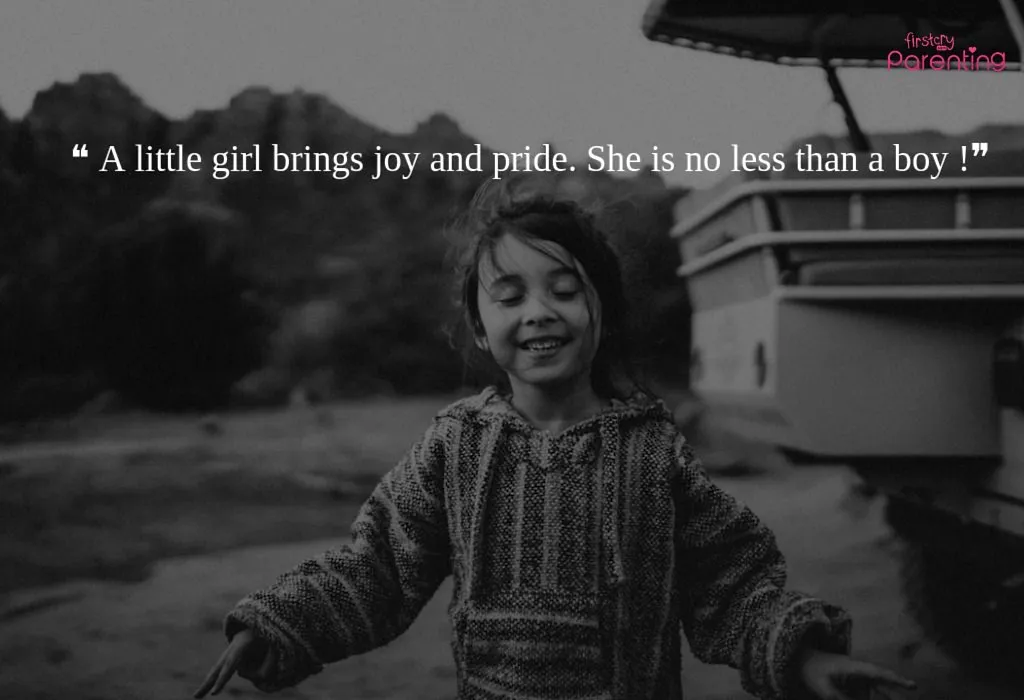 We salute every strong girl and woman. May we know them, may we raise them, may we be them. Wishing you a Happy International Day of the Girl Child!

An informed woman has the potential to educate the entire family. So make it your mission to empower the girl child.

Without a girl child in your home and family, you cannot have happiness, prosperity, love, and peace. Always respect her and take care of her.

The girl child – She can make hearts melt while also ruling the world. Save the girl child! Happy International Day of the Girl Child!

A little girl brings joy and pride. She is no less than a boy!

Today, we celebrate the strength, resilience, and boundless potential of every girl child around the world. Together, let's empower them to reach for the stars! Happy International Day of the Girl Child!

Education is the key to unlocking a girl's full potential. Let's ensure every girl has access to quality education, so they can shape a brighter future for themselves and their communities.#DayOfTheGirl

A girl child is a beacon of hope, a force of nature, and a catalyst for positive change. Let's stand together to protect and empower them.

Girls are not just the leaders of tomorrow; they are the leaders of today. Let's support, encourage, and amplify their voices.

Behind every successful woman is the belief that she can achieve anything. Let's nurture that belief in every girl child, today and every day.
There is a pressing need to change our patriarchal society's archaic mindset, which regards girls as liabilities. It needs to be accepted that girls are in no way less than boys. If and when given the right opportunities to nurture their skills and talent, girls too have it in them to succeed in different areas of life. To achieve true women empowerment, we must begin with the girl child. This is simply because the girls of today are the women of tomorrow!
Also Read:

Benefits of Having Baby Girl in your Life
National Girl Child Day – History, Objectives and Celebration