Birthday Wishes for a Sister to Make Her Feel Special
In this Article
Sisters are like a second mom; the only difference being that they grow with you. Your sister is also your friend for life. Hence, her birthday calls for a celebration. Moreover, the purpose of wishing should be to touch all the strings of her heart. So, express your feelings of love and care on her birthday with the most heartwarming messages that would make her day truly memorable.
Beautiful Birthday Wishes and Messages for Your Sister
A sister is a family member or a first-degree relative with whom we share our parents and home. A study from Brigham Young University found that people with sisters experience fewer feelings of loneliness, guilt, and fear overall than those without them. It is rightly said that 'In the cookies of life, sisters are the chocolate chips.' No matter how much sisters argue or fight, they share an unmatched bond that will always stand the test of time. By the time you realize, the content of the fight is soon forgotten, and you might find your sister eating cheesecake and laughing together! Sisters love each other unconditionally and bring out the best in each other. The best sisters accept the flaws, loves, and respect each other for who they are. An elder sister may not show it at times and act tough on the face, but it's only her who burns the midnight oil to take care of the younger sister when mummy's not around. From the secrets you've shared to the escapades you've undertaken with her, she's been your companion and a crucial part of your life. Just think and look back to think about how life would have been if you have been the only child. No role model to emulate or younger sister to play with boring, dull, and aimless. Sisters are the safety nets in this complex world. She's the one to put up with your spoilt-brat behaviors or the one to lend a shoulder to cry when you needed the most. Having a sister can be a blessing that changes life for the better. So, it is your responsibility to bring a smile to her face on her birthday with the most meaningful wishes and messages that would express the unique level of your sisterhood.
Beautiful Birthday Wishes for Elder Sister
Your elder sister watched you grow up and witnessed your awkward stages when you crossed your developmental milestones. She helped you to overcome the challenges of life and applauded all your triumphs. Your elder sister is more experienced in all aspects of life. Hence there can be no better friend, philosopher, and guide than her to advise in your personal or family matters. At times, she may sound bossy or preachy, but she will defend you to death. Ultimately, she will be the one to inspire and motivate you to reach for the stars. Wish your elder sister on her birthday with some of these beautiful messages that would pay tribute to that special bond of love and respect that you share.
You are the best sister anyone can ever have in this whole universe. Enjoy your special day. Happy birthday!
Happy birthday to the most gorgeous woman in the world. It's great to have an elder sister like you.
I'm one of the luckiest to have such a talented, successful, and loving sister like you. Have a great birthday!
You've been my guiding light and support all the way through. I want you to know that you're the loveliest elder sister in the world. Happy birthday!
Best wishes and warm hugs to my elder sister, who grows wiser by the day. Have a wonderful birthday today!
It's a pleasure to watch my elder sister turn another year older. Wishing you the best birthday ever, big sister!
I could have never asked for more than a kindhearted and caring elder sister like you. Wish you the happiest of birthday! Love you!
Even though you're my elder sister, you never seem to age. Admire and respect you for who you are. I hope you have the best birthday ever!
Wish the most spectacular birthday to the most special lady who inspires me in every way! Happy birthday, sister!
You're the one who made my childhood most special and unforgettable. I wish you all the happiness in the world on this special day! Happy birthday, sis!
Amazing Birthday Wishes for Little Sister
The younger sister is your pesky little shadow. However, much she has grown up, you can never the day you held her as a tiny baby in your arms or held her hand to walk. She might be your greatest fan or the most annoying nuisance, but your sure to be very protective about her. She needs your advice to succeed and support to overcome the obstacles of life. As her birthday approaches, use this special occasion to convey your deepest thoughts about how much you love her and appreciate the person she has become. So, here are some of the most amazing birthday messages for your younger sister that would fill her with joy and happiness.
Wish my favorite little sister a fun-filled birthday and many more amazing years to follow!
You're my sweetest sister and my true friend. Warm birthday wishes to the one who shines brighter each passing year!
I received the most precious gift of my life the day you were born. Happy birthday, dear sister!
Wishing my lovely sister all the happiness in the world. You mean so much to me, cutie!
Many happy returns of the day! Wish you an exciting life full of joyful surprises, my dear sister.
You're the best sister ever. Hope you have a spectacular birthday bash!
You were born to be loved. I hope your special day is as unique as you are to us.
Blow out the candles and make a wish. Happy birthday forever, younger sister!
Wish you a day full of joy, laughter, and fun. Love you, baby sister, and have a happy birthday!
May you have all the smiles the day can bring, all the joy the heart can hold, and all the blessings that life unfolds. Wishing you a rocking birthday!
Funny Birthday Messages for Sister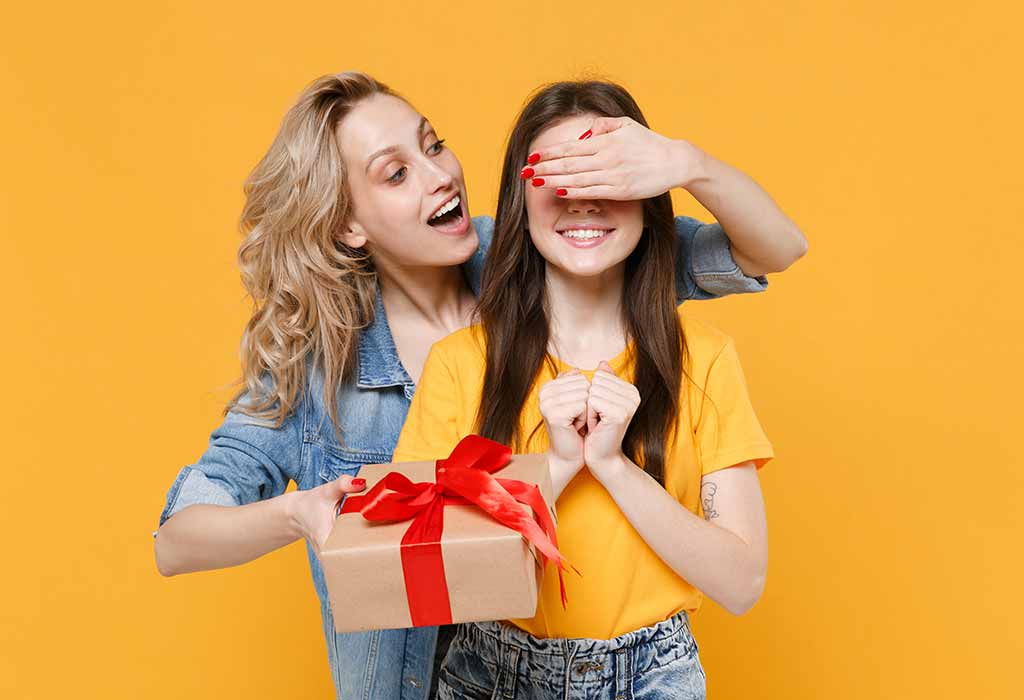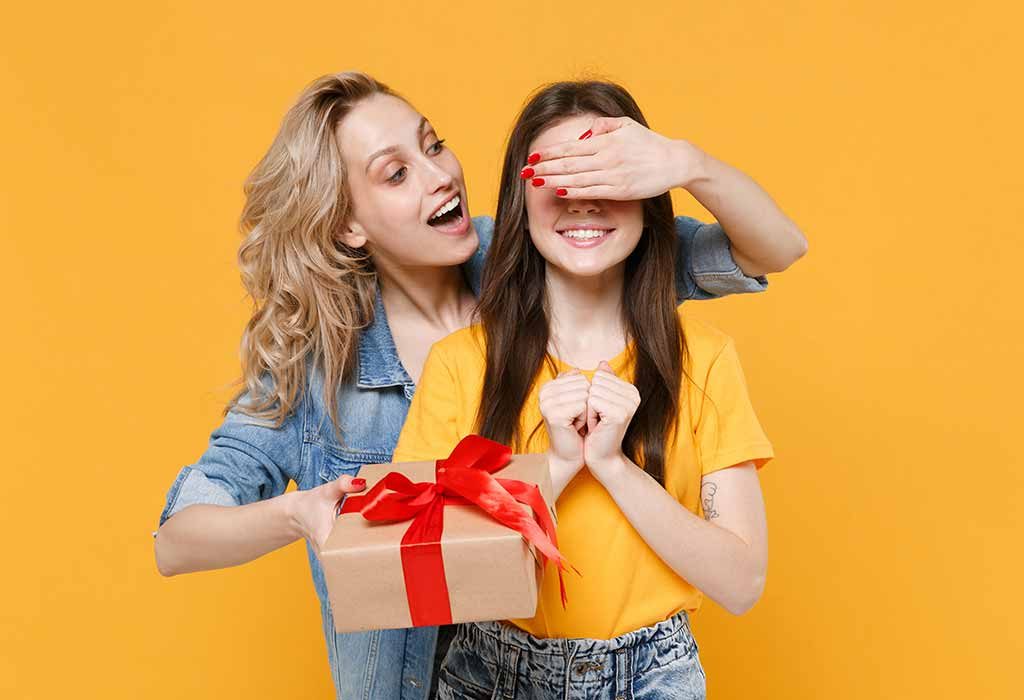 Birthdays are fun occasions, and if it happens to be your sister's birthday, there are more reasons than one to celebrate. After all, she can be your best buddy and partner in crime. Cracking a joke with amusing greetings can take out the cliché from the birthday greetings. Of course, teasing should be handled with care without offending or hurting anyone's feelings. So, take the light-hearted way to wish your dear sister on her birthday and watch her bursting out in laughter. Pick some of the hilarious birthday messages given below that would provide the perfect comic relief while brightening up your sister's special day.
Happy birthday, sissy. But that doesn't mean you don't have to do the chores!
The best part of being your sister is having the most friend who is almost as me. Enjoy your day!
I wish your failures would be as few as the teeth of our grandfather. May you get the world's best in everything today and forever.
I'm political enough to forget your age but remember your birth date. Happy birthday!
Sister, happy birthday. Keep calm and eat those delicious cupcakes for it's your special day today!
Happy Birthday, sister. Although I may have been the smarter one of the two, you've always been a great sidekick.
Even though you've grown up, you'll always be a little monkey to me. Happy birthday, sister!
Today is the special day to celebrate mom & dad's second favorite child- my sister! Happy birthday and stay blessed!
You're a unique combination of a villain and best friend. Happy birthday to the rare gem, my sister!
Happy birthday! Thank you for always hitting every decade before me.
Long Distance Sister Birthday Messages
Sisters share the same home and parents until they grow up and start pursuing their own dreams. However, they can never forget their bond of love, companionship, and friendship that they've shared and created memories from childhood to adulthood. In case you grow apart in life and live far apart, your sister will always hold a special place in your heart. Nevertheless, it is imperative to remember to wish her on her birthday through any social media platforms or a call to let her know how much you miss her but hope she enjoys her day to the fullest. Here are some of the best long-distance sister birthday messages that would help you stay connected and carry your good thoughts and warm wishes.
Now that you're away, I miss your birthdays that we've celebrated together. Hugs and kisses coming your way. Happy birthday, sister!
You had to go far to reach your goals, but we're very proud of your achievements in life. Hope you have a nice time on your birthday today.
Even if you must spend this day away from family, you are missed a lot. Hope you can fulfil the dreams you set out to achieve. Happy birthday!
Side by side or miles apart, we sisters will always be connected by the heart. Have a great birthday, sweetheart!
To the beautiful faraway princess, my sister! Have a wonderful birthday!
Distance makes the heart grow fonder. So, I adore you more. Happy birthday to the best sister ever.
You're still being thought of from miles away. Stay blessed and have a fabulous birthday!
Cheers to all the birthdays that we've celebrated together! Sending you tons of good wishes and joy that you truly deserve. Happy birthday!
I wish I was there with you on your birthday. Sending you my heartfelt wishes for a great life ahead!
Thank You for all the awesome times we shared. Sending you sweet greetings and wishes for all your dreams to come true, my dear sissy. Happy birthday!
10 Touching Birthday Wishes for Sister
When at times parents fail to understand us due to their generation gap, luckily, we have sisters! Even when it seems like that the whole world is working against you, your sister is always there to fall back on. There are innumerable priceless reasons why your sister is the most important person who enriches your life. Hence, let your sister know how much she truly means to you by sending her some of the best touching birthday wishes that would double her joy on her big day.
Even if the sun runs out of energy, my love for you will never end, dear sister. Happy birthday gorgeous!
Birthday greetings from the biggest fan on your birthday. Love you, sis. Stay as amazing as you are!
You're the only one to turn my tears to the biggest smiles. Thank you for being the kindest sister all these years. With lots of love, I wish you the happiest birthday ever.
You're the most precious diamond that sparkles brighter each day, sister. Happy birthday, sweetie!
Feel blessed to have the most caring and loving sister like you. Wishing you a year full of wishes-come-true on this special day!
Thank you for an amazing childhood of sweet, funny, and joyous memories. I couldn't have asked for more. Happy birthday to my real bestie!
It's time to celebrate the beautiful person that you are. Enjoy every single moment today and make new memories to cherish today. Happy birthday!
You brighten up our world with your warm smile and loving care. Thank you for being such a wonderful sister. Wishing you the most sensational birthday ever!
I'm the luckiest person in the world to have an adorable sister like you who keeps motivating me each day.
Grateful for all the magical times we shared together in our childhood. Happy birthday to my beloved sister, who stood by me through the ups and downs of life.
Having a sister is probably the biggest love/hate relationship in the world you'll ever experience. Either way, you cannot be drawn apart. It has been scientifically proven that a sister completes the family and positively affects all siblings. Hence, birthday greetings for sisters should reflect the warmth of the relationship that they share. Even if you two are two peas in a pod, that doesn't necessarily make it easier to say happy birthday to her, mainly because there's so much you could say. Or there's not much left that hasn't already been said. In case you differ in age or opinion, make it a point in both situations to keep those messages simple in order to sound sincere. Whether it's a personalized card, a sweet text message on Facebook, Instagram, or Twitter, those carefully crafted birthday wishes for sister is a reminder of the special relationship you share with her. Just note them for your sister's next birthday and see much you'll both relate!