Actress Chhavi Mittal's Traumatic Delivery Is a Wake-up Call for All Moms-to-be!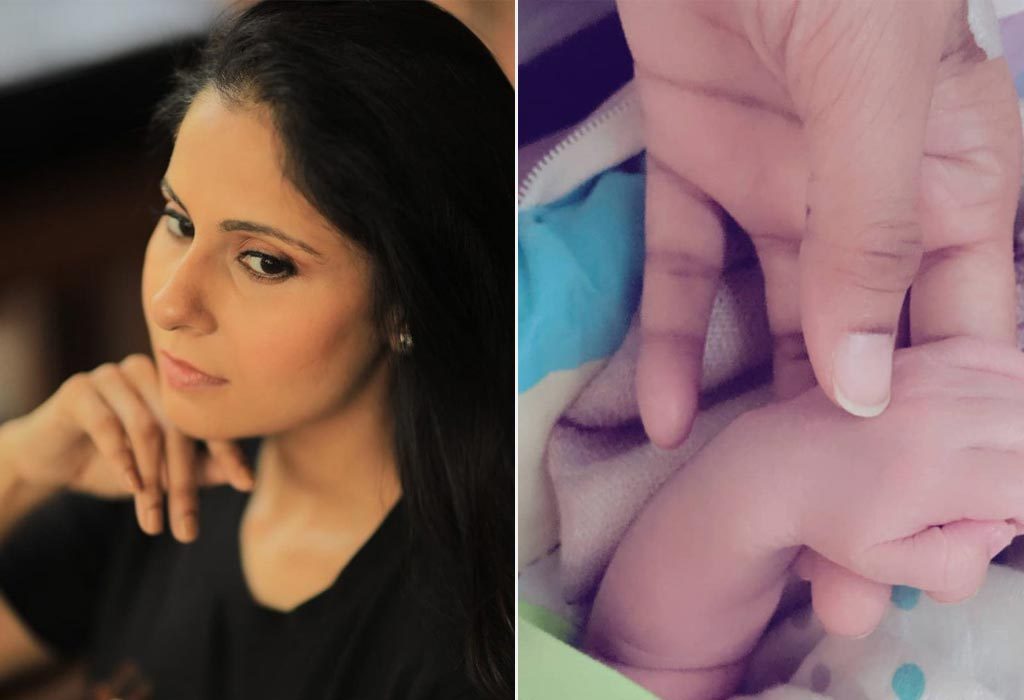 Dealing with the changes that pregnancy brings about and taking care of a child is not an easy job, but mothers do justice to the task with all their heart – and without complaint. They cocoon their babies in their wombs for nine months, so it most certainly gives them the right to plan every aspect of the birth – the process of the delivery, the hospital they will give birth in, the doctors they want to consult, everything! So, how would it feel when you plan everything, but there comes a moment when everything goes for a toss? Having little to no idea of medical terms and processes, we trust our doctors implicitly believing that they won't let any harm come our way. But not all doctors live up to our trust.
Actress Chhavi Mittal, who gave birth to a baby boy on May 13th, shared the traumatic experience of her labour and delivery through her Instagram posts, and we are in shock! Chhavi had wanted to practice hypnobirthing while delivering her second child. Hypnobirthing is a method of pain management used during labour and delivery, which helps a woman prepare for childbirth through relaxation techniques such as visualisation and deep breathing. Chhavi was so focused on this idea that she had shared the birth plan with her doctor, the nursing staff, the head of the hospital and with other people who were even remotely involved in her birthing process. As per the plan, Chhavi had also wanted her husband Mohit Hussein to be by her side at all times. She had also shared in the plan that her baby should be given to her after the birth and that the doctors should delay the cord clamping up until the placenta stopped pulsating. You can read the excerpts of her birthing plan here –
https://www.instagram.com/p/Bx1UmX1noaB/
Source: https://www.instagram.com/p/Bx1UmX1noaB/
Chhavi's requests were not outrageous; a comfortable and safe delivery process is what all pregnant women deserve and of course, they trust their doctors to respect their wishes. But in Chhavi and Mohit's case, the exact opposite happened. While they were assured that their requests would be honoured, they most certainly were not. When Chhavi was in labour, she was administered a drug to hasten dilation. With the introduction of a drug in her system, her dream of having a hypnobirth quickly slipped away. She had been practising hypnobirthing techniques for months, but her doctor was never on board with her plan, which Chhavi realised only later when she was in the OT.
She was rushed to the operation theatre for a C-section delivery (despite being in labour for 7 hours or so and having been 8 centimetres dilated), but her husband was not allowed to enter the OT; not at first. This clearly violated a point of her birth plan, where she had mentioned she wanted her husband to be with her at all times. However, after she threatened to walk out of the hospital unless he was allowed into the OT, the doctor allowed Mohit to stay by her side. But the ordeal did not end just yet.
In the operation theatre, the doctor said certain things to her which a pregnant woman would never want to hear, especially not at a time when she is in unimaginable pain. Chhavi could not understand how a woman whom she had believed in for nine months, never actually cared about her idea of birthing. Here is what the doctor told Chhavi while she was in the OT.
"Your labour is not strong enough, your body is not meant to do this, if you felt pain, you would be screaming, not sleeping."
She then went on to say, "Don't worry, I'm famous for giving really small incisions. You won't have a big scar!"
https://www.instagram.com/p/Bx4Bc_LHk2t/
Source: https://www.instagram.com/p/Bx4Bc_LHk2t/
Chhavi couldn't believe that the doctor thought that her main worry was about having a scar. After the baby's birth, the umbilical cord was clamped all too quickly. The little one was taken out but was not given to his mother even after she had repeatedly asked for him. To her horror, the doctor also said, "Dekha, pain-free delivery." Chhavi was even administered a sleeping injection thereafter without her permission. The doctor not only disagreed with Chhavi's birth plan but managed to make a complete mockery of the whole situation!
But it's Chhavi who is now living with the consequences of her doctor's decisions. Post delivery, she struggled to establish a good latch with her newborn. She also faced a loss of hearing in one ear due to the spinal tap procedure. However, she is now on the road to recovery and at home, comfortable and surrounded by the people she loves.
https://www.instagram.com/p/BxkXI9rHOnG/
Source: https://www.instagram.com/p/BxkXI9rHOnG/
This was Chhavi's experience, but many women have a similar story. We put a lot of trust in our doctors and caregivers with the hope that they will honour our requests and make our birthing experience a memorable one for us. But not all doctors respect or care for a pregnant woman's choices. A woman who carries a baby in her womb for nine months should be treated with love and care – it's the least she expects and deserves. And she has every right to express her discontentment – be it with doctors or anyone.
Through her birthing story, Chhavi has also raised many important questions which need to be pondered upon.
1. Why is a woman given a drug without her consent?
2. Why did her doctor suggest a C-section delivery all of a sudden when everything was normal?
3. Why didn't her doctor, who was a lady and perhaps, someone's wife or mother, respect her wishes?
This is the story of a lot of women in India, going by the comments on Chhavi's post.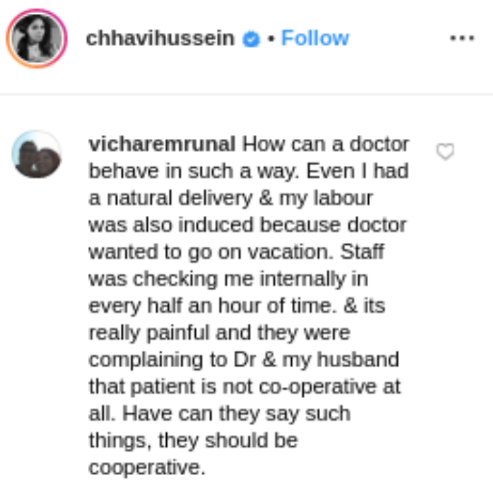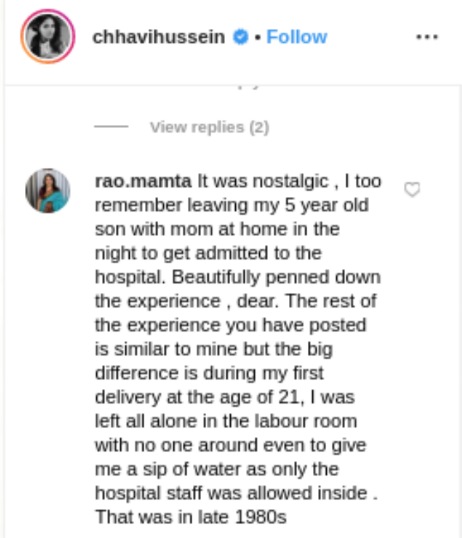 Source: https://www.instagram.com/chhavihussein/
To all the moms-to-be out there, you deserve good things. Find a gynaecologist whom you can trust. Share your concerns with her. If you have a birthing plan, share that too. Take her opinions on the same and ask about possible complications. If you and your doctor are not on the same page, there will be reasons for the same. Express your concerns and take her advice but find a middle ground. Also, before settling for one, consult two or more doctors. Go with the one whom you can trust, who respects your wishes wholeheartedly, and who can reassure you when you lose your calm.
What happened to Chhavi is harrowing and disturbing and should never happen to any woman again. The wishes of a woman bringing a new life into the world should be respected, and she should be treated with dignity. Doctors should also attend to a pregnant woman with respect and address her concerns without losing their cool. People believe in doctors and are willing to do whatever their doctors suggest, hoping that it would be in their best interests. Hence, it is a doctor's responsibility to be honest with their patients. A few kind and reassuring words won't hurt either.
As for Chhavi, we wish her a speedy recovery and a happy and healthy life with her family.