20 Easy-to-Make Indian Breakfast Recipes for Kids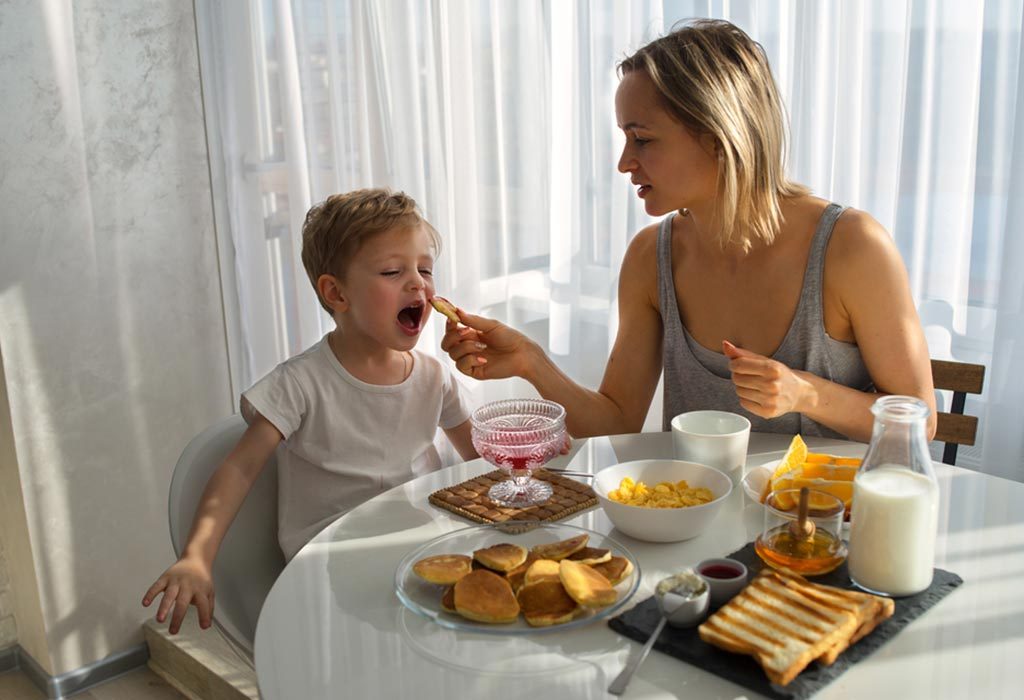 In this Article
Kids who eat breakfast tend to make healthier choices when it comes to food in general and have more energy to burn, making them more likely to take part in different activities. Those who do not eat breakfast tend to become hungry by mid-morning and as a result, snack or overeat. This leads to weight issues. So, breakfast essentially helps keep your child's weight in check.
The trick to making your little one eat is utilising some kid-friendly breakfast ideas that are simple but innovative so it can keep your child excited about eating every morning.
Indian Breakfast Ideas and Recipes for Children
Here we have a list of 20 nutritious breakfast recipes for kids, ranging from delicious Maharashtrian breakfast recipes for kids to breakfast ideas for toddlers:
1. Chopped Dosa Masala
Dosas are made with rice and urad dal, making it a complete meal for vegetarians. Giving your children dosas for breakfast is a great idea, but what if your kid gets fed up with the same old? Give her this chopped up dosa masala mix for a change and see how she likes it.
Ingredients
2-3 thick, spongy dosas, chopped
2 finely chopped onions and tomatoes, and 1 green capsicum
3 teaspoons of oil
Half a teaspoon of red chilli powder
Half a teaspoon of garam masala
Salt to taste
How to Prepare
Fry the onions in the oil till they turn golden.
Add the tomatoes, chilli powder, garam masala, and salt.
Once the mixture turns soft and mushy, add the capsicum. Make sure to not cook the capsicum completely so that it remains crunchy.
Add the chopped dosa pieces and mix until everything is completely coated with the masala.
2. Carrot Uttapam
Carrots are high in fibre and are very good for the eyes. Plus, they have that added bonus of being a very pretty orange colour and a sweet taste.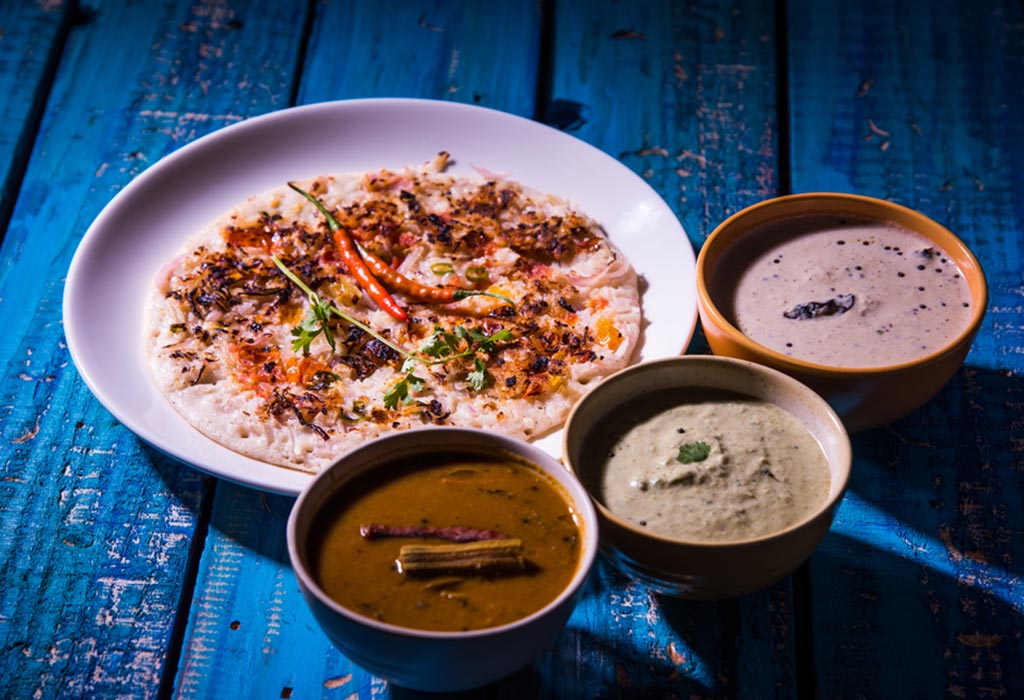 Ingredients
Dosa batter
2 finely chopped onions
3 grated carrots
A few finely chopped coriander leaves
Salt to taste
How to Prepare
Except for the dosa batter, mix all the ingredients together and keep overnight to save time in the morning.
Heat up a non-stick pan. Once it is hot enough, reduce the flame to medium heat.
Pour in the dosa batter and spread it around, but not too much as it needs to be spongy.
Once it starts cooking a little, sprinkle the vegetable mixture on top. Cover and cook for a few minutes.
Once the corners start to come loose, flip the uttapam over, sprinkling oil around it.
Take the pan off the flame once the uttapam is cooked, and serve with chutney or sambar.
3. Veggie-Stuffed Paratha
Parathas are loved by everyone, old and young. Even so, if you try giving it to your child with a plain old sabzi, it is probably not going to go down well. Instead, stuffing the sabzi into the roti makes it delicious and more inviting.
Ingredients
Cooked vegetable sabzi (dry)
1 cup atta/whole wheat flour
Oil/ghee/butter
Dry flour for dusting
Salt to taste
How to Prepare
Add water to the flour and knead it into a soft dough.
Cover the dough and set it aside.
Take the cooked sabzi of choice and mash it with a potato masher or a fork.
Make smaller balls out of the dough, and make smaller portions of the mashed sabzi to match the number of dough balls.
Roll out the balls into flat circular disks with a rolling pin. Use dusting flour to prevent the dough from sticking to the surface.
Place the sabzi portion in the centre of the circle and cover it from all sides.
Prepare all the portions in the same way.
Take the prepared balls and gently roll them out, making sure to spread the filling around without ripping the dough.
Cook well on both sides on a hot non-stick tawa using oil/ghee/butter. Serve hot.
4. Eggy Veggie Bread Strips
Easy and healthy, this recipe requires minimal effort. Just prepare it and allow your toddler to practice eating on her own.
Ingredients
2 slices of brown bread
1 egg
1 cup grated carrots, capsicum, onions and finely chopped tomatoes
1 tablespoon of milk
Oil/ghee
Salt and pepper to taste
How to Prepare
Mix together the vegetables, egg and milk until you get a runny consistency.
Cut the bread into long and thin strips.
Heat up the oil or ghee in a pan. Dip the bread strips into the egg and vegetable mixture, and fry.
Once it is ready, cool, and serve it to your toddler to feed herself.
5. Instant Oats Dosa
Oats are extremely strengthening, but sadly, most children do not enjoy eating them when prepared in the same boring way. With this Instant oats dosa, your child will be gobbling it down, all complaints forgotten.
Ingredients
½ cup oats flour
2 teaspoons rice flour
¼ cup semolina
½ cup curd
¼ cup finely chopped onions
1 ½ teaspoon finely chopped green chilli
2 tablespoon finely chopped coriander
Salt and pepper to taste
Oil for cooking
How to Prepare
Mix all the ingredients well with 1 cup of water.
Heat a non-stick tawa and pour a ladle of batter into the pan. Spread it around the pan. Cook until golden brown on both sides.
Serve with green chutney.
6. Broken Wheat, Oats and Apple Porridge
Another delicious way to get your child to eat oats is to turn them into something that makes her think of dessert. Try out this broken wheat, oats and apple porridge for a nutrition-packed breakfast.
Ingredients
¼ up dalia (broken wheat)
¼ cup quick-cooking rolled oats
1 cup unpeeled apple cubes
2 tablespoons of butter
1 cup milk
¼ teaspoon sugar
How to Prepare
Heat the butter in a pressure cooker and add the dalia.
Sauté on medium heat for 3 minutes.
Add the oats and sauté for another two minutes, stirring continuously.
Add the milk along with one cup of water and pressure cook for about 2 whistles.
Let the steam escape first before opening.
Add the sugar and the apples while the mixture is still hot. Mix well until the sugar is dissolved.
Serve warm.
7. Banana Walnut Pancakes
Pancakes are good, but banana pancakes are even better! Children love pancakes, and utilising them as a way of getting your kids to eat fruits is not only smart but also scrumptious. You can always use different fruits to make it different for your kids every time.
Ingredients
¼ cup mashed banana
½ cup finely chopped walnuts
1 cup whole wheat flour
2 tablespoons wheat bran
½ cup milk
4 tablespoons of sugar
½ teaspoon of vanilla essence
½ teaspoon of baking powder
1 tablespoon of melted butter
3 teaspoons of butter to cook
How to Prepare
Mix all the ingredients in a bowl.
Add in ½ a cup of water and mix until there are no lumps in the mixture.
Divide the batter into six portions.
Heat a non-stick pan and pour in the batter into a circle.
Add ½ a teaspoon of butter to the edges and cook each pancake until it is golden brown on each side.
Serve with bananas and drizzled honey while still hot.
8. Almond Banana Smoothie
Smoothies are great for those rushed mornings when you don't have enough time to prepare anything healthy for your child. Milk is a source of calcium that will help your child have a strong body. Here's how you can make a delicious smoothie using milk.
Ingredients
4 tablespoons de-skinned and blanched almonds
1 cup roughly chopped bananas
1 ½ cup chilled milk
2 tablespoons sugar
½ teaspoon vanilla essence
8 ice cubes (optional)
How to Prepare
Combine ½ a cup of milk, bananas and almonds, and blend well.
Add the remaining milk, sugar, vanilla essence and ice cubes.
Serve and enjoy!
9. Papaya Mango Smoothie
Another delicious smoothie for the books! Mangoes are fibrous fruits that aid digestion and papayas are packed with vitamins A and C.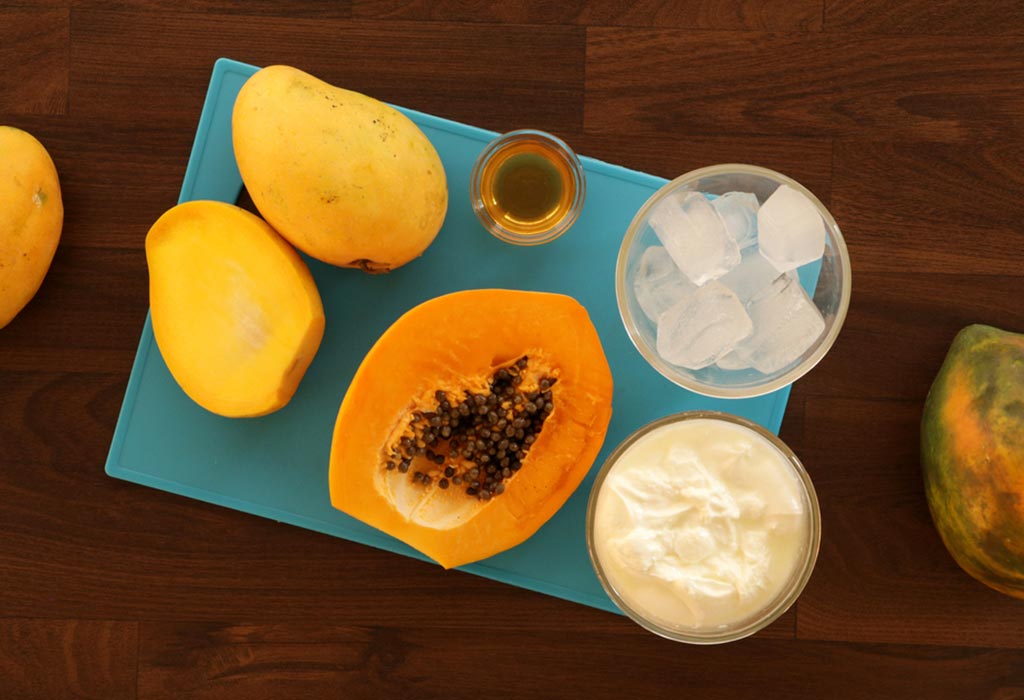 Ingredients
2 cups of papaya pieces
2 cups of mango pieces
1 tablespoon of sugar
1 tablespoon of lime juice
How to Prepare
Put everything in a blender and blend until smooth.
Serve with ice, or just as is.
10. Grilled Banana Chocolate Sandwich
Bananas are good for the heart, the eyes, and overall health. Combine bananas with chocolate, and you have a winner in the eyes of your child!
Ingredients
2 slices of whole wheat bread
1-2 tablespoons of oil/butter
3-4 tablespoons of chocolate spread
1 ripe banana
How to Prepare
Heat a skillet over medium heat.
Spread butter on one side of the bread slice and chocolate spread on the other.
Arrange the bananas on the chocolate spread side and close.
Once the skillet is nice and hot, place the sandwich and press down. Grill on both sides until golden and crispy.
Slice and serve hot.
11. Curd Oats
A variation of the popular curd rice, this recipe uses oats instead, making it a healthier breakfast option for your child.
Ingredients
1 cup of oats
Water and salt as needed
Pinch of hing
1 ½ cup of curd
1 tablespoon oil
½ teaspoon mustard seeds, ¼ teaspoon jeera seeds, 1 teaspoon urad dal
1 sprig of curry leaves
Coriander leaves
2 tablespoons each of grated carrots and cucumbers
2 to 3 green chillies, sliced
How to Prepare
Cook the oats with plenty of water and let it cool completely.
Add the beaten curd, vegetables and salt, and mix well.
Heat some oil in a pan and add the mustard and cumin seeds. Once they begin to sizzle, add the urad dal and fry until the mix turns golden.
Add the curry leaves and chillies and sauté well. Take them off the flame and add the hing.
Pour this into the bowl of curd oats, and mix well.
12. Idli Upma
Idlis are one of the most popular south Indian breakfast recipes for kids as they are easy to eat and are great with chutney on the side. Sadly, the leftovers are not appreciated as much because they can get pretty dry. Well, not anymore – recycle your leftover idlis for this delicious recipe! Leftover idlis are best as they crumble better, not to mention that they are a great way to finish off leftovers!
Ingredients
6 to 8 idlis
1 onion, chopped
Grated carrots
Green peas
1 green chilli, slit
Salt to taste
1 tablespoon of oil
1 teaspoon mustard seeds
2 teaspoon chana dal
1 teaspoon urad dal
1 sprig of curry leaves
Turmeric powder
How to Prepare
Heat oil in a pan and add the mustard seeds. Once they start popping, add the chana dal and urad dal and fry until golden.
Add curry leaves.
Add the onion, green chilli, grated carrots, peas and turmeric powder, and sauté until the mixture begins to sweat. Do not let it brown.
Add the crumbled idlis. Mix well and add water if you feel it is too dry. Check for salt.
Serve hot.
13. Bread Chaat
This is a fun way to get your kids to eat that pea dish you made that they didn't really like. Turn it into a homemade version of a beloved street food, chaat. Not only is this different, but it's also fun for your kids.
Ingredients
½ cup of peas, ¼ cup of pomegranate pearls
½ cup of yoghurt
Tamarind chutney
Green chutney
To sprinkle: roasted cumin powder, red chilli powder, chaat masala
A chopped handful of onions, tomatoes and cilantro
½ cup sev or boondi
Bread
How to Prepare
Pressure cook the peas with turmeric powder, salt, chilli powder, and garam masala.
Prepare the green and tamarind chutney, beat the yoghurt with salt and sugar, and toast the bread pieces.
Arrange the bread pieces on a plate and pour the pressure-cooked gravy on top of it. Add the onions, tomatoes, and cilantro. Pour a little tamarind and green chutney over it, and the yoghurt over that.
Top it off with pomegranate seeds, chaat masala, chilli powder, cumin powder, and sev or boondi.
14. Jalapeno-Cheese Paratha
Another scrumptious recipe and a favourite among the many north Indian breakfast recipes for kids, this stuffed paratha recipe is a delightful mix of tangy jalapenos and a lot of cheesy goodness.
Ingredients
1 cup whole wheat flour
½ teaspoon salt
½ cup of water
2 cups grated cheese
¼ cup jalapeno
How to Prepare
Mix the flour, salt and water until it forms a soft dough.
For the filling, mix the jalapenos and the cheese together and roll the mix into six small balls.
Divide the dough into six equal parts and roll into small balls. Roll them out.
Place a cheese and jalapeno ball in the centre of the dough and pull the dough around to cover. Do this with all six and set aside for ten minutes.
Gently roll out the balls into flat discs, just like a regular paratha.
Fry on a tawa until cooked on both sides.
Serve with butter or cream cheese.
15. Whole Wheat Dosa
Whole wheat contains complex carbohydrates and proteins that help boost metabolism. We all know about making parathas with whole wheat flour, but have you ever tried a dosa made from the same?
Ingredients
1 cup of whole wheat flour
2 tablespoons of fine sooji
½ teaspoon salt
1 teaspoon sugar
1 tablespoon oil
¼ teaspoon black pepper
½ teaspoon ajwain
½ teaspoon baking soda
1 ¼ cups of water
4 tablespoons of oil
How to Prepare
Mix all the dry ingredients (flour, sooji, salt, sugar, black pepper, baking soda, ajwain) together. Add water and mix until you get a smooth batter. The batter should not be too watery but of pouring consistency.
Use a non-stick pan over medium heat.
Pour a ladleful of the batter into the pan and spread evenly.
When the batter starts to dry, smear a teaspoon of oil over it and cook it until it is golden brown. Flip it over and cook until golden brown.
Wipe the pan down after every dosa as this ensures that the others cook evenly.
Dosa is ready to be served with sambar or chutney.
16. Tumbler Idli
A type of idli that has its origins in Karnataka, the change in shape from the normal idli will have your child reaching for it out of curiosity.
Ingredients
Idli batter
Cylindrical tumblers
How to Prepare
Take a large, flat-bottomed vessel and fill 3/4th of it with water.
Grease the tumblers with some oil. Fill them with the idli batter.
Place the tumblers in the vessel for around 15 – 20 minutes. Serve hot with chutney and sambar.
17. Palak Puri
Most children dislike green, leafy vegetables, so try sneaking some into their food using this delicious recipe. Feed your child spinach as often as you can as it is a rich source of minerals and vitamins. What's more, there is also an added benefit of your child getting excited over a green-looking puri. You can use beetroots to make them red or pink, and carrots to make them orange!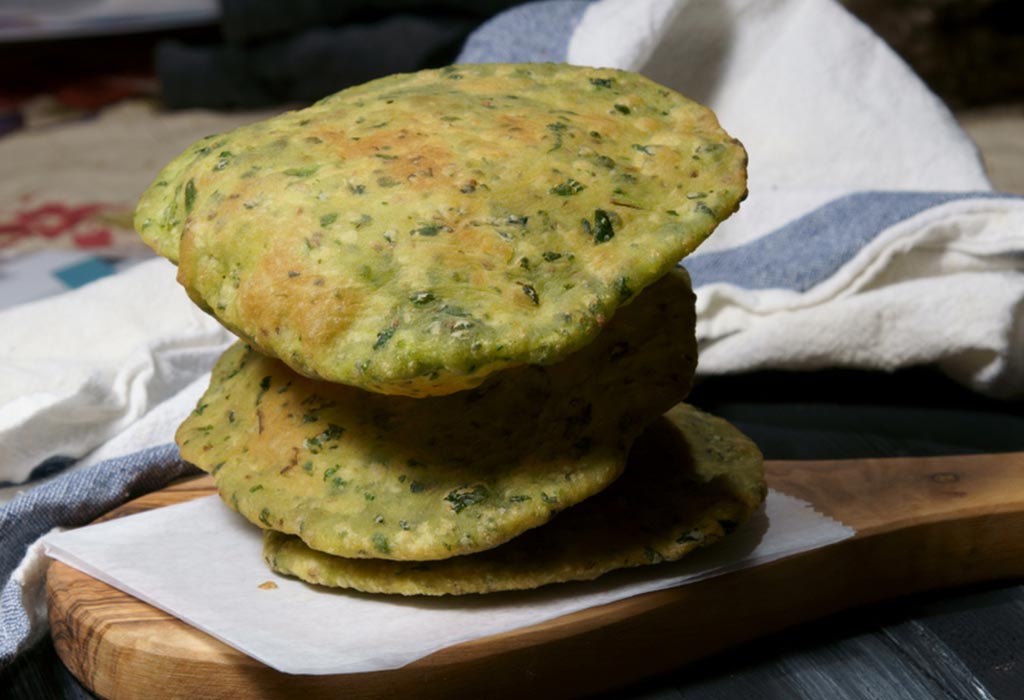 Ingredients
2 cups of whole wheat flour
500 g washed and blanched spinach
2-3 teaspoons ghee/olive oil
1 teaspoon ginger paste
1 teaspoon green chilli paste
½ teaspoon cumin seeds
Oil
Salt to taste
Water
How to Prepare
Chop the blanched spinach and blend it into a paste.
In a large bowl, mix together the flour, spinach paste, ginger paste, salt and green chilli paste. Add water and mix well.
Add the olive oil or ghee and knead thoroughly. Cover and set the dough and aside for ten minutes.
After ten minutes, knead the dough and make small balls out of it.
On a floured surface, roll out the balls into small discs.
In a deep pan, fry the puris and serve with chutney.
18. Appam (Rice and Coconut Pancakes)
This dish is very popular in Kerala as a healthy breakfast meal. It can be seen as a healthy version of pancakes.
Ingredients
1 cup of rice
2 cups of grated coconut
3 tablespoons sugar
½ teaspoon yeast
Salt to taste
How to Prepare
Soak the rice for a few hours. Add the soaked rice to the mixer along with the coconut, and grind into a smooth paste. Add some water to the mixture if needed.
Add salt and sugar to the mix. Then, add the yeast and blend for a while longer till you get a dosa consistency batter.
Refrigerate overnight, but leave it out in the morning as the batter should be of room temperature for the appams to get ready.
Heat a non-stick pan and add oil.
Pour the batter and spread it across the pan.
Let it cook on both sides, and serve hot.
19. Poha
Poha is prepared differently in different states, but it is certainly considered a breakfast staple in most households as it is high in iron and carbohydrates. Adding vegetables to it turns it into a complete meal.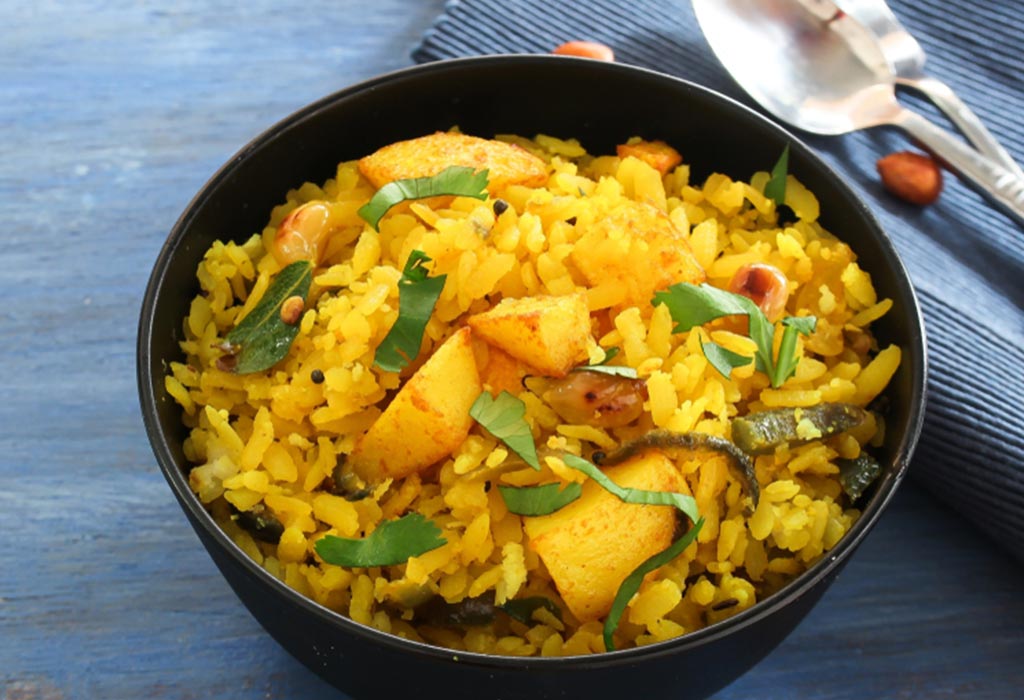 Ingredients
1.5 cups poha (flattened rice)
1 finely chopped onion
1 diced potato
1 finely chopped carrot
1 green chilli
8-10 curry leaves
A handful of peanuts
½ teaspoon chana dal, ½ teaspoon urad dal, ½ teaspoon mustard seeds, ½ teaspoon cumin seeds, ¼ teaspoon turmeric
Salt to taste
2 tablespoons of oil
1 tablespoon lime juice
How to Prepare
After washing the poha, let it sit for some time as it softens the poha a bit.
Heat the oil and add some peanuts. Once they are slightly fried, add the chana dal, urad dal, mustard seeds and cumin seeds.
Once they start to pop, add the green chillies and fry lightly. Add the onions and curry leaves and cook till the onions start to sweat.
Add the vegetables, salt and turmeric and sauté well for a minute.
Cover and let it cook for 8-10 minutes.
Once the veggies are soft, add the drained poha to it and mix well. Let it simmer for a few minutes. Add the lime juice and mix. Serve hot.
20. Sooji Upma
Sooji is made up of durum wheat which keeps you full for a longer period of time. It is a great energy-booster and makes for a great breakfast dish to give your children before sending them off to school.
Ingredients
1 cup of sooji
3.5 cups of water
A few tablespoons of ghee
A tsp of mustard seeds
2 tsp of urad dal
2 tsp of chana dal
1/2 a cup of onions, sliced
1 small green chilli, slit
A few cashew nuts
A sprig of curry leaves
Salt to taste
To garnish: coriander leaves, freshly grated coconut
How to Prepare
Boil some water. Heat a saucepan with some ghee and add mustard seeds. Once they start to splutter, add the dals and mix until golden.
Add the onions, curry leaves, cashew nuts, and green chillies.
When the onions are translucent, add the sooji and sauté
Boil some water in a separate saucepan. Once done, add the salt and the boiling water into the sooji mix and stir quickly. You know the upma is cooked when all the water gets absorbed.
Mix well and garnish with coconut and coriander leaves. Serve hot.
While children can be very fussy eaters, there are always ways to get them to become more interested in food. Using fruits and vegetables in a smart way can make a big difference when it comes to your child's diet. Children love colours, and so making use of the different colours that fruits and vegetables come in can really help your children eat better. Which one of these recipes is your child's favourite? Tell us!
Also Read: Lunch Box Ideas and Recipes for Kids