First Aid Kit for Babies – Why You Need and How to Make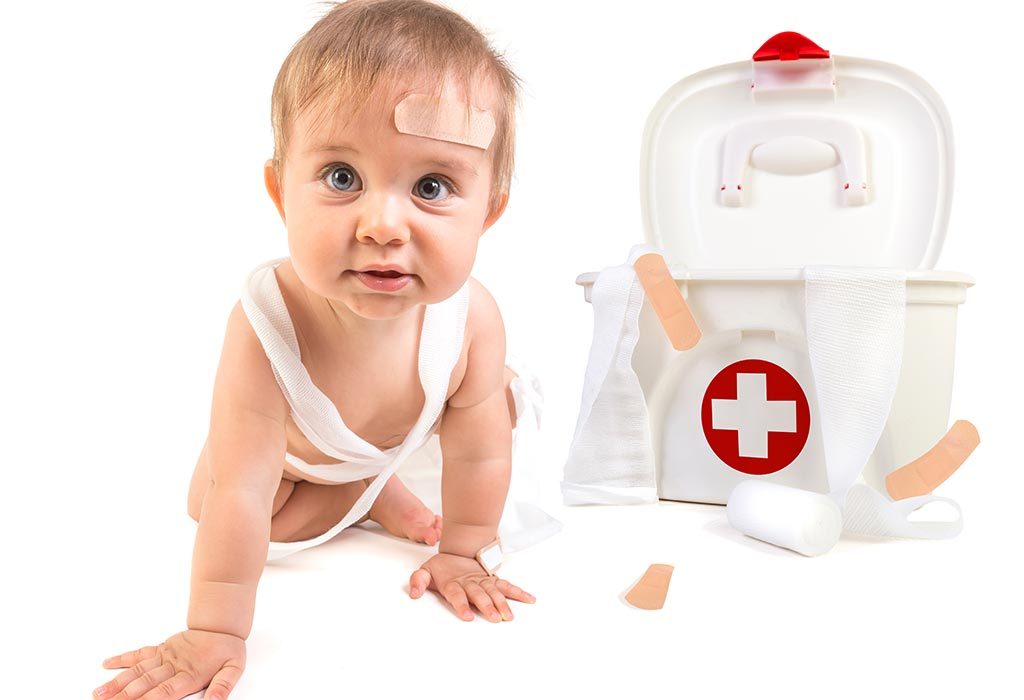 Parents do their best to take care of their baby and to protect him from any ailments or injuries. However, it is very common for any baby to fall sick or get hurt. If your baby falls sick, do you panic? Do you take him to the doctor immediately for any minor injury? If the problem is not severe and can be easily tackled at home, then you need to be prepared for it. Hence, a first aid kit comes in handy if your baby falls or has some other problem. But what should a first aid kit for babies include? Find out!
Why You Need First Aid Kit for Infants
As parents, you will be extra cautious just to make sure that your baby is fine, but ailments and injuries are unavoidable when your little one starts crawling and walking. Therefore, you should keep a first aid kit handy at home to deal with such unforeseen medical situations. Small babies are prone to minor injuries or medical conditions such as flu, cold, stomach bug etc. Keeping a first aid kit at home may help you take prompt medical care of your baby. Also, many times the injuries or illnesses can easily be managed at home without any intervention from your doctor. Sometimes it may just be your love, care and first aid assistance that your baby may require to feel better. However, you need to understand the difference between minor medical issues and issues that may need immediate medical assistance. This is because serious medical issues cannot be managed at home and may require prompt medical intervention.
Should You Assemble or Buy a New First Aid Kit for Your Newborn Baby?
Parents often wonder if they should buy a ready-made first aid kit or assemble it on their own. Well, it is recommended that you opt for the one that is available in the market and add extra products that you may need for your baby. This is because; the readymade ones come with the basic medical supplies and may not contain all the emergency supplies that you may be looking for. Therefore, it will be a good idea to procure the kit from the market and keep adding on supplies as per your requirements.
We recommend that you store your first aid kit in a cool and dry place, away from heat and direct sunlight. Also, keep the kit at a place, which is out of reach for the kids. Always keep the measuring cups of various medicines such as cough syrups, fever medicines, and other such medicines with you to administer the correct dosage to your baby. Keep checking the various medicines and ointments in your kit for their expiry date and replace the expired ones on a regular basis.
However, you must consult your doctor for the correct dosage of various medicines that you may want to administer to your baby as overdosage may have fatal consequences, and less than required amounts may not cure the ailment properly. Therefore, your doctor can help you with the correct dosage.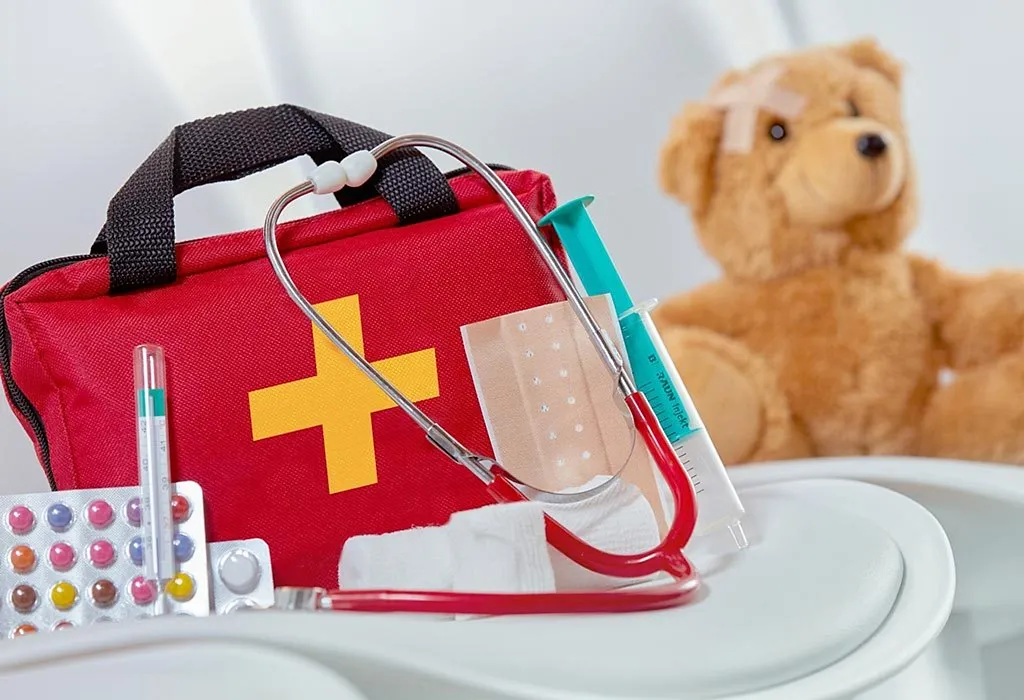 Checklist for Making First Aid Kit for a Baby
Here's an infant first aid kit checklist or your baby's first aid kit shopping list:
Antipyretic and analgesic medicines, to control fever and pain. Paracetamol is one of the safest medicines to control fever and pain in babies.
A thermometer, preferably a digital one is convenient to use for babies.
Cough syrup or a decongestant that is prescribed by your baby's doctor.
Calamine lotion to take care of skin rashes.
Antihistamine cream or lotion for bug bites, stings, or insect bites.
A saline solution to clear out the blocked nose or to clean sore eyes.
Few sachets of oral rehydration solution or ORS, to be used during dehydration or diarrhoea.
Few sterile gauzes, cotton balls, sticky bandages to secure wounds and bruises.
An antiseptic solution and antiseptic cream for the wounds. After cleaning the wound with the solution, you may apply the cream.
An ointment for burns.
Ice packs for providing relief from pains. It can be used when your baby falls or hurts himself and may have swelling around the injury.
A pair of scissors to cut the gauzes and the bandages.
Tweezers for pulling out thorns or splinters.
A baby nail clipper.
Measuring cups, droppers, or syringes for measuring medicines. Though most syrups come with calibrated cups, it is a good idea to keep few extra ones handy.
Few pairs of disposable sterile gloves to maintain hygiene while taking care of your babies injuries.
A first aid manual is a must as it may explain the correct procedure of using various products.
The above-mentioned are some of our recommendations or baby first aid items that you may include in your first aid kit.
Do You Require More Than One First-Aid Kit?
Well, it all depends on your needs and lifestyle. If you want, you may have a separate adult and baby first aid kit at home. Also, if you travel often with your baby, you may have a baby's travel first aid kit too. You can have one detailed and a big first aid kit at home and carry a small one with basic items in your baby bag, carry bag or keep it in your car. No matter how many first aid kits you wish to keep, it is important that you secure the lids tightly and keep the kit away from your baby and any small kids in your home. Small babies, toddlers and younger kids in the house may harm themselves if they get hold of your first aid kit.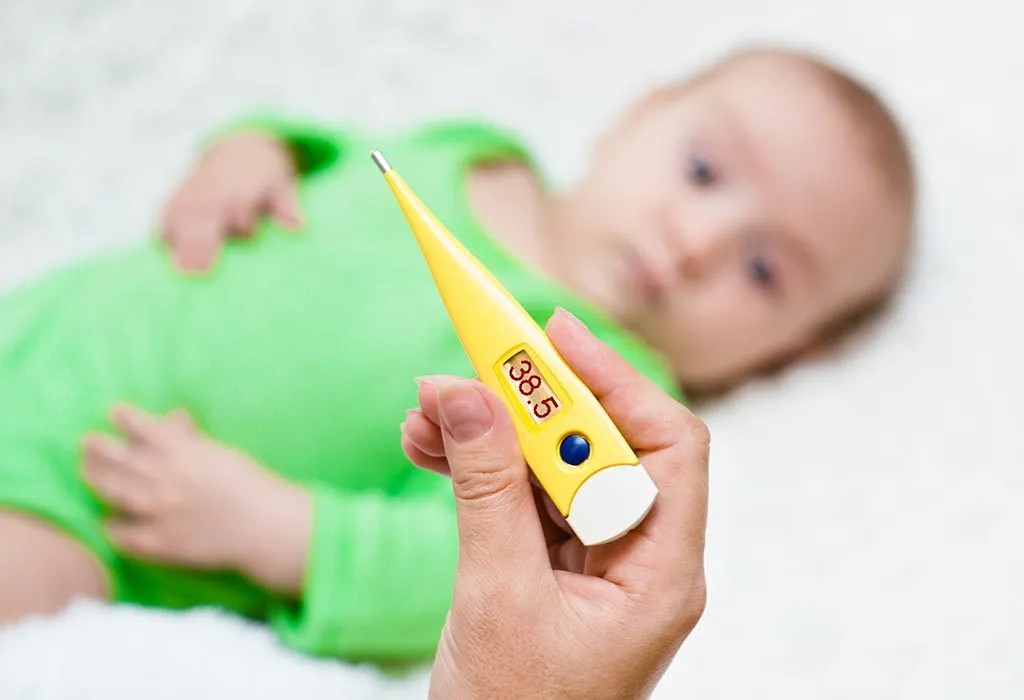 In Case of an Emergency – Things to Do
All of us dread emergencies and especially when it concerns our baby. However, we recommend that it is not only important to maintain your calm, but it is equally important for you to take some prompt actions. Here are some things that you may be required to do in case of an emergency:
Keep all your baby's medical or health documents in one place, so that you won't have to assemble them when the need may arise.
Keep your doctor's phone number, the nearest hospital's phone number or any other medical emergency number on your speed dial. Alternatively, you may write all these numbers on a piece of paper and stick it inside your first aid kit too.
Keep the information of the blood group of various family members handy too, in case of an emergency where blood may be required.
Keep your neighbour's or close family member's numbers handy too, in case you may have to rush to the hospital, and you have other children in the house to take care of.
In case, your baby gets seriously injured. We recommend that you do not move around much with your baby. Keep your calm and try and relax your baby too, till the medical help arrives.
The above-mentioned are some of the tips that may help you deal with most emergency situations effectively. Babies are very unpredictable, and you do not know when you may need any kind of medical care for them. Therefore, as a parent, be prepared to deal with any kind of medical situations and for that, you need to prepare in advance.
Parents may not be doctors, but they know what may be good for their kid and thus it is important to take prompt medical action in case such medical emergencies arise. Also, discuss with your doctor to know what all medicines, ointments and other basic medicines that you can safely use for your baby. We strictly recommend not using any kind of ointment, medication, or treatment method for your baby, without your doctor's prescription.
Also Read: Newborn Baby Shopping