Figs for Babies – Health Benefits and Quick Recipes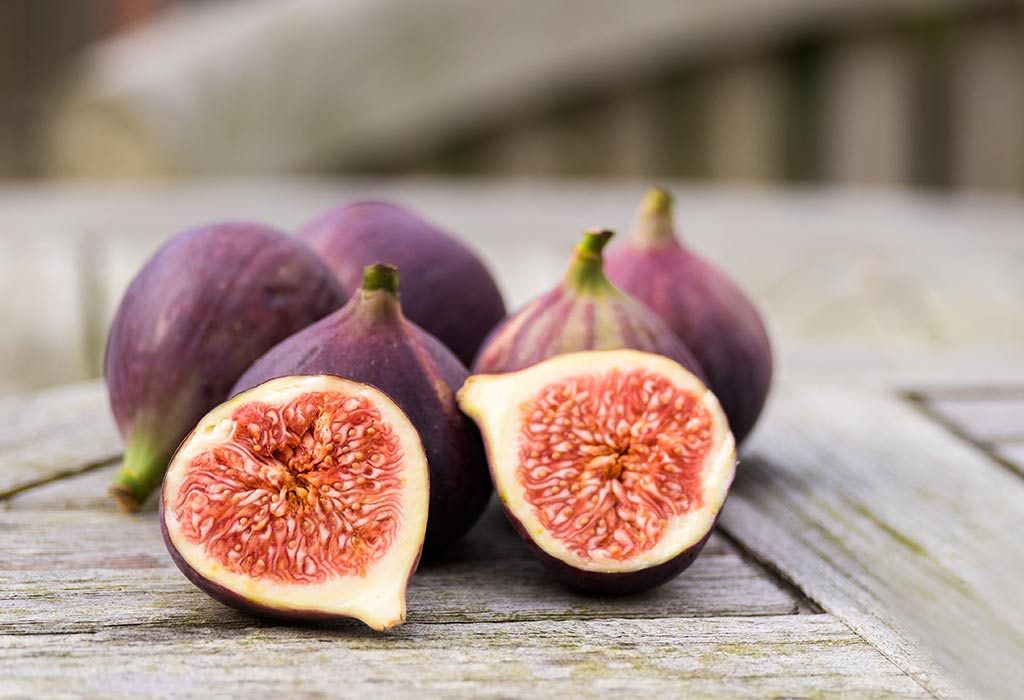 We might get bored of cooking and feeding the same items for our babies every day, despite the meal being healthy. In such cases, mothers will be looking to experiment – the biggest question in their minds will be whether something is good for the baby or not.
Video : Figs for Babies – When and How to Introduce, Benefits
Figs are one of the more healthy fruits available and are commonly eaten by adults who have problems with digestion system. Figs, incidentally, are one of the best health supplements you can give to your baby – it has a lot of the essential nutrients and minerals that can help your child grow up well.
Are Figs Safe for Babies?
Can babies eat figs? Yes, figs are safe for babies. They are a great nutrient and fibre source which can help your baby in growth and development. Figs are also an antimicrobial agent, which can help in the development of the immune system of the child. They are beneficial for the digestion system of the baby.
Nutritional Value of Figs
Here is the nutritional value of 100 gram of figs.
| | |
| --- | --- |
| Nutritional Component | Value per 100 g |
| Water | 79.1 g |
| Calories | 74 |
| Protein | 0.7 g |
| Total Lipid (fat) | 0.3 g |
| Carbohydrates | 19.2 g |
| Dietary fibre | 2.9 g |
| Vitamin C | 2 mg |
| Riboflavin | 0.1 mg |
| Vitamin B6 | 0.1 mg |
| Vitamin A | 4 ug |
| Thiamin | 0.1 mg |
| Niacin | 0.3 mg |
| Folate | 6 ug |
| Vitamin E | 0.1 mg |
| Vitamin K | 4.7 ug |
| Calcium | 35 mg |
| Iron | 0.4 mg |
| Magnesium | 17 mg |
| Phosphorous | 14 mg |
| Potassium | 232 mg |
| Sodium | 1 mg |
| Zinc | 0.2 mg |
Source: https://nutritiondata.self.com/facts/fruits-and-fruit-juices/1884/2
Health Benefits of Figs for Infants
There are many health benefits of figs for infants, and some of them are:
1. Digestion
Even among adults, figs have been known to alleviate gastric problems naturally. The digestive system of infants are only developing, and are weak when they are young – figs can be a great supplement and can also help them absorb the nutrients better.
2. Laxative
Ripe figs have large amounts of dietary fibre, which can help when it comes to constipation problems. Figs have been known as a natural laxative since they are high in fibre.
3. Essential Vitamins and Minerals
As evident above in the table, figs have a lot of nutrients and minerals which can help your child grow and develop well. Minerals like copper, iron, magnesium, potassium and calcium are extremely important for infants since their body is rapidly developing – and figs can provide them in adequate quantities.
4. Antimicrobial Properties
Figs are antimicrobial agents, which mean that they strengthen the immune system of the child as it is weak at young ages.
5. Liver
Infants are susceptible to a lot of infections and conditions like hepatitis and jaundice. Figs can provide adequate protection in this case – even doctors prescribe dried fig recipes for babies at times.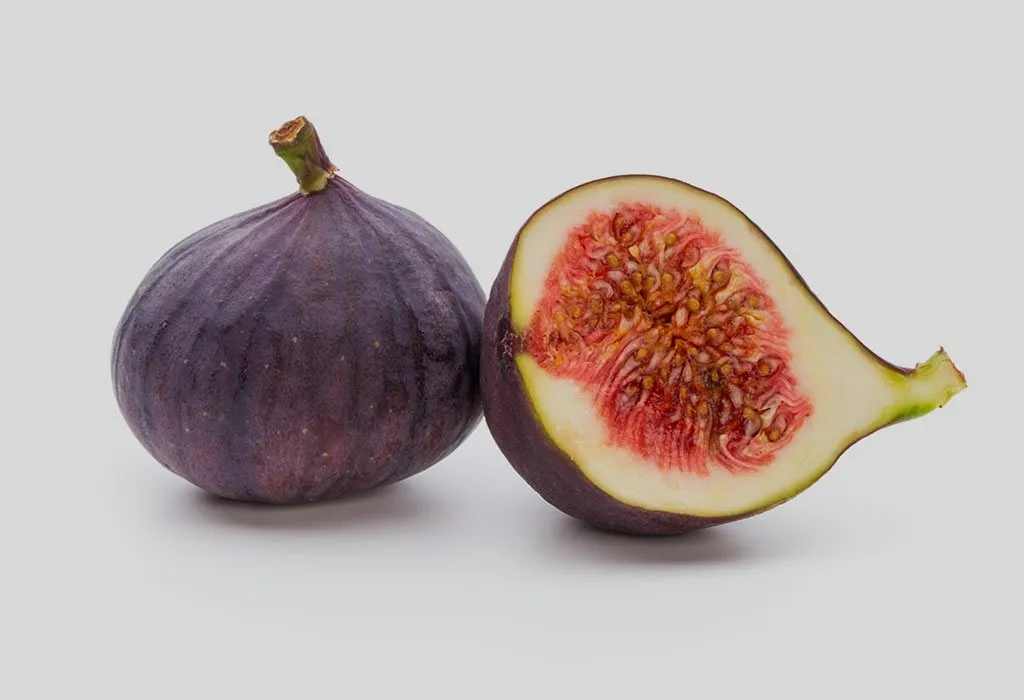 When Can You Give Figs to Babies?
Figs for babies can be introduced as early as six months, according to reports. However, you should ensure that the baby is comfortable with other foods before giving it.
How to Choose and Store Figs
When choosing fresh figs, check for any blemishes or marks that may be visible on the outside. With dry figs, always go for reputable brands with strong packaging. Figs can last around five days outside, and up to a week in the refrigerator when they are fresh. Store them in a dry place, or refrigerate them.
How to Prepare Figs for Babies
Depending on the age of the child and whether he is used to solid foods, you have a variety of recipes to choose from. Else, it would be better to give it in the liquid form, as fig syrup for babies.
Healthy Fig Recipes for Babies
You can use these recipes when you want to incorporate figs in your baby's diet.
1. Fresh Fig Mash for Babies
This method is great if the baby has not grown used to chewing and solid food just yet.
Ingredients
Two fresh figs
Method
This is fairly easy to make. First, chop the figs into small pieces. Then, just mix them or mash them up well to make a pulp or mash. You can also add this to porridge, to make it easier to eat for your child.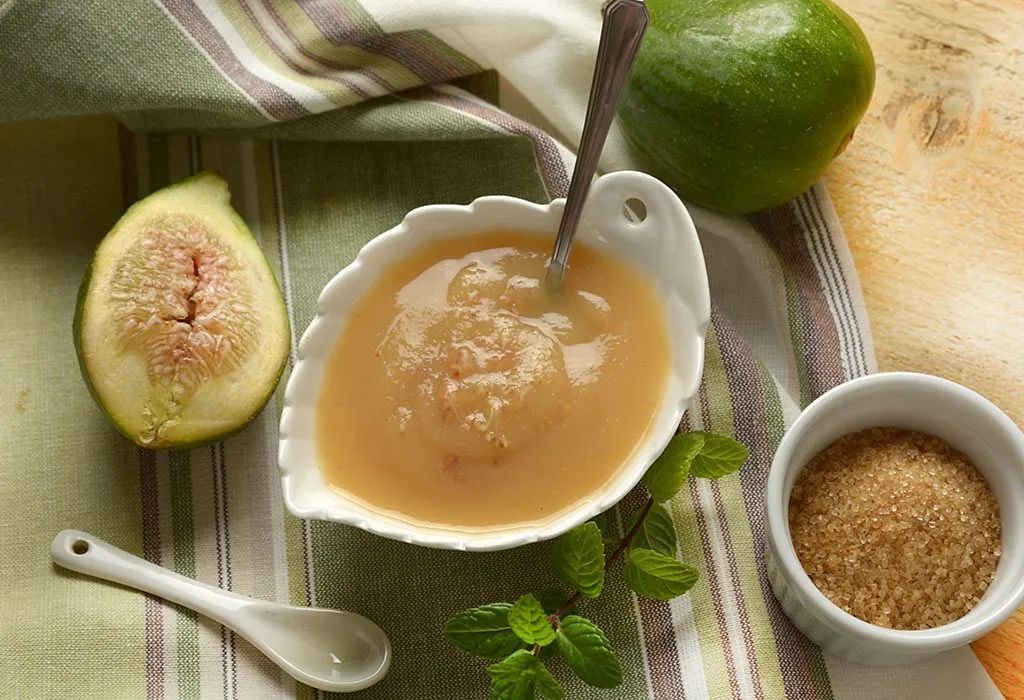 2.Baked Figs
If the baby has a taste for solid food and can chew well enough, this recipe is suitable. It is also easy to make.
Ingredients
3 figs
Olive oil
Method
Preheat the oven, and place the figs inside with a coating of olive oil. Then, let them bake until the skin of the figs become puckered and soft. Mash the figs, and feed them to your child.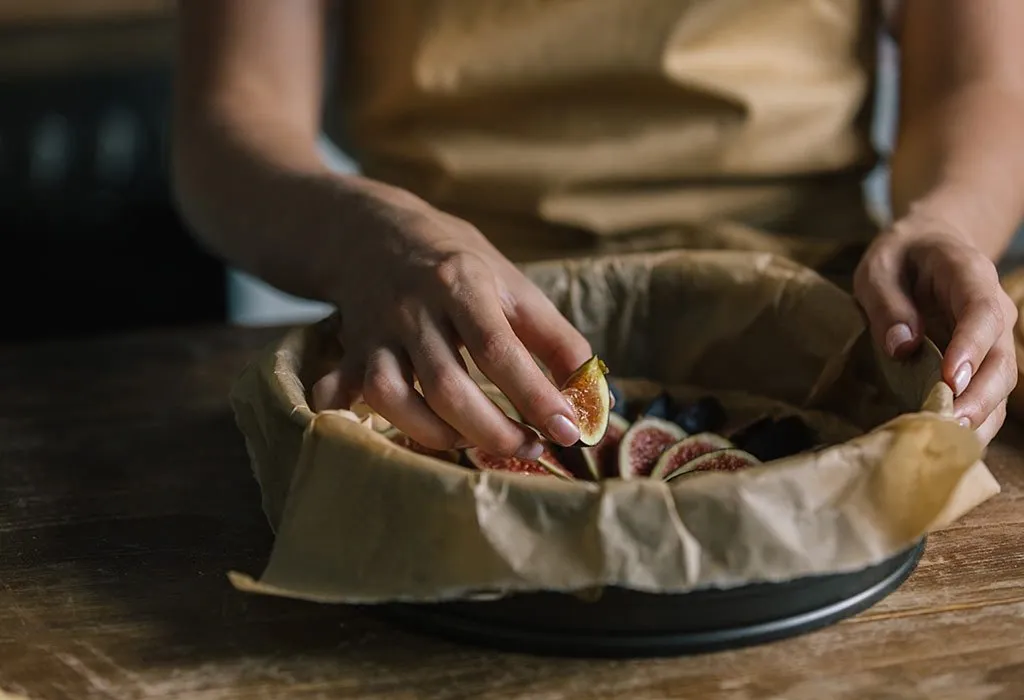 3. Fig Milkshake
This is easy to make, and your child will be asking for more!
Ingredients
Fresh figs
Honey (not suitable for babies younger than one year of age)
Milk
Method
First, wash and chop the figs into small pieces. Then, simply blend all the mixtures and serve it cold.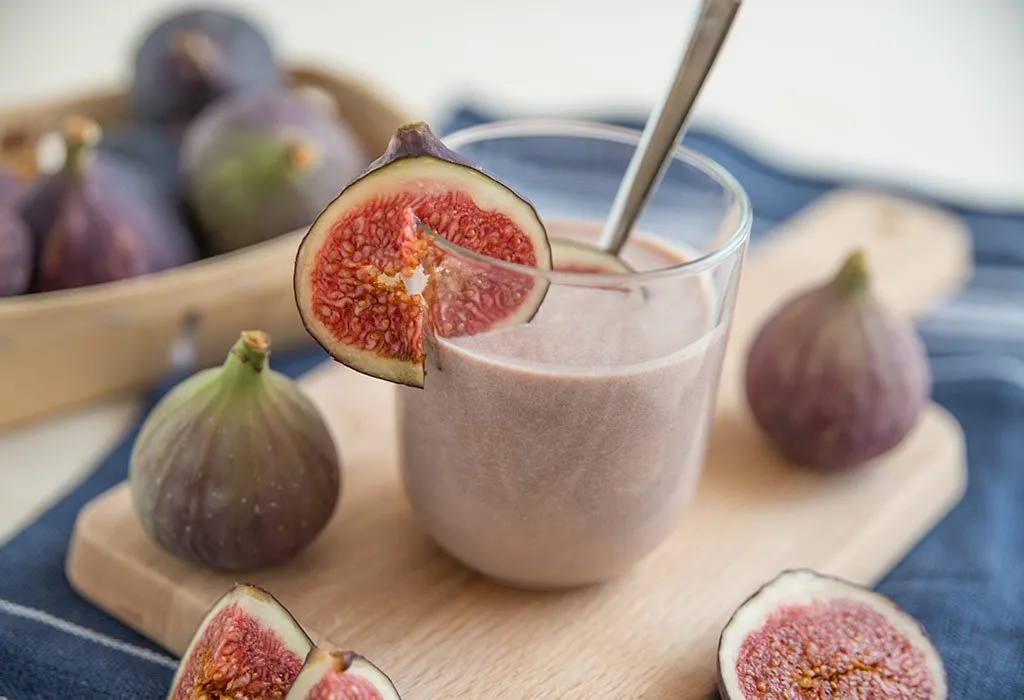 4. Fig Water
This is a traditional constipation recipe in Indian households.
Ingredients
Figs
Water
Method
If the figs are fresh, just soak them in water overnight, and strain the liquid to give to the child. Else, boil the dry figs in water until the water becomes brownish, and feed to the child.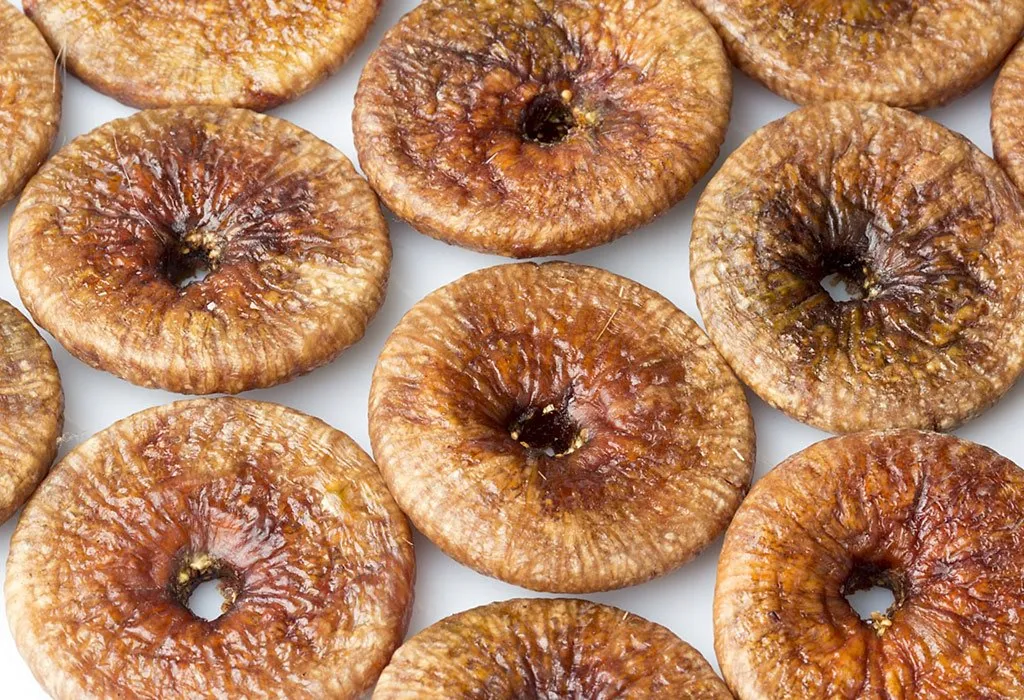 5. Dried Fig Puree
This is also a suitable fig puree for babies who have not switched over to solid food yet.
Ingredients
Figs
Milk if necessary
Method
First, soak the figs in warm water – 2 or 3 of them. Then, blend this water with the figs into a smooth puree, and you can even add breast milk or formula to smoothen the puree out.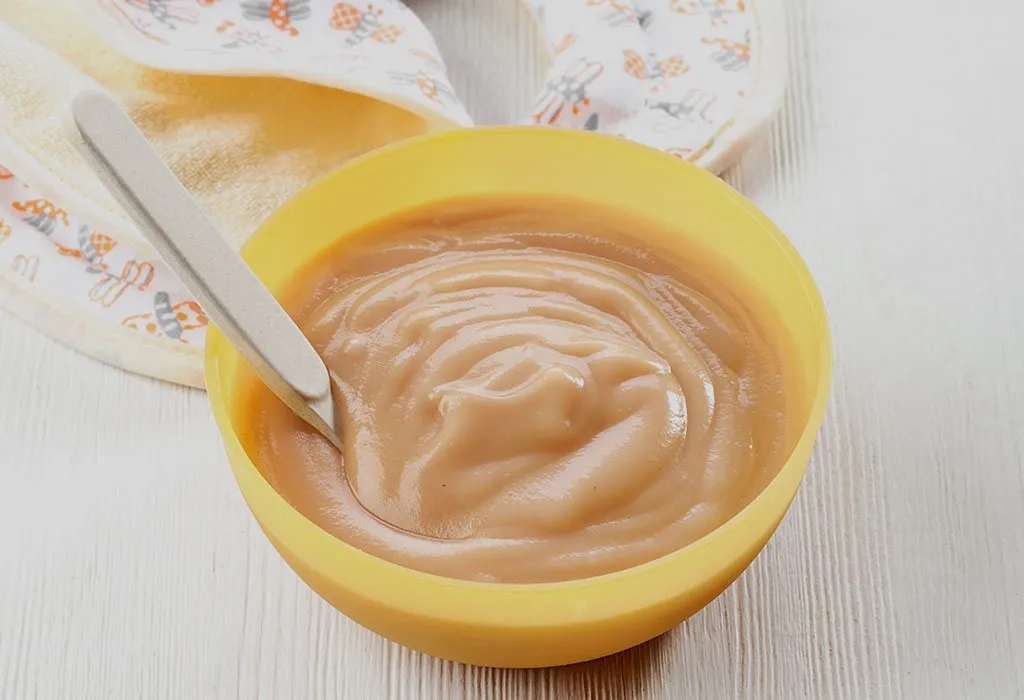 Figs are a great source of nutrition for children and can help in the development of the digestive and immune systems in the child. However, make sure that the recipe you choose is suitable for your child to avoid fits and hisses!
Also Read: How to Increase Immunity in Infants