Creative Talent Show Ideas for Kids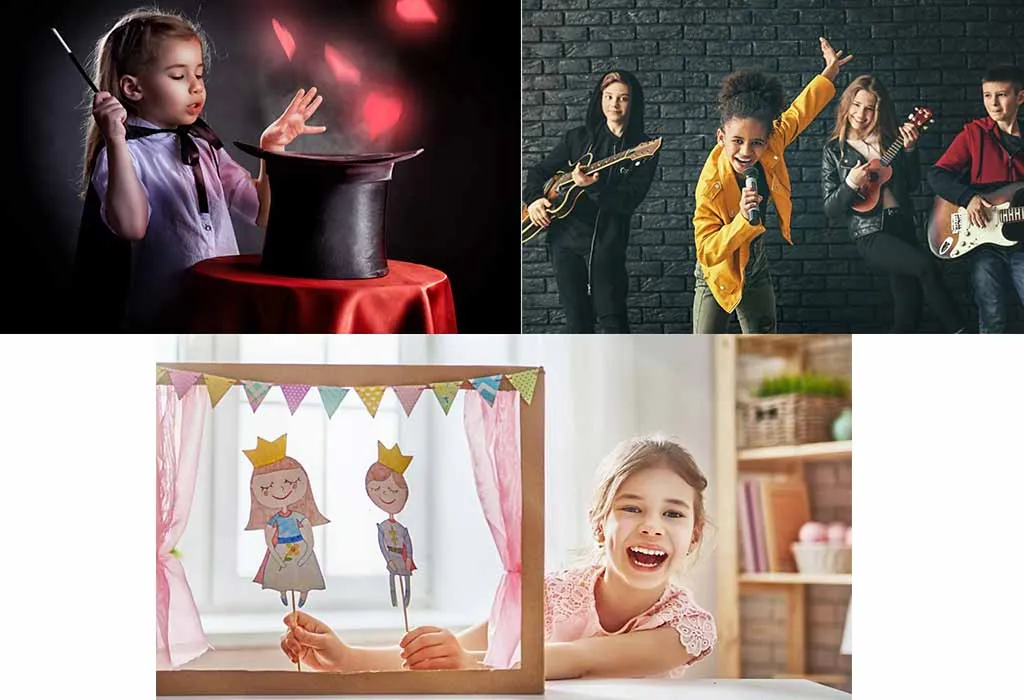 Participating is more fun than watching. The thrill of participating and performing is worth a lot more than public recognition. Tough or easy, talent shows provide opportunities for kids to showcase their creativity and style. Talent shows give children an opportunity to explore the talent they have and also enact what their talent boosts their confidence while helping with stage fright. In this article, we've shared some kid talent show ideas suitable for kids. Parents can give these ideas a thought and enroll their little ones if they have an inclination toward performing. Let's take a look at some of the talent show ideas below.
Factors to Consider Before Choosing a Talent Show for Your Child
Here are a few factors you will need to consider before deciding which talent could be the right one for your child:
1. Does your kid already have a talent?
It is important to assess your kid's abilities. If he has a talent, then half the battle is won. You can then get a little creativity to turn the act into a memorable event.
2. Is it a solo or group act?
Some acts look good solo; some, in groups. Decide if the act will look good if performed solo or in a group, and then work on it.
3. Decide the time of the act.
Make sure the activity you choose lasts for the time limit specified by the host. If there is none given, then a three-minute act is ideal. This gives enough time to perform and also avoid slipping into boredom.
4. Account for time constraints.
Make a rough estimate of how much time it will take to practice and master the act. One needs to know if the act is practical or not.
5. Practice makes perfect.
Practise is the key to nail any performance. Tape it, watch it over, and make amendments as necessary.
6. Use props.
Never underestimate the role of props. They can perk up the performance and lend it a classy appeal.
Best Talent Show Ideas for Children
To come up with unique talent show ideas for preschoolers and kids can be a daunting task. Here are 30 ideas to get you started. These ideas could be modified to get your kids to perform and steal the show!
1. Painting
A drawing and painting act could put your kid in the spotlight. It is one of the best talent show ideas for 5-year-olds. A big canvas, the right props, a spotlight, and some engaging background music can mesmerise the crowd.
2. Karate
This is not a typical stage act, but a few graceful karate moves put together could become a show stopper. Practice a routine, starting with the easiest move, gradually progressing to tougher ones with breaking a board sequence for a grand finale. Make sure your child wears the Gi and the belt.
3. Dance Medley
Choreograph a twenty- to thirty-second dance segment with creative, unique moves and a dramatic end. Dress your kid suitably, and you'll have everyone grooving to the tune along with your little one.
4. Magic Show
Magic acts are always entertaining. Some of them are inexpensive, too. The most important thing is to choose the right magic tricks and master them with practice. Get your kid to dress up in a magician's outfit with the props and have some music in the background on the performance day.
5. Ventriloquist
Impactful and entertaining, ventriloquism acts require certain physical abilities. Choose a character and get your kid to practice a fun skit around it.
6. Singing
If your child is a singer and can sing confidently on stage, just let him do it. There is nothing more impressionable than singing. Playing an instrument and singing will also create an impression.
7. Hand-Clapping Routine
With the right song and the right routine, hand-clapping can be mesmerising. A song like We Will Rock You by Queens is a perfect choice to start at a slow pace and progress gradually to add excitement.
8. Stand-Up Comedy
Humour is entertaining and engaging. If your kid loves to narrate, a monologue on childhood troubles, parenting, or family visits could tickle the audience's funny bone.
9. Impersonation
Can your kid mimic personalities, cartoon characters, or even teachers? Then turn it into a show with some practice. Encourage your child to study the person he wants to impersonate and practice in front of a mirror. You'll be amazed at how he can pick up the body language, expressions, voice, etc. and wow the audience.
10. Word Power
Is your kid a great orator? Then, giving a speech about a stirring topic. Using some props and adding a dash of humour and originality can intrigue the audience. You may support with attractive visuals to keep the audience engaged.
11. Lip Sync
This idea is perfect for those who cannot sing but can bring out some great emotions. If your kid likes to dress up and give a performance, this is a must-try. Get him to dress up in quirky costumes to make it fun! For example, your kid could dress up as a granny to dance on Beyonce's Single Ladies.
12. Jump-Rope
This is a perfect talent show idea for a group of kids. They can set a routine and practice jumping over ropes in different patterns to upbeat music. Hip-hop works best for such acts.
13. Football Routine
A football routine starting with the basics like dribbles and switches to a speedy finish can be a great act. With plenty of tutorials on the internet, kids who love football can really excel and amaze the audience.
14. Cooking
An entertaining and engaging activity, cooking is a wonderful skill to display! Cupcakes are the best choice, and kids could work around the icing and get the audience to taste them, too.
15. Athletics
Kids could show their nimble feet by grooving to funky music with some routine basketball moves.
16. Gymnastics
Cartwheels, splits, flips, and tumbling – all rolled into one entertaining gymnastics act with some live music in the background makes for a great talent show idea.
17. Poetry
Pick and choose a compelling poem on a topic of your choice. Or, your kid could even write his own. Get him to practise voice modulation, diction and recite it in front of the mirror to wow the audience.
18. Juggling
Even an ability to juggle is worth an act. Kids can set up a skit and choose relevant props to juggle.
19. Ribbon Stick Twirling
Colourful ribbons attached to sticks can make for a great prop for an act. Get kids to practice movement routines with ribbon stick twirlers to cheerful music. This act needs a lot of practice and can be real fun for the audience to watch.
20. Hula Hoops
With some LED lights, hula-hoop routines can be a classic act! Some complex, dynamic choreography that includes various body parts can get the audience grooving, too.
21. Knee Ballet
A well-rehearsed knee ballet could leave your audience in splits. Design a funny outfit for the legs and the feet (knee down) and choose a groovy song to perform. A French Can-Can would be ideal. Don't forget to cover the rest of the body with a blanket.
22. Pogo Stick Jumping
With some complex steps in the routine, pogo stick jumping can steal the show! Add obstacles, jumping rope, or a ball can enrich the performance and keep the audiences on the edge of their seats.
23. Yo-Yo Tricks
Yo-Yo acts can be great if the kid is really skilled. With some glow-in-the-dark painted sticks, one can come up with a wonderful repertoire of tricks.
24. Beatbox Routine
Beat-boxing requires practice to refine the skills, and it is a unique act to put on for a school talent show.
25. Rap Battle
If your child can rap lyrics confidently, get him to go solo. You could either write a piece of your own, let your kid do it if he is a natural, or get the audience to choose something for him to rap on the spot.
26. Wii Dance
If you have the equipment to project on the big screen, your child can perform a Dance Dance revolution song on Wii. Kids can also complete songs set at higher levels.
27. Pets Training
Parrots, dogs, and cats make for some wonderful stage companions. Try to build a story around the tricks with some interesting outfits to pair with. A duet with your parrot or a dance routine with the dog could impress the audience.
28. Roller Skating
Roller skating routines on stage could be fun. The stage must be safe, and the routine must be adequately complex with some great music to move to the beat.
29. Interactive Science Project
Audiences love to be involved in performances. Kids could set up a science project and make it an interactive act by getting the audience to ask and answer questions.
30. Puppet Show
Everyone loves puppet shows. Your child can dance, sing, recite – the list is endless when it comes to puppet shows. Above all, it is enjoyed by all age groups.
31. Acting
If your little one loves the stage and leaves no chance to perform, then they can simply act as their favorite character for the talent show.
32. Circus Act
A circus is a fun event that today's kids haven't seen much of. So why not make your child present a circus performance for other kids? Let your child explore the options of performing a circus act for a change of pace. They could even work with their friends to do a group performance.
33. Tell a Joke
Do you have a little comedian at home? This clever talent of your child is sure to catch all the laughs and giggles from the audience. Let your kid practice telling different types of jokes to deliver to the audience.
34. Photography
Photography as a talent is less recognised by children. If your child loves to click photos, then make your child display a presentation of their work.
35. Skateboarding
A fun sport that isn't that popular compared to other sports played by children, but it is just as fun. Make your child practice some fancy tricks using the skateboard for the talent show.
36. Dramatic Reading
Dramatic reading is reading by using different voices, tones, and volumes. Help your little one read dramatically for the show.
37. Yodel
Yodelling is a quickly disappearing art that needs to be revived. Make your little one yodel a part of a song or even an entire song if they are up for it.
38. Tap Dance
Tap dancing is quite a fun dance routine. Let your child's shoes do the talking at the talent show.
39. Build a House of Cards
Building a house of cards requires loads of concentration and very steady hands. Let your child build a tall house of cards in front of the audience, and watch them be amazed at your little one's skills.
40. Face Painting
An amazing activity that will keep the audience enthralled as your kid converts a face into something completely different.
FAQs
1. How Can You Help Your Child to Realise Their Talents?
First, be patient with your child while identifying their talents. Give your kid the required time and space to develop their abilities in a particular field. Talk to your child often and know what is happening inside their mind and understand their feelings. Do not scold or compare your child with others, as this will only dishearten them and make them lose interest.
2. What Are the Criteria for Judges in Kid's Talent Shows?
In a kid's talent show, judges look for performance, talent, ease of execution, confidence, costume, and showmanship as the main criteria.
There are several ideas out there. With a little bit of creativity, dedication, and the right choices, any ability can be woven into a superb act and made a resounding success.
Also Read:
Creative Activities for Children
Unique Hobby Ideas for Kids
Entertaining Broadway Shows for Children