5 Highly-Entertaining Broadway Shows for Kids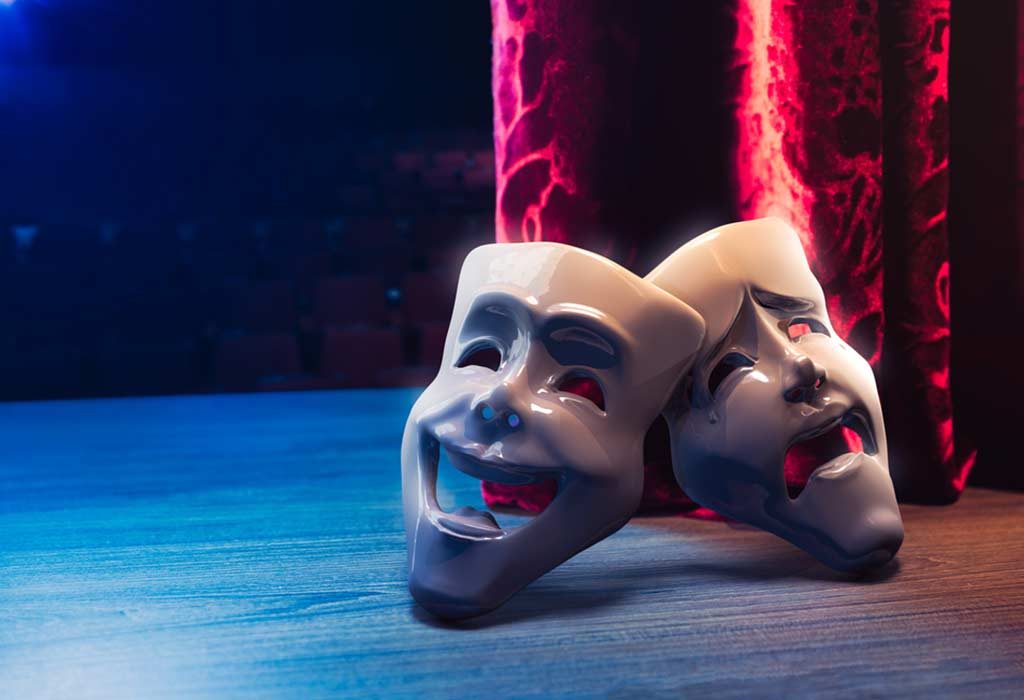 In this Article
Whether you live in New York City or are visiting it for the first time, going to a Broadway show is a must-include in your 'things-to-do-in-New-York-city' list. Watching a Broadway show is an experience you will remember for life. And if you're going with your kids, even better, because your children will enjoy every single moment of it. But if you have never been to a Broadway show, you are likely to wonder which one you should attend. Well, we will help you decide! We've rounded up our top five best Broadway shows for kids – go through the list and go for the one, you think your children would like the best!
5 Best Child-Friendly Broadway Shows
Before we start with our list, we must inform you that you can go to these shows with your kids, only if they are above the age of four. Make sure your kids are old enough as you don't want them running out of patience and screaming. Furthermore, kids who are a little older can fathom what's happening around them, so attending a broadway musical show will be a life-changing experience. Now, dive into the list of some of the best Broadway shows for kids, which are actually a great option for the whole family.
1. Aladdin
Aladdin is a popular broadway show which is loved by both kids and adults. It has magic, action, and adventure—everything you and your children need for excitement. The adaptation of the Disney classic never ceases to please the crowd. There's something in this classic story that makes people want to watch it over and over. Your kids will be enthralled by watching the 'Friend Like Me' and 'A Whole New World' song and the massive production.
Place
New Amsterdam Theatre
Duration
2 hours 30 minutes.
What It's About
Aladdin is the story of a young man who goes from rags to riches. There's a lot of adventure throughout the film and it shows how to put in the work while being comfortable in one's own skin. For kids new to musicals, this is a highly entertaining broadway show. What makes Aladdin stand out as a character is that he is so relatable in his struggles and his climb to being rich and this is simply a spectacular performance of its own.
2. The Lion King
The Lion King is an award-winning and ever favourite musical that started in 1997. Although the cast and characters on stage have changed, the puppets dancing around the theatre and the African-themed setting remain the same. This Broadway show is ideal for school-going kids!
Place
Minskoff Theatre
Duration
2 hours 30 minutes.
What It's About
It's an iconic play that features Simba, a lion cub, being raised atop a cliff by his parents. The 'Circle of Life' opening is one of its highlights and the play focuses on family bonds and friendship.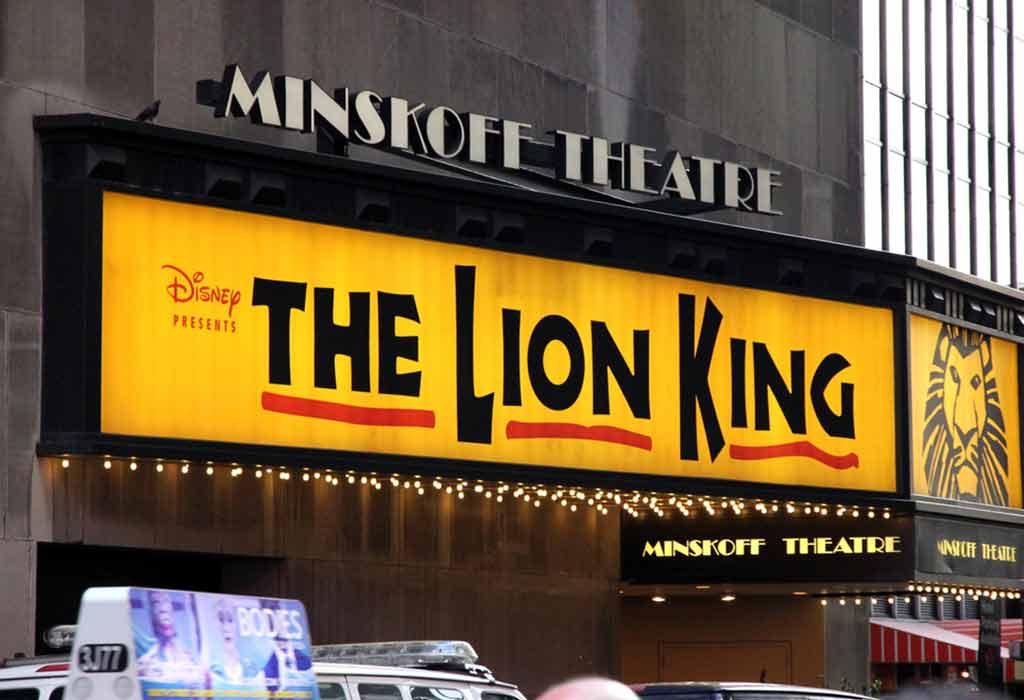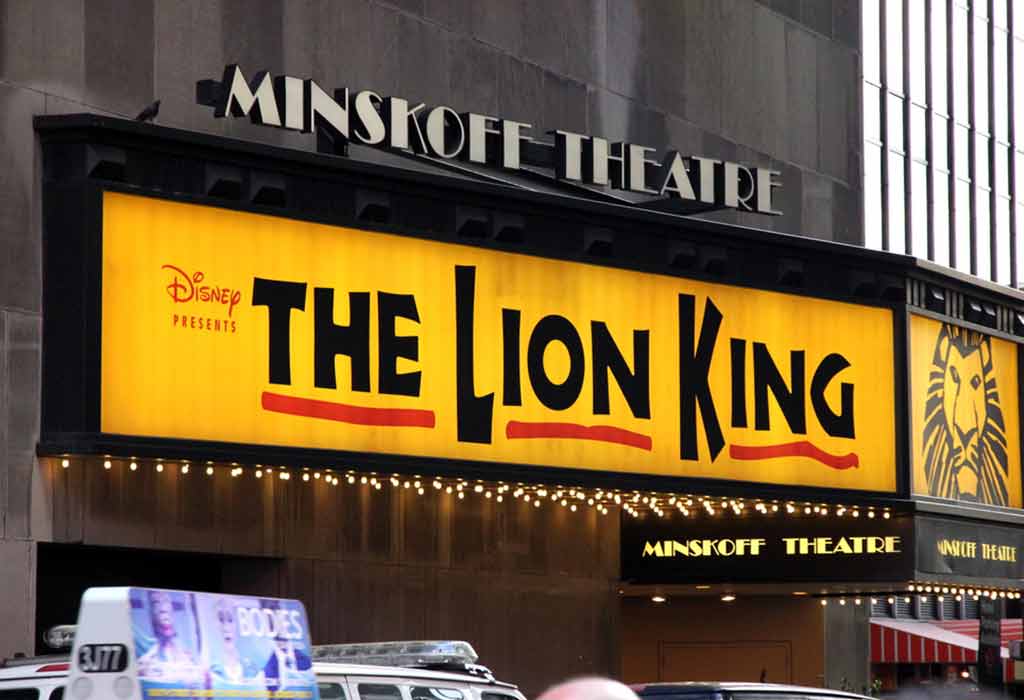 3. Frozen
It's one of the best family-friendly Broadway shows in history and is produced by Disney. If your children loved Frozen movie, they will love its on-stage performance even better! It's bound to get bigger and more magical!
Place
St. James Theatre
Duration
2 hours 15 minutes.
What It's About
Frozen is a classic musical about two sisters who are separated by walls in a castle. They each go through various hurdles and whatever life throws at them. At the end of the film, it is revealed if they will ever reunite or not.
4. Gazillion Bubble Show
Gazillion Bubble Show is one of those Broadway shows for children that simply leave you spellbound by the end of it. The bubbles floating in the air and beautiful laser lighting effects will leave you enchanted and you will stay in that magical zone forever! Ask your child to pop a few bubbles when they come near – the bubbles are real and so is this amazing show!
Place
New World Stages
Duration
1 hour.
What It's About
It's a bubble art show where artists entertain the audience by performing spectacular feats live. Front seats are recommended and kids who are 4-years and older are even allowed to make an appearance on-stage to participate. It's also one of the best Broadway shows for toddlers.
5. Spongebob Squarepants – The Broadway Musical
Dive into an underwater adventure with Spongebob and his friends with this phenomenal Broadway musical. It's highly rated and watching the colourful cast perform live on-stage will surely to bring a smile on your child's face.
Place
Palace Theatre
Duration
2 hrs 30 minutes.
What It's About
It's one of the best kid-appropriate Broadway shows that brings the adventures of Spongebob and his friends on-stage. It's based on the animated musical but performed live instead.
Taking your kids to a Broadway musical for the first time is like letting them walk into a candy store. Watching the stage come to life is an experience that can't be put into words. These broadway shows are some of the most popular out there and your kids will definitely have a blast. So what's the wait for? Book the tickets for your loved ones and share an experience that you can discuss and enliven for the years to come!
Also Read:
Awesome Shows Your Kids Definitely Watch
TV Shows Worth Watching With Your Children On Netflix
Educational Cartoons for Children