Bunk Bed for Kids – Benefits, Risks and Safety Tips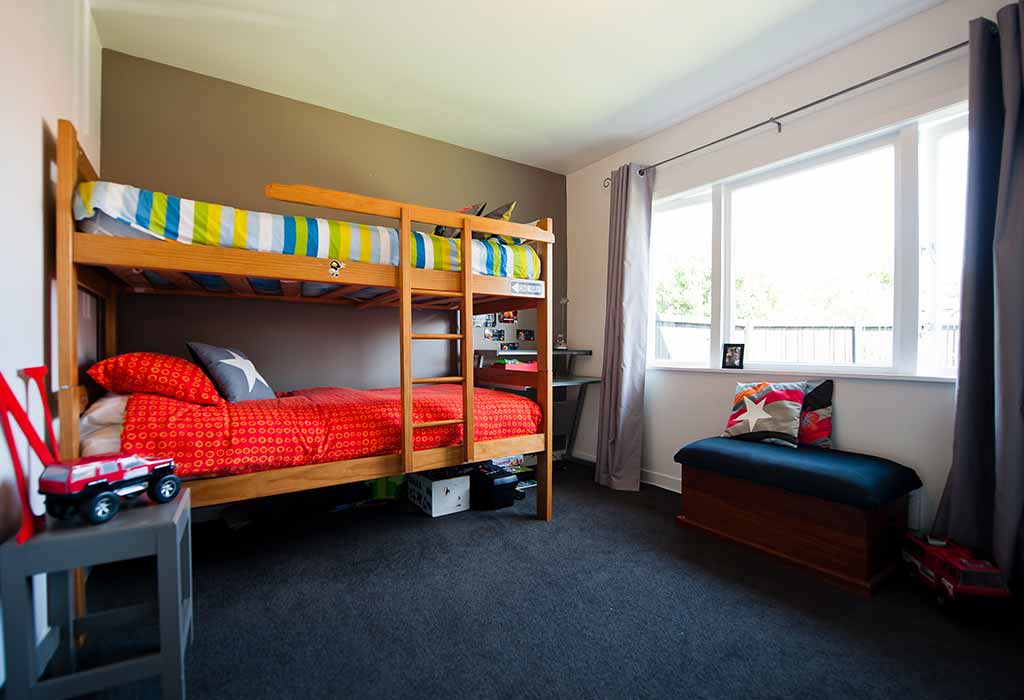 Your child's room is a highly functional space, and with a study table, cabinet, bookshelves, wardrobes, beds, other such equipment, this space may sometimes get too restricted for the kids! There is no doubt that kids require a lot of space, and if you are looking to optimize space in your kids' room, then a bunk bed can offer a viable option! If you are concerned about how beneficial it can be for your kids, its various risk factors, safety tips, and other related aspects, we recommend browsing this post as it discusses all these topics and more in detail!
What Are Bunk Beds or Loft Beds?
Before you get a bunk bed, it is important to understand what exactly these beds are! In simple or layman language, a bunk bed or loft bed is a kind of bed where one bed is stacked on top of the other. This means there are two beds in the same frame or stack, but they occupy the space of one bed rather than two beds. These kinds of beds are often seen in military establishments, ships, hostels, camps, and other such places, where putting a large number of beds is not feasible because of space constraints.
These beds accentuate the adventure quotient of your kids' room and get a perpetual cheer to the room's décor. However, make sure you consider the following factors before placing a children's bunk bed in your kid's room!
Benefits of Bunk Beds for Kids
Here are some of the many advantages of bunk beds:
Placing bunk beds offers more space in the room as there is only one bed in place of two. This offers more space for kids to play and do other stuff.
When siblings stay together in a room, they tend to bond better as they play together, share their interests, and do other such activities together.
If the bed comes with a convertible option, then you can convert it into two beds or back to one as per your requirement and convenience.
Sometimes bunk beds come with additional storage space, which means added space to accommodate kids' stuff.
How One Can Choose the Right Bunk Bed for Kids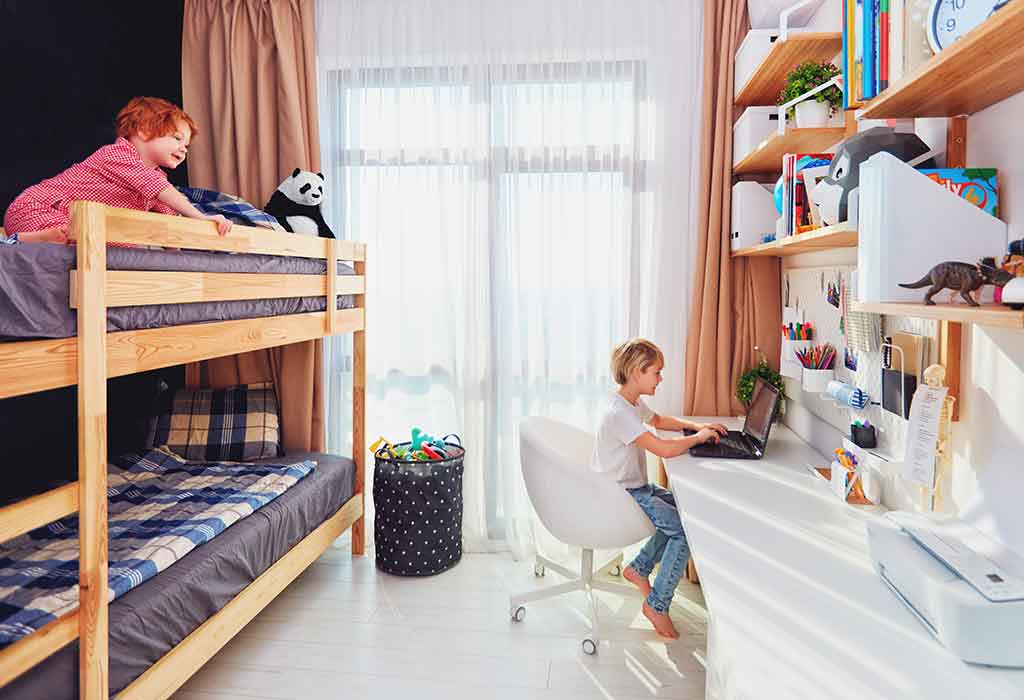 There are various options available when it comes to bunk beds, well, the following tips can prove to help choose the one that is suitable for your child:
The age of the child: If you are picking up a bunk bed for teenagers, then the bed can be bigger with a sleek design. However, for younger kids, you should pick up standard-sized beds with side railing.
The height of the bed: Choosing a bed with the right height is of utmost importance. Firstly you must choose the height as per your room's dimensions (mainly the height of the ceiling). Also, if your kids are taller, then you need to pick up beds with more height.
The material: Choose a studier material for the bed, preferably wood or metal, as they are solid and firm. They may cost a bit more, but they will also last long.
Bunk Bed Risks and Dangers for Kids
Here are some potential risks and dangers for the kids:
More than half of the bunk bed-related mishaps occur in children who are under the age of six years.
Most injuries are minor and often result from falling from the bed; however, there are some severe cases where the structure of the bed caused entrapment, suffocation, strangulation, and even death, in few cases.
Bunk Bed Related Injury Facts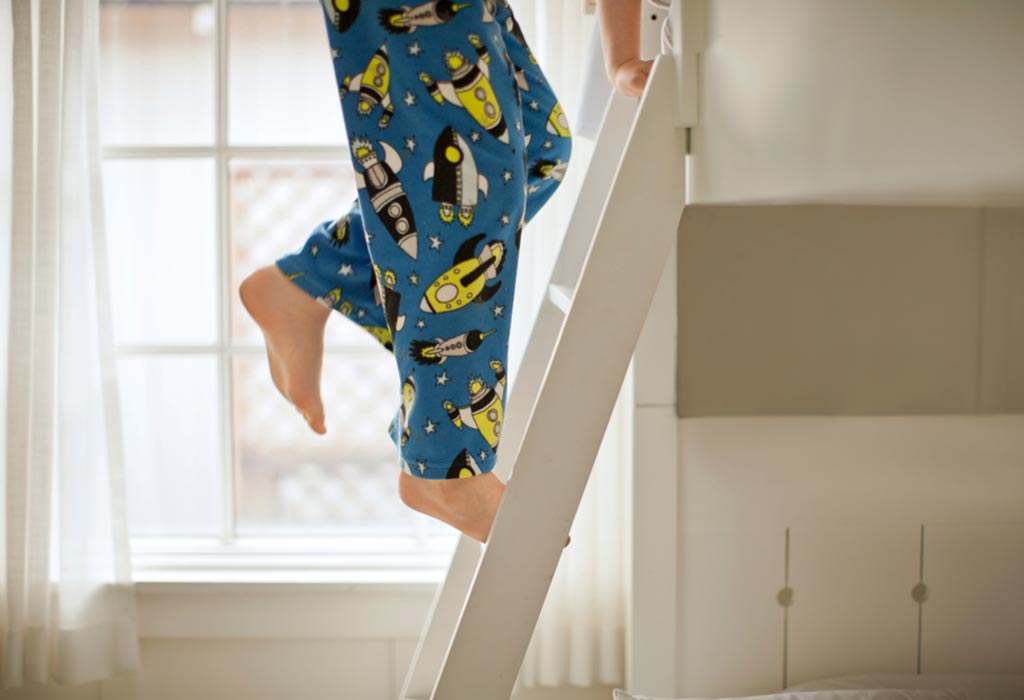 Here are some bunk bed-related injury facts for kids:
Injuries sustained from bunk beds are more severe than those from usual or standard beds.
The most common injuries include bumps, bruises, and broken bones.
Children often tend to hurt their head or neck from bunk bed injuries.
In most cases of bunk bed injuries, the injuries occur from a fall while playing or sleeping.
Safety Tips for Bunk Bed
Follow these safety tips for bunk beds:
1. Do not allow playing: Bunk beds may appear like a perfect place for the kids to have fun and make memories. And these loft beds are sturdy, but it may not be advisable to let kids play on them because kids, especially boys, tend to jump, push or do other such vigorous activities that may not be suitable for this style bed.
2. Do not hang stuff: As tempting as it may appear to hang stuff on a bunk bed such as belts, jump ropes, scarves, etc., due to limited closet space. However, it is strictly recommended to avoid doing so because they can pose a safety hazard for your child and increase the chances of injuries.
3. Make use of night light: Place a night light in your kids' room, or you can also place it on your kids' bed so that it can be switched on whenever the child feels like descending from the bed. This way, the child will not be navigating through sheer darkness, but he will be able to see his surroundings and be less prone to any kind of mishaps such as slipping from the ladder.
4. Check the mattress foundation: Before you allow your child to sleep or get on the bed, make sure that you check the sturdiness of the foundation. The mattress foundation should not be unstable, wobbly, or rickety. Ensure that the bunk bed mattress and the foundation are in sync; otherwise, it may easily get stuck or roll-off.
5. Keep the child's age in mind: Bunk beds, especially the top beds, are ideally suitable for kids who are more than six years of age. Therefore, do not allow children younger than six years of age to sleep on the top level. If you want your toddler or a younger child to start using bunk beds, make sure you buy safe bunk beds for toddlers! This means that you must keep the bed's size in mind and make toddlers sleep on the lower level.
6. Make use of guardrails: One of the best and most important safety measures when it comes to bunk beds is using guardrails. These rails are necessary for the top bed and should be placed on both sides of the bed to prevent any fall from rolling over during sleep or otherwise. Even the lower bed can have guardrails if you have a toddler or younger child sleeping on it. The guardrails should extend at least be five inches more from the top of the mattress. The bunk beds nowadays come with guardrails, but the older versions may not have these railing. Therefore, if you have an old one at home or purchase a second-hand bunk bed that does not have guardrails, you can install separate guardrails.
7. Do not allow more people on the top of the bed: Kids often love to do stuff together like playing games, reading, or simply hanging out, and they sometimes prefer their bed for all these activities. Well, the bottom level is a great option for all these activities but make sure that more than one child does not get on the top level for any such activities or otherwise. This can be one of the firm rules that you can talk to your children about.
8. Make safety rules: Children need to be told from day one that they have to understand and follow safety rules when it comes to using bunk beds. Even if friends come over, they should be aware of the rules and regulations concerning the bunk bed. There should be no leverage or leniency on the rules what so ever as these rules will help ensure the utmost safety and security of your child.
Bunk beds are great options for your children's room, especially if you are looking for some added space. They also add to the aesthetics of the room as well, and if safety rules are followed properly, bunk beds can help make a safe and cozy haven for your kids.
Bed Bunk Construction Guidelines
One of the biggest bunk bed risks is falling from it, leading to minor to major injuries in kids. Therefore, a bed with guardrail barriers is essential, even if one side of the bed is flushed against the wall. Almost two decades ago, in the year 2000, the US Consumer Product Safety Commission came up with a strict set of specifications and requirements for bunk beds manufactured in the country. In addition to guardrail rules, the manufacturer should also provide information regarding the age limit restrictions, mattress size information, model number, and other important information and specifications.
Where to Safely Place a Child's Bunk Bed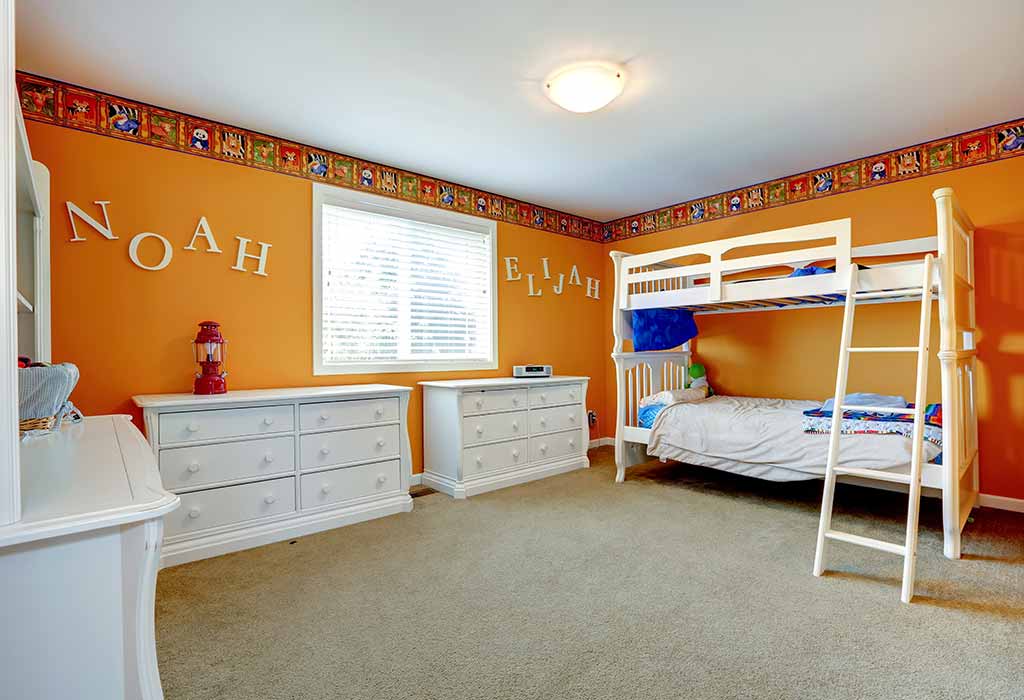 Keep the following points in mind while placing a bunk bed in your child's room:
Make sure the bed is placed at a safe distance from the light fixtures, windows, or ceiling. The child should sit comfortably on top of the bed without hitting the head on the ceiling.
Ensure that there are guardrails on each side of the child loft bed. These rails should ideally extend 5 inches or more above the mattress height, and any kind of gap or opening in these rails should not be more than 3 to 3 and a half inches.
Check for any loose parts or cracks after you have finished assembling the bed.
FAQs
Here are some commonly or frequently asked questions that we have answered for you!
1. Does a bunk bed collapse?
Well, as scary as it sounds, if not fitted or fixed properly, a bunk bed may collapse. Therefore, make sure that you ensure and double-check that all the parts are properly fitted and tightened. Also, check that there are no loose or missing pieces. You can also push and shake the bed to check for its sturdiness before your kiddo hops on it.
2. What is the maximum recommended weight limit of a child using a bunk bed?
Bunk beds are not only safe for kids, but they are also a great option for adults too and for this reason, these are also placed in dormitories, hostels, and other such places with place constraints. However, if you have any concerns about the weight limit, do check the details provided on the bed regarding the weight limit or check the kid's bunk bed size details before picking up one for your kids!
3. Are bunk beds a good option for siblings with an age gap?
Kids can use bunk beds as old as two years of age. Also, it is a great option for siblings with little or considerable age difference. However, make sure that the child sleeping on the top level is more than six years of age. Also, ensure that kids make use of the ladder to get up and down the bed.
4. Can we add cushions to the ladder?
Though most manufacturers pay heed to make the ladders well suited for the kids, however, if you feel the need to place extra padding or cushioning to the ladder, you can do so. This will help in providing a better grip, more safety and may help in preventing slipping.
Bunk beds are safe for your children's room, and if proper precautions and safety measures are taken, then your kids can enjoy sleeping on a bunk bed and enjoy being together in the same room with their siblings. There are also many options available in bunk beds that you can choose from! So, do consider all the above points of consideration before you make a decision to get one for your children's room!