Toddler Seating Products: The Key to Helping Your Baby Sit Up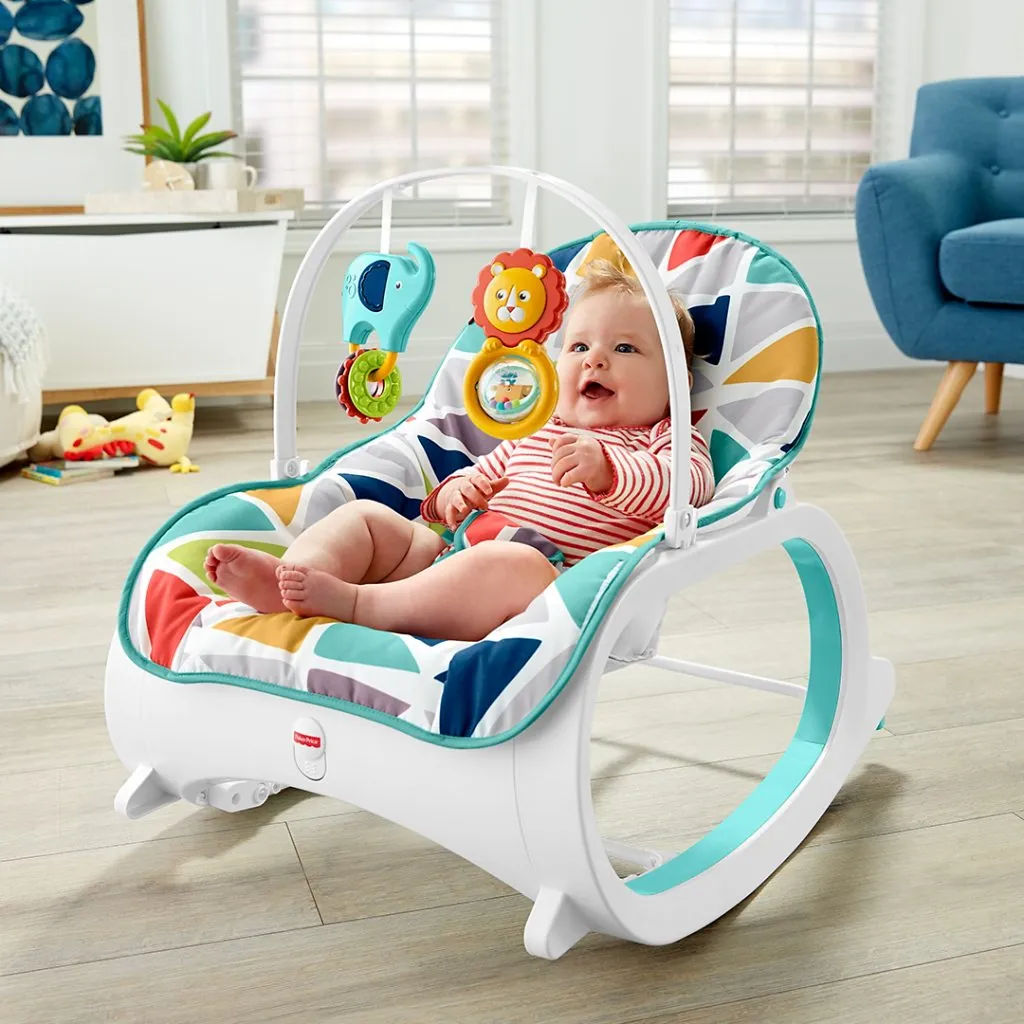 By 3-5 months, your baby will be able to sit up with some support. To help him progress to sitting without support, you can begin placing him in a recline position and gradually help him sit up, as soon as he can hold his head up. Babies are super excited about being able to sit up and discover a whole new world of play! And this is the perfect opportunity to get him some development-based products that help him achieve this milestone while developing cognitive, physical, social, and emotional skills. Here are products that combine development and play to help your child reach his potential!
Baby Seating Products to Invest in
It goes without saying that you can't hold your baby all the time. Baby seating products are a comfortable solution that keep your baby safe and entertained while you tend to important things. Plus, they help with development and can be an essential tool for your baby to achieve his milestones.
1. Rocker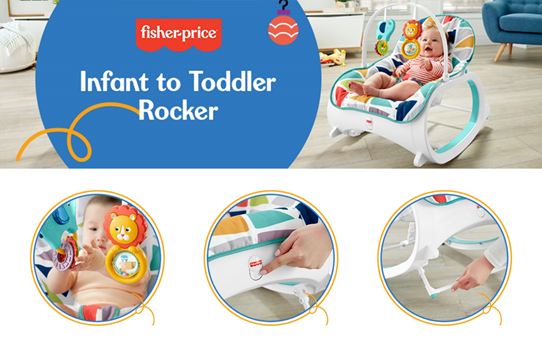 A rocker is comfortable for infants and helps keep them in a reclining position. It is an ideal space to feed a baby and comfort him. A variant such as the Fisher-Price Infant to Toddler Rocker comes with many accessories, like a toy bar with clackers and rollerball toys to keep infants entertained. The two recline positions and kick-stand keep your little one cosy, happy and safe. Though it initially starts out as an infant rocker, the deep-cradle seat has room for expansion. As your child grows, you can remove the toy bar and convert it into a toddler rocker. It can carry up to 40 lbs/ 18 kgs of weight, making this product a faithful companion to your baby for years, not to mention value for money!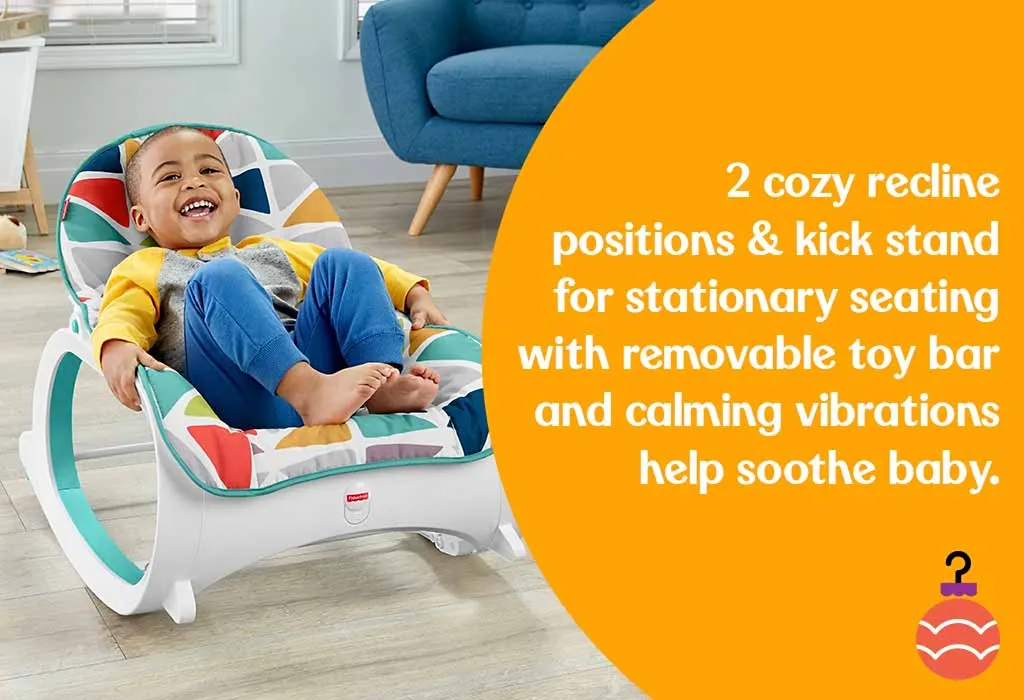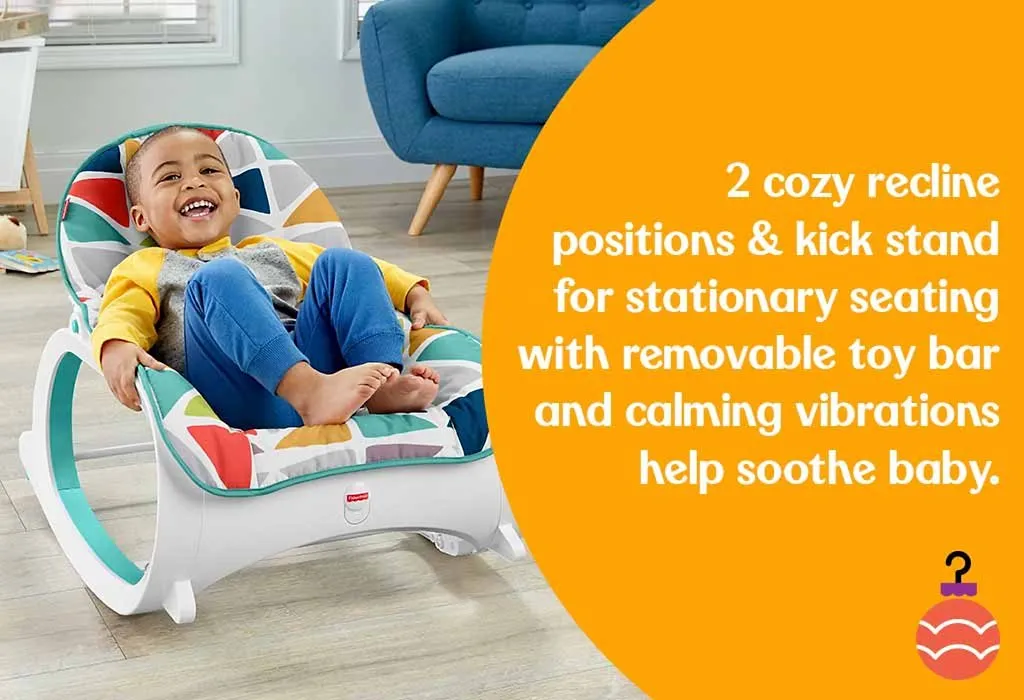 Developmental Areas:
Each element of a rocker serves a developmental purpose. Here are some of them:
The toys hanging overhead stimulate your baby's senses and calming vibrations in the Fisher-Price Infant to Toddler Rocker soothe babies. This allows for a complete sensory experience.
Babies will try and reach out and grab the toys hanging above, thus, strengthening their muscles and developing gross motor skills. This is essential for further milestones such as sitting up, crawling, walking, etc.
Taking naps throughout the day and feeling secure are essential to a baby's development. The comfortable seat and calming vibrations give your child a sense of security, so he can happily go through the day and rest well.
A grow-with-me rocker like the Fisher-Price one will soon become your baby's 'happy place' and it's the best place for him to just settle down, relax, and hang out or have a snack!
2. Floor Seat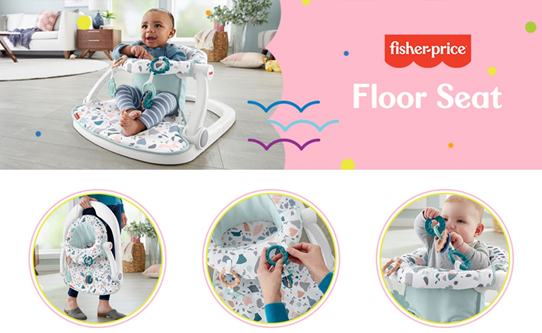 A floor seat is an ideal solution to prop your baby up and keep him stable and entertained. It offers a different point of view to your child and he can play with his toys while you get your work done. The Fisher-Price Sit-Me-Up Floor Seat makes your life easy while keeping your baby comfortable. You can simply make your child sit in the seat and play games, rest assured that he is safe and stable. The upright seat with a wide base and linkable toys allows your baby to look around and reach for his toys to play with. Plus, it folds flat and has a removable seat, which is ideal for storage or travel. It is perfect for a little wobbler who needs that extra support in sitting up.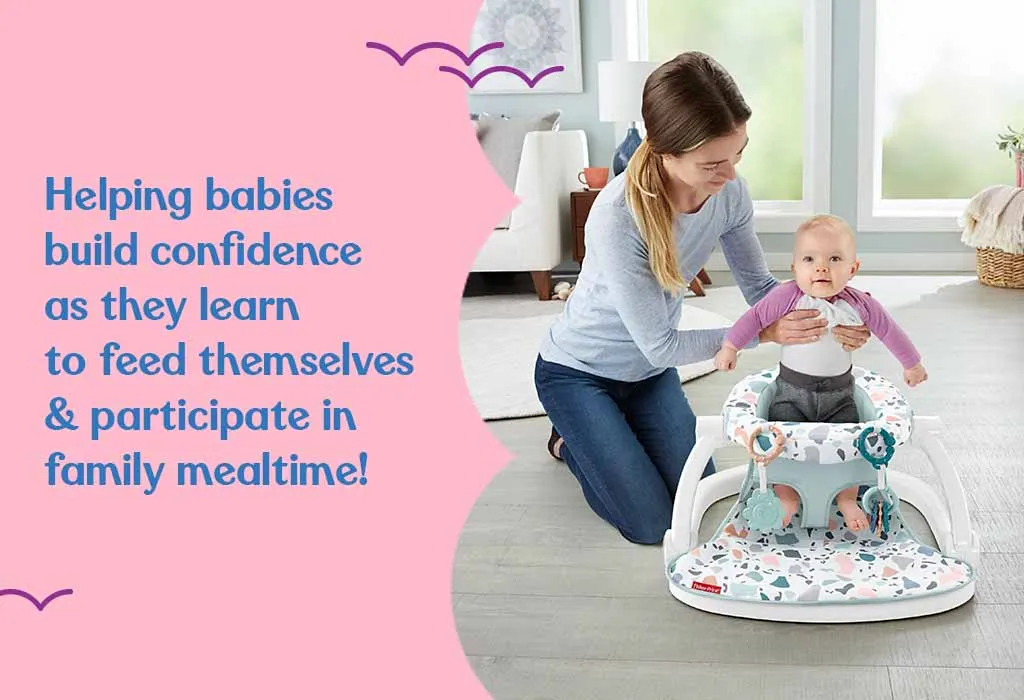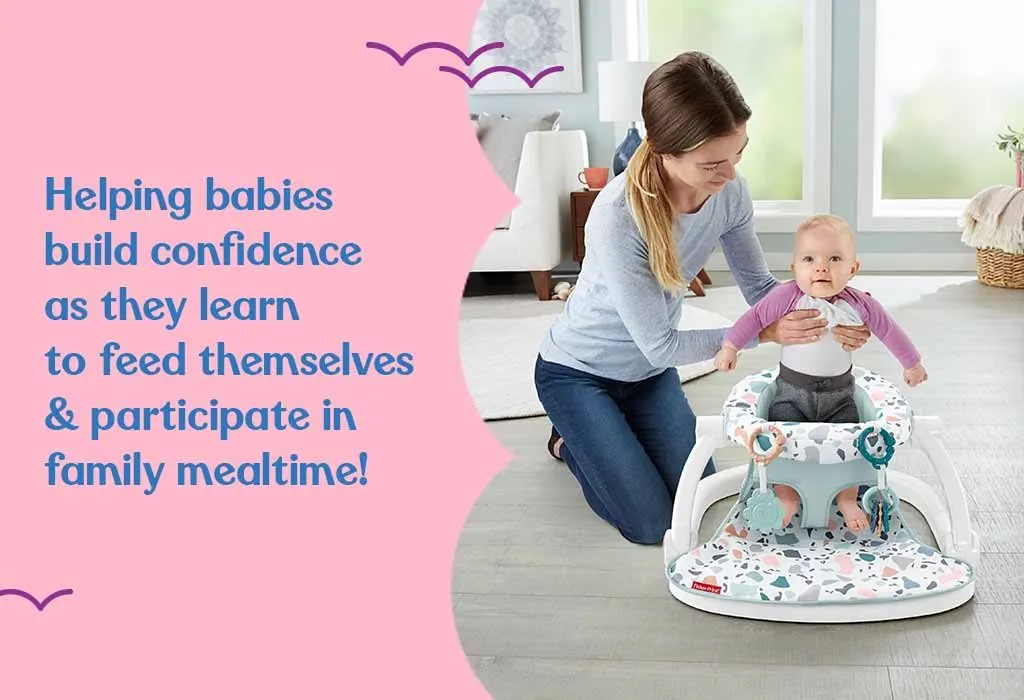 Developmental Areas
Your baby will feel comfortable in the seat and sit upright so he can see and interact with the surroundings and play. This ideal for when you need to do chores or some work.
Your baby's spine will get some support, which further helps sitting up with support, crawling and walking at later stages. Plus, he can reach out and grab toys around to play with them. All of this develops his gross motor skills.
The Fisher-Price Sit-Me-Up Floor seat is essential for fuss-free parenting as it keeps your child safe while having fun. Plus, you don't have to do extra work cleaning it, as the seat is easily removable and can be machine-washed, and the bars can simply be wiped down. Easy, right? A floor seat will be yours and your baby's best companion at home and while travelling!
Safety Tips for Using Toddler Seating Products:
Here are some safety tips to get you started on effectively using baby seating products for your munchkin!
Always place the floor seat and rocker on the ground. Any possibility of the toddler falling over should be taken care off before using it.
Ensure that you buy products that are sturdy and have a strong base, such as Fisher-Price genuine rockers and floor seats.
Don't leave your baby alone in a room when you secure him in the baby seating product. Make sure you are around and keeping an eye on him.
Make sure to switch between free- floor play and the seating product.
Regularly clean the seating product, to avoid harmful germs. The Toddler Rocker and Floor Seat from Fisher-Price are fuss-free and easy to clean.
Baby seaters are the best way to infuse development and fun into your toddler's life, while giving you some time to yourself throughout the day. Invest in a rocker or floor seater and experience how it changes yours and your baby's lives!
Also Read: W-Sitting Position in Babies & Toddlers