New Baby Skin and Hair Care Products Every First-Time Parent Needs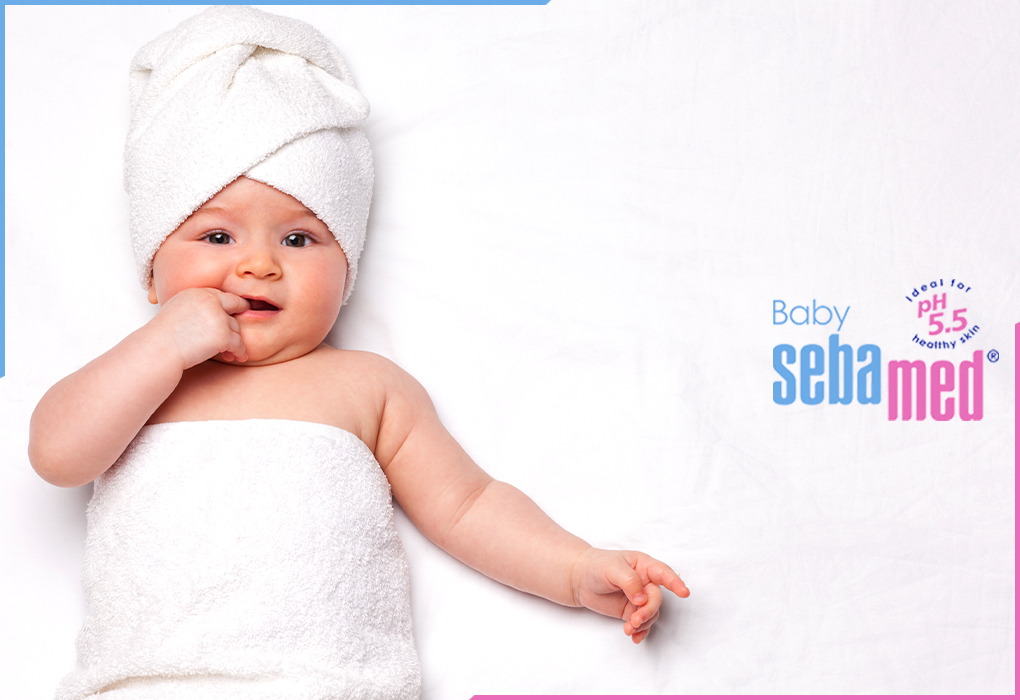 Your baby's skin is oh-so-delicate, isn't it? To protect their delicate skin, you need care products that are super gentle and soothing but also packed with ingredients that will nourish and protect the skin. If you are a first-time parent, you might be confused with the tons of baby care products available in the market. You might even wonder if all these products are even essential!
To avoid buying a product that's not going to do your baby's skin any good, it is better to find out what your baby actually needs rather than fill up shelves with unnecessary creams, powders, lotions etc. Because you know that having a baby is expensive enough already!
To ensure smart purchasing, let's understand why you must buy specialised baby care products and which of these are essential for your baby's skin and hair care in the first few years of their life.
Understand Your Baby's Skin
During birth, a baby's skin pH level is usually 7. This means, their skin is highly sensitive and requires very gentle care. The acid mantle, which protects a baby's gentle skin, takes upto three months to develop completely. The ideal skin pH is 5.5 so using products to help a baby's skin reach this ideal value is a good choice. Since your baby's skin is 30% more delicate than adults, it needs special care when it comes to skin and hair products. That is why it is recommended to choose baby care products that are specially formulated for them.
Essential Skincare Products for Babies
Here's a stage-wise guide to picking out the best skin and hair care products for your little one. We did all the research so you won't have to!
From the First Month
Once your baby's umbilical cord stump falls off and heals, and they are ready for their first bath, here are some products you must have ready.
1. Cleanser
Dust and harmful pathogens floating in the air can stick to your baby's skin. To keep your baby's skin clean, healthy and infection-free, it is essential to bathe them regularly. Plain water, although gentle, is not effective enough in removing environmental impurities. Thus, a mild cleanser can speed up the process while keeping your baby's delicate skin protected.
Note that only at a pH level of 5.5, does the lipid and moisture loss from the baby's skin becomes minimum, restricting the growth of pathogenic bacteria. So, while purchasing a baby wash or cleansing bar, make sure it is specially formulated for babies. Look out for these qualities:
A pH level of 5.5
Botanical ingredients like chamomile to avoid allergies
Tear-free formula
100% soap-free
Alkali-free
2. Body Lotion
A baby's skin is extremely thin and loses moisture very quickly. A gentle moisturiser or lotion does wonder by locking in the body moisture, preventing dryness, and keeping the soft and delicate skin adequately hydrated. Body lotions and creams that adults commonly use have a pH level higher than 7. Most of them contain ingredients that are absolute no-nos for a baby's skincare. So beware of ingredients like parabens and fragrances that can damage the skin barrier and cause skin irritation to the baby. When choosing the ideal baby lotion or moisturiser for your baby, keep in mind the following.
The product should be clinically tested and proven effective.
It should support the natural lipid balance.
Gentle ingredients are preferable. Ingredients like chamomile and allantoin repair the skin barrier and replenish the lost moisture.
The product should be easily absorbable without any greasy residue.
Opt for products like the Sebamed Baby Lotion, which has 7% natural lipid content, pleasant botanical fragrance, and sorbitol for long-lasting hydration. This lotion can be used for babies from the seventh day onwards.
For deep moisture-locking, Sebamed Baby Cream Extra Soft proves to be highly effective. It comes with a 42% lipid composition and premium botanical extracts. This soft cream soothes and regenerates a baby's sensitive skin. It can be used from one month onwards.
3. Face Cream
The facial skin in babies is more delicate and prone to environmental influences, often leading to eczema. Babies also start drooling when they are two to three months of age, even before teething. The constant presence of saliva on a baby's cheeks, chin and neck can lead to skin irritation.
Worry not! Because picking the correct face cream is half the battle won. An effective baby face cream comes with a richness of Vitamin E, Panthenol, and lipid compounds, which are known to be highly beneficial. They moisturise deeply, safeguard against environmental influences, and protect against irritation caused by salivary rashes. Make sure to buy a face cream free of parabens, formaldehyde, and paraffin as these can cause adverse health effects in the future.
4. Diaper Rash Ointment
Frequently wetting diapers can irritate your baby's bottom. A sore and itchy area does nothing more than make your baby extremely cranky, fussy and absolutely uncomfortable. Diaper rash creams to the rescue! Many moms consider rash creams to be the holy grail of baby products in their caddy. These creams protect the skin from rashes and skin infections, leaving it soft, gentle and smooth.
When choosing a diaper rash cream, make sure it is clinically proven and has ingredients like zinc oxide or titanium dioxide. These ingredients are a must for faster recovery. Sebamed offers a range of skincare products, including Sebamed Baby Rash Cream, which comes with pH 5.5, titanium dioxide for protecting against inflammation, and panthenol, allantoin and squalene for healing and hydrating the skin effectively.
5. Baby Wipes
Baby wipes are undoubtedly one of the most convenient products for parents of infants and babies. From cleaning up during diaper changes to wiping spit-up and spills, you can never have enough wipes. However, be cautious of certain ingredients when buying baby wipes. Avoid wipes labelled as antibacterial or antimicrobial as these can contain irritants that are too harsh for baby skin. Look for mild, alcohol-free baby wipes that have soothing agents.
6. Massage Oil
Baby massages are a traditional practice in Indian households and for good reason. A regular body massage strengthens the baby's bones and muscles and stimulates blood flow. Choosing the right kind of oil is important for the baby's skin health. Use a massage oil that contains the goodness of botanicals like olive oil, jojoba oil, natural soya oil, etc., to provide gentle care and protection to your baby's delicate skin. Avoid massage oils that have artificial fragrances, colourants, or mineral oil, as these can cause allergic reactions and dry out the skin.
You can start giving your baby a regular oil massage after a week of birth and continue for two years.
7. Baby Powder
Excess moisture can cause rashes in babies. What your baby needs in this scenario is a gentle baby powder that can keep their skin dry, especially in warmer weather. Steer clear of talc-based baby powders, which will end up doing more harm than good for your baby's skin. Instead, choose one that contains botanical ingredients like corn starch or olive oil to protect the baby's skin from dryness and add that extra softness too.
6 Months Onwards
8. Sunscreen
In the initial months, babies should not be exposed to direct sunlight. To protect their skin from the harsh sun rays, cover them with light hats and long-sleeved cotton clothes. Apply a clinically-proven sunscreen specially formulated for babies, especially on the body parts that are not covered and directly to the sun.
However, sunscreen is not recommended for infants below six months of age. After your baby hits the six-month mark, you can start looking for sunscreen with inorganic filters like titanium dioxide or zinc oxide.
9. Bubble Bath
After the baby's birth, it might take about 15 days to two months for the umbilical cord stump to fall and the area to completely heal. Once that happens, your baby is ready to be bathed in a tub. When choosing the perfect bubble bath for your baby, look for properties like '100% soap-free with mild foaming', natural moisturising agents, hypoallergenic with no tears formula, etc. Once the perfect product is found, your little one can enjoy splashing about in the tub.
Essential Haircare Products for Babies
Your baby's scalp requires the same amount of care as the rest of the body. When your baby is around two months old, you can start a hair care routine for stimulating growth and improving the quality of their hair.
Two Months Onwards
1. Shampoo
Take care of your baby's scalp with a soap-free, mild shampoo formulated with tear-free formula and botanical ingredients. Gently wash your baby's hair and scalp while giving them a bath to clean and soothe the area. When your baby is around four to six weeks old, you can start with a pea-sized amount of shampoo and increase the quantity as your baby gets older and grows a good amount of hair. Steer clear of shampoos conventionally available for adults as they contain harmful ingredients like formaldehyde, SLS, phthalates, or artificial additives. These are too harsh on your baby's gentle skin and will only harm the baby's scalp.
2. Hair Oil
Did you know a hair oil massage has several benefits for your baby? Regular oil application promotes blood flow to hair pores, moisturises the scalp, controls the build-up of dandruff and strengthens hair. Take good care of your baby's hair by using a clinically-approved baby hair oil fortified with natural oils to nourish the baby's scalp and promote hair growth.
As babies grow, their requirements change. So, it may seem like a challenge to pick out the right care products for different stages of your baby's growth, while you are still learning, understanding and adjusting the baby's needs. But with reliable knowledge and necessary precautions, caring for your baby will be a breeze, and you'll find yourself enjoying parenthood rather than worrying about it!
For any apprehension about baby care products, it is best to consult your paediatrician.