7 Best Ways to Keep Your Baby's Skin From Drying Out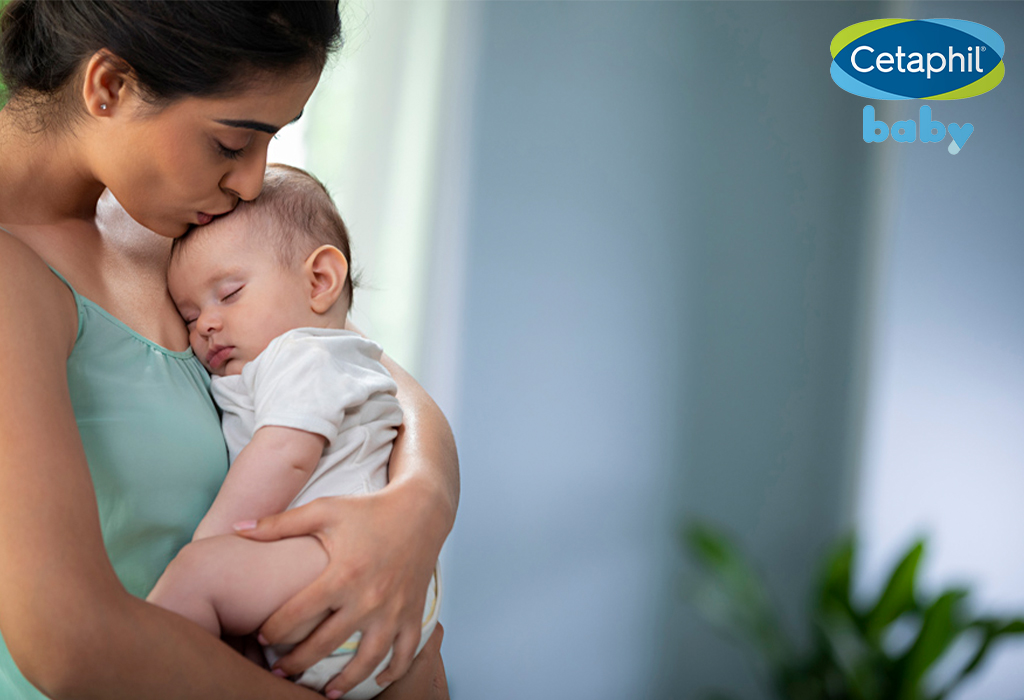 Winter can un-brr-lievably be hard for babies, as newborns are extremely sensitive to the environmental elements around them. A slight change in weather can affect your baby's skin and overall health. Since babies have sensitive skin, they are prone to moisture loss faster than adults during winters. And when it is a matter of rosy cheeks and kissable hands, it gets important that we keep some time-tested care tips in our hands to give our little ones soft and moisturised skin all through the winter.
Tips and Tricks to Keep Your Baby's Skin Soft and Moisturised
Say goodbye to flaky hands and wind-burned cheeks and keep your little bub's skin moisturised with these winter care tips:
1. Moisturiser Is a Godsend!
Moisturiser is one of the top keys to solving the moisture loss problem during winter. A moisturiser helps hydrate the skin and keeps it plump for a long. When there is moisture, the skin does not crack or get irritated in low temperatures. So, when it comes to moisturiser, we say splurge!
Moisturiser comes in body lotion, cream, and ointment form. Invest in a good quality baby body lotion or cream that has the goodness of gentle ingredients and is free from harsh chemicals. Go for paediatrician-recommended products like Cetaphil Baby Daily Lotion, of which the creamy yet non-greasy formula soothes dry and itchy skin. It has a gentle, hypoallergenic formula which restores the skin and keeps it supple. For extremely sensitive skin, Cetaphil Baby Advanced Protection Cream gives ultimate protection against dryness with the help of effective soothers – Calendula and Shea butter.
Pro Tip: Moisturise your baby's skin well after a bath when their skin is still damp. This will help lock in the moisture and keep their skin supple, bouncy and baby-soft!
2. Bathe Your Baby the Right Way
During winter, it is best to keep your baby's bath time short. The temperature of the water should not be hot but lukewarm, as hot water strips moisture away from the skin and can cause irritation. When choosing a soap or baby wash, remember you don't need dubious amounts of colourful or fragrant products to clean your baby. A mild soap or baby wash free of radicals is enough to get the job done. For gentle cleaning, you can try Cetaphil Baby Mild Bar, which promises tear-free bath time with plant-based goodies like avocado oil, Shea butter and olive oil. Or you can try the two-in-one Cetaphil Baby Wash & Shampoo that gently cleanses the skin and hair with its tear-free formulation.
3. Keep Itchy Rashes at Bay
Trust us, inflamed skin and dry air are not a good combination. Even though diaper rashes are a year-long concern and a normal occurrence with a diaper-wearing baby, they can become troublesome in winter. Babies pee more in winter because of low temperatures, which involves frequent wetting of the bottom area. This can inflame the skin and cause diaper rashes. Treat the rashes promptly with a good diaper rash cream.
4. Do Not Forget the Lips
You may not know, but lips lose moisture 10X faster than any other part of the body. Plus, with drooling and lip-licking, wintry air can easily attack the lips. To prevent lips from chapping and drying out, use baby-friendly lip balms or petroleum jelly to lock in the moisture.
5. Get a Humidifier
Many people turn their homes into a sauna when the winter hits. Contrary to what they think, this can actually damage their baby's skin. Overheating makes the air dry and creates low humidity in the house, which further dries out the baby's skin. But there's a way to keep warm and also keep the air moist enough. A humidifier.
A humidifier is like a secret agent that silently saves the day whilst sitting in a corner. It adds moisture to the dry, chilly air during winters, which can otherwise dry out your baby's skin further.
6. Add in Massage Time Every Day
Oil massages before a bath nourish dry skin, significantly improve skin texture, and improve blood circulation. Plus, who doesn't enjoy a massage? It's not just the oil massage that repairs the skin, massages with specially formulated baby oils and lotions at night before bed also ensure hydration throughout the night for your little one and also aid in a deeper sleep.
6. Cover Them Up Well
Smart clothing plays a huge role in protecting your baby's skin. So, when dressing your baby up in winter, keep in mind that you dress them in layers. An option of adding or removing layers helps prevent over- or under-heating. Be sure whatever outfit you choose is made from soft and breathable fabric that won't irritate your little one's skin.
Don't let wintertime get in the way of enjoying those extra cuddles with your baby. Instead, enjoy this lovely season with your little bub by keeping their delicate skin well-nourished and protected with the above-mentioned tips.