20 Super Fun Easter Games for Your Kids' Party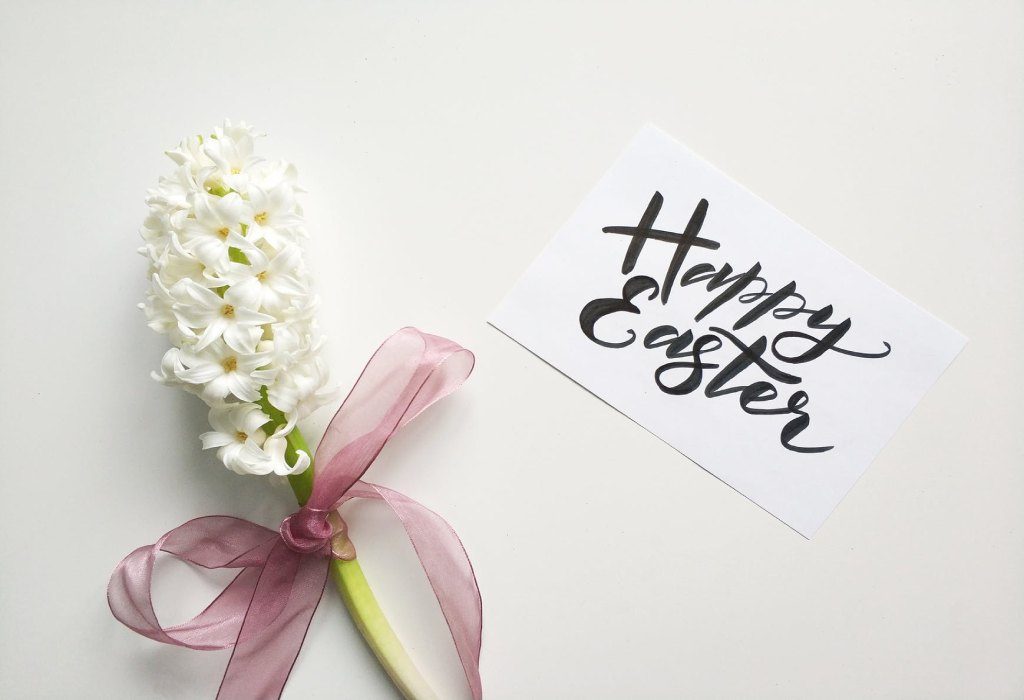 Easter is such a joyous festival that it wouldn't feel complete with a couple of fun Easter games for kids! It's time to get creative and organise the most amazing Sunday for your household.
Traditionally, Easter games are creative, noisy and cheerful. They include bunnies, eggs, carrots and lots of gorging on delicious goodies!
We have compiled a list of the very best Easter party games for kids, most of which do not require too much time to set up. What's more, they double up as fun ways to help your child improve several skills. Though some of them are best enjoyed in large settings, there's nothing stopping you from simply getting the family together to give your child a ball of a time.
Indoor Easter Games and Activities for Kids
Sometimes, the joyous times cannot be celebrated outdoors. With the ongoing lockdown, you are probably searching for indoor Easter games and activities for kids this time. Well, we have you covered. These indoor Easter games and activities are sure to keep your child engaged and entertained.
1. Egg Paint
Are you looking for some Easter egg games for kids? We have ample in this article. Begin with egg paint as nothing looks prettier on your Easter table than a collection of beautiful eggs, patiently decorated by your creative geniuses. Get your kids some water-colour and brushes, and let them have a fun time decorating the eggs in interesting patterns!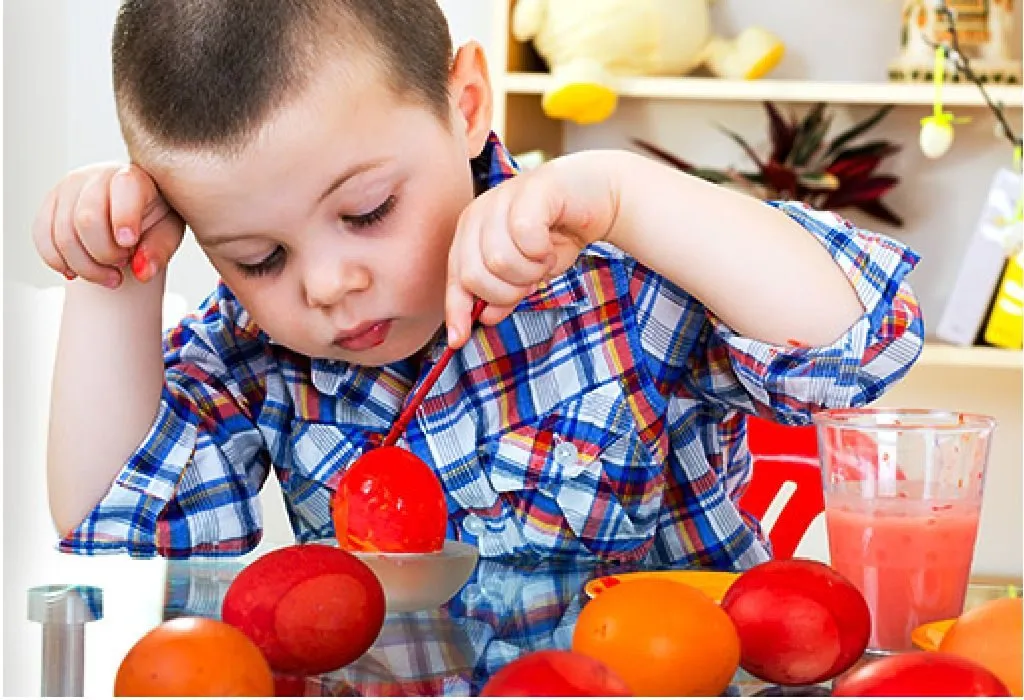 2. Paper Clip Eggs
This is another Easter egg game kids enjoy playing. It requires kids to clip a series of paper/felt eggs onto a large string. The kid with the longest necklace wins the game provided they don't get it entangled.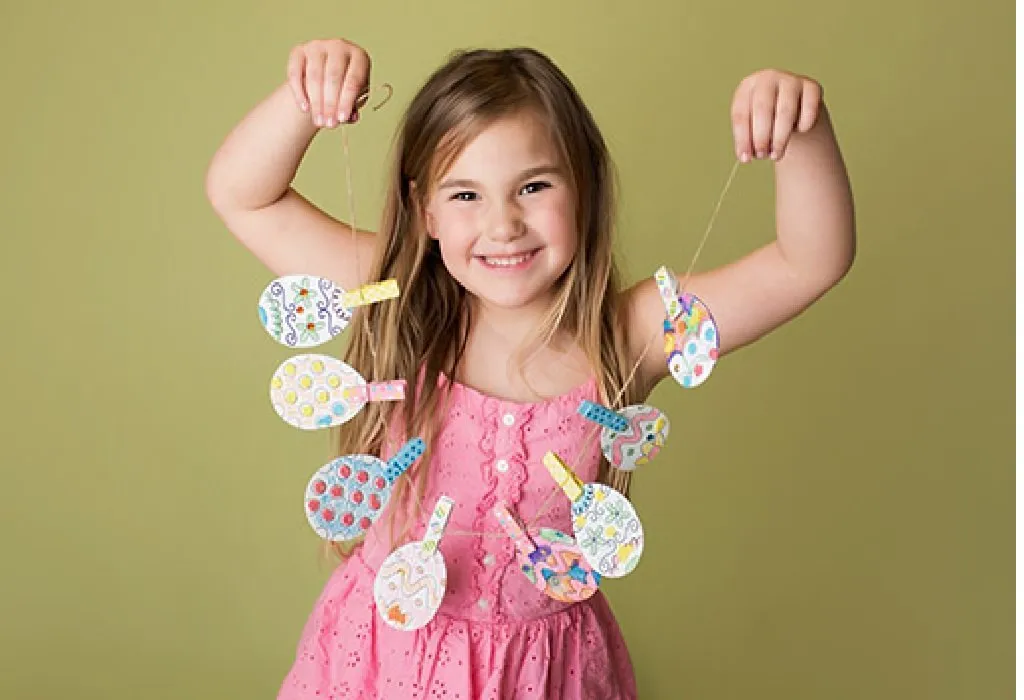 3. Origami Bunnies
Why not use origami as an indoor Easter game to play with your kids? You can have a bunny paper folding competition where the fastest child to do it hops his way to the prize!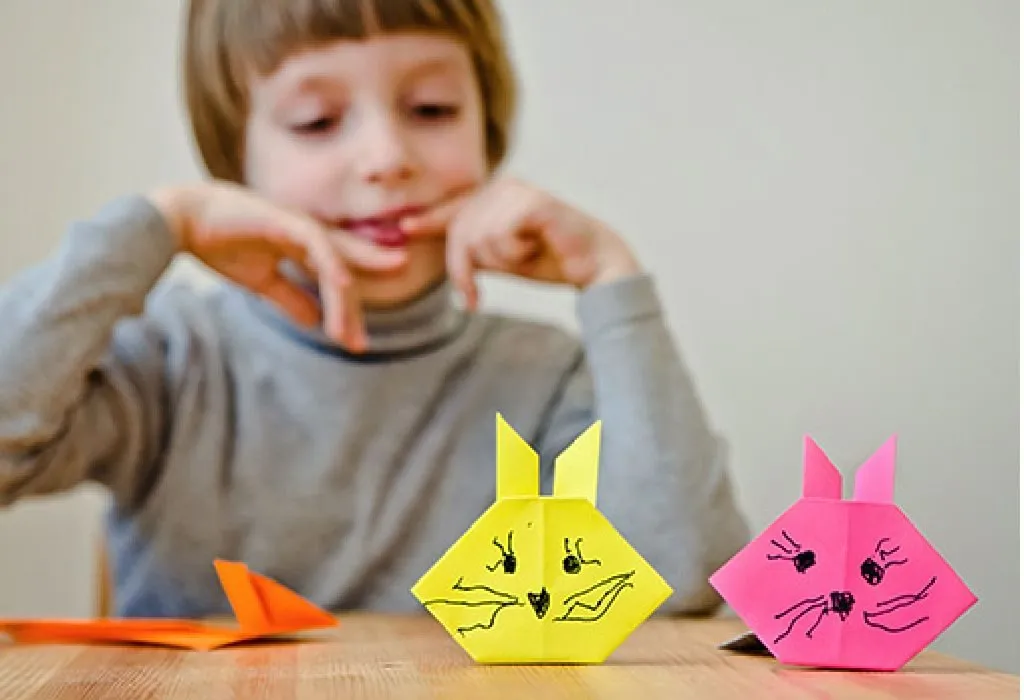 4. Easter Craft Décor
When looking for Easter games and activities that don't need stepping outdoors, you may want to consider this fantastic idea. Gather a bunch of eggshells, paint, glitter, sequins, glue, thread, fabric, needle, etc., and let your kid create decorative items you can display in the house. This Easter activity is sure to keep your kid engaged and is a great way to decorate your house for Easter Sunday.
5. Easter Bake
If you are one of those parents who's appreciated for their baking skills, you may want to use Easter as an opportunity to engage your child, and make some delicious egg-shaped cake pops!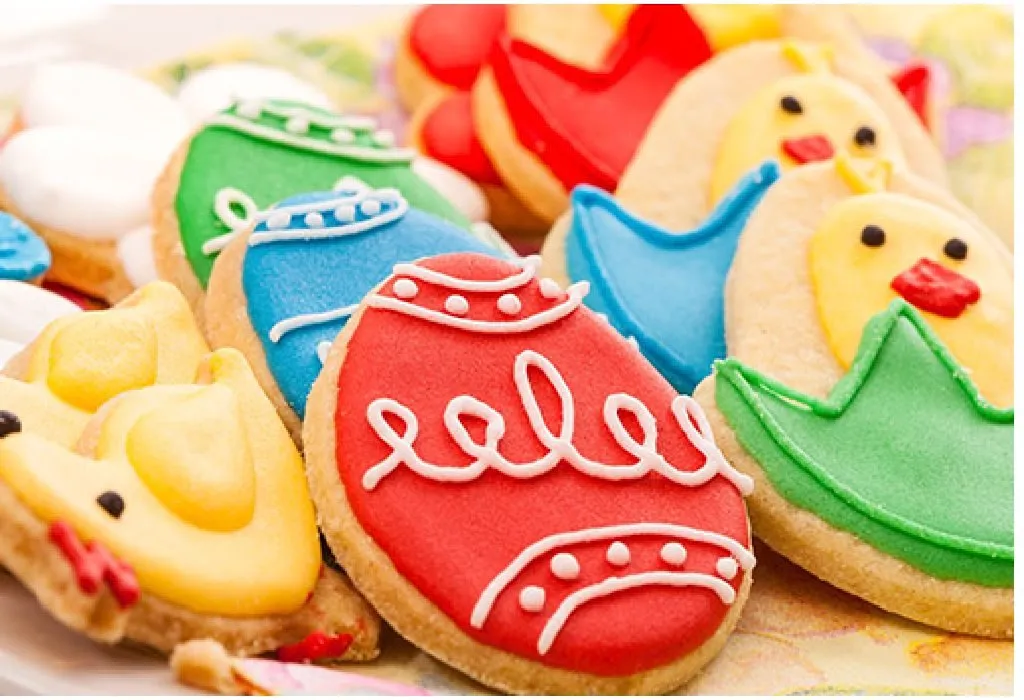 Some kids love the outdoors and think Easter games are no fun if they are played indoors. Well, we can't blame them. It's springtime after all. Here's some good news. You can arrange for outdoor Easter games and activities with some care for your kids. Here's a list of outdoor Easter games you can choose from to keep your kids engaged this Easter Sunday.
Outdoor Easter Games and Activities for Kids
The Eater games and activities provided below need some space outdoors (back yard/front yard) and enough number of participants. Read on to know these Easter games for kids and choose the ones that suit your preference the most.
1. Egg Hunt
Easter egg hunt games are the heart and soul of every Easter party! Create basic clues such as "this is where mamma cooks food", and hand them over to the kids. Kids need to find the eggs by following all the clues. At the end of the race is an Easter basket they will be delighted to own! You can stuff the basket with candies, chips and handmade bunny crafts, too.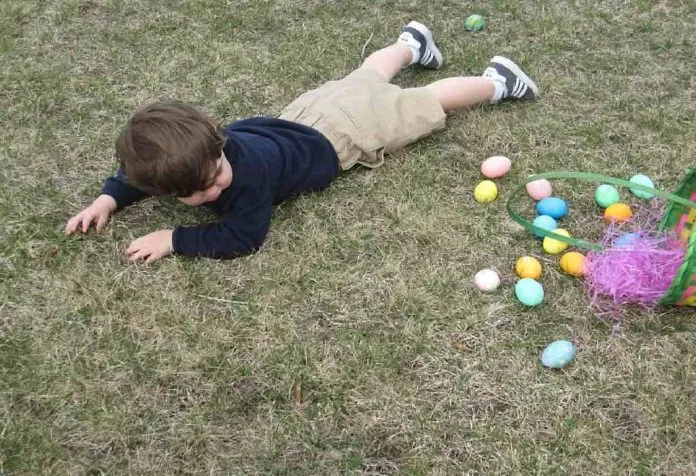 2. Bunny Ears Ring Toss Game
This fun Easter game can be played with material sourced from the craft store or can be made at home as an Easter activity. If you can access a craft store, get 4 to 6 rings and two inflatable bunny ears. Ensure the rings are big enough for the bunny ears. Form two or more teams. Draw a line on the floor, at least 2 metres away from the bunny ears. Each member of the team aims for the bunny ears and throws the ring. He/she then hops on one leg to get the ring and return to the start point. The second member then throws the ring and hops on one leg to get it. The one next in the queue can throw the ring only after the one before him hops back to the start line. Each team gets 2 minutes, and the team with the most number of bunny ears inside the rings wins.
3. Egg and Spoon Race
Egg and spoon race is one of the simplest, yet the toughest Easter egg games for kids. Get some eggs, either plastic or real (hardboiled), and some spoons. Set a start and a finish line. The kids have to hold the spoon in their mouth and place the egg on it. At the count of go, they need to walk to the finish line without dropping the egg and without touching the spoon. The winner is the one who reaches the fastest without dropping the egg and without touching the spoon.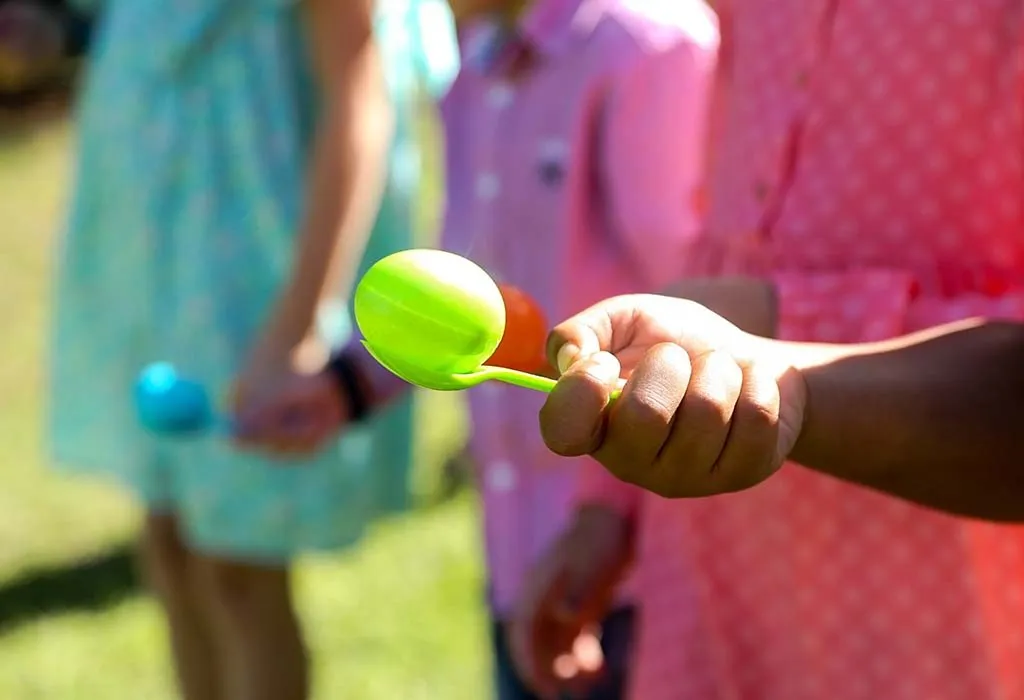 4. Easter Roll
This is another fun Easter game your kids. You'll need some hardboiled eggs, some paint and a gentle slope (either a beach or a lawn). Each participant in the game has to paint the hardboiled egg, pick it in their hands, and without breaking the egg, roll down to the finish line. Ensure you have someone waiting at the finish line to help the kids back up. The kid who reaches first wins.
5. Easter Camps/Camping Outdoors
A day camping outdoors with some Easter games for kids can be a great way to spend the Easter weekend. Get that camping gear out and head to the nearest campsite. If you don't have access to a campsite, you can plan it in your own backyard. Get your children involved in putting up and tents and indulge in some great egg snacks with some Easter stories before bed to complete it all.
6. Kids' Easter Parade
Easter Parade is a huge event in several parts of the world. How about you plan a colourful parade for your kids this time? You can also team up with the parent and their kids in the neighbourhood. If you have a large family, you can conduct your own parade. Get the kids to help you with some tasks like choosing the costumes, helping with the decorations, or the snacks. After all, everybody loves the feeling of being included in Easter games and activities.
7. Bunny Hop Sack Race
Bunny hop sack race is another fun Easter game for kids. It's basically a sack race with a twist. The participants begin at the start point by painting a bunny on their faces without a mirror. After they are done, they step into a sack and hop across to the finish line. The one who crosses the finish line and has the perfect bunny face painting wins the race.
8. Egg Toss
Egg Toss is a great Easter egg game for kids to gauge your child's focus and motor skills. If you're the daring kinds, you can play it with real eggs too. Otherwise, plastic eggs will do. For this game, count the total number of participants and divide them into two teams. Get the teams to form pairs and stand in front of each other, one arm distance away. Form two parallel lines with the remaining pairs. At the count of go, each pair starts tossing an egg. After every catch, the member holding the egg moves one step behind, increasing the distance between the two. The pair that plays till the end is the winner.
9. Egg Rope Skipping
This Easter game for kids is perfect for building their appetite before a large Easter meal. There's a time limit, of course, and you'll need at least three players, a skipping rope and two hardboiled eggs to play this game. Two members hold the skipping rope on either side. The third participant holds the eggs in both his hands (palms up with fingers wrapped around the egg), and jumps over the skipping rope continuously. The one who skips the longest without breaking the egg is the winner.
Now, the Easter games and activities provided above are fun for sure, but may not be suitable for toddlers and preschoolers. The list of Easter games for toddlers and preschoolers should help you solve the issue without much effort. What are we waiting for then? Let's check it out!
Easter Games for Toddlers
1. Easter Egg Colour Sort
How about using Easter as an occasion to improve your child's colour, shape and sorting skills? Place multi-coloured plastic eggs in a basket, and let kids have a go at sorting eggs according to their colour. The child who manages the most in a set duration wins!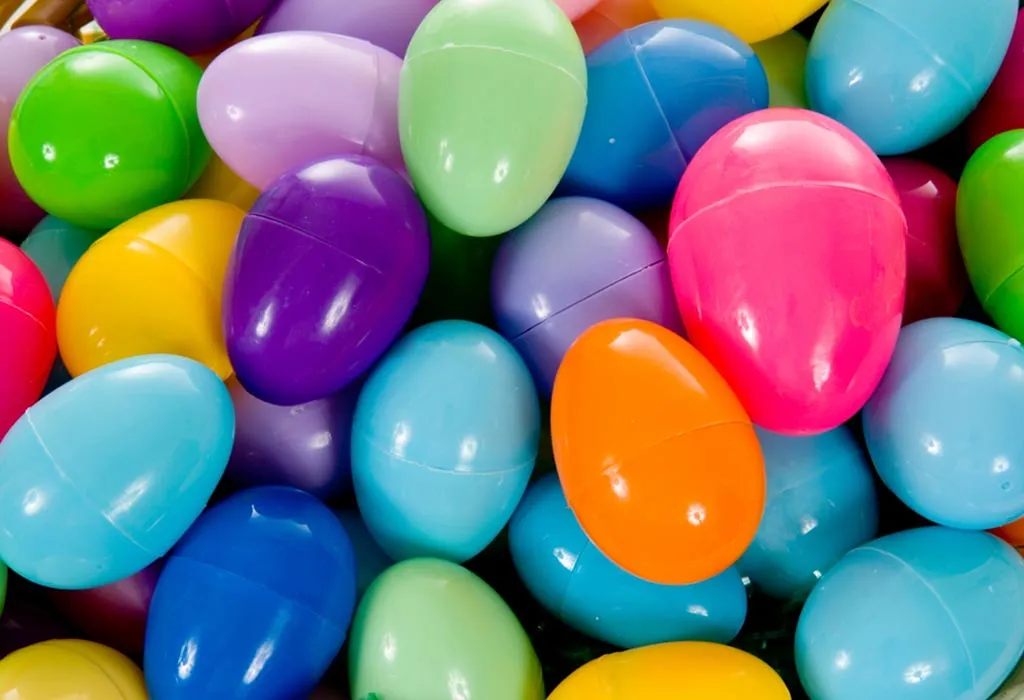 2. Easter Bunny Trail
Easter bunny trail is one is the best Easter games for toddlers. Either draw or place cutouts of bunny footprints at equal intervals on the ground. Kids need to follow the footprints and search their way to an Easter basket filled with goodies.
3. Bunny Tea Party
It's Easter and perfectly reasonable to expect a group of bunnies to come over for tea! Get all the kids to dress up as bunnies, complete with bunny headbands, and play at a real tea-party. Supply the party generously with Easter recipes for kids', such as cupcakes, cookies and homemade juice. This is one of the cutest Easter games for kids to play!
4. Polka Dot Eggs
This one is a wonderful idea to spend a fun afternoon with your child. The participants help each other put together some stunning polka-dotted eggs. Your child can use his fingers, thumb or a paintbrush to make colourful polka dots on a basket full of easter eggs.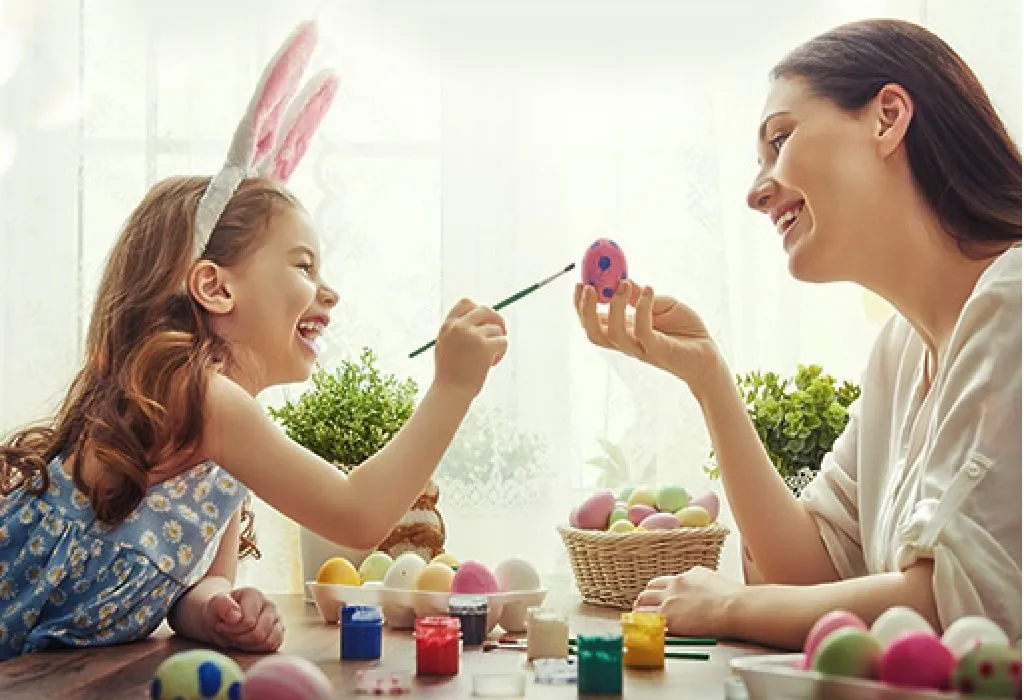 Easter Games for Preschoolers
1. A Necklace of Eggs
Here's another fun Easter game that lets your child have a go at showcasing his fine motor skills. Use plastic eggs with a hole at the top. Show your child how to take a string through all the eggs and make a cool necklace!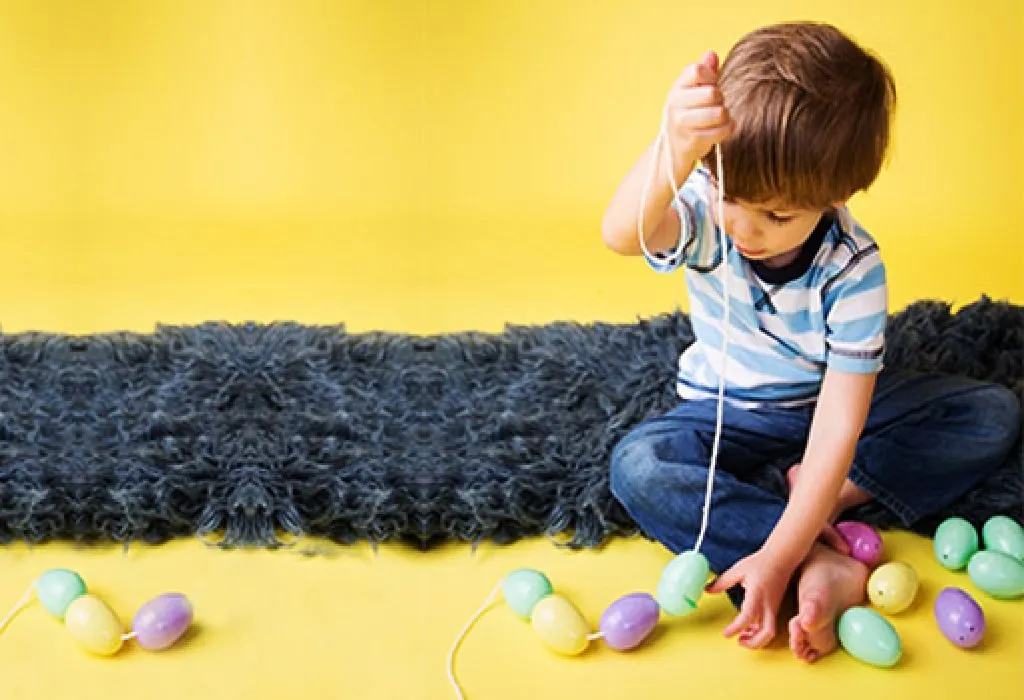 2. Bunny Dance
If you're up for a messy Easter party game for kids, here's an idea that will elevate you to the status of Star Mommy! Help the kids dress up as bunnies by using some skin-friendly face-paint. Then, play hopping (read: peppy) songs in the background and watch the kids dance!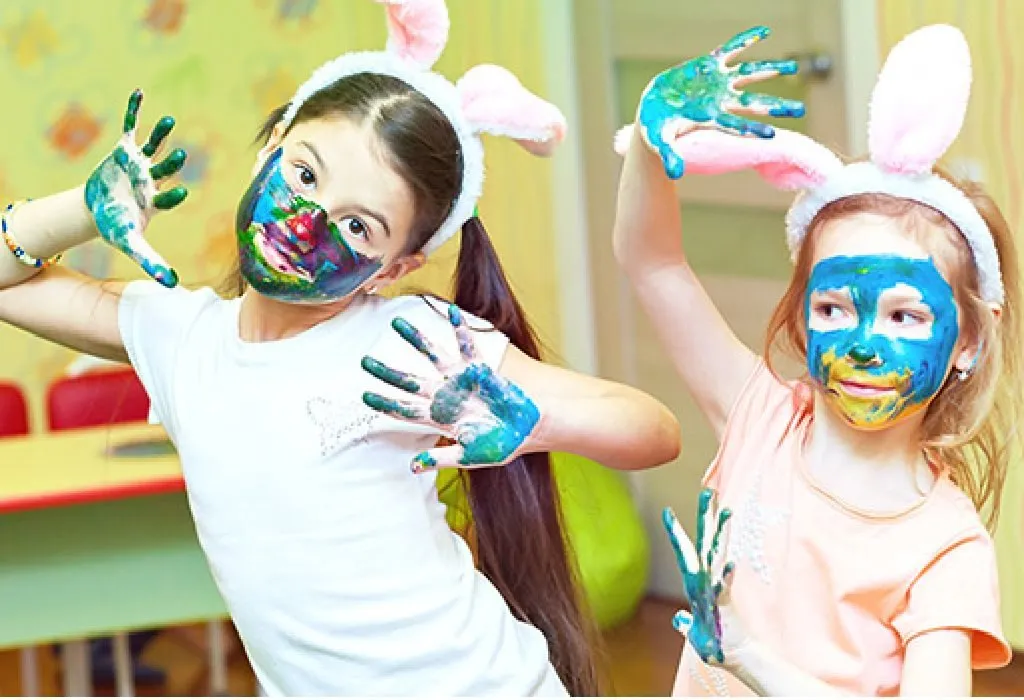 Easter celebrations bring joy to every family. Arrange these Easter games and activities for kids, and add to the fun by participating actively. It's alright to become a kid with your little ones. They will cherish it all their lives!
Also Read:
Easter Gift Ideas for Kids
Easter Recipes for Children
Easter Food Ideas for Kids