5 Types of Rainy Footwear for Kids That Could Prove Lifesaving This Monsoon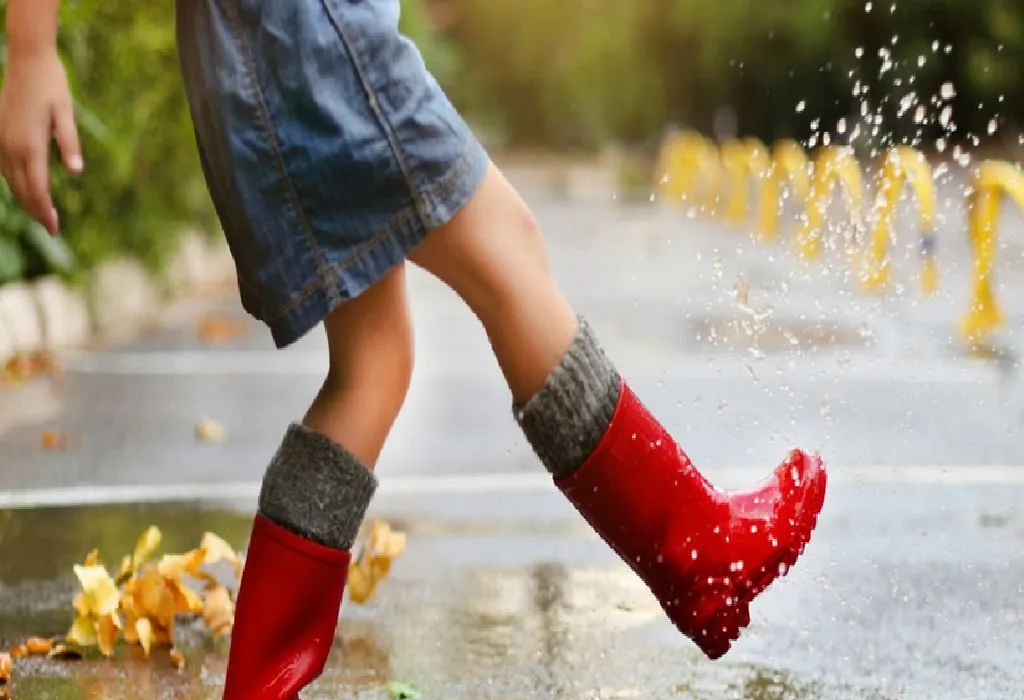 The rains can be a glorious time for kids and adults alike if you are up for experiencing the small joys of life! Most of us have a few "rain stories" that we remember fondly, whether it is getting soaked with our friends on the first shower of the season, sailing paper boats in rain streams, or even a romantic date in the rain. To help your little ones make the best of the season and create their own rainy memories, ensure they are well-protected and comfy – from their head down to their tiny feet!
With the aroma of freshly roasted corn filling the air, the cool breeze giving us some respite from the tropical heat, and the cozy feeling of cuddling with your loved ones indoors while snacking on some crispy pakodas, what's not to love about the monsoon! And because the rains evoke such childlike joy in us, we'd want our kids to experience the rains in all their glory too, right? But first, we'd have to "rain-proof" them enough! Raincoats provide the best protection from the rain, ensuring that your child's chest, arms, legs and head remain dry and protected. But what about their precious little feet?
Rain-Time Infections in Kids & How They Spread
The monsoon time, for all its beauty, is ripe with infections of all kinds too. And more often than not, our children are vulnerable to contracting these infections. This is because their immune system is still developing. They are also likelier to spend time outdoors, splashing about in puddles, and getting their feet wet in stagnant rain-water. Many dangerous infections in monsoon spread through feet.
Some of the infections that children are at risk of contracting during rains include:
Leptospirosis – a bacterial infection that spreads widely during the monsoon in India. This is a disease that is passed on from animals and spreads if contaminated water is ingested or if you walk through floodwaters that have been contaminated. It can lead to high fever, bleeding and vomiting
Athlete's foot – caused by common fungi called candida. It leads to itchy patches on the feet, discoloured toenails and splitting of nails
Worsened eczema – a common skin condition marked by itchy and inflamed patches of skin.
Dangers like fungal infections, typhoid and hepatitis
Scabies – caused by parasitic mites. Leads to painful and severe itching as well as rashes
The above infections can not only mar the joy of the season but also become very serious threats to your child's health. This makes it critical for us as parents to protect the most vulnerable and exposed part of their bodies – the feet.
Many of these start out with symptoms that are minor, and therefore go unnoticed or ignored, posing a threat of serious complications.
How to Choose The Best Rain Shoes for Your Child
There are multiple options in both branded and unbranded quality footwear for your little one to go out during the rains. It's all about picking up the right pair. For your convenience, we've listed notes on the ideal rain shoes for children and how to go about buying the perfect pair! Here's what you need to look for when picking the right pair of rain shoes for your child.
This one is a no-brainer. Of course, the main purpose of rain footwear is that it keeps your child's feet dry or is at least of a material that dries quicker than normal footwear.
Rain shoes are mostly made from rubber to keep out water. Rubber outsoles are the most durable type and they tend to last long. They are quite resistant to mud, slush and pretty much anything icky that comes along with the rainy season! EVA foam outsoles too are workable for the rains.
We know that in an ideal world, you'd go for the pretty designs over anything else – most of us would! But because this is more for your child's protection than fashion quotient, this is the last but definitely not the least important thing to look for. Fortunately, the market is filled with colourful, waterproof, durable shoes for your child so you won't have to compromise on design features while selecting something functional. You can have your child pick out their favourite colours and styles and if luck permits, they'll find their perfect cartoon character-themed shoes too!
Once you've kept the above checklist in place, think about the type of shoe to spend on. Remember, rain shoes last long but kids outgrow shoes quick too, so unless you want to splurge on a three-month pair and do the same drill again next year, it's important to know what your choices are.
Good Monsoon Shoes for Kids to Protect Against Infections
1. Gumboots

Gumboots are always our first preference. They meet the above checklist while also protecting your child against leptospirosis. To avoid the risk of monsoon diseases, it is best to make your child wear fully-covered shoes like gumboots during the rains.
What to look for: Choose 100% rubber boots that are soft and durable. These are the most flexible and easy for your little one to splash around in comfortably. Pick a size bigger so that it holds your child's foot but also leaves some room for next year's growth spurt. But remember that if you buy boots that are too large, they will wear out faster too as your child's heels will keep brushing against the insides.
2. Rubber Loafers
Kids love wearing closed-toe rubber shoes, given the fact that they are easy to wear and take off, and they offers ample foot space when worn. Rubber material is a smart choice for your child, especially in the rainy season. They're rain friendly and have an arch for ankle support, so you can be sure that they won't come off when you're child is walking or running.
What to look for: For the rainy season, it's advised to go for the waterproof and water resistant materials. Choose the ones with inner support heel cups and thick soles to ride this season in comfort. Pick a pair that is slightly big, so that your child can comfortably wear them for a year or two. With these, you need not worry about colours and designs. They have a beautiful range of more than twenty colours with shade variants for each.
3. Sandals

This type of shoe scores as the next best on the list because they are so darn cute! They usually come in clear jelly-like glittery colours and feature supportive harnessing to your little one's feet. Apart from helping your little one splash around and feel the cool water, they also drain quickly and dry fast.
What to look for: A backstrap and gripped soles. Gripped soles offer good traction when your little one is running around on slippery surfaces or in puddles coated with moss. A backstrap will prevent the foot from slipping around inside the sandal
4. Floaters

The name itself is so rain-friendly. This style of rain-shoes was popular in the 90's and 2000's and has made its way to this generation's closets too. Fashion-forward adults may not like to admit this but these shoes score high on functionality. They feature Velcro straps that can be adjusted to fit your child and usually have good traction on the soles.
What to look for: A good grip is essential in any pair of shoes you buy your child. Since this design holds your child's foot firmly, traction on the soles is what you should keep an eye out for.
5. Slippers
If your little one is still rain-shy and prefers spending most of her time indoors, slippers are not a bad option either. Slippers are made such that they do not absorb water once your child jumps in a puddle. Also, the sole is pretty sturdy, which reduces the chances of your child slipping when outdoors during the monsoon. You get various styles of slippers like thong-styles (two-bar slippers), mule style (open-back and covered toes), slippers with a back strap, etc.
What to look for: Slippers may not be the best choice for playing outdoors but with a supportive sole and good traction, there may be less chances of your child falling. However, under supervision, you can easily let you child splash around in them!
Caring for Rain Shoes
As much as we all love the comfort and durability of rubber shoes, they too, like any other pair of shoes need to be taken care of. Here are a few tips that will help your maintain a nice pair of monsoon shoes, given that they are done regularly.
Natural rubber shoes require little to no extra care to keep them in good condition. However, do clean the shoes after use to avoid dirt and grime from drying up on them.
Natural plant oils like olive oil are also helpful in cleaning.The suppleness of the rubber is preserved which in turn extends the life of the boots.
Don't let your child keep wet socks on, as they may spoil the insides of the shoes. It's always beneficial to carry an extra pair of socks during the monsoon.
No matter how much your child enjoys rubbing the soles of rubber shoes against the floor, avoid it. It can harm the sole of the footwear and they may not last long enough.
Let your child enjoy the pure joy of splish-splashing around because you know how a warm bath, hot food and cuddles feel after a good soak in the rain, right? Happy monsoon!
Also Read:
Baby Care in the Monsoon Season
Rainy Day Essentials for Children
Amazing Rainy Day Activities for Kids
Joyful Water Games and Activities for Kids