20 Gorgeous DIY Angel Costume Ideas For Halloween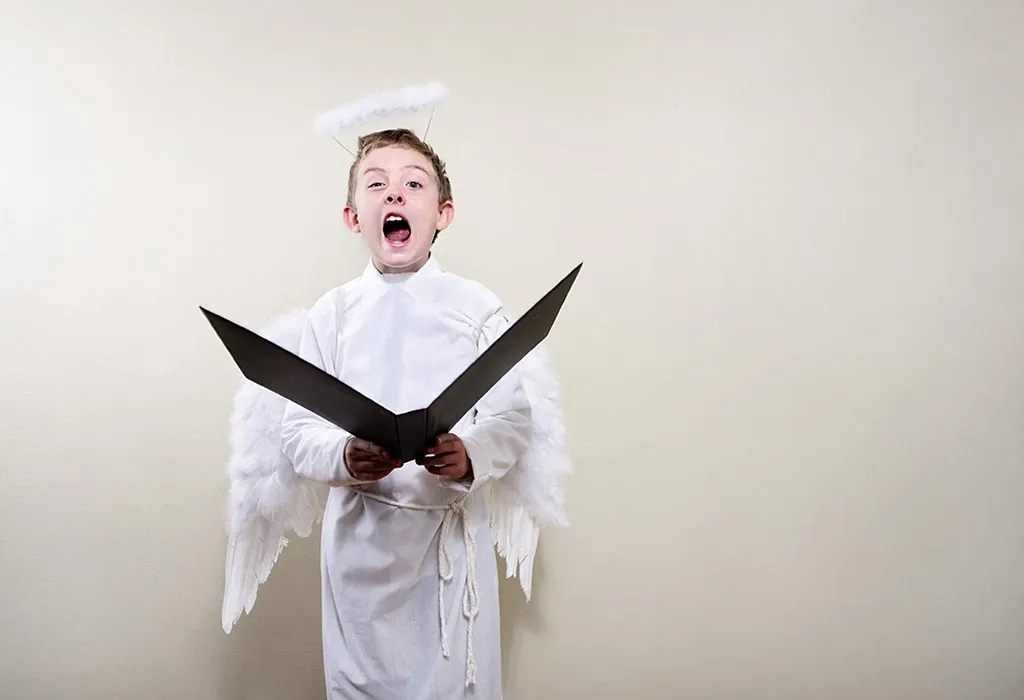 In this Article
Halloween is every child's favorite time of the year; they get to be whoever they want to be on this day. Angel costumes are classic Halloween costumes and can be easily put together at home. All you will need is a halo and wings. That being said, you can always make your costume stand out with some twist, like a dark angel or a fallen angel. Making an angel costume can also be a fun activity for you to perform with your little ones. You can embellish these DIY angel costume ideas per your preference by adding glitter, sequins, ribbons, mirrors, crystals, or lace.
DIY Halloween Angel Costumes Ideas
DIY angel costumes make for a great last-minute Halloween costume as you can easily make the ensemble with materials that are already at home or can easily be purchased from the store. Here are 20 homemade angel costume ideas for you to try this Halloween:
1. Coffee Filter Angel Wings
All you need is some coffee filters, cardboard, paper to cover the cardboard, and glue. Cut the cardboard into the shape of wings and line it with white paper or felt. Take the coffee filters and fold them into tents. Start pasting them from the bottom of the wing, making your way to the top, and use as many filters as necessary, depending upon the size of your cardboard.
2. Cardboard Angel Wings
If you are looking for something easy that you can whip up in 10 minutes, try this. Take a large sheet of cardboard, draw a pair of wings, and cut it. Cut feather shapes from paper or card stock of your desired color and glue the feathers on the cardboard. Add embellishments like ribbons if you wish.
3. DIY Angel Costume Girl
A DIY angel costume for little girls is effortless! All you will need is a white leotard with leggings and a skirt or tutu along with a pair of wings. You can whip up some wings using some of the ideas mentioned above. Use old sheets or net if you want to add a robe…
4. Angel Dog
If you want to dress up your little furry friend as an angel as well, you can put on a white doggy dress or t-shirt and make them a small pair of angel wings. They can match costumes with your little one or be a contrast if your little one wants to dress up as a devil.
5. Golden Wings
If you want to switch things up from the all-white ensemble, you can make a pair of golden wings to wear with a golden dress and halo. Cut the cardboard into wing shapes and add gold foil to it in feathers or sow on the feather shape by adding a polyester wadding between the foil and cardboard.
6. DIY Halo
Cut a piece of wire after measuring your forehead plus a couple of inches. Curve the wire into a circular shape, twisting the ends together on a headband. Wrap a white or golden frill or satin ribbon around the wire.
7. Paper Plate Angel Wings
If you are out of time and materials at home, you can make these DIY paper plate wings using just 11 paper plates, ribbon, glue, and scissors. Cut 2 crescent shapes out of 8 plates for the feathers. Glue them to the center plate, which you can reinforce by gluing 3 plates together. Add a ribbon on either side so you can wear it.
8. Toilet Paper Roll Wings
You can make beautiful wings using toilet paper and cardboard. Cut the cardboard into wing shapes and separate the toilet paper squares. For each square, gather it in the center, making a point, and glue that to the cardboard. Make sure that the edges of your toilet paper squares are even so that they look neat. Add ribbons to wear.
9. Crochet wings
If you know how to crochet, use a 5.5mm hook and make 12-15 stitches for 4 inches. These will be reusable and washable as well. You can even repurpose them as placemats…
10. Feather Wings
Cut the cardboard into a pair of wings, paint it white, and paste some white feathers. You can do this with glue or duct tape as well. You can add extra feathers if you want to give your wings a more voluminous look. Use a ribbon or elastic band to wear it.

11. Tulle Angel Wings
Use a strong plastic coated wire, mend it into wing shapes. Take the tulle and cut 4-5 inch wide pieces that are 45 inches long. Create a loop around the wire and pull the ends through it till it is tight. Repeat till the wire is covered.
12. Golden Trim Costume
Switch up your white angel dress by adding some golden ribbon or trim to it. You can sew on a golden satin trim at the bottom or add a golden satin belt for a more glamorous look. This dress will look great with a golden halo. You can even add some golden glitter or ribbon to your wings.
13. Dark Angel Costume DIY
If you are looking for a women's DIY angel costume, try switching things up with a DIY black angel costume. All you need is a black dress, some black heels, and black feathers. You can make your clothing and wings elegant with lace or keep it simple with cardboard. A dark angel costume is also ideal if you want to make a fallen angel costume DIY.
14. Contrast Angel and Devil Outfits
You and your best friend can dress up as a duo of an angel and a devil. The angel costume will consist of white wings, halo, dress, leggings or stockings, and footwear. The devil costume will consist of red horns and stockings and a black dress and heels. You can even add black bracelets and use fishnet stockings for the devil costume.
15. Weeping Angel Costume
A weeping angel costume is similar to a dark angel costume. Use grey wings and a grey dress for a weeping angel. You can elevate the look by using grey body paint as well. Make an elegant and messy half up, half down braid with your hair.
16. Newspaper Angel Wings
If you are a fan of reusing materials, these are the perfect wings for you. Use newspapers cut into feather shapes on cardboard cutouts of wings. Add more newspaper feathers for better texture. The newspaper will give your wings a rustic look.
17. T-shirt Angel Dress
You can use your boring baggy white t-shirt to make an angel dress for your little one. Sow some lace along the sleeves and bottom. Then attach two ribbons on two sides of the back. Put on some cute white wings, and your costume is complete.
18. Paper Plate halo
You can use a paper plate as a halo behind your head. Attach it with a pin and embellish the plate with some glitter or sequins.
19. Nativity Angel Costume
If you wish to have a group costume theme, you can create a Nativity scene. For the angel, use any angel costume ideas above to have a white dress, wings, and a halo.
20. Men's Angel Costume
Men can wear white clothes with wings and a halo and even add angel wing bracers for a more manly look. If you don't wish to wear wings, you can wear a t-shirt with wings printed on them.
Every Halloween, your child decides to dress up scary or balance the wickedness in the surrounding out with something heavenly. If your little one wants to be an angel, do try out these gorgeous angel costume ideas. They are straightforward, and all the materials you need are readily available at home.
Also Read:
Best Halloween Costume Ideas for Children
Homemade Halloween Costume Ideas for Children
Halloween Costume Ideas for Twins