20 Best Graduation Gift Ideas for Kindergarteners and Preschoolers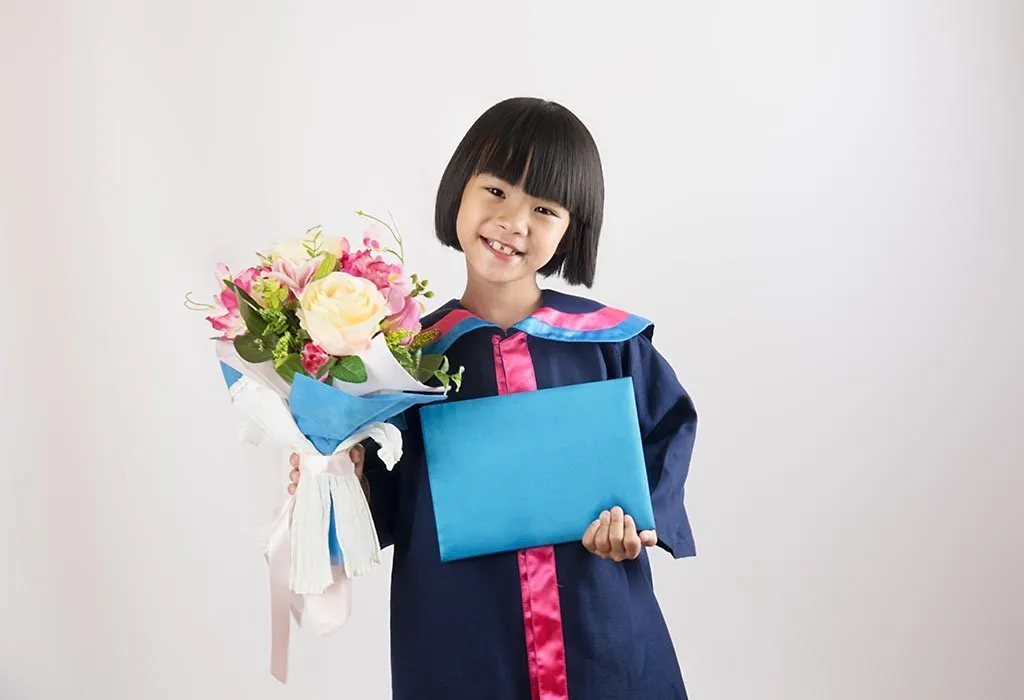 Graduating from preschool and kindergarten is a huge milestone in your little one's life. Your baby progressing in their school life and graduating from preschool or kindergarten are important landmarks of their school life. These occasions need to be commemorated especially to encourage and show your pride of your little kid. Most schools have graduating ceremonies, however, you hosting a party for the celebration will be the icing on the cake. Giving a gift to them will make them remember their big day for many years and they will always keepsake your gift as the fond memory of their graduation from preschool or kindergarten.
10 Amazing Kindergarten Graduation Gift Ideas
Your little one has graduated from kindergarten and now is heading to first grade in the next grade. It is one of the most memorable and important landmarks of their school career. The little kid has learnt to read and write in their kindergarten and they need to be rewarded for their effort and encouraged to accomplish more in the coming grade. The best way to show how proud you are of their achievements is to give them an amazing gift on their kindergarten graduation.
Here are some amazing kindergarten graduation gift ideas:
1. Graduation Plush Bear

Your kindergarten graduating baby is going to go to a bigger class and is becoming a big baby. However, they still are babies. So what better gift for a graduating baby, than a fluffy graduating bear to commemorate their special occasion? This plush bear comes with a graduating cap, diploma and sometimes a robe too, to make it look like a graduating student.
2. Kindergarten Graduation T-shirt
One of the best kindergarten graduation gifts will be a Kindergarten Graduation t-shirt. You can take any white t-shirt and get it printed with your graduating kid's name, school name and class year. Additionally, you can get your kid's picture printed on one side of the t-shirt. In case you are gifting the t-shirt after the graduation ceremony, take the picture of your child graduating and get that picture on the t-shirt. Your child can wear this t-shirt all summer long and later keep it as a memento.
3. Kid Science Lab

Your kid as he/she goes to higher classes will be learning science. So gifting them a science lab is a good way to encourage them to explore science. The science lab kit has fun and easy experiments suitable for kids. You can let them play with this science lab under your supervision and let them get intrigued by science.
4. First Grade Card set
Your kid has graduated from kindergarten and will be going to first grade next year. Gift them this First grade Card set to begin their learning for next year in the summer break. The card set has numerous cards with a variety of questions, games and puzzles based on the first-grade curriculum. Your kid can play and learn from these cards with your help or with their friends. This way he/she will learn new things and will be ready for first grade.
5. Smart Money Box
You can teach your kid budgeting skills from an early age by gifting a smart money box as their kindergarten graduating gift. This smart money box has different sections for sharing, spending and saving. Your kid can learn from you how to budget their pocket money in these sections and learn the art of saving from a young age. This money box also comes with a passbook on which he/she can record the deposit and withdrawal transactions to track their money.
6. Art Kit

Art is an important aspect of student life and kids enjoy art not just as a pastime but as a means to express themselves too. Gifting them an art kit which has everything such as colour pencils, crayons, markers, paint colours and sheets will keep them occupied for the coming summer holidays.
7. Writing Table With a Visual Board
This is a fun writing table with a visual board on which the kid can draw or write. The table can be used as a simple writing table or as a visual board on which your kid can experiment to write visual stories. This will improve their creativity and they will learn the art of visual storytelling. As parents, you will also be happy to see they are occupied with experimenting their creativity.
8. Fairy Miniature Garden

This Fairy Miniature Garden is the perfect graduation gift for kindergarten girl and even a boy who loves gardening and fairy tales. The kit comes with a fairy and her teacup home with a pond. The kit has real seeds, which your kid can plant in the fairy garden and see them grow to make a real-life miniature garden. They can play with this imaginative kit and at the same time also learn about taking care of plants. This is a good way to encourage them to care about plants and learnt the importance of plants.
9. Kids Walkie Talkie
You little boy loves to run around with his friends and play various games in the neighbourhood. A kid's walkie talkie is the perfect graduation gift for a kindergarten boy who loves adventure. It is completely safe and can operate on long-range. So he can connect to his friends while playing or you can keep one with you and know where he is.
10. Kid's Microscope

This kid's microscope is the perfect blend of education and toy. Your little kid will love playing with it and learn a few things as well. As they see different things under their microscope they will get intrigued about them and learn about those things.
10 Perfect Gift Ideas for Your Graduating Preschooler
As a parent, your little kid graduating from preschool is a proud moment. Your baby's first educational milestone is an occasion worth remembering for life. To mark the occasion, you want to give a special gift to your kid. However, if you are confused as what would make the ideal gift for your graduating pre-schooler, here are some perfect preschool graduation present ideas for your graduating pre-schooler:
1. School Memory Book

A school memory book is a perfect gift for your preschool graduating kid. In this memory book, you can collect their school memories in the form of pictures, paste their artwork, pockets for their school mementoes, records and certificates throughout their school life. You can get a readymade scrapbook from the market or make it yourself. This school scrapbook will be their keepsake for their entire life. They can add to it every school year and can always see their preserved childhood memories anytime they want.
2. New School T-shirt/Shirt/School Supplies
One of the best pre k graduation gifts is giving the new school t-shirt or shirt to your little one. This will excite them for their new school and grade. In case the school doesn't have a school t-shirt or shirt, you can look for school supplies, pencil cases, folders, etc. which have the school name branding. Another option is to get a custom made new school t-shirt made to excite your kid.
3. Customised Checkers Game

Board games are exciting and enjoyable for young kids. Board games especially checkers is a good game to exercise the mind while having fun playing the game. A simple checkers game would not be ideal for the graduating present for your kid. Get the help of any craft store and get a customised checkers game made for your kid. Your kid will forever remember this personalized gift.
4. Cute Bookshelf
As your kid progresses in their school year, he/she will have lots of books. A perfect graduating present would be gifting them a cute bookshelf to keep their books. Kid's bookshelves are available in various designs such as school bus, animal, etc. If can't find a ready-made one, you can easily get it custom-made too. Choose a design they would like and gift them this memorable gift.
5. Story Books

Your little kid has started to learn to read. So now is the perfect time to gift them kid's storybooks to encourage them to learn more. These colourful storybooks will encourage them to read and improve their imagination as they imagine all the wonderful tales in the books.
6. Giant Lawn Dominoes Set
As your kid's graduates, their summer vacation to starts. So gifting hem something to play with is a useful gift, which will keep them occupied for the summer vacation. A Giant Lawn Dominoes set will make them enjoy their time in the outdoor with their friends.
7. School Plush Mascot
Every kid loves a soft fluffy toy. So what better gift than their new school mascot as their new fluffy toy. Some schools have their school mascot plush toys, in case they don't sell them, get a similar fluffy toy and gift your child.
8. Magnetic Building Blocks

An advance on the original building blocks these magnetic building blocks are designed to develop your kid's essential STEM skills. Your kid will learn to build things by using their imagination and develop into the engineering of making things.
9. Kick Scooter
A kick scooter is a perfect gift for a growing child. They simply have to lean sideways to steer the scooter and propel it forward with their body weight. They can learn to ride it in the summer holidays and use it for many years to come as it is suitable for kids up to 12 years. So they will remember the special occasion of their graduation whenever they ride their scooter.
10. Play-Doh Set

Kids love to play with play-doh. So gifting them a play-doh set with different cutters, frosting tool, colour jars, spatula and many colours of dohs. Your kid will love making different shapes with the play-dohs and explore their creativity.
Graduation from preschool and kindergarten is an important milestone of your kid's school life. By giving a special gift to your kid on this occasion, will make it more special. They will keep as their graduating memento and will get encouraged to perform the best in their school life.
Also Read: Popular Songs for Kindergarten Graduation