17 Tempting Baby Shower Dessert Ideas With Their Recipes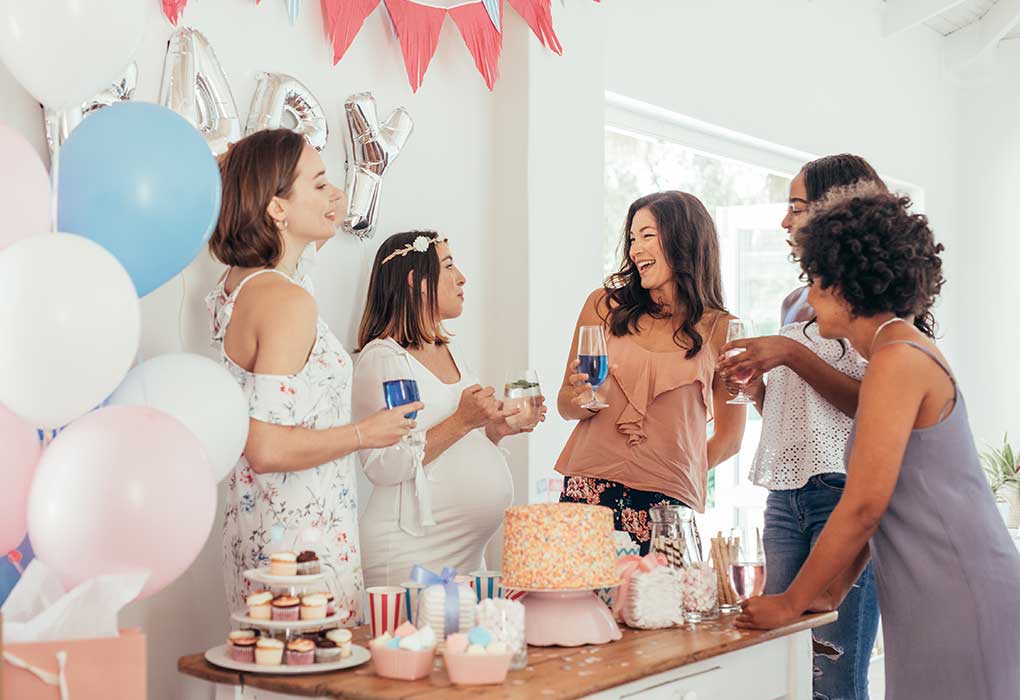 In this Article
A baby shower is a very important day for the mother-to-be and the hosts who go out of their way to welcome the baby with a grand gesture. Some desserts are served hot, and some desserts are cool treats. So pick your choice of desserts according to the weather conditions. While the hosts think of exceptional themes or party ideas to create a statement, it is also easy to stand out with different meal ideas, experimental dishes, and ravishing desserts.
Let us have a look at some exciting baby shower sweet treats ideas to impress your guests.
Easy and Yummy Baby Shower Dessert Recipes
1. Mini Pies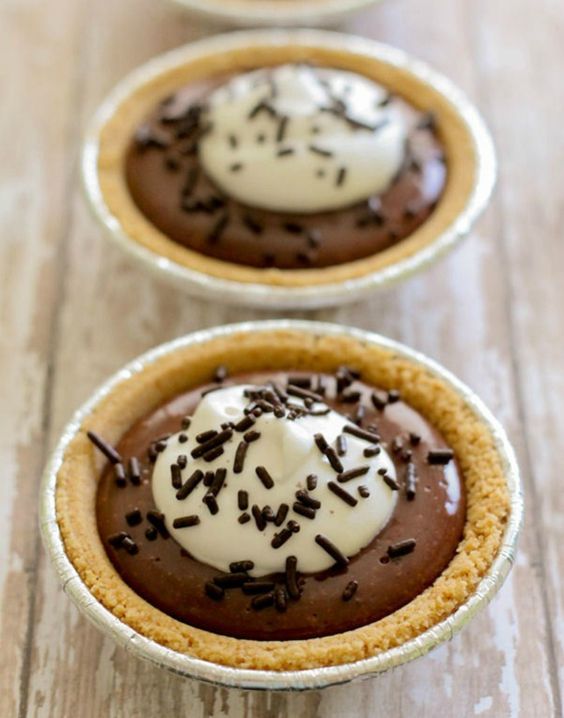 Source: Pinterest
Prep Time: 30 minutes
Ingredients
Flour
Chilled pie-crust dough (homemade or store-bought)
Two bananas
Dulce de leche
Whipping cream
A bar or chunk of dark or semi-sweet chocolate
8-10 two-piece mason jar lids
How to Make
First, you need to make the mini pie shells. For that, flour the work surface, roll out your dough and cut it in round shapes.
Press the round-shaped dough gently into the jar lids (with the metal face up).
Bake it for 12-15 minutes on a cookie sheet placed on an oven preheated 400°F). Then, leave it to cool off.
For the filling, thinly slice the bananas. Gather freshly whipped cream and chocolate scoops for garnishing.
Now assemble the crust, and the filling- the first layer on the cookie shells will be the banana slices. On top of that, a generous amount of dulce de leche will do the trick. Lastly, add some whipped cream and chocolate to get delicious mini pies ready.
2. Salty Sweet Caramel Cookie Sandwiches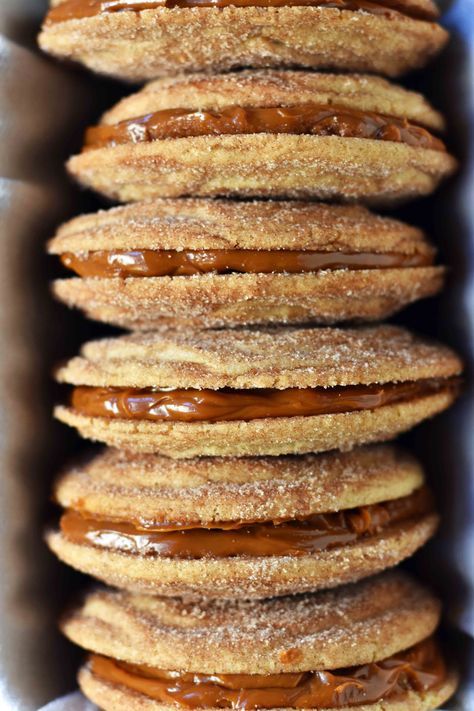 Source: Pinterest
Prep Time: 1 hour
Ingredients
½ cup unsalted butter
1 cup semi-sweet chocolate chips
3 tablespoons unsweetened cocoa powder
¼ cup of sugar
¼ cup brown sugar
1 egg
3/4 teaspoon vanilla
1 teaspoon baking soda
1 cup flour
¾ cup oats
1/2 cup butter
1 1/2 cup powdered sugar
1/4 cup heavy cream
1 teaspoon vanilla
2/3 cup homemade or pre-made caramel sauce
How to Make
Heat the butter and chocolate chips in a microwave and beat the two ingredients together till smooth.
Make the cookie dough by first mixing cocoa powder, white and brown sugar. Then add the butter and chocolate mix to the bowl followed by the egg, vanilla, and baking soda. Lastly, add the flour and oats and mix well with a spatula.
Give a flattened disk shape to the cookie dough. Bake the same at 350°F for 8-10 minutes.
To make the filling, beat the butter till it's creamy. Slowly add the powdered sugar, heavy cream and vanilla to it.
Mix in the caramel sauce and beat the mixture properly.
To make the sandwich cookie, pipe the filling between two cookies and drizzle some caramel sauce on the top of the cookies.
3. Onesie Cake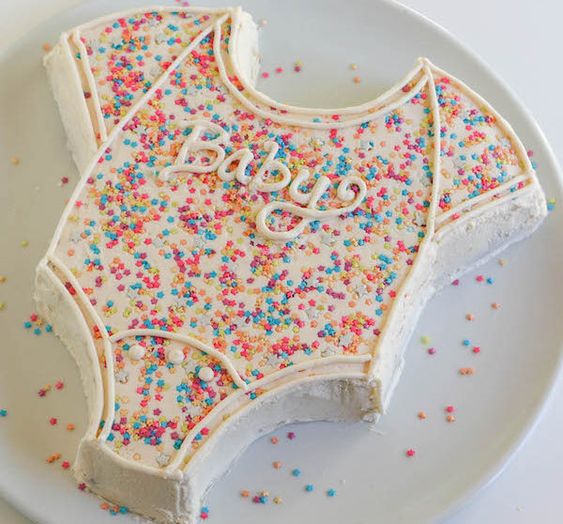 Source: Pinterest
Prep Time: 1hr 20 min – 1hr 40 min
Ingredients
Rectangular cake
Buttercream
Sprinkles
Piping bag
Parchment paper
How to Make
Make a flat-top cake in a glass dish. Cut the cake out in an arched and curved manner to roughly give it the shape of a onesie with its legs and sleeves.
Cover the cut-out portion of the cake with the frosting of buttercream. Add another coat to the top layer with sprinklers.
Decorate the onesie with a cream-filled piping bag and add your message to make these baby-themed desserts.
4. No-Bake Ice Cream Cake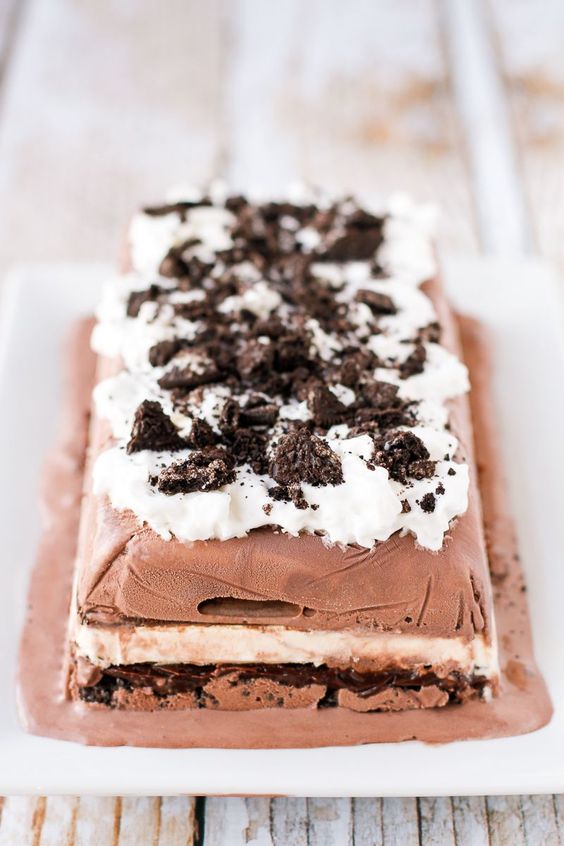 Source: Pinterest
Prep Time: 20 min
Ingredients
Chocolate ice cream (soft)
5 ice cream sandwiches
12 Oreo cookies crushed
1/2 jar hot fudge
1 can homemade whipped cream
How to Make
Take some softened ice cream. Spread a half-inch thick layer across the bottom of the pan.
Put 5 ice cream sandwiches on top of the layer.
Spread some hot fudge topping on the layer of ice cream sandwiches.
Create another layer of crushed Oreo cookies.
The final layer should be chocolate ice cream. Wrap it in plastic and refrigerate it.
Once it is frozen, serve the dish with fresh cream topping.
5. Heart-Shaped Tarts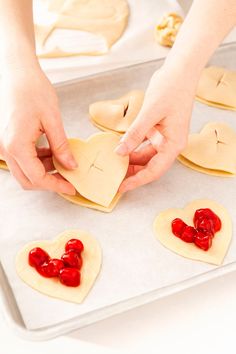 Source: Pinterest
Prep Time: 50 min
Ingredients
2 cups flour
2 tbsp brown sugar
1/2 tsp salt
12 tbsp unsalted butter
1/2 cup cold water
1/2 cup raspberry jam
1 egg
How to Make
Make the cookie dough by mixing the flour, brown sugar and salt. Cut the butter in small bits and add to the dry mix, then knead the dough with cold water.
Cover the dough and refrigerate it for at least 15 minutes.
Divide the dough into two parts, roll out one half of the refrigerated dough and cut into heart-shaped cookies. Repeat the same step with the second half of dough.
Put raspberry jam at the heart of each cookie from the first batch.
Whisk an egg in a bowl and brush the edges of the hearts with it.
Take the other heart-shaped cookies gently press these two halves together.
Brush the cookies with the rest of the egg wash and sprinkle some sugar on these heart-shaped cookies. Bake for 25 minutes. Serve once the tarts have cooled down.
6. Fruity Pebble Rice Krispie Treats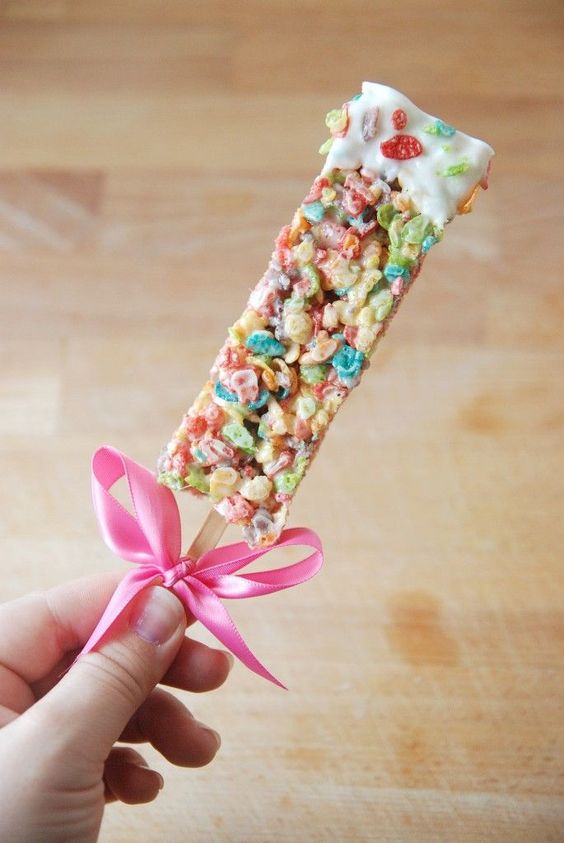 Source: Pinterest
Prep Time: 17 min
Ingredients
4 tbsp melted butter
10oz marshmallows
6 cups fruity pebbles
Popsicle sticks
Chocolate for dipping
How to Make
In a 9X13 inch baking dish, melt butter on medium heat. Add, stir, and melt the marshmallows as well.
Add the cereals and stir well. Pour this mix in another baking dish and spread out evenly.
Once the mix slightly cools down, cut in rectangular shapes and insert popsicle sticks inside.
Dip these sticks in melted chocolate and sprinkle with some extra fruit pebbles to get the perfect baby shower dessert bar.
7. Baby Blue Layered Jell-O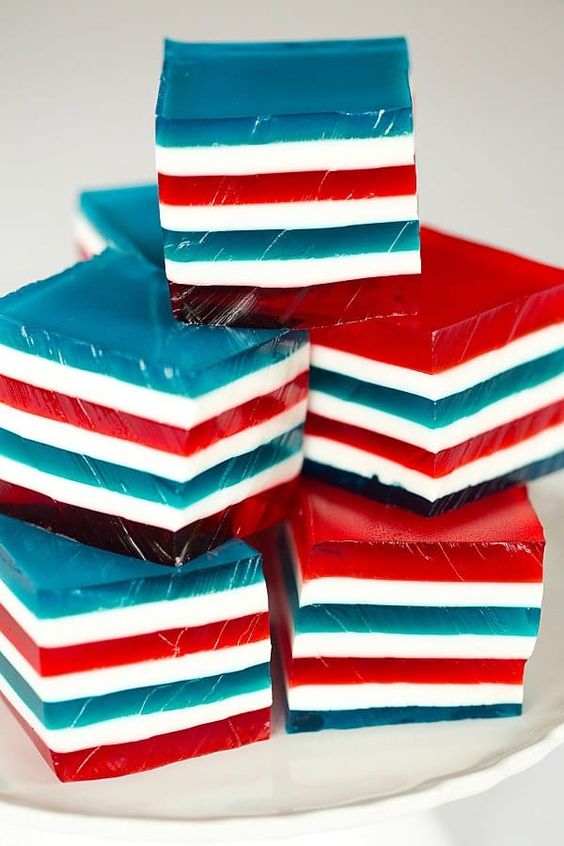 Source: Pinterest
Prep Time: 2 hrs 40 min
Ingredients
4 packets of berry blue Jell-O
4 packets of strawberry pink Jell-O
4 packets of unflavoured gelatine
1 can sweetened condensed milk
5 cups of water
How to Make
Spray a baking dish with cooking spray.
Mix the blue Jell-O with a little unflavoured gelatine (one teaspoon) and stir with boiling water properly. Refrigerate the mix for 20 minutes. Repeat the process for pink Jell-O.
Mix the cold water, unflavoured gelatine and boiling water. Add sweetened condensed milk to the dissolved mixture.
Pour this mixture of sweetened condensed milk on top of the refrigerated Jell-O mixture. Refrigerate this mixture again for another 20 minutes.
Repeat the process till you reach the desired number of layers (standard:4)
8. Shortbread Cookies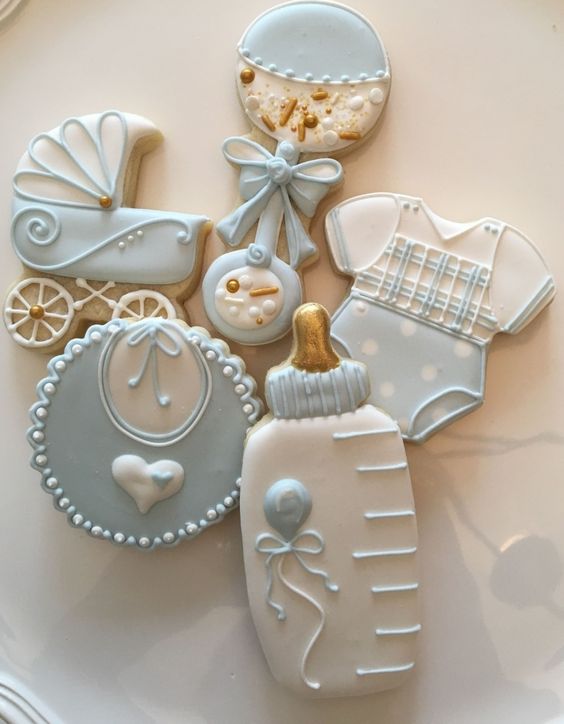 Source: Pinterest
Prep Time: 3 hrs
Ingredients
1 batch of shortbread cookies cut in baby shower themed shapes
Icing
Food colouring
How to Make:
Prepare the frosting of your choice.
Use food colour to colour it.
Outline the shapes with a thin line of icing. Then fill it in.
Let those dry for 2 hours and add different colours and intricate details.
Dry the cookies overnight.
9. Salted Caramel Brownie Bites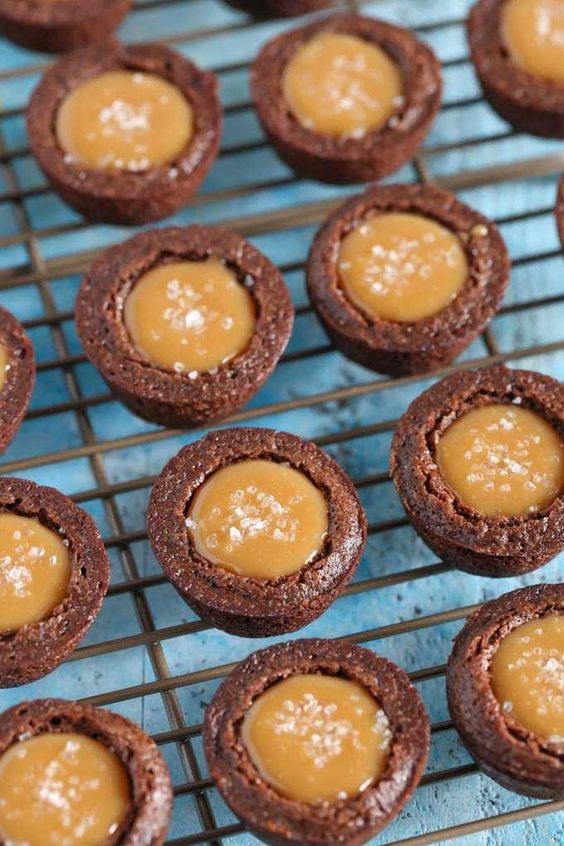 Source: Pinterest
Prep Time: 2 hrs 40 min
Ingredients
1/2 cup (115 grams) unsalted butter, melted and slightly cooled
1 cup (200 grams) granulated sugar
2 large eggs
1 teaspoon vanilla extract
1/2 cup (65 grams) all-purpose flour (spooned & leveled)
1/2 cup (40 grams) unsweetened cocoa powder
1/4 teaspoon salt
20 soft caramel candies unwrapped
3 tablespoons 45 ml heavy cream
How to Make
Mix the butter and granulated sugar. Then, add the eggs and vanilla extract to it and stir well. Pour in the flour, cocoa powder, and salt. Combine well.
Bake the brownie batter divided evenly at 350°F for 12-15 minutes.
Then let the cooking pan cool for 45 minutes at least.
Prepare the caramel filling by melting caramel candies in the microwave and pour the caramel into the brownies.
Let it cool down (for 15-20 minutes). Then add fresh cream for yummy mini desserts.
10. Lemon Blossoms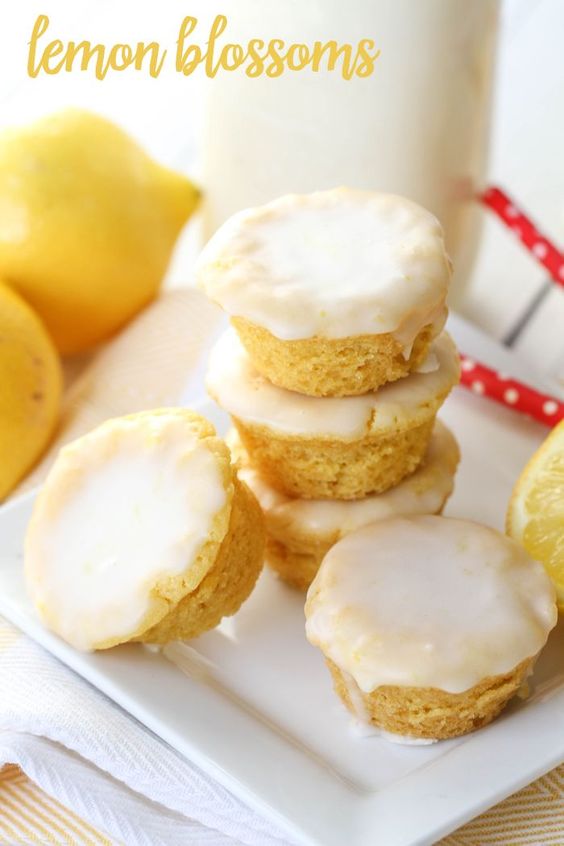 Source: Pinterest
Prep Time: 20 min
Ingredients
1 box yellow cake mix
3.4 oz lemon pudding mix
4 eggs
3/4 cup vegetable oil
3 cups powdered sugar sifted
2 tbsp lemon juice
5-6 tbsp milk
How to Make
Mix cake mix, pudding mix, oil and eggs and stir to create a smooth batter.
Fill the pan with thick batter and bake for 12 minutes.
Mix powdered sugar, milk, and lemon juice. Beat smoothly. For a thinner consistency, add more milk.
Dip the hot muffins into the mix and set it on wax paper.
11. Mini Cinnamon Rolls With Cream Cheese Frosting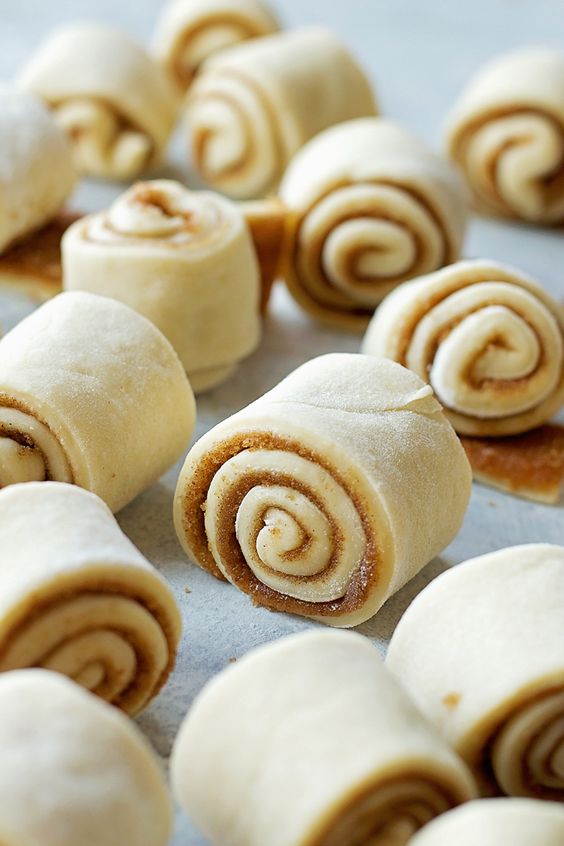 Source: Pinterest
Prep Time: 30min
Ingredients
2¾ cups all-purpose flour
¼ cup granulated sugar
2 tbsp. unsalted butter
1 egg
1 tbsp. instant yeast
½ cup water
¼ cup whole milk
1 tsp. salt
¼ cup (½ stick) butter, melted
½ cup brown sugar
1 tbsp. 1 tsp. ground cinnamon
1 tsp. vanilla extract
4 oz. cream cheese, room temperature
¼ cup (1/2 stick) unsalted butter, room temperature
1 cup powdered sugar
1-2 tbsp. whole milk (to desired thickness)
½ tsp. vanilla extract
How to Make
Mix sugar, water, milk, and butter. Microwave at high temperature for 1 minute. Then let it cool down.
Mix flour, salt, and yeast. Now, mix the dry and wet mixtures. Add the egg and make a sticky, soft dough. Cover it with plastic wrap and keep it for 10 minutes.
After some time, roll out the dough on a flat surface. Mix all the other ingredients (except butter) to make a filling.
Now cut the dough into strips, spread the fillings on each strip, and roll those up in rose shape.
Bake the rolls to get your sweet cinnamon rolls.
12. Texas Sheet Cake Bites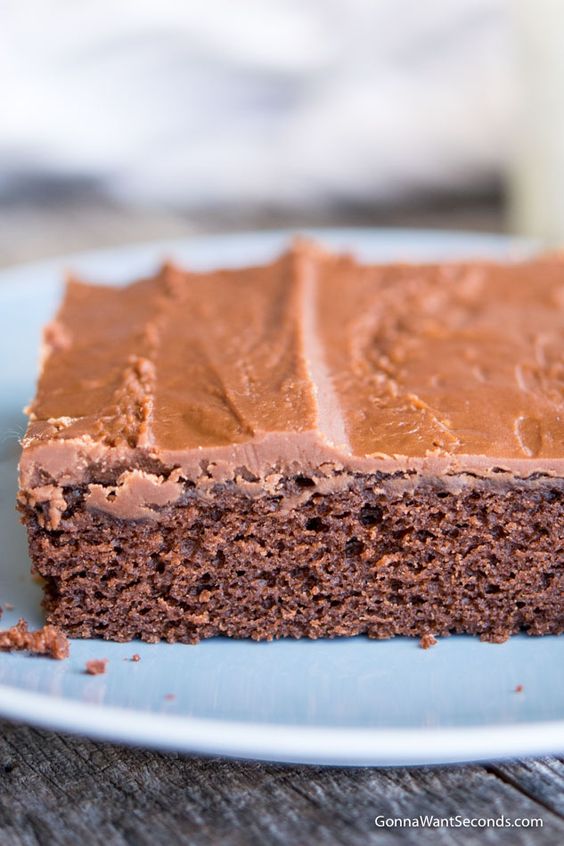 Source: Pinterest
Prep Time: 40 mins
Ingredients
2 cups all-purpose flour
2 cups sugar
1 tsp baking soda
1/2 tsp salt
5 tbsps cocoa powder
1/2 cup buttermilk
3/4 cup water
1 cup butter
2 eggs
Frosting
5 tbsp cocoa powder
1/2 cup butter
6 tbsp buttermilk
3 1/2 cups powdered sugar
1 cup chopped walnuts
1 tsp vanilla
How to Make
Mix sugar, flour, baking soda, and salt in a bowl.
In another bowl, combine butter, water, and cocoa powder and boil the mixture.
Pour the mix into the dry mixture and combine the two. Add buttermilk and eggs and stir into a thin batter.
Pour the batter in muffin cups and bake it.
Heat milk, butter, and cocoa. Add powdered sugar and vanilla and beat it to make a smooth icing. Add the walnuts and cover the muffins with frosting.
13. Chocolate Pudding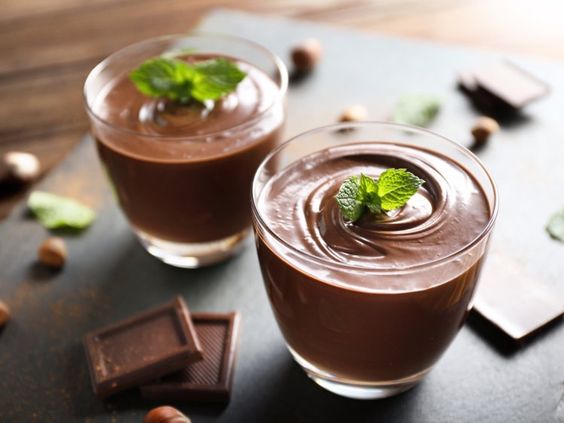 Source: Pinterest
Prep Time: 5 min
Ingredients
2/3 cup sugar
1/4 cup cocoa
2 1/4 cups milk
3 tablespoons cornstarch
1/4 teaspoon salt
2 teaspoons vanilla
1 tablespoon butter
How to Make
Mix sugar, cocoa, cornstarch, and salt. Combine milk and keep on stirring.
Microwave at a high temperature for 7 to 10 minutes.
Let it cool and then stir in butter and vanilla.
14. Strawberry Icebox Cake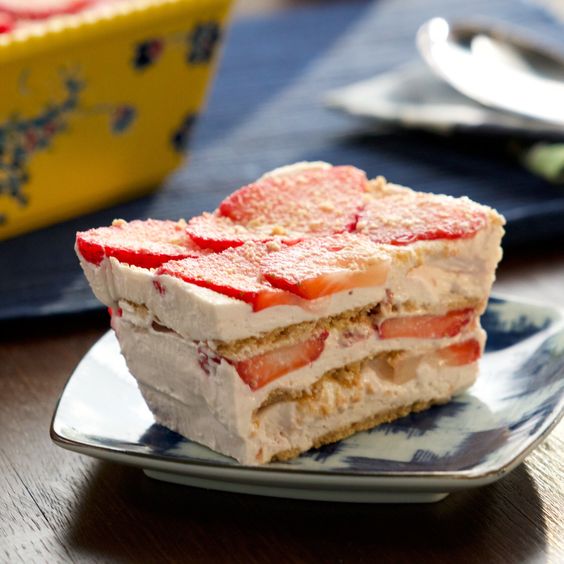 Source: Pinterest
Prep Time: 3 hrs
Ingredients:
5 cups sweetened whipped cream (300 g)
11 large rectangular graham crackers
3 cups strawberry (450 g), chopped
How to Make
Spread out a layer of whipped cream.
Put the graham crackers on it and cover it again with whipped cream.
Spread the strawberries on it and add another layer of whipped cream.
Repeat layers to get the desired outcome.
Finally, refrigerate for at least 3 hours.
15. Cookies and Ice Cream Pie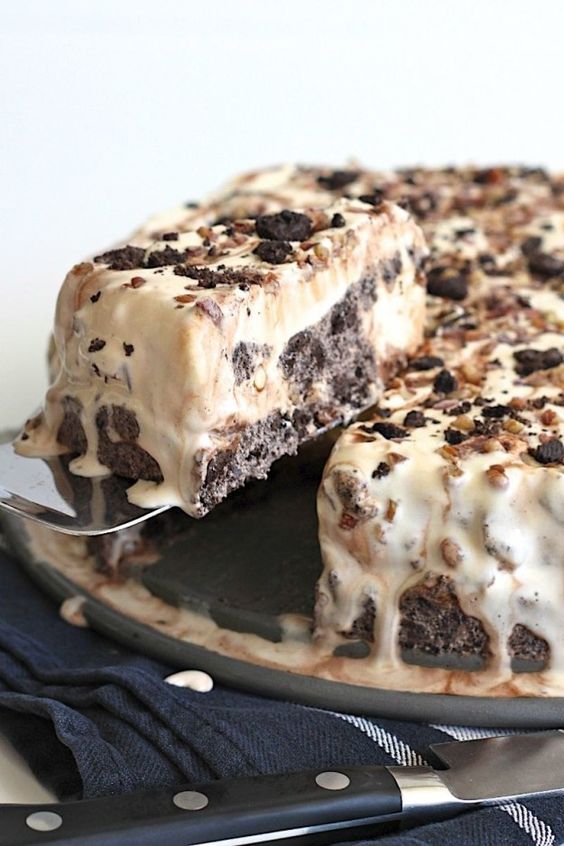 Source: Pinterest
Prep Time: 4 hrs
Ingredients
20 chocolate sandwich cookies
1 cup chocolate (170 g), melted
1 ¾ qt ice cream (2 L), softened
How to Make
Take the cookies and crush those to make cookie crumbs.
Spread the cookie crumbs in a flat pan. Spread the softened ice cream on top.
Sprinkle melted chocolate from the top.
Freeze for 4 hours.
16. Peanut Butter Cups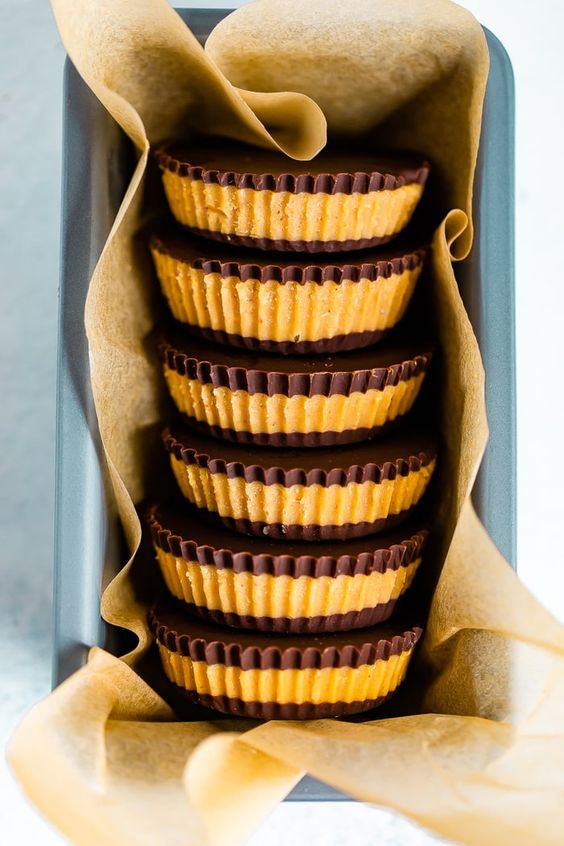 Source: Pinterest
Prep Time: 1 hr
Ingredients
3 tablespoons powdered sugar, sifted
½ cup creamy peanut butter (120 g)
1 cup chocolate (170 g), melted
How to Make
Mix peanut butter and powdered sugar and stir into a smooth batter.
Now spread it in a cupcake liner in this manner: add a layer of chocolate and fill it with the peanut butter mix and top it with chocolate.
Refrigerate the liner for an hour.
17. Chocolate Cereal Treats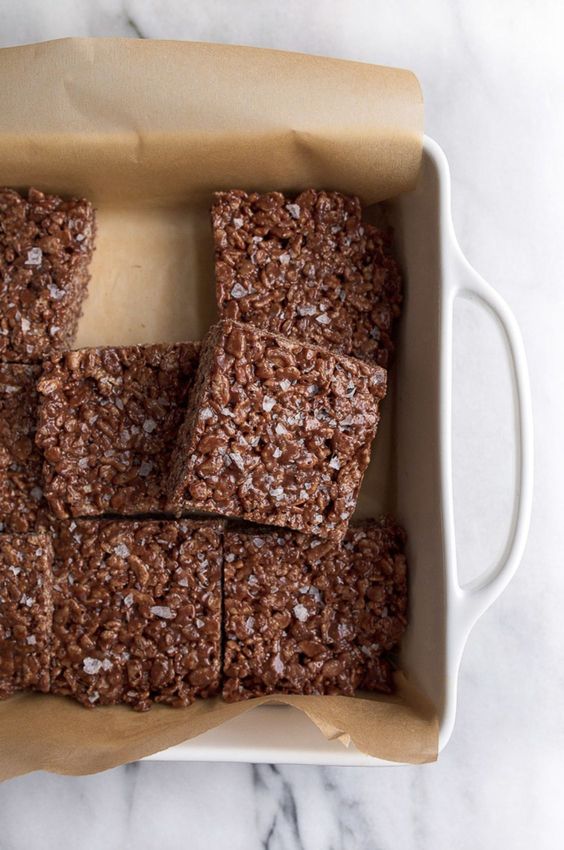 Source: Pinterest
Prep Time: 1 hr
Ingredients
1 cup of chocolate candy (175 g)
2 ½ cups marshmallow (140 g)
3 cups puffed rice cereal (90 g)
How to Make:
Melt marshmallows. Stir every 30 seconds so that it doesn't get burnt.
Add in the rice cereal and chocolates to the melted marshmallows. Stir and mix properly.
Scoop the mixture and flatten the same.
Cool it for 30 minutes and then cut into squares to prepare these finger food like desserts.
These are some very easy DIY baby shower desserts that you can prepare for a perfect baby shower party. The mouth-watering recipes and the yummy ingredients of these desserts would be a foodie's heaven and a non-foodie's best tryout platform. You can also add some more ingredients according to your wish to make these desserts even more delicious.