12 Creative Dr Seuss Inspired Crafts for Kids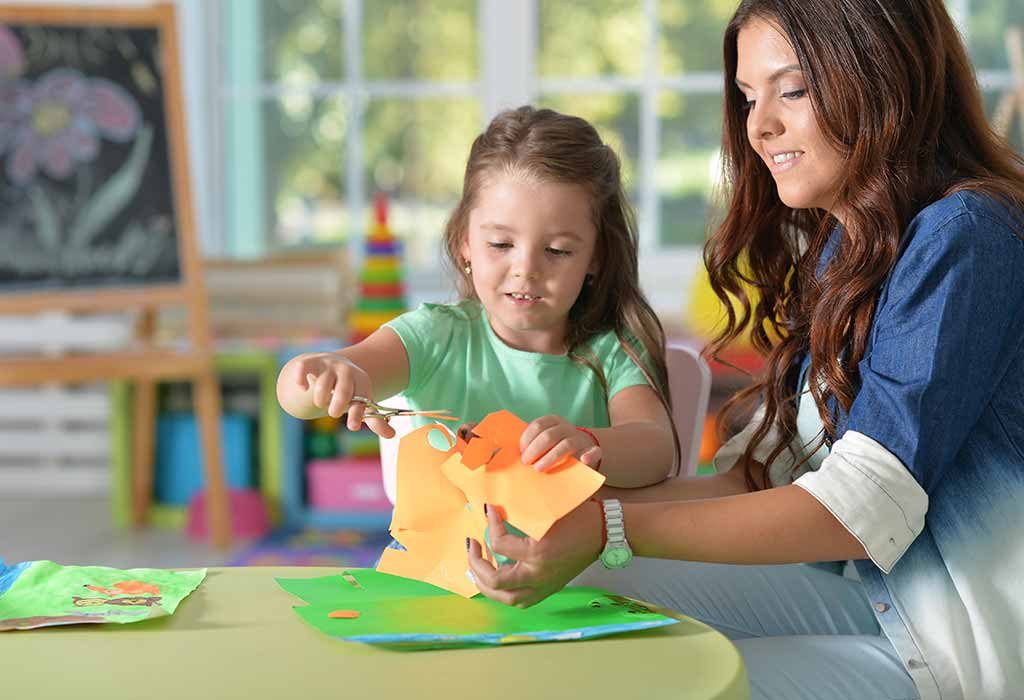 The Cat in the Hat was Dr Seuss' first book, and since then, the author has created tales of wit and wisdom that are a part of so many people's childhood memories. We cannot forget Dr Seuss, and on March 2, it is his big day.
What better way to celebrate this occasion than by making Dr Seuss preschool crafts that draw inspiration from his works? Your kids will also end up having a blast with these fun activities.
Simple & Fun Dr Seuss Crafts for Toddlers, Preschoolers & Kids
Dr Seuss' world is full of adventures, fun, and imaginary scenarios. If you've been thinking of making your very own Dr Seuss themed art and crafts, we have got you covered!
All you'll need are a few simple materials and a bit of creativity to get started.
1. Thing 1 and Thing 2 Hand-Painted Craft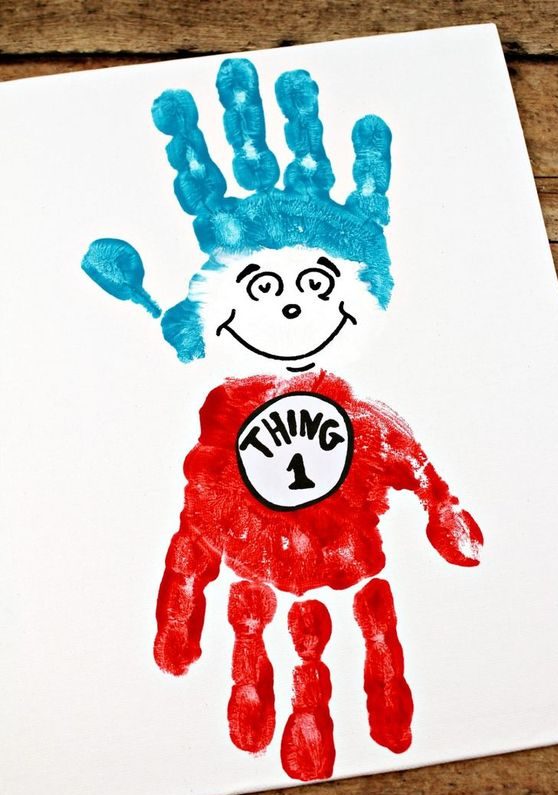 Source: Pinterest
Who doesn't remember Thing 1 and Thing 2? They made Cat in The Hat a crazy adventure, and you can pay tribute to them by making these hand-painted Dr Seuss crafts for toddlers. Before starting this activity with your kids, take a piece of paper, and draw 2 circles and write Thing 1 and Thing 2 inside the circles. Let's start!
Materials Needed
Red, Teal, and White Paint
Paintbrush
Canvas
Glue stick
Pencil
Black permanent marker
Scissors
Instructions
Cut out the circles with Thing 1 and Thing 2 written in them using the scissors.
Coat your child's palm with white paint and cover her fingers with teal paint.
Ask your little one to press down her hands onto the canvas. Remove her hands gently to avoid smearing the paint.
Wash her hands and coat it with red paint this time. Help your child press down her hand just below the teal handprint she made earlier.
Let the paint on the canvas dry and be sure to rewash her hands. It's one of our favourite week crafts ideas!
Draw a smiley face with eyes, nose, and a smile with the black marker on the white imprint of your child's palm.
Repeat the steps to make another body.
Use a glue stick to paste the Thing 1 and Thing 2 logos, and you're done!
2. Lorax Toilet Paper Roll Craft
Lorax is a cute character that appears in Dr Seuss's books, and this is among the easiest Dr Seuss craft ideas. You can now bring him to life with your kids using a toilet paper roll and a few simple household supplies. Get ready for fun!
Materials Needed
Coloured construction paper (orange, yellow, and white)
Toilet paper roll
Green or black permanent marker
Instructions
Cut off 1/3rd of the toilet paper roll. Use the orange construction paper to cut out a circle. This will be the face, and you will be mapping out all the facial features on it.
Cut out shapes for the moustache and eyebrows from the yellow construction paper. Make slits using the scissors to give it a unique look.
Wrap some of the orange construction paper around the body of the toilet roll to cover it.
Cut out shapes for the arms using more orange construction paper. Glue the arms to the sides of the toilet roll.
For the eye whites, cut out googly shapes using the white construction paper. Use the black and green marker for drawing in the details on the eye whites.
Glue the eyes, moustache, and eyebrows on the orange circle, and glue that on to the top of the toilet paper roll to complete the face. Your cute Lorax character is finished!
3. Dr Seuss Hat Pencil Cup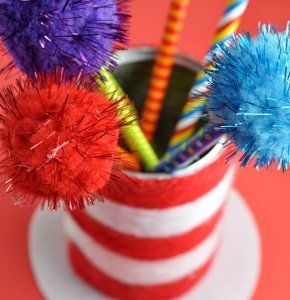 Source: Pinterest
You can now recreate the iconic Dr Seuss hat with the striped pattern using a recycled can and a bunch of truffula pencils. Want to know how? Sit down with your kids, and follow the steps given below.
Materials Needed
Recycled aluminium can (without the label, cleaned up)
Red and white yarn (5 ounces)
White felt
Glue gun
Scissors
Sharpie/permanent marker
Instructions
Use the permanent marker to make notches around the recycled can. These will serve as a guide for your red stripe.
Cover the red yarn with glue, and wrap it around the can carefully. Make sure you let the glue dry before working your way from one notch to the next. Work your way to the bottom.
Next, use the white yarn to wrap the gaps between the red stripes. Work your way down from the top again.
When you're done, let the glue dry. Use a 2″ diameter bowl, place it on white felt paper, and cut out a circle using that as your guide. Glue the circle to the bottom of your can and your Dr Seuss Hat is ready! You can decorate the can by sticking pom-poms to striped truffle pencils and filling the can with those. You can get the pencils from any dollar store or home depot. This is also one of the best Dr Seuss birthday crafts.
4. Dr Seuss Fridge Magnets
You can make your very own Dr Seuss fridge magnets at home. It's a fun activity to do with your kids, and it takes very little time and effort to make them!
Materials Needed
Any old or used Dr Seuss book
Glass marbles
Tiny magnets
Mod-podge
Glue
Brush
Instructions
Cut out a few pictures from any old copies of Dr Seuss books. These will be your designs for the fridge magnets. Lay the cutouts on the table and place the glass gems on top.
Trim out the excess and use the mod-podge to brush the fronts of your cutout designs.
Stick the cutouts to the flat sides of the glass marbles and let them dry overnight.
Add glue dots to the front of your tiny magnets and stick magnets to the back of the cutouts and let them dry. Your Dr Seuss Fridge Magnets are now ready!
5. I Can't Read With My Eyes Shut Mask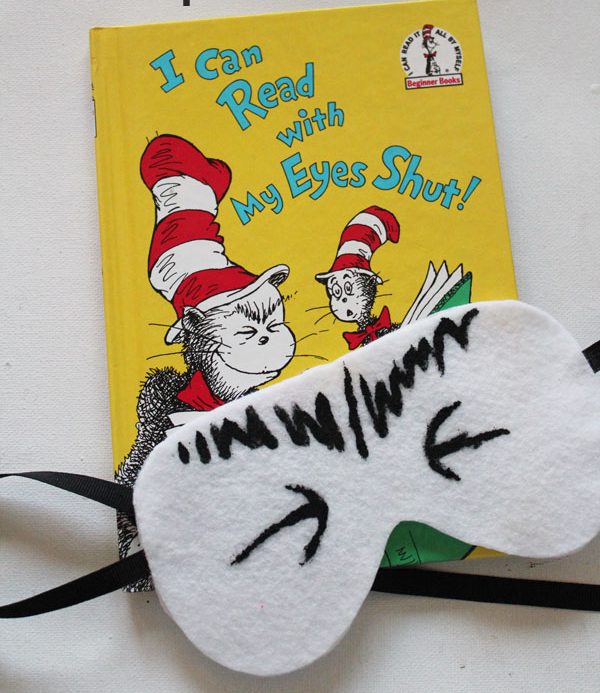 Source: Pinterest
I Can't Read With My Eyes Shut is a famous Dr Seuss book. If you loved it, maybe you'd want to make a sleeping mask with this line on it. Here's how you do it.
Materials Needed
White felt
Glue
Black ribbon
Scissors
Black paint
Paintbrush
Instructions
Take two pieces of felt and cut them into the shape of a sleeping mask. Make sure the two parts are of the same size.
Use the black paint to paint the eyebrows on the mask. It's actually a unibrow, and you can make your lines squiggly and not so perfect. Don't worry too much about this step.
Tuck in the black ribbon on the bottom felt and glue the edges of the two felts together carefully.
Let the glue dry completely by letting it sit, and the eye mask is done.
6. Dr Seuss Foot Book Craft
The Foot Book is another one of our Dr Seuss favourites. Inspired by that, we present to you this footprints craft.
Materials Needed
Cardstock
Tempura (washable) paints
Paintbrush
Marker
Glue
Instructions
Fold your cardstock paper in half, just like a book and ask your child to cover her feet with paint.
Guide her in pressing her feet on the paper. Make one big print and one small print, which means this is an excellent activity for siblings. You can use a paintbrush to fix it, and when you're happy with the design, let it dry.
Using a black marker, write down any quote of your choice beside the feet.
You can turn this into a foot book by repeating the steps with more cardstock paper and using the glue to link the pages.
7. Green Eggs and Ham Craft
Celebrating Dr Seuss' birthday with green eggs and ham sounds perfect! This isn't an edible recipe, but more of an activity that is designed for sensory play. It's super exciting.
Materials Needed
Slime
Green craft foam or green gems
Instructions
Visit your nearest dollar store or arts and crafts shop and ask for a tub of slime. It's readily available and won't take you too long to find one. Make sure you get one that is green in colour.
Follow the instructions to make the slime, and when it's ready, you can turn the shape from a ball to a flat pancake. It should look like a fried egg.
For the egg yolk, cut out some green craft foam or gems and layer it on the eggs.
You can store these eggs in an airtight container, and even use a tiny spatula to flip them.
8. Horton's Flower Pot
Source: Pinterest
Horton the Elephant is a lovely animal who picked up a clover, except he ended up picking the entire village of Whoville! Now you can make this craft inspired by his feats.
Materials Needed
Two terra cotta pots
Martha Stewart's metallic silver acrylic paint
Grey cardstock paper
Template or images of Horton the Elephant
Glue dots
Blackboard plaque and chalk
Instructions
Ask your child to paint the terra cotta pots using Martha Stewart's metallic silver acrylic paint. Make sure the paint is smooth and evenly covered. Your terra cotta pots will look shiny with the pots painted that way.
On a piece of paper, draw out Horton the Elephant using a black marker, if you don't have an image of Horton. If you're printing a picture, make sure it has only the outlines or is an inked illustration. Print it out and trace out the design on grey cardstock paper.
Use the glue dots for sticking the details on the cutouts. Don't miss the trunk holding the clover.
Stick Horton to your terra-cotta pot using glue near the top. You can use a blackboard plaque and a bit of chalk to write Whoville and his famous 'YOPP!' and stick those cutouts to the plant.
9. Dr Seuss' Animals
One thing we absolutely love about Dr Seuss's animals is the sheer creativity he uses to mix and match them. If you'd like to recreate your very own Dr Seuss-inspired animals, just follow the steps given below.
Materials Needed
Pencil
Black Sharpie marker
White construction paper
Watercolours
Paintbrush
A cup of water
Instructions
Ask your child to sketch an animal using the pencils on the white construction paper. The designs could be something like part hippo part giraffe or part tiger part monkey. You don't have to get this right the first time.
Paint the drawings with the watercolours and paintbrushes. Trace them with a black Sharpie marker.
Let the paint dry and cut them out. You've got your Dr Seuss animals.
If your kids have drawn giraffes and elephants separately, you can cut out the trunk of the giraffe and glue it to the body of the elephant and do the same for the elephant. You can mix and match the features to make unique hybrid or cross mixes.
10. Circus and Popcorn Treats
Source: Pinterest
Are you hungry? In the mood for popcorn and cotton candy? Then, get ready to make this delicious Dr Seuss Circus treats crafts (sorry, you can't eat them, but they look absolutely delicious!).
Materials Needed
White construction paper
Red construction paper
Markers
Scissors
Glue
Puffy paint
Instructions
Cut out a popcorn bag shape using the white construction paper. Make a red line 2 cm from the top of the bag (for separating the popcorn and the bag).
Use the red construction paper and scissors to make long thin strips. Use glue to stick it to the popcorn bag and trim the excess ends.
For the popcorn, scrunch up some yellow and white construction paper and cut small bits. Glue it to the pocket you made for the popcorn bag above the red line.
Draw a triangle on a sheet of white construction paper and use puffy paints of blue and pink hues to make the cotton candy. Let the paint dry and cut around the edges.
If your kids are in the mood for it, they can make more cotton candy and popcorn crafts and glue those to a red or black background to turn into a piece of art.
11. Dr Seuss Colouring Pages
If you're travelling with your kids and don't have time to shop for arts and crafts supplies, here's a simple activity to keep them busy.
Materials Needed
Drawings of Dr Seuss cartoon characters
Crayons and markers.
Instructions
Get a few sheets of paper and make drawings of your favourite Dr Seuss characters on them. Don't colour inside the lines and leave whitespace so that the kids can fill them in. This will take some time, but you can photocopy these drawing sheets for later.
Give your kids crayons and markers, and ask them to colour the pictures with their favourite colours.
12. Put Me in the Zoo Paper Plates
Paper plate crafts have always been a timeless hit, and this Put Me in the Zoo craft is an adorable activity for kids.
Materials Needed
Black pom-pom
Coloured pom-poms
Black pipe cleaners
Google eyes
White paper plate
Yellow tissue paper
Yellow construction paper
Scissors
Glue
Pencil
Instructions
You can get the googly eyes for this paper plate craft from your local home depot or arts and crafts store. Glue the eyes to the paper plate and use the black pom-pom for the nose.
Make a two-inch cut on the black pipe cleaner and bend it to make them smile. Glue it just below the nose.
Cut out 1 or 2-inch square from the yellow tissue paper. Scrunch or crumple them up, and use the glue to fill up the rest of the paper plate with them to cover up the remaining parts of the face. Let the glue dry.
Stick the coloured pom-poms around the face to complete your craft. For the ears, you can cut out shapes using yellow construction paper and stick them in with glue near the edges of the plate.
We hope you enjoyed these Dr Seuss inspired craft activity ideas. Do these with your kids at home, and let us know how it goes!
Also Read:
Interesting Cardboard Crafts for Children
Plaster of Paris Craft Ideas for Children
Newspaper Craft Ideas for Children