These Signs In Your Baby Could Indicate a Deeper Skin Problem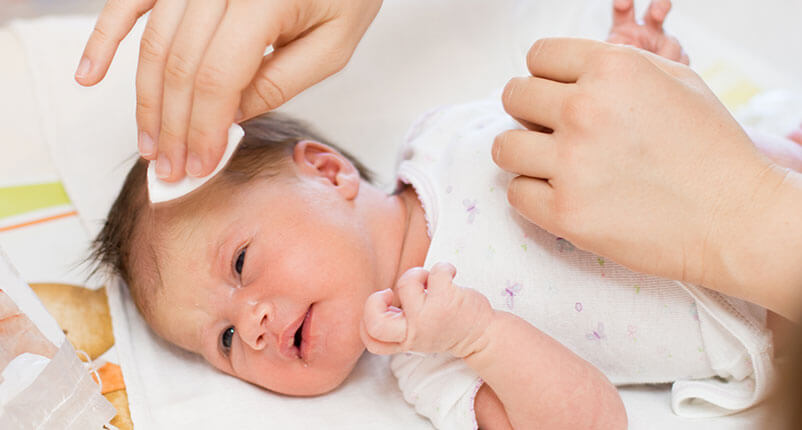 Newborn skin is expected to be flawless: beautiful and soft like nothing else. But often, babies undergo a variety of skin problems as their skin is also very delicate and not used to the outside world. In fact, babies can suffer from a host of skin issues like acne, cradle cap, eczema, diaper rash and prickly heat!
Being able to anticipate and understand the signs of these conditions is the best way to stop them from becoming serious.
Baby Skin Condition 1: Acne
The Problem
Who said acne is just something teenagers and adults suffer from? Your baby can suffer from acne as well! Although the cause is not really known, generally your maternal hormones are responsible for the breakout in your baby. It appears at two to four weeks after birth, but it may also be seen in your baby right after he is born. It is mostly seen on baby's cheeks, and sometimes even on his back.Don't worry though; not only is it common, it also goes away on its own after a few weeks, or at most, a few months. The only thing you have to do is ensure that you stay away from harsh, chemical laden skincare products. These products might irritate baby's skin and aggravate the acne.
The Fix
Wash your baby's face at least once daily with warm water and a mild soap. Opt for a soap that is mild, natural and moisturizing. Himalaya's Nourishing Baby Soap is a good pick owing to its fully herbal formulation. It contains natural emollients like honey, sunflower, castor oil and milk that reduce itching and inflammation and keep your child's skin clean without being harsh. After the bath, gently pat baby's face dry. And just like adult acne, avoid touching or squeezing the acne to prevent it from spreading.
Baby Skin Condition 2: Cradle Cap
The Problem
Cradle cap is a crusty, greasy and yellowish skin rash that appears on a baby's scalp. It is an unsightly condition that makes it look like a baby has scales on his head. Again, this is a common condition that is thought to appear because of your hormones. It is usually seen first on the head and later spreads to baby's eyebrows, scalp, neck and shoulders. Although cradle cap goes away on its own without any treatment, it is advisable to loosen the scales on your little one's scalp.
The Fix
You can do this by gently massaging your baby's scalp or applying natural oil and then combing the affected area with a soft fine-tooth comb or baby brush. Make sure you wash baby's hair with a natural mild baby shampoo 2-3 times a week. Sweat can aggravate the condition, so keep baby's scalp cool and dry. Look for a shampoo that has cooling ingredients like khus-khus, which has antibacterial and antifungal properties. This will stop the condition from worsening and help baby feel more comfortable.
Baby Skin Condition 3: Eczema
The Problem
If your child's skin has turned dry, red and flaky all over, he has been affected by baby eczema. This is one skin condition that should definitely not be left untreated. It will first appear on your baby's head and cheeks, and will quickly spread downwards to moist areas like elbow creases and the area behind the knees.
The Fix
Use extra moisturizing mild soap and warm water for baby's bath. A soap containing Indian aloe and milk will soothe, moisturize and soften baby's irritated skin. Keep bath time short and apply a light lotion with licorice to further protect and soothe baby's skin. It's important to ask the doctor for some guidance about what to expect when it comes to rashes that require some additional treatment.
Baby Skin Condition 4: Diaper Rash
The Problem
One of the most common skin problems that just about every baby suffers from, this one certainly needs no introduction. It appears as red, sensitive skin and bumpy spots around the area of your baby's diaper and spreads to his buttocks and thighs. As common as it is, it certainly is painful and can get worse if ignored.
The Fix
The best way to avoid diaper rash is to change diapers before they get too wet or soiled, and apply a diaper rash cream as a preventive measure. It is best to opt for an all-natural treatment that uses ingredients like natural zinc, aloe vera and almond oil to heal the rash. This is an antibacterial, moisturizing and soothing combination that quickly relieves your baby of the persistent pain.
One thing to remember about all these skin problems is that although they aren't severe, they are painful/uncomfortable, and worsen if left untreated. To avoid and fight these conditions, use natural baby skincare products as they are best suited for baby's sensitive skin. If the conditions persist even then, make sure you consult your paediatrician right away.