Sabudana (Sago) in Pregnancy – Benefits and Recipes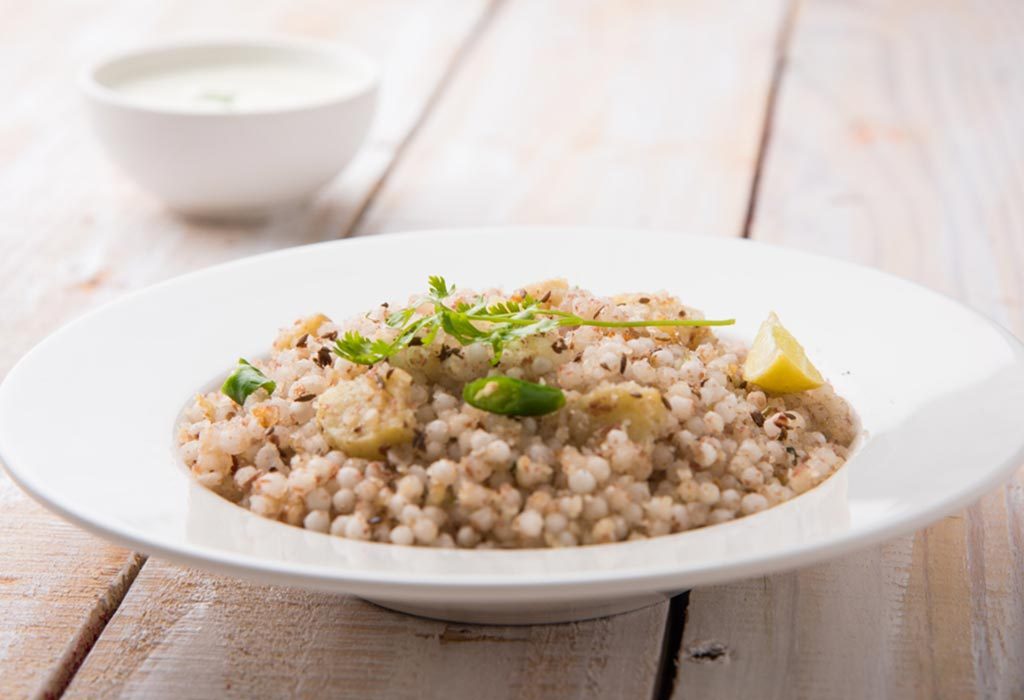 Pregnancy is the time in a woman's life when she has to check every little thing that she is habitual to. It majorly includes the diet as some of the foods she could easily consume would, after conceiving, induce nausea, while some that she seldom ate would be highly nutritious.
From the moment you hear about your pregnancy, the one thing that you will try to do is to follow the right diet. There are several foods you can include in your diet to make sure you are getting all the right nutrients that help your baby's development. So, make sure you make the right choice. In this article, we shall talk about one amazing food you can add to your pregnancy diet plan – sabudana or Sago. Sabudana has high levels of nutrition and can also be cooked in several ways to be eaten as a snack, a meal or a tasty dessert. Read on to know more about this wonderful food item.
Is Sabudana Safe to Eat During Pregnancy?
Have you been researching healthy food options and wondering which foods you need to stop?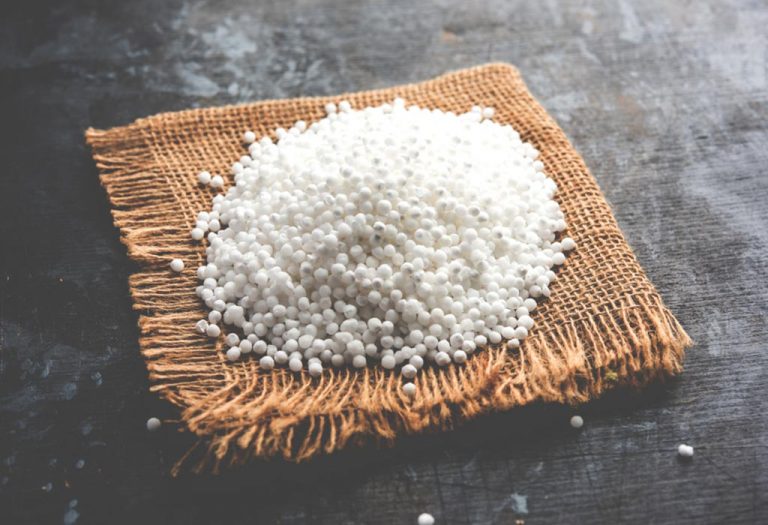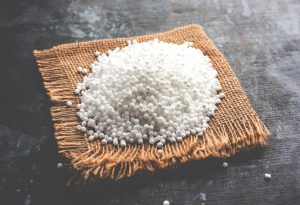 It is important to check whether your diet plan is safe and healthy for this critical period of your life as two lives are dependent on it, you and your baby's. Sabudana is one food item which has been receiving much attention for ages as one of the most recommended food items, especially for little children and pregnant women. If you are looking to have a healthy diet plan and if sabudana is one among the options, you can be assured that you are on the right track. This food item is simply amazing as it has many nutrients that help the development of the little life growing inside you in many ways. The best thing about sabudana is that it is easily digestible, and this makes it all the more essential for you to consume during pregnancy. However, women suffering from gestational diabetes should avoid sabudana as it has a high starch and carbohydrate content.
Nutritional Value of Sabudana
There are numerous health benefits attached to sabudana. This food item has a rich amount of protein, carbohydrates, Vitamin B complex, potassium, calcium, iron, dietary fibre and a lot more. In fact, it has everything that will help you during pregnancy. Therefore, it is highly recommended that you incorporate sabudana into your pregnancy diet.
In fact, because of its high nutritional value, doctors recommend sabudana to mothers after delivery and also advise feeding it to their babies when they are weaning.
Proven Health Benefits of Eating Sabudana During Pregnancy
As mentioned earlier, sabudana is a good source of nutrients that pregnant women need. Here are some of the benefits that have been identified in sabudana:
1. Aids Digestion
Many women suffer from constipation during pregnancy. Since sabudana has a good quantity of dietary fibre, it aids digestion and helps get rid of constipation.
2. Cools Your System
Pregnant women often experience a burning sensation or discomfort in the stomach due to indigestion. Sabudana helps calm the digestive system and takes care of any issues that arise due to improper digestion of food.
3. Fights Birth Deformities
Sabudana also has a good amount of Vitamin B complex and folic acid, which help in avoiding birth deformities. These components play an important role in the development of the foetus and give you a considerable amount of energy.
4. Enhances Muscle Growth
About 100 grams of sabudana has nearly 0.2 grams of protein, which is not a lot, but good enough to substitute an unhealthy dish. Since foods that bring about muscle growth during pregnancy are just as important, sabudana can be a good snack for you.
5. Boosts Energy
Another great reason to add sabudana to your diet is for the amount of carbohydrates present in it; it makes it a great source of energy. You can add sabudana to your breakfast as it will help you stay energetic throughout the day.
6. Blood Circulation
During pregnancy, it is important to have good blood circulation. The high Potassium levels in sabudana help in maintaining blood pressure.
7. Enhances Bone Strength
Sabudana also has good levels of calcium which strengthens the bones. In fact, during pregnancy, you need to make sure that your bones are strong enough for you to carry your baby. Sabudana is a good option to add to your diet to strengthen your bones.
How to Consume Sabudana
There are several ways you can consume sabudana – as pancakes, a shallow fried snack, as deep-fried fritters, as a pudding, etc. Even though sabudana has some nutritional value, you can also add other food ingredients that make the dish even more tasty and healthy.
Let's look at some delicious sabudana recipes below that you can make and thoroughly enjoy during pregnancy.
Easy and Healthy Sago Recipes for Pregnant Women
There are quite a few ways you can cook sabudana in. Here are some of them.
1. Sago Khichdi Recipe
The recipe is very simple to prepare, and you are sure to love it.
What You Will Need:
1 cup sabudana, soaked in water for at least 6 hours
2 boiled potatoes
1/2 cup roasted and crushed peanuts
2 green chillies
1/2 tsp cumin seeds or jeera
Salt to taste
2 tbsp oil
How to Prepare:
Heat some oil in a pan.
Fry the cumin seeds and chillies for 10 to 20 seconds.
Add the potatoes to this tempering and give it a good mix.
Add soaked sabudana, crushed peanuts and salt to the potatoes and mix well.
On medium flame, cover the pan with a lid and cook the sabudana for 4 to 5 minutes.
You may occasionally stir the contents to prevent it from sticking to the pan and getting burnt.
Serve this dish with curd or green chutney to make it taste better.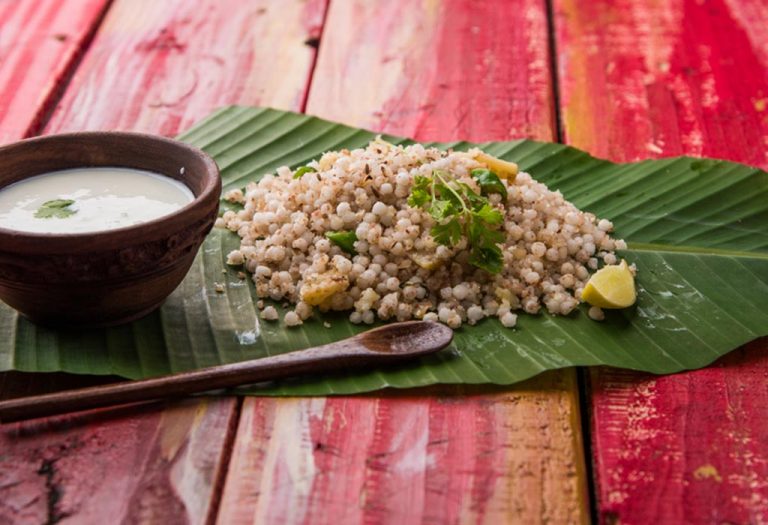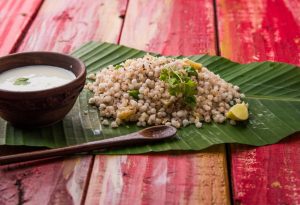 2. Sabudana Kheer
What You Will Need:
1 cup sabudana, soaked in water for at least 3 hours
3 cups of milk
2 tbsp chopped dry fruits
2 tsp clarified butter or ghee
2 to 3 strands of saffron
1 tsp cardamom powder
How to Prepare:
Drain the water used for soaking sabudana.
Stirring continuously on a medium flame, cook the sabudana in milk till it turns translucent. That's when it is cooked and becomes soft.
In a separate pan, take some ghee and fry the dry fruits till they are golden brown.
Add the sabudana and milk mixture, and bring it to a boil.
Add saffron and cardamom powder.
Keep stirring and cook the pudding for another minute or so.
During pregnancy, you will be craving for specific tasty dishes. Sabudana khichdi and sabudana kheer can be a great addition to your pregnancy diet. These dishes are delicious, and at the same time, healthy for you and your baby.
Pregnancy is the time when you need to eat well to provide enough nutrition to your baby. Remember that you are not eating just for yourself, but for your baby too. Include sabudana in your pregnancy diet plan and reap the health benefits of this awesome food.