Orange Peach Apple Smoothie Recipe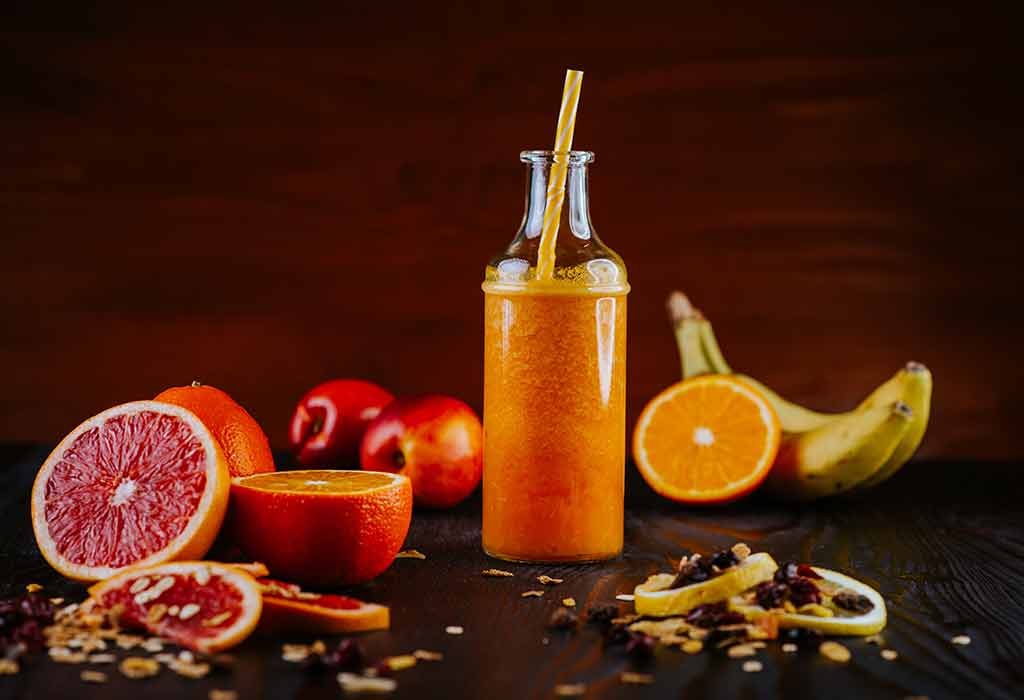 In this Article
Smoothies are comfort drinks for babies. This is something you can start with your child as young as 10 months. With its smooth texture and being easy to digest, this versatile drink goes well as a breakfast dish or an evening snack. Orange peach apple smoothie for babies is a power drink which your kid will surely enjoy due to its sweet and tangy taste. We have tried to sneak in a few veggies, as most kids avoid vegetables in any other form but would gladly have it if hidden in a smoothie. This smoothie can be made in advance and stored in the fridge for a week, and you can have it cold or warm it to room temperature whenever you wish.
Cooking Time
| | |
| --- | --- |
| Type | Time (hh:mm:ss) |
| Preparation Time | 00:05:00 |
| Cooking Time | 00:00:00 |
| Total Time | 00:05:00 |
Cooking Method
Blender
Type of Meal
Vegetarian
Suitable For
Toddlers above 13 months of age
Meal Schedule
Breakfast/Evening
Recipe Type
Main Dish/Snacks
Ingredients
| | |
| --- | --- |
| Ingredients | Quantity and Volume |
| Orange | 1 peel and de-seeded |
| Apple | ½ cup peeled and cut into pieces |
| Peaches fresh or frozen | ½ cup |
| Banana | 1 small |
| Coconut or Almond Milk | ½ cup |
| Sea Salt | 1 pinch |
| Honey / Maple syrup | 1 tsp (optional) |
| Veggies (kale, spinach, cauliflower, carrot) | ½ cup |
Instructions
Here is the detailed step-by-step procedure to prepare an orange peach apple smoothie. The sweetness of apple and banana will mask the real taste of veggies, and you can pass it off as a milkshake which your child usually loves.
Wash the fruits and veggies thoroughly and chop them into bite-size pieces.
Peel and cut the banana into small pieces.
Put all the ingredients in a blender and blend it on high for 60 seconds or till you think the smoothie has the consistency you need.
Recipe Tips
This super easy orange peach apple smoothie recipe gets done in under 10 minutes and makes this a go-to recipe for any time. Here are some essential tips to remember before you make the smoothie.
Add cow's milk only for kids above 1 year of age, for the younger ones use formula milk or breast milk.
Make sure oranges are not too sour as that would require you to add sweetener which we want to avoid.
Apples and oranges should not have any seeds as that is dangerous as well as spoils the taste.
Use honey for kids older than 1 year, if required, for smaller kids do not add honey. The apple along with banana is enough to give this smoothie a sweet taste.
You could add vegetables of your choice but do not put in too many varieties else the taste might not turn out as good.
Nutrition Information (per cup)
| | |
| --- | --- |
| Nutrient | Value |
| Energy | 192 calories |
| Protein | 5 g |
| Carbohydrates | 44 g |
| Fat | 1.6 g |
| Fibre | 5 g |
| Calcium | 4 % |
| Sodium | 15 mg |
| Vit A | 200% |
| Vit C | 900% |
* Percent daily value is based on 2000 cal diet
Health Benefits
This home-made orange peach apple smoothie baby food recipe will give you an edge over your kiddo in the tug of war of not eating veggies. The tangy and sweet fruits in it will be the perfect setting for adding vegetables of your choice.
Oranges are high in vitamin C, which will keep your little one safe from common cold and cough.
Apple has fibre which is excellent for babies as they tend to have constipation issues all the time and the fibre in the apple will help them with regular bowel movements.
Peaches are a good source of vitamins and minerals like potassium and manganese. It is good for the lungs and also for building new cells.
As this recipe has three different fruits blend together, your baby will get a lot of nutrition and especially if you have a fussy eater, it becomes easy for you to feed different fruits together this way. Smoothies are always packed with nutrition.
Buying Guide
Try to buy organic as much as possible as giving non-organic fruits and vegetables to your precious child can wreak havoc on their delicate system.
Make sure oranges are ripened and sweet.
All the vegetables should be fresh and juicy else the smoothie will not turn out as expected.
If you are ever in a fix over what to give your kiddo, go through our procedure on how to make the orange peach apple smoothie for a baby and your breakfast will be done in minutes.