Monsoons and the Risk of COVID-19 – Preventive Measures for Kids and Adults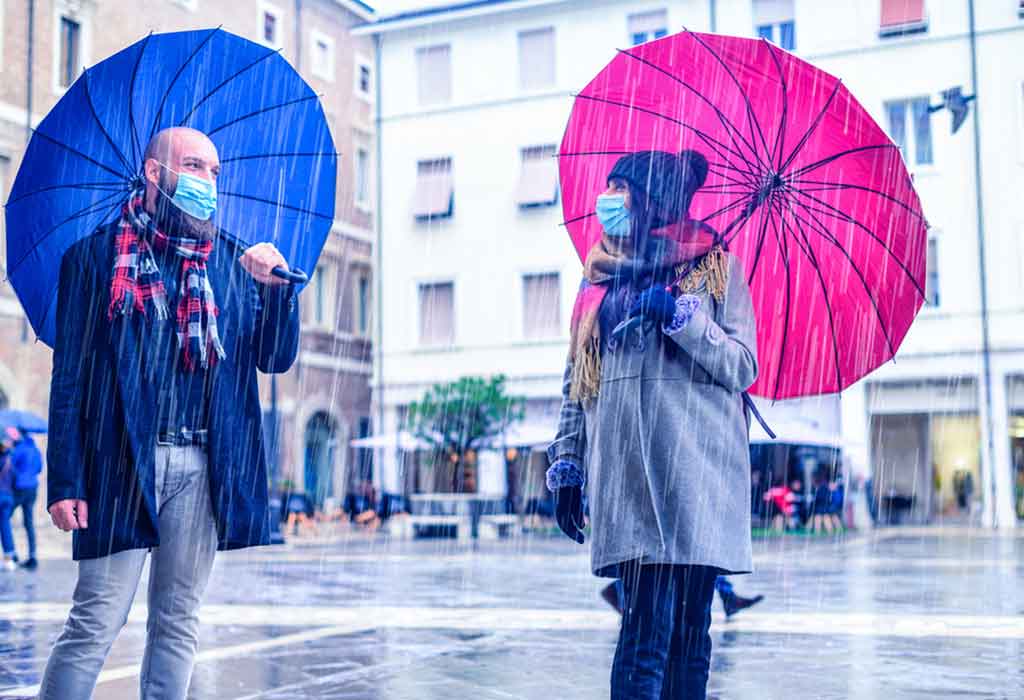 In this Article
Each year, monsoons bring in different vibes. They can be glorious and uplift one's mood, while they can also set in apprehension. The seasonal rains pouring upon us can increase the chances of infections in kids as well as adults. One of the major concerns this year, too, is the risk of contracting the COVID-19 infection. To ensure nothing breaks the delightful experience that the seasonal showers bring, we've put together a list of preventive measures that can help you prepare your body for the rainy season and reduce the risks of COVID-19.
Ways to Prevent the Risks of COVID-19 for Kids and Adults
It is still uncertain as to what could safeguard us against COVID-19. However, some simple tips can surely help us stay fit and prevent the risks of this infection.
1. Consume Healthy, Freshly Cooked Food
This one's a no-brainer. Simple, healthy, and freshly cooked food will provide you with the nutrients you need to keep your body functioning at its best. Try to consume a balanced, home-cooked diet; this way, you can control the ingredients and taste. If you cook for the day at one go, refrigerate the food and reheat it properly to avoid bacterial hazards. Don't forget to enjoy each morsel thoroughly. The rains will accompany you and double the fun! On some occasions, you can even make snacks, like samosa or bhajiya, and have them with a piping hot cup of ginger tea. Just have it all in moderation; the key is to enjoy everything guilt-free.
2. Keep Moving!
Being active will help you balance your serotonin levels and uplift your spirits. Inactiveness will eventually lead to sleep and appetite issues, which can cause havoc on your health. But if you include physical activities in your routine, you will see a considerable improvement in your health. So, stretch your body and shake off the lethargy by doing any form of exercise you like, be it yoga, walking, jogging, or dancing.
3. One for Mental Health
Mental and emotional health are important to maintain physical health. If the mind is stressed and filled with negative thoughts, health issues will manifest. Some of us struggle through mental health issues, and many, including kids, are being affected as we speak. Therefore, it is imperative that we proactively indulge in activities that provide mental and emotional stability. This is where techniques such as meditating, deep breathing, journaling, practising positive affirmations, or other stress-relieving activities, such as reading, painting, spending time with a pet, performing an act of kindness, etc., can help.
4. Maintain Personal Hygiene
Basic hygiene practices, such as maintaining personal hygiene, wearing a mask, washing hands thoroughly with soap and clean water, sanitising surfaces and objects that you often come in contact with, maintaining social distancing, etc., will go a long way this monsoon, too. These will help you keep your surroundings clean and cut down the risks of viral and bacterial infection. If you have older kids, include them in the cleaning activities. Make it fun by putting on some music and get going; it could just be a fabulous bonding experience for the family!
5. Keep Yourself Engaged
Long hours of idleness can lead to boredom and even set in anxiety and depression. They will eventually affect emotional and mental health. Therefore, keep yourself and your kids engaged in a fair bit of healthy activities. For kids, one might think that online schools are enough to keep them engaged, but that's not true. Kids need to have their share of fun, too. So, let them loosen up a bit, play with their toys, indulge in family activities, and enjoy some screen time. Adults can keep in touch with their family and friends, spend time with their kids if they have any, watch frivolous movies or series, and calmly enjoy their time with each other.
6. Watch Out for Symptoms and Keep Your Medical Appointments
Keep all your medical appointments, and get the necessary health check-ups done even if you or your kids don't feel like it. These will help diagnose any health issues before they escalate. Also, watch out for the symptoms of COVID-19, such as cold, fever, runny nose, congestion, breathing issues, conjunctivitis, nausea, diarrhoea, etc. If you notice these, get a COVID-19 test, isolate yourself, and get immediate medical attention to treat these symptoms.
7. First Aid Readiness
Prepare a first aid kit and stock it with necessary medical supplies that are well within their expiry, and educate yourself on how to provide basic first aid to treat minor injuries at home. This will help you avoid unnecessary trips to the hospital and reduce your exposure to the virus. The knowledge will also come in handy to stop bleeding in severe cases, reduce the chances of infection, or keep the victim breathing and alive until they get appropriate medical attention.
This season of wondrous rains may not be the same as when you could just step out and enjoy it without worry. The precautionary measures provided in this article will help you reduce the risk of COVID-19 and ensure you and your family have a safe and healthy monsoon this year.
Also Read:
COVID-19 in Children – Symptoms, Risks and Prevention Tips From a Doctor
How Is Multisystem Inflammatory Syndrome in Children (MIS-C) Related to COVID-19?
Mucormycosis (Black Fungus Infection) in COVID Patients – Causes, Symptoms & Treatment