COVID-19 in Children – Symptoms, Risks and Prevention Tips From a Doctor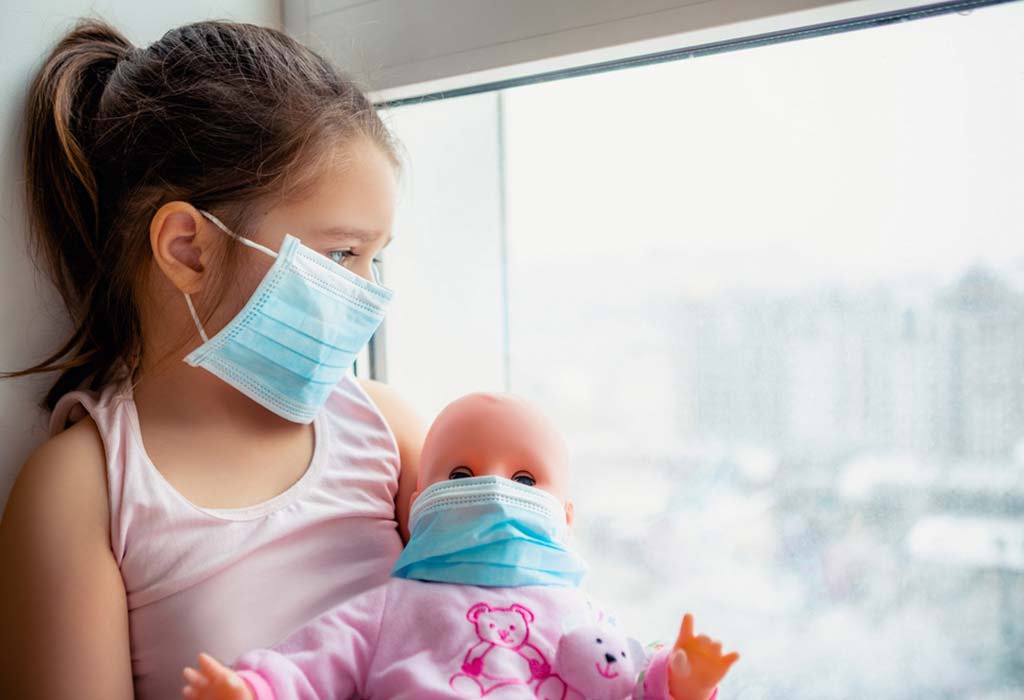 The second wave of Coronavirus has been disastrous for everyone. Not only has it affected adults, but it has also taken a toll on children.
But while many say that children have been the worst hit amongst the population, medical experts have denied these claims and remarked that the second wave had affected everyone equally.
Now, with the possibility of a third wave, parents are understandably anxious and worried about the risk it could present to their children. While it is very important to stay prepared, it is also critical that you steer clear of any misinformation that might affect your peace of mind.
As more information becomes available about the Coronavirus, here's what parents need to know about it and COVID-19 in children and babies.
Video: COVID-19 in Children – Signs, Risks and Prevention Tips
Can Babies and Kids Get Covid-19 Infection?
Yes, babies and children can get the COVID-19 infection, although the infection seems to be milder in young children in most cases.
It also appears that mothers who have been infected with the Coronavirus can, in extremely rare cases, pass the infection to their baby. Infants can also catch the infection shortly after birth. According to the U.S. Centers for Disease Control and Prevention (CDC), most infants who test positive for the Coronavirus show mild symptoms or nothing at all and then recover.
While most of the COVID-19 infections have been diagnosed in adults, children can get infected too. In children, the virus sometimes produces a mild illness and often causes no symptoms at all.
What Are the COVID-19 Symptoms in Children?
According to Dr. Arti Sharma, a paediatrician with over 20 years of experience in this field, children who have been affected by COVID-19 show symptoms like fever, cough, cold, breathlessness, body ache, headache. In the second wave, it has been observed that other symptoms like vomiting, loose motions, abdominal pain, rashes are also present.
Some of the red flag signs to watch out for are:
1. High fever persisting beyond four to five days
2. Presence of rash on abdomen and the face
3. Oxygen saturation level less than 95%
Which Kids Are at Risk of Getting Severe Illness From Coronavirus
Dr. Arti states that children with underlying health problems like liver, heart, or kidney disease are at an increased risk of severe illness than children without any underlying medical conditions. Those with weakened immune systems, diabetes, asthma, severe malnutrition, HIV or cancer therapy too at a high risk of getting ill from the Coronavirus.
Why Do Kids React Differently to Coronavirus?
The answer to this question isn't clear yet. Some experts advocate that children might not be as acutely affected by COVID-19 since there are other coronaviruses that spread in the community and cause illnesses such as the common cold. Since kids often get colds, their immune systems might be prepared to provide them with some level of protection against COVID-19. It's also possible that a child's immune systems interact with the virus in a different way than an adult's immune system does.
How to Protect Your Child From COVID-19 Infection
Dr. Arti shares the following ways to protect your child from a COVID-19:
If your child is above two years of age, ensure they wear a triple layer mask while going out.
As children generally acquire infection from adults, caregivers and helpers must always wear masks while handling children.
If you're a working parent, always wear a mask at your workplace. There has to be no sharing of lunch at the workplace.
Ensure your child has a balanced and healthy diet and regular physical activity as they play a vital role in building immunity.
Get your child vaccinated for all vaccine-preventable diseases.
Ensure all adults in the family are fully vaccinated against COVID-19.
Avoid attending public functions, social gatherings, and group plays.
How to Protect Your Child If Your Family Member Tests Positive for COVID-19
To begin with, don't panic. The family member with COVID-19 needs to immediately isolate, in a separate room from the rest of the family and seek medical advice. Make sure that no one enters the room where your family member is isolating. You can interact with them from outside the room via a doorway and always wear a mask.
What to Do If Your Child Shows COVID-19 Symptoms
Get in touch with your doctor if your child has a fever, trouble breathing, cough, sore throat, vomiting, belly pain, diarrhoea, dizziness, rash, or doesn't feel well. Ask your doctor if your child needs a test for Coronavirus. The doctor can take a call whether your child:
Should come in for a visit
can be treated at home
can have a consultation via a video call
How to Prepare Your Child for a Coronavirus Test
These tips can help prepare your child to get a COVID test done without any difficulty and make them feel at ease.
1. Prepare your child by sharing information.
Children need to be made aware of everything that is happening around them. Use a kid-friendly approach to make them understand the crisis, how the tests will help and what they would need to do to protect themselves. Stick to the facts and avoid using too much negative information, which could frighten them.
2. Educate them about the tools of the tests.
The medical staff who take the COVID tests would probably be dressed in coveralls and use Q-tips to collect samples. This can be pretty scary for younger kids. Before you schedule the test, talk to your child about the usage and benefits of the tools, and what they do.
3. Distract your child to curb their fears.
For children who are afraid of needles, even looking at the COVID test kit can be enough to make them extremely nervous. In addition to this, waiting in a queue to get the test done can add to their anxiety. Make use of this time to distract them, engage them in other thoughts, or play fun games, making them worry less. Playing relaxing music in the background can also help.
4. Make your child sit comfortably.
If your little one feels anxious or scared, sit by their side, and hold their hand when the swab is being administered. If your child is small, you could also make them sit on your lap. Comfort them after the test is done.
5. Praise your child that they have done well.
Be positive, emotionally available, and praise them for getting the test done or following the quarantine rules. If you make the testing process easier on them, they will be less likely to be stressed about any future ones.
What to Do If Your Child Tests Positive
If your child does test positive for COVID-19, Dr. Arti suggests symptomatic treatment and Antipyretics for fever. Maintain adequate hydration levels by giving sufficient water and liquids. Give nutritious food. Monitor blood oxygen saturation at least two to three times a day. Keep your child away from old grandparents or elders with comorbidities since they are at high risk of acquiring the infection and becoming severely ill. In case of dropping saturation levels or breathlessness, your child will need immediate hospital admission.
How Is Coronavirus in Children Treated?
Consult a doctor who will guide you about the medicines and treatment protocols that may be required. Medication in kids should majorly be SOS, and only if they display symptoms. Don't give medicines, if not really necessary.
If your child has a fever that runs over 100 degrees Fahrenheit, give Paracetamol. Zinc, Vitamin C, Vitamin D may be given only if prescribed. Never self medicate.
If your child has pre-existing allergies or medical conditions which could put them at a high COVID severity risk, inform medical authorities at the earliest. Communication with parents and alleviating anxiety is an important part of management.
Danger Signs to Monitor in Kids With COVID-19 at Home
If your little one is isolating at home with COVID-19, it's crucial to know and look out for these five symptoms:
1. Decreased oral intake
2. High fever lasting beyond three days
3. Increasing respiratory rate
4. Lethargy
5. Oxygen saturation dropping below 95 per cent
In such a scenario, consult your Paediatrician or family doctor and take your child to a facility equipped for COVID-19 care.
Complications of COVID-19 in Children
According to Dr. Arti, Multisystem Inflammatory Syndrome in Children or (MISC) is a complication that may occur in a small percentage of children after almost a month of having contracted COVID-19. MISC usually occurs almost three to four weeks after the child has been infected with COVID. It occurs due to immune dysregulation. The common presenting symptoms are high fever, breathlessness, rashes, fast heart rate, and swelling of hands and feet. This requires urgent critical care management.
When Will Kids Be Able to Get the COVID-19 Vaccine?
The Drug Controller General of India (DGCI) has granted permission to Bharat Biotech – the manufacturer of Covaxin, to initiate vaccine trials for children.
According to reports, Bharat Biotech has segregated this trial for children into three age groups – 12 to 18 years, 6 to 12 years, and 2 to 6 years.
Bharat Biotech has begun the clinical trials of Covaxin in children aged 12 to 18 years of age. These trials were started in AIIMS Patna and Delhi with a sample of 525 fit and healthy children.
The vaccination for children will be decided and approved only after sufficient data has been collected based on the trials.
FAQs
1. How likely can a child get sick with Coronavirus?
While all children can contract the virus that causes COVID-19, they don't become ill as often as adults. Most children will have mild symptoms or no symptoms at all.
2. Do all children need to be tested for Coronavirus?
If your little one has been in contact with a COVID-19 positive person, watch out for symptoms up to 14 days after the earliest contact. If, at any point within the 14 days range, the child develops symptoms like a fever, runny nose, cough, vomiting, or loose stools, then you should get them tested for COVID-19.
Also, get your child tested if they show any symptoms, even if you aren't sure if they have come in close contact with a person who has tested positive for COVID-19 or displays the symptoms.
3. Are the new COVID-19 variants more dangerous for children than for adults?
The new virus mutations, specifically the B.1.167 variant, have been found to be affecting younger children in some countries like Singapore.
The B.1.1.7 strain is 60% more lethal than the original strain. It's believed that since children's immunity is better compared to adults, they are not getting seriously ill even after this mutant virus attack.
4. What should parents do if their children don't wear masks?
If your child doesn't willingly wear a mask, try making it fun and personal for them. You can find fun, colourful masks in many shops. Looks for ones with movie favourites, superhero characters, animal prints, or silly faces. Your child might opt for a simple mask that they can decorate with stickers, markers, beads, or sequins. Adding a personal touch can help make masks a more regular part of their routine.
5. What kind of masks should children wear?
The World Health Organisation (WHO) recommends that medically fit children wear a fabric or non-medical mask. Children with any underlying health conditions should wear a medical mask after consulting with their medical providers.
6. Should babies and toddlers wear masks?
The Indian Academy of Pediatrics recommends that all children above the age of two should wear masks.
7. Why are more children testing positive in the second wave?
Lack of COVID-appropriate precautions at home, especially, by those coming from outside, is one reason for the surge in COVID cases in children. Lack of caution, too, seems to have contributed to this issue.
8. Will children get impacted the most by the third wave of Coronavirus?
No data is available, either from India or internationally, to indicate that children will be seriously infected in any consequent waves of COVID-19.
9. If my child has a cold or fever, how can I tell if it is COVID-19 or anything else?
For a layperson and even for a medical practitioner, it is difficult to understand the difference between COVID-19 and a common cold/fever, and that too without a test.
This means that every case of cough or fever in your child could be COVID-19 — particularly if a family member is COVID-19-positive or has recently recovered from the virus.
10. Are children super-spreaders of Coronavirus?
No. Children being super-spreaders is just a myth. Latest studies have shown that children are not super-spreaders of the Coronavirus. In fact, children's capacity to spread the infection is much less as compared to adults.
11. Do children who get severe COVID-19 infection need to be admitted to the ICU?
All children with an acute disease will need hospitalisation but not necessarily ICU care. Serious cases that progress into acute respiratory distress and any other complications will need management in the ICUs.
12. Can a pregnant woman pass Coronavirus to her unborn baby?
At this time, there is not adequate evidence to determine whether the Coronavirus is transmitted from a mother to her unborn baby or the possible impact this may have on the baby. This is currently under investigation.
13. If a mother is infected with Coronavirus, is it safe for her to breastfeed?
Dr. Arti suggests that a COVID-positive mother continue breastfeeding her child by wearing a mask and face shield. Frequent washing of hands with soap and water is essential.
14. What if a child tests positive and is due for his routine vaccination?
Routine immunization can be continued two weeks after the child is asymptomatic (of COVID infection). If the child had been administered high-dose steroids or Tocilizumab which suppresses immunity, immunization may be deferred for three months after the medication.
15. What if a child is having a chronic disease? Should the treatment be continued?
Yes, the treatment must be continued unless the child contracts a severe infection. It's best to inform the health care provider about the existing illness.
There is no scientific evidence so far to suggest the possibility of a third wave mainly affecting children. Children have been confined at home till now, but once schools and colleges reopen, they will be exposed to the virus. Children have not been vaccinated against COVID. All these factors may cause a spike in cases in the pediatric age group. The government is taking all necessary steps to handle the anticipated third wave. At our end, it is important to follow COVID prevention protocols (social distancing, masking, and hand hygiene). Get your child vaccinated once the COVID vaccine is approved for children.
This article has been written with inputs received from Dr. Arti Sharma, a paediatrician based in Delhi. She has done her MBBS, MD Paediatrics from Mumbai University, and has twenty years of experience in treating newborns and young children.
Also Read:
How Is Multisystem Inflammatory Syndrome in Children (MIS-C) Related to COVID-19?
How to Protect Your Child During the Second Wave of COVID-19
This Book Can Explain the COVID-19 Pandemic to Your Kid When You Don't Know How To