Can I Eat Pani Puri During Pregnancy?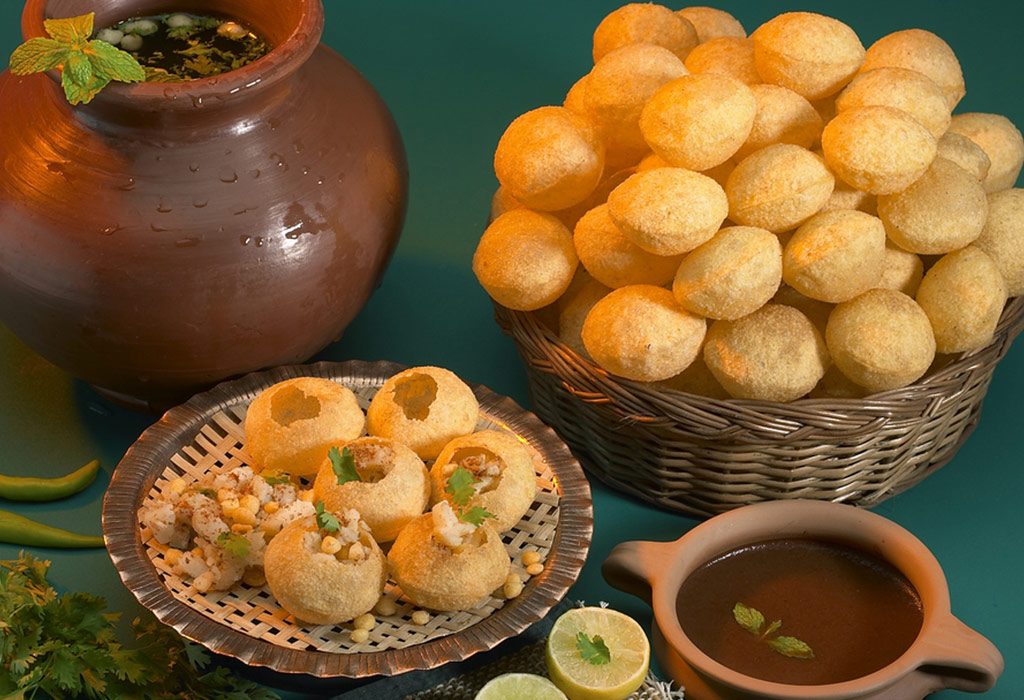 If you are pregnant, then the craving for food is very normal. Most women usually crave tangy and spicy street food, such as gol gappe, tikki, chaat, and pani puri in pregnancy. However, during this time, you are more susceptible to infections because of your compromised immune system. The low immunity makes you more prone to falling sick; thus, you not only have to take care of yourself, but you also need to take care of the tiny life growing inside you. Here, in this article, we shall discuss whether eating street food is safe during pregnancy and provide some tips on eating street food while pregnant.
Can You Eat Pani Puri or Chaat When Pregnant?
Though there are no restrictions regarding eating street food during pregnancy, your body is more vulnerable and is more likely to catch infections and ailments. Once you fall sick or catch an infection, then you will have to take medicines, which may not be good for your unbirn baby. Apart from this, your body is undergoing so many changes, and eating street food may cause more bouts of acidity and heartburns.
Therefore, you may eat pani puri or chaat in early pregnancy, but you have to take care of how it is made and where you are eating.
18 Best Tips to Ensure Pani Puri/Chaat/Street Food in Pregnancy Is Safe for You
The best way to curb your pregnancy cravings is by eating healthy home-cooked food. However, if you lack culinary skills, or you crave for only street food, the following tips may come in handy:
1. It is advisable that you choose a clean and hygienic eating place. You may either search for such eating joints or ask your friends and family for recommendations. Well-reputed eating places usually do not compromise on hygiene and quality of the food.
2. It is a good idea to initially try a moderate or small amount of street food if you are eating for the first time from a particular place. If you feel fine after eating, then you may try eating later from the same place.
3. Usually, water is the culprit when it comes to falling sick after eating from street vendors. Therefore, it is advisable to carry your own water bottle with you whenever you step out of the house. Alternatively, you may opt for packaged drinking water at such eating joints.
4. Try and avoid uncooked or raw food items as they are the breeding grounds for various viruses and bacteria, and can make you sick within no time. Therefore, no cut fruits, vegetables, or uncooked food from the street. Always opt for cooked food options.
5. Similarly, it is a bad idea to eat raw or uncooked egg preparations from a street vendor. You should avoid eating sandwiches or burgers with uncooked or raw vegetables and egg preparations. There is a risk of salmonella contamination, which may cause severe diarrhoea and vomiting.
6. Opting for flavoured milkshakes or cold coffees from street vendors is also a complete no-no. As neither the freshness of fruit or milk can be established. The ice used to make shakes may not be made with filtered water. Some vendors use artificial flavours to make milkshakes, which may not be safe for you and your unborn baby.
7. It is also recommended not to opt for cottage cheese or paneer preparations from the street vendors. Raw paneer is the breeding ground for bacteria, and the freshness of the same is difficult to establish.
8. It is good to opt for cooked food such as aloo tikki or chole bhature as these pose a lesser risk to your health in comparison to raw or uncooked food. However, if you face regular bouts of acidity or heartburn, then it will be a good idea to stay away from such food items.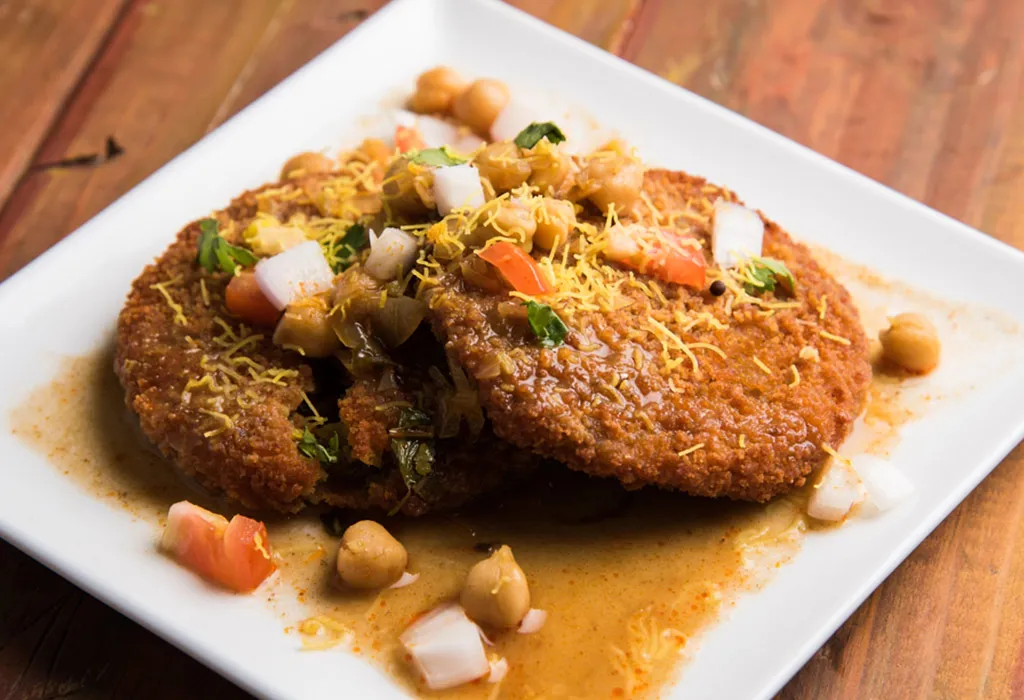 9. It is suggested not to eat various chutneys offered by the street vendors such as pudina, chilli or imli. The better option is to opt for packed tomato ketchup or sauce. The raw ingredients in the chutneys can also cause vomiting and diarrhoea.
10. Most women crave for pani puri in pregnancy. However, it is recommended to be extra careful if you plan to eat them during the monsoon season because the risk of water contamination becomes much higher.
11. Though most women may crave for tangy and spicy food, some women also crave for sweet delicacies such as sugar cane juice. The machine used to extract sugarcane juice is an ideal place for germs to breed. Therefore, it is not advisable to drink sugarcane juice.
12. Women who develop a sweet tooth in pregnancy love to eat ice-creams and kulfis. However, if you plan to eat these delicacies in pregnancy from a street vendor, then it is important that you choose from a well-renowned brand of ice-cream and kulfis.
13. Avoid eating fruit chaat from a street vendor. You may cut fruits at home and sprinkle some chaat masala and squeeze lemon juice to enjoy fresh food salad.
14. Ensure that the fruits and vegetables used in preparing your chaat are fresh, and avoid the ones sitting out in the sun or heat, as these can harbour bacteria that can make you fall sick.
15. If yoghurt is used in preparing your chaat, make sure that it's pasteurised. This will help protect you from harmful bacteria that may be present in unpasteurised yoghurt.
16. Avoid adding excess salt or spices to your chaat, as it can raise your blood pressure and trigger indigestion or heart burn, which can be dangerous for you and your baby.
17. Avoid eating dahi bhalle, as consuming too much sour curd can upset your stomach.
18. Avoid adding mint, onion, and coriander leaves toppings to your chaats.
Chaats That Are Safe for Pregnant Women
We all crave for chaats, but when a person is pregnant, these cravings have no bounds. Although, if you are a mother-to-be, we recommend you eat a homemade chaat from a hygienic place that you can trust. Here are the names of some healthy chaats that are safe to eat during pregnancy.
Chole chaats
Panneer chaats
Aloo chaat
Fruit chaat
Baby Corn chaat
Vegetable chaat
Mixed sprout chaat
Alloo tikki chaat
Safe Chaat Recipes for Pregnant Women
Here are some chaat recipes which are absolutely safe and healthy for you to have during pregnancy. We recommend you make these recipes at home to ensure complete hygiene. There are some street vendors/ eateries that serve these recipes, but since you need to be extra careful about what goes into your system, it is better to avoid eating out.
1. Steamed Matki/ Sprouts Bhel
Ingredients
1 cup puffed rice/ murmura
1/4th cup steamed sprouts/ matki
2 tbsp finely chopped onion
2 tbsp finely chopped tomato
1 small potato, chopped
1/2 tsp finely chopped chillies (optional)
1 tsp finely chopped coriander leaves
1 tsp homemade tamarind sauce
1/2 tsp amchur/ dry mango powder or chaat masala
Salt to taste
Peanuts (optional)
Method
Put all the ingredients in a large bowl and mix it together with a spatula.
Sprinkle some more chaat masala if required.
Garnish with some coriander leaves.
2. Sweet Potato Chaat
Ingredients
1 to 2 medium-sized, steamed and chopped sweet potatoes.
1/4th tsp chaat masala/ amchur powder
1/2 tsp lemon juice
1/4th tsp rock salt
1/4th tsp pepper powder (optional)
Method
Take the cooked and chopped sweet potatoes in a large bowl.
Add amchur/ chaat masala, black pepper, rock salt, and toss the mix.
Then, pour the lemon juice and give it a good mix.
3. Corn and Green Peas Bhel
Ingredients
1 cup boiled corn
1/2 cup green peas
1/2 tsp oil
1/2 tsp cumin seeds
1/4th tsp red chilli powder
1/4th tsp turmeric powder
Salt to taste
1/2 tsp lemon juice (optional)
Method
Heat the oil in a pan and add cumin seeds. Let them crackle.
Add chilli and turmeric powder.
Add the corn, green peas, and stir.
Cover the pan and steam the vegetables on medium flame.
Add salt and give it a good mix.
Serve warm and squeeze some lemon juice on it.
FAQs
1. Can You Get Infection by Eating Pani Puri?
Yes. One can catch an infection by eating pani puri prepared in contaminated water. Therefore, make sure that you are using filtered water for making pani puri at home. If you are eating it outside, ensure that you pick a hygienic place to eat pani puri.
2. Can You Make Chaat at Home and Eat It While Pregnant?
Yes. In fact, if you are pregnant and craving for a chaat, the fastest and safest to give in to your cravings is to prepare chaat at home. Most of the items you need to make chaat are available at home, and you get to adjust the items as per your taste as well.
3. Can You Eat Pani Puri With Curd and Does it Contain Ajinomoto?
No. Pani puri does not contain Ajinomoto, and you should not eat it with curd, as it can cause indigestion.
Pani puri consists of spicy water and sweet-sour chutney together with a filling of moong bean sprouts and boiled potatoes in the puri. There is no curd added to pani puri.
As mentioned earlier, you may try various street foods during pregnancy; however, you should pay utmost importance to hygiene. Therefore, we recommend you eat homemade chaats only. However, if you happen to eat out and start feeling unwell, get immediate medical help to avoid further complications.
References/Resources:
1. Madhuchhanda Das, Chandi C. Rath, U. B. Mohapatra; Bacteriology of a most popular street food (Panipuri) and inhibitory effect of essential oils on bacterial growth; National Library of Medicine; https://www.ncbi.nlm.nih.gov/pmc/articles/PMC3550854/; January 2011
2. Vinay Singh Baghel, Prashant Singh; Microbiological Assessment of Street Vended Panipuri Water Sample Taken from Lucknow, U. P., India; International Journal of Basic and Applied Biology; https://www.krishisanskriti.org/vol_image/20Oct2022021058Vinay%20Singh%20Baghel%20%20%20%2001%20(1)%20%20%201-5.pdf; January-March 2021
3. Pasteurization; vdh.virginia.gov; https://www.vdh.virginia.gov/environmental-health/food-safety-in-virginia/milk-safety/pasteurization/
4. Grzegorz Piecha 1, Nadezda Koleganova, Eberhard Ritz, et.al; High salt intake causes adverse fetal programming–vascular effects beyond blood pressure; National Library of Medicine; https://pubmed.ncbi.nlm.nih.gov/22431707/ March 2019
5. Indigestion and heartburn in pregnancy; pregnancybirthbaby.org.au; https://www.pregnancybirthbaby.org.au/indigestion-and-heartburn-in-pregnancy
Also Read: Junk Food while Pregnancy