How to Protect Your Child During the Second Wave of COVID-19
The second wave of the coronavirus has become a significant cause for concern for India, as we continue into the second year of the pandemic. There is no doubt that the virus has taken on a disturbing form. Not only does it affect the most vulnerable in society, but now, even children are getting affected by the new mutations of the virus circulating across the country. Until recently, children were only considered super-spreaders. But now, as per medical professionals, kids between the age groups of 0 to 18 years are said to be getting admitted to hospitals.
Dr. Jesal Sheth, a senior consultant paediatrician at a reputed hospital in Mumbai, said that children had been reported to be asymptomatic and super-spreaders, or have mild symptoms. These symptoms may include rashes, weakness, gastrointestinal symptoms, persistent fever, dry cough, and increased respiratory problems.
It is our duty to protect our little ones from the second wave of the coronavirus. This can be made possible with the tips mentioned below in this article. But first, let's take a look at the symptoms that can be seen in children affected by the coronavirus.
Symptoms of COVID-19 in Children
The second wave has revealed that COVID-19 symptoms are not only limited to the respiratory system. The most common symptoms that have been observed in kids include the following:
A sore throat
Loss of smell or taste
Breathlessness or rapid breathing
Rashes
Conjunctival congestion (enlargement of conjunctival vessels)
Mucositis shock (ulceration and inflammation of the digestive tract lining)
In the second wave, most kids who have tested positive for COVID-19 have also shown gastrointestinal (GI) symptoms like vomiting, loss of appetite, and diarrhoea. Parents should monitor warning signs such as lethargy and rapid breathing for early detection of COVID-19 in their children.
How Will the Doctor Determine If Your Child Is to Be Tested for COVID-19?
Ideally, doctors recommend testing for all suspect cases. This is done to prevent the risk of transmission to other members of the family. Generally, the testing is done before hospitalisation or any medical procedure. However, if resources are scarce, as currently seen, due to a large number of COVID-19 positive cases, the testing may be postponed if your child is showing mild symptoms, or is asymptomatic and doesn't have any other medical conditions.
Types of COVID-19 Tests for Your Child
Testing for COVID-19 is done with a swift, painless nasal swab, and is recommended if your child shows respiratory symptoms. There are two types of COVID-19 tests, namely an antibody test and a diagnostic test. The antibody test helps determine if your child has previously had COVID-19, even if there were no symptoms. This type of test does not detect a current infection. On the other hand, a diagnostic test helps detect if your child currently has a COVID-19 infection. Let's take a closer look at these tests.
A) Antibody Testing
1. COVID-19 Antibody Testing
In this type, a blood test is conducted to detect COVID-19 antibodies. These are basically proteins used by the body's immune system to fight off the infection and that it may still be producing for protecting itself from any future encounter with the virus. The results of this antibody test are not immediate and are mostly made available within one to two days of doing the test.
B) Diagnostic Testing
1. COVID-19 Rapid Antigen Testing (RAT)
This test detects not the presence of the coronavirus itself, but the proteins formed by the body's immune system to counter the virus. It's because of this reason that the rapid antigen test is considered most accurate if your child is exhibiting any of the symptoms mentioned above because that is the unfailing sign that the body is fighting a possible infection. This particular test should only be used if your child displays active symptoms, or has had a known exposure to COVID-19. The test shows the most accurate results when performed during the first week of infection.
2. COVID-19 PCR Testing
This test is performed with a saliva sample or a nasal swab. But unlike the Rapid Antigen Test, the PCR test looks for the virus itself, and not the body's immune response to it. Thus, the PCR test is much more sensitive, as it can detect the virus at various stages of the infection, from the time before there are symptoms, to a later stage when your child is no longer ill but some of the viruses still remains in the body.
Tips to Keep Your Child Safe During the Coronavirus Pandemic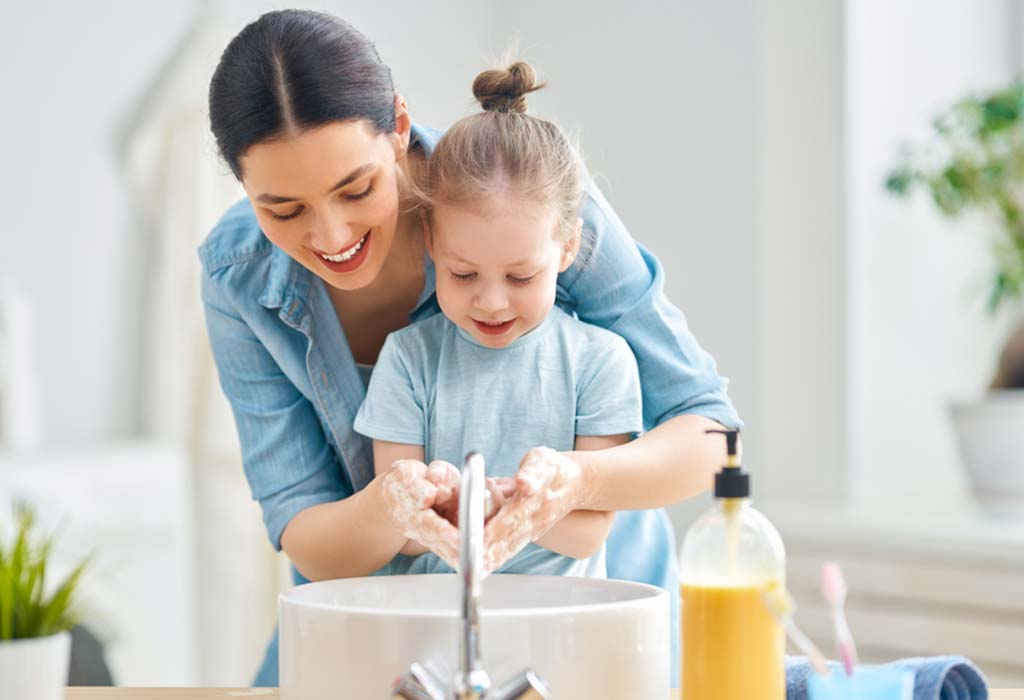 If your child shows any of the above symptoms, it is always advisable to consult a doctor and get the COVID test done. The following are some recommendations that can be followed to minimise the risk of a COVID-19 infection.
1. Teach your child to maintain social distancing.
If you have visitors over, ask your child to maintain social distancing. Even when outside, practise social distancing at all times, especially in crowded places. Do not leave your child unattended, as there's a high chance he may unknowingly flout the social distancing rule.
2. Encourage your child to stay indoors.
While it may be difficult to keep your child indoors when he could have had a great time playing outside, you must encourage him to stay at home during such times of crisis. The virus spares no one, so do not send your child outside to play. Instead, you can organise fun indoor games that might keep him engaged.
3. Disinfect your home, especially frequently touched surfaces.
Along with washing your hands, don't forget to disinfect and clean frequently touched areas and objects. According to the Centers for Disease Control and Prevention (CDC), the COVID-19 virus can stay active on objects or surfaces: up to three hours in aerosols, up to four hours on copper items, up to 24 hours on cardboard, and up to two to three days on plastic and stainless steel surfaces. To prevent yourself or your child from coming in contact with a contaminated surface, disinfect common surfaces as frequently as you can.
4. Encourage your child to wear a mask.
COVID-19 primarily spreads through the air and transmits through large droplets known as aerosols. That is why wearing a mask is extremely important. Ensure that your child wears a mask whenever he has company or is outdoors and in crowded areas. If your child is fussy about wearing the mask, explain in simple terms what it is for. Also, as children emulate their parents' actions, don't forget to wear a mask yourself whenever required.
5. Maintain personal hygiene.
Using a good hand sanitiser and washing your hands frequently before touching your eyes, mouth, and nose are important during these troubled times. If left unattended, your child may touch infected or contaminated surfaces and objects, leading to an infection. To prevent this, that make sure your child washes his hands regularly.
6. Do not allow visitors at home.
During this pandemic, it is advisable to avoid having visitors over at your house. COVID-19, which is a variant of the SARS-CoV-2, is highly infectious and can be easily transmitted from person to person. And, one can never be sure of who might be infected. That's why it is necessary to stay vigilant and cautious. Likewise, avoid going to others' houses, too, unless absolutely necessary.
When to Call a Doctor If You Think Your Child Has COVID-19
You should definitely call your doctor if your child has (or you think your child has) been exposed to COVID-19. This could be immediately after discovering that he has been in close contact with someone who has tested positive for the virus, or if he develops these classic COVID-19 symptoms, such as:
Fever
Fatigue
Body pain
A sudden loss of taste or smell
Difficulty in breathing
The doctor can give you the best advice about what to do after understanding your child's symptoms and medical history. He may recommend that your child gets a COVID-19 test done. Do not try to determine on your own whether the symptoms may be related to COVID-19. If your child's ailment turns out to be the flu, for example, the doctor can verify that, and also give the treatment required for flu if you seek medical attention for your child early enough.
With the alarming rise of COVID-19 cases in children, it has become all the more crucial to protect them and put an end to the spread of the infection. From educating children about the pandemic to encouraging them to take certain precautions, we can curb the virus's negative impact efficiently, and also safeguard our children from the same.
Also Read:
How to Talk to Your Child About Coronavirus Without Instilling Fear in His Mind
Fun Ways to Get Children to Wash Their Hands
Coronavirus Vs the Common Flu