Exclusive Breastfeeding – Benefits and Tips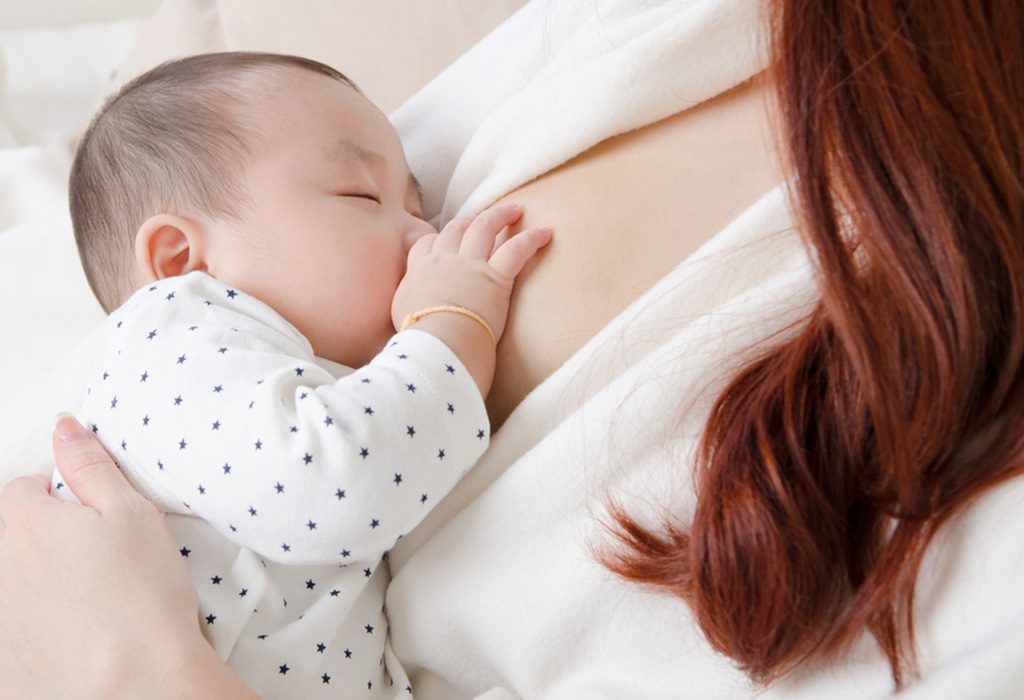 Breast milk is the perfect food for a baby, containing sugar, fats, water and proteins in the right quantity. Breast milk not only provides the ideal mix of nutrients to aid in the proper growth and development of babies but also contains essential antibodies. These antibodies are necessary to strengthen the immune system and fight off infections and diseases. In this article, we will look closely at what exclusive breastfeeding is, its benefits and some important tips to consider.
Video: Exclusive Breastfeeding: Importance and Tips
What Is Exclusive Breastfeeding?
Exclusive breastfeeding means that a baby is fed only breast milk for the first six months of his life, with no additional food or drinks. This is the best nourishment for the baby, who is not even given water.
Benefits of Exclusive Breastfeeding for Mother and Baby
The importance of exclusive breastfeeding can never be understated. It minimises the dangers of infections and diseases. Furthermore, it is also considered beneficial for the mother, too. Read on to understand the advantages of exclusive breastfeeding for a baby and his mother.
Scientific studies have revealed that the healthiest babies are those that have been exclusively breastfed.
For the first six months of a baby's life, breast milk is all that a baby really needs.
Exclusive breastfeeding is one of the best ways to minimise the chances of a baby getting diarrhoea, allergies, pneumonia and suffering from malnutrition, the addition of any other food will considerably increase the risks of the same.
Exclusive breastfeeding is known to considerably decrease infant mortality on account of common childhood illnesses.
Exclusive breastfeeding delays fertility assisting appropriate time intervals between pregnancies.
Exclusively breastfeeding mothers are less prone to the cancer of the breasts and ovaries.
Exclusive breastfeeding is also economical as it eliminates the need to purchase supplements and expensive formulas and equipment.
Colostrum in breast milk cleans the stomach and promotes a healthy gut, eliminating the need for medicines.
Exclusive breastfeeding helps the new mother to lose weight after delivery.
Mothers who breastfeed exclusively are less likely to experience postpartum depression.
The more a baby suckles, the more milk will be made in the breasts; this natural mechanism helps make exclusive breastfeeding a viable choice.
Exclusive breastfeeding is also possible for working mothers via expressed breast milk. Expressed breast milk remains good for up to ten hours at room temperature and approximately three days in the fridge.
What Should the Frequency and Duration of Breastfeeding Be?
Since the baby is only given breast milk, the frequency of feeding depends on the baby; feeding should be done as per the baby's demand. This means that you will be feeding your baby at least 8 to 12 times a day.
Nighttime breastfeeding should be made possible by co-sleeping with the baby. The duration of breastfeeding again depends on the baby's needs. Each session could last from 20 to 45 minutes. The baby should be satisfied feeding from one breast before another is offered.
Read on for some useful tips for exclusive breastfeeding.
Tips for Exclusive Breastfeeding
These tips will help you breastfeed your little one exclusively and ensure his health.
Breastfeeding should be initiated within one hour of the baby being born.
Exclusive breastfeeding for six months is ideal.
The baby should only be given breast milk and nothing else, not even water.
Breastfeeding should be done as and when the baby demands.
Breastfeeding should be made possible by the mother even at night; co-sleeping can help to achieve this.
Nipple confusion should be avoided by not using artificial nipples.
It is advisable for the mother to read and learn about potential problems with breastfeeding.
Medical staff, caregivers, and hospital authorities should be informed about the decision of exclusive breastfeeding.
Working moms can use expressed breast milk.
Breastfeeding support groups can be very helpful for exclusive breastfeeding.
Exclusive breastfeeding is perhaps the healthiest choice a mother can make for her newborn baby. Babies that are exclusively breastfed are generally healthier. Exclusive breastfeeding is the strongest measure that can be taken to avoid infections and diseases in babies. Furthermore, exclusive breastfeeding has numerous benefits for the mother as well.
Also Read: Myths & Facts About Breastfeeding Your Baby