Epstein Pearls in Babies – Causes, Symptoms and Treatment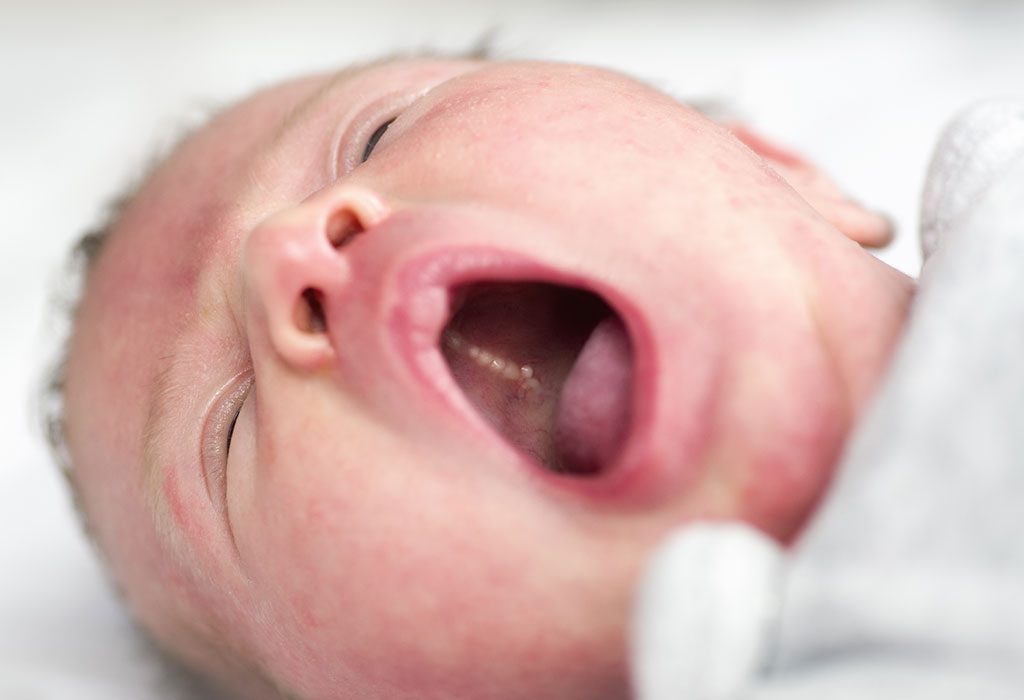 Pregnancy is a time of celebration and cherishing good memories. After the third trimester of pregnancy when your newborn arrives, you feel happy as a parent. But that happiness might turn into to worry when you notice tiny cysts appearing on your baby's tongue. These tiny cysts are called Epstein Pearls which are a completely normal part of the baby's development. They appear as bumps along the gum line or the roof of the mouth and are generally harmless. Read on for more information on Epstein Pearls in babies.
What Are Epstein Pearls?
Epstein Pearls are tiny white bumps that appear on the roof of a baby's mouth. This condition mostly develops in newborns during the early months of development. They first appeared in the 1880s and have been noted in 85% cases. The bumps measure between one to three millimetres and they are usually found behind or along the gums. The good news is that these whitish-yellow bumps are harmless or benign.
Epstein Pearls occur in newborns in the following cases:
If the baby weighs more than expected at birth.
If the newborn is past their due date.
If the baby is born to an older mom.
How Are They Formed?
Epstein Pearls appear in the early weeks of a newborn baby's development. When the jaw and palate fuse together, the skin becomes trapped and gets filled with keratine (a protein found in the skin), and mucosal cysts appear. Clinically, Epstein Pearls are called palatal cysts, gingival cysts, or dental lamina cysts. Sometimes gentle rubbing using teething toys is enough to break the cysts. Breastfeeding, bottle feeding, and using a pacifier can also help in dissolving the cysts naturally.
If you are not sure whether the bumps in your baby's mouth are Epstein Pearls, you must consult a paediatrician. If the gums suddenly start bleeding and the cysts appear to be causing too much pain, a medical diagnosis is recommended. Treatment is not needed, but if your baby refuses to feed on the bottle or he refuses breast milk, you should get them checked at a clinic or a hospital.
Signs of Epstein Pearls in Newborns
You won't notice any specific Epstein Pearls symptoms in newborns. The signs are pretty common, and there isn't anything characteristic about these bumps besides their unusual appearance. The size of these bumps is less than one-tenth of an inch and, sometimes, they may bear a resemblance to natal teeth. Epstein Pearls are present near the roof of the mouth and appear as whitish-yellow nodules in newborns.
Diagnosis
There's no special diagnosis involved in examining Epstein Pearls. Doctors will be able to tell if the cysts are benign by doing a physical examination. He might examine your newborn's mouth to look for signs of any protruding teeth. This is a rare case and is different from the bumps you normally see associated with Epstein Pearls.
Is Treatment Required for Epstein Pearls?
No treatment is required for Epstein Pearls in infants. The cysts rupture and go away on their own in a matter of weeks. Sometimes, they shrink gradually instead of rupturing. If you're having trouble feeding your baby or your infant is in constant pain, then you should consult a paediatrician and let the doctor have a look. According to the UCLA School of Dentistry, over 90% of newborns develop these bumps.
When Do Epstein Pearls Go Away?
Epstein Pearls on the baby's gums take a few weeks to go away. If the bumps are very small, it may just take a few days. Boys and girls alike experience Epstein Pearls in their infancy.
When to Visit a Doctor
You should visit a doctor if you notice the bumps do not decrease in size or don't go away in a few weeks. Also, visit a doctor if your baby is in terrible pain, doesn't stop crying or has become irritable.
Sometimes, doctors may do a visual examination to rule out cases of oral thrush, which is a type of yeast infection in a baby's mouth. If your baby gets a strange white coating or natal teeth appear, then it may not be a case of Epstein Pearls.
You can prevent Epstein Pearls in babies by developing a proper oral hygiene routine. A physical examination is enough to diagnose this condition, and no treatment is needed. It's a natural part of growing up, and even adults sometimes get it.
Take care of your baby's gums by cleaning them with a soft, damp cloth after every feed. This will prevent irritation and soothe the pain if they already have any cysts growing in the mouth. With a little bit of time, Epstein Pearls go away on their own and there's nothing to be concerned about.
Also Read:
Tongue-Tie in Infants
Effective Tips On How to Clean Your Baby's Tongue
Mouth Ulcers in Infants & Kids